A 2020 Holiday Gift Guide from Team HUM
From supplements and skincare products to stay-at-home staples, we're sharing our top picks for presents in our 2020 holiday gift guide.
With the holidays upon us, we're prepping for well-earned time off, cold-weather coziness, and of course, lots of shopping. Whether you're browsing for friends, family, co-workers, or yourself this holiday season, here are some of Team HUM's favorite things to get and to gift.
Team HUM's 2020 Holiday Gift Guide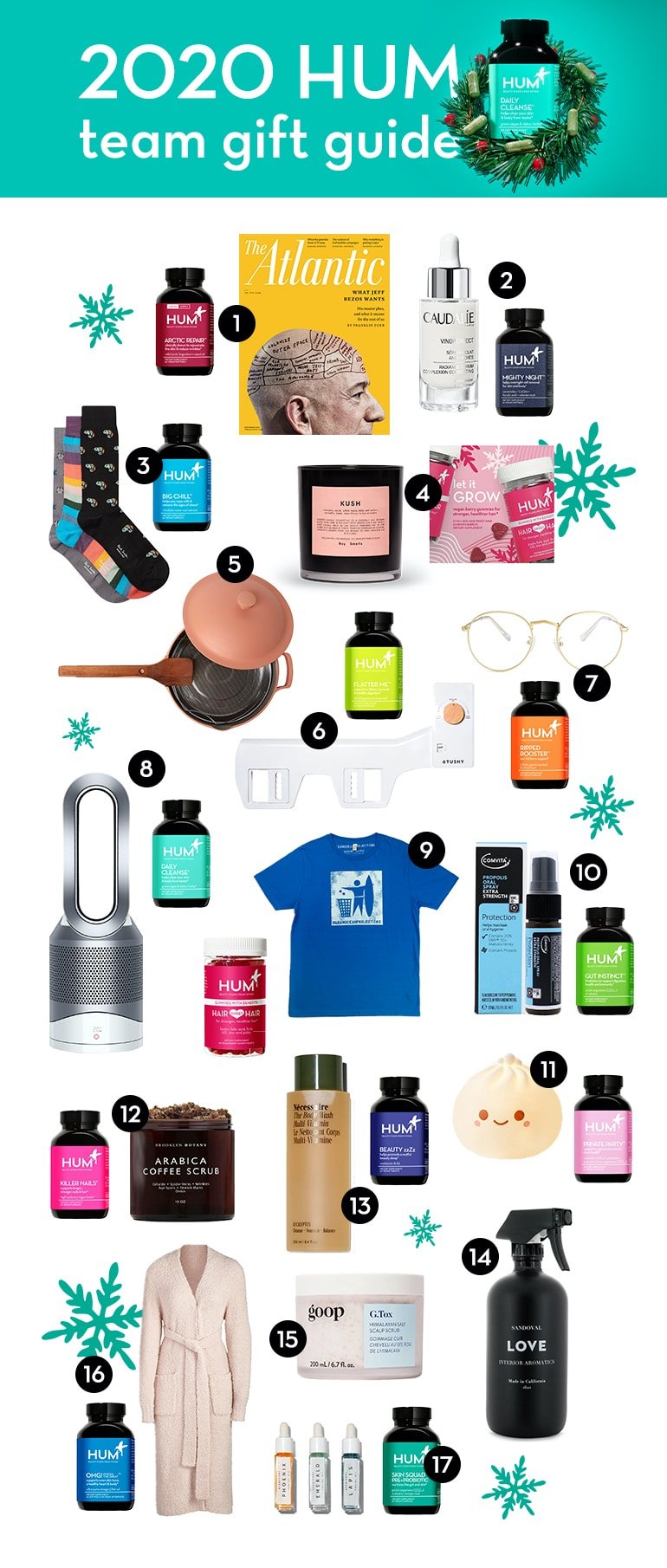 1. Michele, Content Editor
Subscription to The Atlantic, from $50/year
"Objective reporting is rare in news coverage these days—but thankfully, The Atlantic really nails it by prizing factual integrity. I never miss their daily newsletters for a condensed yet thorough look at current events and culture. Plus, I enjoy their Material World column and daily crosswords when I'm in the mood for something light. This subscription is perfect for anyone who's searching for thoughtful journalism—minus the noise."
Arctic Repair, $60
"I started taking Arctic Repair after hearing that it was a game changer in some of my co-workers' routines. I often take progress pics of my skin to gauge which treatments and products actually deliver, and can honestly say that my forehead wrinkles are significantly less pronounced than they were a year ago. Gift this stellar supplement to your pals who are on a quest to keep their skin supple and fresh."
2. Fatima, Executive Assistant & Office Manager
Caudalie Vinoperfect Radiance Serum, $79
"I've been using this serum for about eight years. Not only do I feel refreshed the moment I put it on, but it's one of my secrets for looking young! A bottle can last for about six months, which is so worth it! I'd definitely gift it to my mom or one of my girlfriends; they'll be hooked once they try it."
Mighty Night, $40
"About a year ago, I'd been waking up in the middle of the night and figured I'd give Mighty Night a try. While taking it, I wake up so rested and refreshed. It's great to get your sleep pattern back on track, and I love the added cell renewal benefits. Restful sleep helps your overall wellness in so many ways—literally everyone can benefit from it!"
3. Chris, COO & Co-Founder
Paul Smith Socks, from $20
"I was gifted a few pairs of these socks for my birthday last year and wear them all the time now. Paul Smith is a Brit like me—though a lot more fashionable! The socks are very comfortable and I love the bright colors. I think Walter, my business partner, would be the perfect recipient since he likes colorful socks, too."
Big Chill, $20
"I've been taking Big Chill for about four years now. It definitely makes me get less stressed about little things; the effect comes from the adaptogen rhodiola. It's a great gift especially for anybody who has kids at home all day doing schoolwork remotely."
4. Vanessa, Director of Sales
Boy Smells Candles, From $32
"I love Boy Smells candles because they have sophisticated, subtle, and well-priced scents. Once they burn out, I like to use the pretty candle holders later as catch-alls around my place. I'd gift these candles to my girlfriends. We're spending so much time at home now, and scents help create a warm, comforting environment."
Let It Grow SET, $35
"I've been taking Hair Sweet Hair for the last year. It tastes so good and has helped with strengthening my hair ever since I started highlighting it. I'd gift the Let It Grow duo to all of my girlfriends who color their hair to help with damage."
5. Zena, Editorial Director
Always Pan by Our Place, $145
"I got the Always Pan to replace three beat-up, teflon-coated pans that were cluttering my pantries. It's non-stick, non-toxic, and very thoughtfully designed. It's deep enough to accommodate family-sized recipes and I especially love the built-in spoon rest! I highly recommend this for anyone who loves to cook. As a bonus, it also comes beautifully packaged in sustainable materials."
Red Carpet, $25
"This vegan-friendly source of essential fatty acids and antioxidants is an OG HUM best-seller for good reason! My skin was looking dull and dry recently, so I switched up my supplement routine to include Red Carpet. After a few weeks, I saw a noticeable difference in radiance. My hair stylist even complimented me on how healthy my hair looked. It's a great, versatile entry to the world of beauty supplements for your favorite Sephora lover."
6. Vani, Programmatic Marketing Manager
Tushy Bidet, from $99
"I ordered this bidet attachment back in May and love it! Their ads/marketing definitely caught my eye (and continue to entertain). It's a terrific gift since it's also a good long-term investment, easy to install, and doesn't look ugly. Plus, who doesn't like to feel clean back there?"
Flatter Me, $25
"I initially started taking Flatter Me to help reduce bloating and improve digestion. It's delivered 100 percent! I noticed after a week or two that I wasn't feeling huge after eating. I keep it in my kitchen so it's super easy to remember to take it before meals. I've already gifted Flatter Me to a few friends and they love it, too."
7. Brit, Senior Graphic Designer
Retro Frame Blue Light Blocking Glasses, $20
"With so much screen time, I rely on my blue light glasses for less eye strain and improved sleep. I was thrilled to find a cost-effective, modern option. They'll make a great present for anyone who's been racking up some extra screen time lately!"
Ripped Rooster, $40
"I love to take Ripped Rooster right before my morning workout to know I'm optimizing my a.m. burn! It also helps to keep my blood sugar stabilized throughout the day. It's the perfect supplement for any fitness fanatic on your gift list!"
8. Jaclyn, Senior Social Media Manager
Dyson Pure Hot+Cool, from $499
"I'd been eyeing the Dyson Pure Hot+Cool since last summer, but was skeptical that it was worth the $$$. Then summer 2020 hit. Between working from home with a cat, heatwaves, and wildfires, I finally caved—and it's probably the best decision I've made all year. Not only does it quickly heat or cool a room to your perfect temperature, but it purifies the air in the process, keeping my sinuses and me happy. I'd gift one to one of my BFFs who's always freezing, and anyone else who doesn't have central air."
Daily Cleanse, $25
"I started taking Daily Cleanse about seven months ago. I struggle with breakouts and have tried every skincare rec, so you can imagine my excitement when I noticed my skin getting (and staying) clearer after about a month. Plus, it's packed with so many good ingredients that make me feel like I'm starting my day right each morning. It'd be a great gift for almost anyone on my list, but I think my wellness-obsessed friends would appreciate it most."
9. Antonia, Germany & UK Country Manager
Clothes from the Clean Ocean Project, from $30
"I learned about The Clean Ocean Project while on holiday on Fuerteventura in the Canary Islands. The idea is simple: Everybody is part of both the problem and the solution. Apart from diverse clean-up and ocean protection projects, they have a super cute store in the old town of El Cotillo, as well as an online shop. A sustainable T-shirt or hoodie to support this cause makes for a great gift for friends who are environmentally conscious but still want to dress with style."
Hair Sweet Hair, $25
"Hair Sweet Hair is an absolute life saver! I suffered from a lot of hair loss after stopping the pill, which is extra tough for someone who naturally has very thin hair. I saw results within a couple of weeks and couldn't be happier! They taste amazing and have become my post-lunch treat—no more chocolate needed! I'm gifting these gummies to my sisters and nieces, since none of us were blessed with thick hair. Not only do they work, but the packaging makes for a cute present that never disappoints."
10. Walter, CEO & Co-Founder
Comvita Propolis Spray, $15
"I travel a lot—or at least used to—and this spray provides great protection for airborne germs. I love that it's completely natural and recommend gifting it to everyone you care about."
Gut Instinct, $25
"I've been taking Gut Instinct for six years, and haven't had a flu ever since. It's a great gift for anyone who needs an immune boost."
11. Tiffany, Email Marketing & CRM Manager
Smoko LightS, from $16
"When I moved apartments this summer, I wanted hued lighting that wouldn't cost an arm and a leg. When I found Smoko, I was obsessed! I bought the dumpling, pear, and mushroom lights. (I'm Taiwanese, so I'm obsessed with dumplings.) They look super cute on a bookshelf, nightstand, bar cart, or wherever! This tchotchke would make for a cute White Elephant or Secret Santa gift."
Private Party, $25
"I've been testing all of HUM's probiotics, which work incredibly well together. However, Private Party is my fave simply because I love knowing that I'm actively supporting my vaginal health. I'm also all for de-stigmatizing conversations around women's bodies, and especially salute women who tune inward, stay curious, and want to learn more about our health and well-being. It's about time a product like this came out in the world of wellness!"
12. Meriem, Supply Chain Coordinator
Brooklyn Botany ArabicA Coffee Scrub, $19
"I started using this Brooklyn Botany scrub a year ago to exfoliate my skin and prevent cellulite. I love the scent it has and the feeling of my skin after applying it."
Killer Nails, $10
"I started taking Killer Nails a few months ago. My nails are way stronger than before and my hair is growing faster. I'd gift it to my roommate, friends, or family members."
13. Brianna, Brand Manager
Necessaire Body Wash, $25
"I recently splurged on the Necessaire Body Wash during the Nordstrom Anniversary Sale. I love it so much because it turns a mundane shower into a relaxing, calming experience. It's also filled with so many nourishing nutrients. My skin is loving it! This body wash (or really anything from their line) is a great gift for all your in-the-know and trendy friends."
Beauty zzZz, $10
"I've been taking Beauty zzZz for about a year and a half now. I love it because it's fast-acting and it works! I usually take it before big events that I want to be rested for, or when have a lot on my mind. It's definitely helped me wake up restful for an early workout, a big day at work, and has even helped with jet lag! Beauty zzZz is a great gift for anyone—who doesn't want better sleep? It's a top pick for my family this year."
14. Barsha, Creative Director
Studio Sandoval Love Interior Aromatic Spray, $46
"I've repurchased this spray a bunch over the past year. It smells intoxicating and leaves my space feeling warm and comforting. I think it's a great gift for family members."
Here Comes the Sun, $12
"Since we've been working from home, I try to get out as much as I can by going on a long walk in the morning with my pup. My dog and I both hate hiking in the sun—it makes us cranky—so we do shaded hikes. By the time we get home, I'm indoors for hours, so Here Comes the Sun ensures I get my vitamin D fix. This vegan supplement is perfect for anyone else spending lots of time indoors yet still want to support their immunity and mood."
15. Elie, Senior Data Scientist
Goop G.tox Himalayan Salt Scalp Scrub, $42
"I've been using this salt scrub and shampoo for six months to help with scalp exfoliation and dryness. I like that it's made with clean ingredients and smells fresh. I'd gift it to someone with similar scalp concerns who wants a clean alternative to popular products."
Uber Energy, $25
"I've been taking Uber Energy since February, which gives me a daily boost without the crash of caffeine-heavy products. I recommend it for working professionals struggling to keep a consistent flow of energy throughout the day."
16. Megan, Marketing Coordinator
SKIMS Cozy Knit Robe, $128
"I got the SKIMS Cozy Robe this year as a birthday present. It's super luxurious and the epitome of comfort. Because of quarantine, I practically live in it at this point! The robe is a great gift for anyone you're looking to spoil during the holidays, since it's perfect for lounging around throughout chilly winter months."
OMG! Omega the Great, $30
"I've been consistently taking OMG! for a year now. I love that the omegas don't only help my heart, brain, and body, but also my skin. Over time, my complexion has become more soft, even, and bright. I swear by this supplement! I'd recommend it as a gift for all, but especially those who are new to supplements. Anyone can reap the benefits of this product. It's a must!"
17. Randy, Director of Retention & Loyalty
Herbivore Mini Facial Oil Trio, $29
"I discovered Herbivore a few years ago and quickly became a big fan. Everything is free of the 'bad stuff' you want to stay away from and comes in quality packaging. The trio set is perfect for those who are new to oils and want to test them out first. All three hydrate your skin, but each also has its own unique natural fragrance and nuanced benefit. This gift is great because you can try them out one by one or create your own custom mixture to find your perfect blend."
Skin Squad, $40
"For the past two years, Skin Squad has been my go-to probiotic. It not only makes me feel like I have a balanced gut, but I also notice my skin is more even and hydrated, with fewer breakouts and redness. I love that it's a nine-strain probiotic plus a prebiotic, which isn't a very common combination. Skin Squad is excellent for newbies and wellness superstars alike, and especially anyone looking to improve their skin from the inside out."