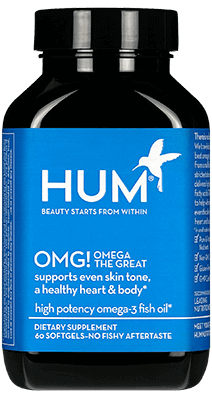 OMG! Omega the Great
supports even skin tone, a healthy heart, brain & body*
Ultra pure fish oil

Ideal ratio of the actives EPA & DHA

High potency in only two pills

No fishy aftertaste
85 Reviews
$30
Add to Bag
Science
Fish oil is high in omega 3 fatty acids which are anti-inflammatory fats. In an 8-week clinical study of acne patients taking fish oil, 67% reduction in inflammatory lesions was observed. In a 12-week double blind trial of eczema sufferers those using 1.8 g of EPA experienced significant improvement.
More Info
Ingredients
Anchovies

High Potency Fish Oil

Sardines

Sustainably Sourced Small Fish

Mackerel

The Ocean's Purest Omega-3

Vitamin E

Active Antioxidant

How to use

Two softgels

at

Any time

with

Food

Nutritionists LOVE HUM

Non-GMO

Sustainably Sourced

Pure and Potent

Gluten Free

Premium Quality

Clinically Proven

NEED HELP FINDING THE RIGHT
PRODUCT FOR YOU?

Our 3-minute look and feel great quiz will change your life forever.

Meet your free personal nutritionist and earn

$10 off your first order!

GET STARTED
Hello!
Not a member yet?
Find the nutrients you need today
Personal Nutritionist
Nutrition Report
$10 off your first order
Get Started
Close