Here's How to Treat Damaged Hair Once and For All
by Michele Ross
Good hair days often seem like they're few and far between, especially when you have damaged hair. Do your strands suffer from dryness, frizziness, dullness, thinning, or split ends? They're all signs that your hair needs some extra TLC. Here's the skinny on hair damage and repair.
The culprits behind damaged hair
Heat styling
Blow dryers, hair straighteners, and curling irons can be godsends in terms of styling—but unfortunately, they're not doing any good for hair health. Overusing heated tools weakens the cuticle, your hair's outermost layer. The result? Split ends and compromised hair growth.
Cure: Let your hair air dry as often as possible. When using styling tools, always prep with a heat-protective spray to minimize damage. Additionally, aim to style your hair at a lower temperature and limit the time of direct contact with heat. (You can also check out more insider tips on protective styling from Rihanna's hairstylist.)
Chemical treatments
Hair dye, perms, and other chemically processed treatments change your hair's texture and weaken its resilience. Similarly with heat stylers, excessive reliance on chemical hair treatments can lead to cuticle breakdown and damaged hair fibers.
Cure: Extend the time between hair processing treatments for as long as you can; eight to 10 weeks is ideal. It also helps to have only one chemical treatment at a time. Can't possibly choose between lowlights and a Brazilian Blowout? We feel you. Just book your chemical styling appointment first, wait at least a few weeks, and then go in for hair color. Doing so will cause less of a shock to your strands and give them some time to bounce back.
Sun exposure
The perils of sun exposure on the skin are widely recognized. But did you know that sunlight and UV rays can also take their toll on your hair? Sun exposure can be harmful for your hair's color, shine, and moisture. Fine, light-colored, color-treated, and African American hair are particularly vulnerable. However, that doesn't mean other hair types aren't also susceptible to sun damage.
Cure: Practice smart sun safety. Try to limit exposure when the sun's rays are strongest, typically from 10 a.m. to 4 p.m. Beachgoers should aim to bask in the summer sun when the UV index is minimal (0-2) or low (3-4). Otherwise, mind your mane by wearing a hat or sitting under a beach umbrella.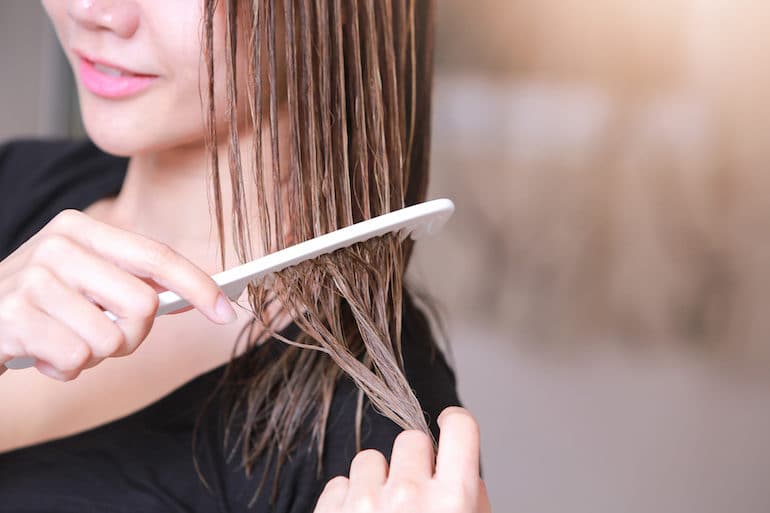 Toxic products and bad habits
Your hair maintenance routine can either help or hinder its vitality. First, common hair care ingredients can wreak havoc not only on your hair, but also your health. Sulfates, parabens, and synthetic fragrances are only a few hair care additives that you should steer clear of. Next, bad habits can contribute to hair damage. These include overwashing, skipping conditioner, towel drying aggressively, and brushing wet hair.
Cure: Opt to use only clean hair products. Need guidance? EWG's Skin Deep Database is an excellent resource that ranks the safety and hazards of hair products and other cosmetics. Next, adjust your routine to better care for your hair's health. First, wash your hair sparingly. Frequency will vary based on your hair type and level of physical activity, but one-to-three times per week is a good standard. Next, use conditioner to keep hair soft and give it the moisture it needs. After showering, wrap wet hair in a towel instead of harshly rubbing it dry. Lastly, use a wide-tooth comb through damp hair to work out any knots.
how to Treat hair damage from the inside out
Really looking to rehab your hair? Elevate your standard routine to treat damaged hair more effectively by taking a two-pronged approach.
First, you can eat your way to dream hair by enriching your diet. Omega fatty acids (wild-caught fish, avocados), iron (spinach, kale), and antioxidants (berries, dark chocolate) are only some of the many nutrients found in the best foods for healthy hair. You can also start from within by taking a hair vitamin specific to your concerns. HUM's Hair Sweet Hair is terrific for hair growth and strength, while Red Carpet works wonders to achieve shiny, luscious locks (and glowing skin to boot).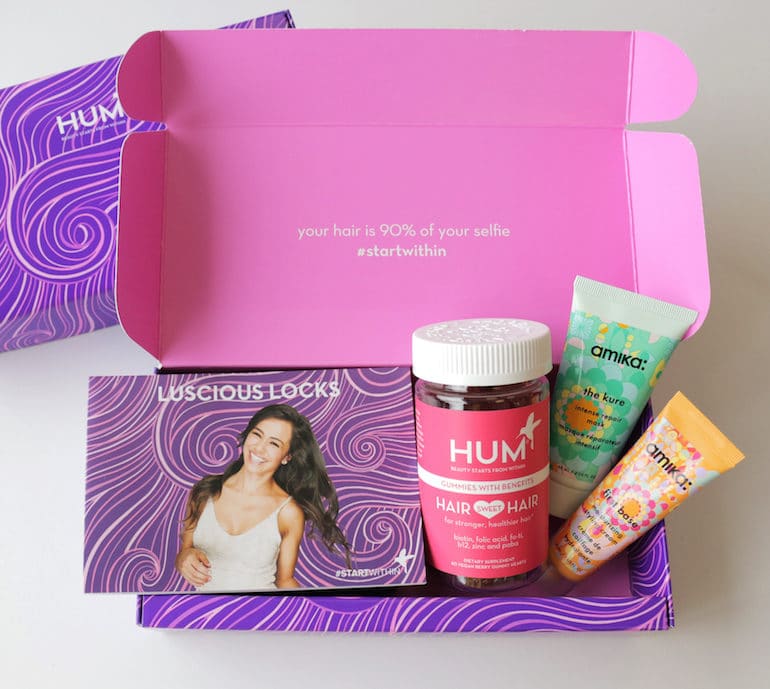 Second, hair masks can help get your tresses back on track. Whether you need to repair severely chemically damaged hair or simply want a boost, use a hair mask once or twice a week. We love amika's the kure intense repair mask to restore and revitalize weakened hair.