This Is What's Causing Your Hair Breakage, According to Experts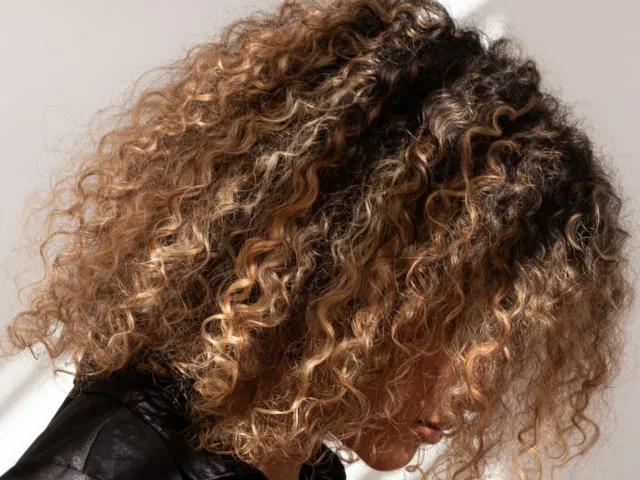 Learn what causes hair breakage and how to stop it, according to pros.
Even if you're extra careful with your strands, hair breakage can still occur. While heat damage is one of the most common hair breakage causes, there are other factors that damage your tresses. Your diet and daily habits are two things that can also lead to split ends or hair breakage at the crown of your head.
According to the American Association of Dermatology (AAD), it's normal to lose 50 to 100 hairs a day. But if you notice the strands that are falling out are shorter or your hair feels drier and more brittle overall, you may be dealing with hair breakage vs hair loss. Healthy hair tends to be shinier, while damaged hair can vary in length due to breakage and has frayed ends. When it comes to hair breakage, prevention is key—which is why it's so important to understand exactly what causes hair breakage. We spoke to a professional hairstylist to learn all of the different things that can impact the health of your hair. Read on to learn what causes hair breakage—and how to repair it.
What Causes Hair Breakage?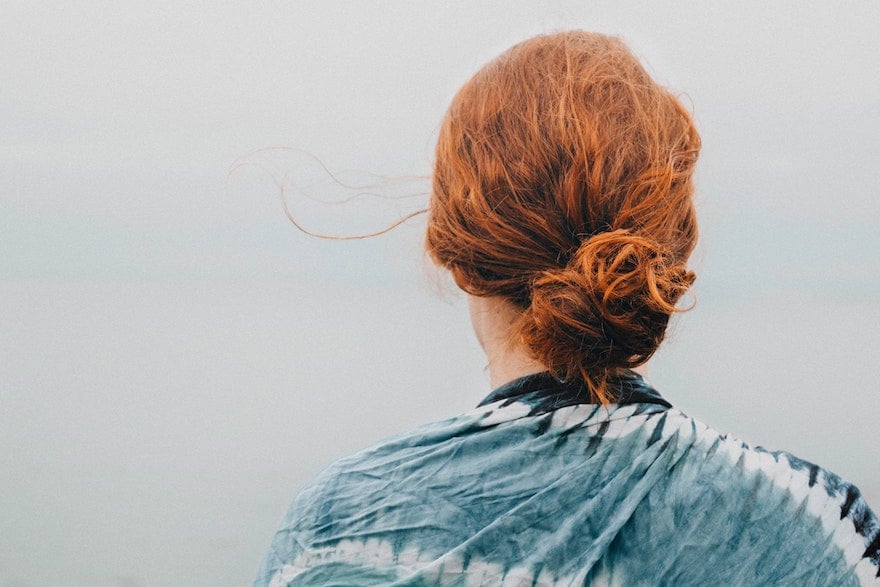 What could cause hair breakage? Several habits may come into play. We've broken down each below:
1. Washing Hair Too Frequently
As much as you may love washing your hair, IGK Hair co-founder Franck Izquierdo says that doing so too often can lead to breakage."Frequent shampooing can dry hair out and make it more likely to break," he says. Rather than washing your hair every day, it's best to wash your hair every other day or every third day. Keep in mind that how often you should wash your hair varies based on your specific hair type. For example, someone with thick hair may need to wash less than someone with thin hair.
2. Roughly Drying Hair
It might seem like second nature to rub your hair dry with your towel when you hop out of the shower, but that can actually do more harm than good.
"When towel-drying your hair, blot, but don't rub," Izquierdo says. "Rubbing your hair with your towel can cause tangles and breakage." To keep your hair healthy, wrap your towel around your hair and gently squeeze the moisture out of your strands. For best results, invest in a microfiber towel. It's easier on your hair and reduces overall frizz.
3. Brushing Your Hair While Wet
Your hair is most vulnerable (read: susceptible to breakage) when wet. While brushes exist specifically for detangling wet strands, Izquierdo recommends holding off until hair is at least damp, if not dry."If you need to brush it, use a wide-tooth comb or Wet Brush and start from the bottom. Very gently, pull out tangles as you work your way up," he advises. Looking for the best hair brush to prevent breakage? Pick up Izquierdo's recommendation, The Wet Brush. Its super-soft bristles glide through wet hair instead of tugging or pulling.
4. Choosing the Wrong Brush
On a similar note, R+Co co-founder and celebrity stylist Garren says that using a metal brush can easily cause breakage.
"Many people don't realize, but once you add heat to a metal brush, it gets too hot and the hair [gets] fragile and can break," he explains.
Instead, look for a round brush that's ceramic to help minimize damage. If you're looking for the best hair brush to prevent breakage for dry hair, pick up a mixed-bristle brush. The nylon quills will detangle your hair while the boar bristles (whether faux or real) will help evenly distribute your scalp's natural oils to your hair.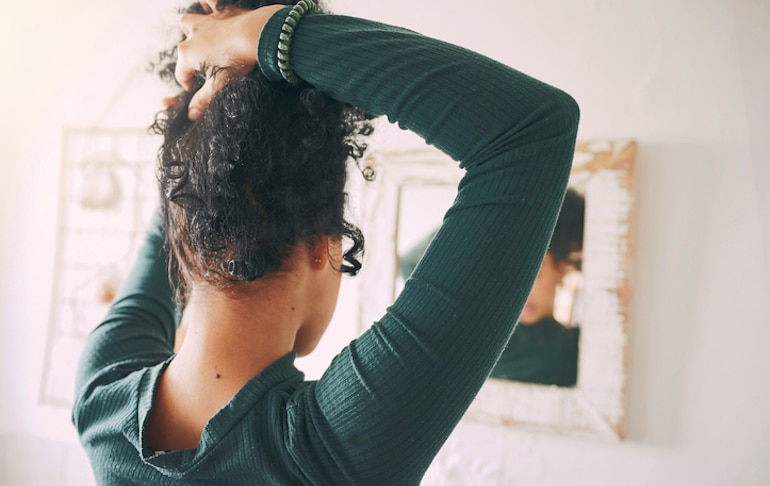 5. Pulling Hair Too Tightly
Whether you're pulling your hair into a messy bun, topknot, or ponytail, pulling it tightly can lead to hair breakage at the crown (or hairline), as well as where the elastic holds your hair up.
Because of this, Izquierdo recommends using more TLC, which includes opting for a more gentle elastic in the process.
"The new coil elastics are great to prevent bumps, but can cause a lot of breakage," he says. For that reason, he continues, "You're better off using a cloth holder or a scrunchie."
6. Over-Processing Your Hair
Who doesn't love fresh color? The problem is, over-processing—especially when going from one color to the next—can cause hair breakage.
Because of this, Garren advises spacing out your color appointments. Also, try to stray from constant bleaching. Speak to your hairstylist honestly about your concerns, and they'll work with you to come up with a coloring schedule to help prevent hair breakage.
7. Nutritional Deficiencies
Your diet affects everything—including the health of your hair. If you're deficient in certain nutrients, you could be more susceptible to hair breakage. Research has shown that if you're not consuming enough calories or if you're not getting enough protein in your diet, your hair's health may be compromised.
Research has also found that certain vitamin deficiencies can contribute to dry, brittle hair (which is more prone to breakage). But you can combat this by taking vitamins for hair breakage. Biotin and vitamin B12 (which are found in HUM Nutrition's Hair Sweet Hair) can help support longer, stronger hair while vitamin E (which is included in HUM Nutrition's Red Carpet) is an antioxidant that can fight off free radicals that weaken and dehydrate hair.
8. Heat Styling
High heat can dry out the outer layer of your hair (known as the cuticle), which causes hair to lose its resiliency and strength. Intense temperatures can also change the shape of the keratin proteins that make up hair, causing irreversible damage and leading to breakage.
How to Stop Hair Breakage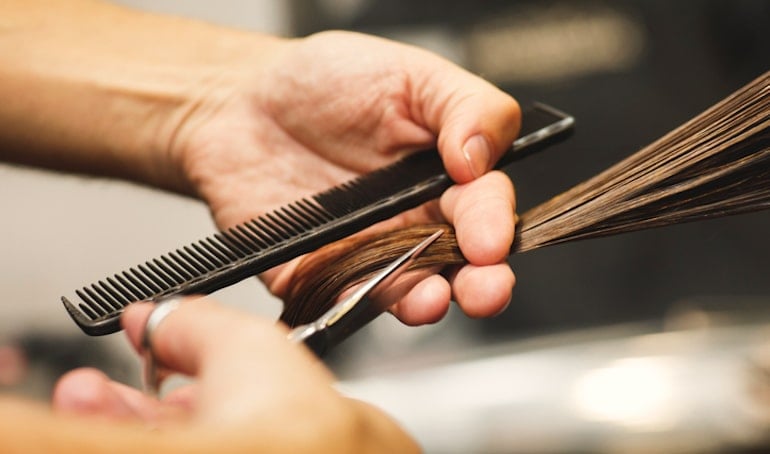 Now that you know what causes hair breakage, let's go over how to repair it.
Use the Right Hair Treatments
"When it comes to healing breakage, there are things you can temporarily do to help seal split ends, such as using a split-end mender or a smoothing serum," explains IGK Hair co-founder Aaron Grenia.
When it comes to the best products for hair breakage, Grenia points out the importance of using leave-in conditioners. (since hair is more prone to breakage when wet.)
Additionally, using heat protectants before any styling can help prevent hair breakage, as well.
But the best product for hair breakage (especially breakage caused by heat), according to dermatologists, is Olaplex No. 3 Hair Perfector. It contains bis-aminopropyl diglycol dimaleate, which is known to help repair broken bonds in hair.
Get Regular Trims
We know: Getting a haircut is probably the last thing you want to do if you're trying to grow your hair out. But it can make a huge difference in the long run."It's best to get a trim to cut off split ends and prevent them from further splitting higher up the hair shaft," Grenia says. Your hair will grow longer and look healthier in the long run. If you're nervous about it, speak honestly with your hairstylist. They may be able to schedule regular, smaller trims so the cut isn't too dramatic.
Add Supplements Into Your Routine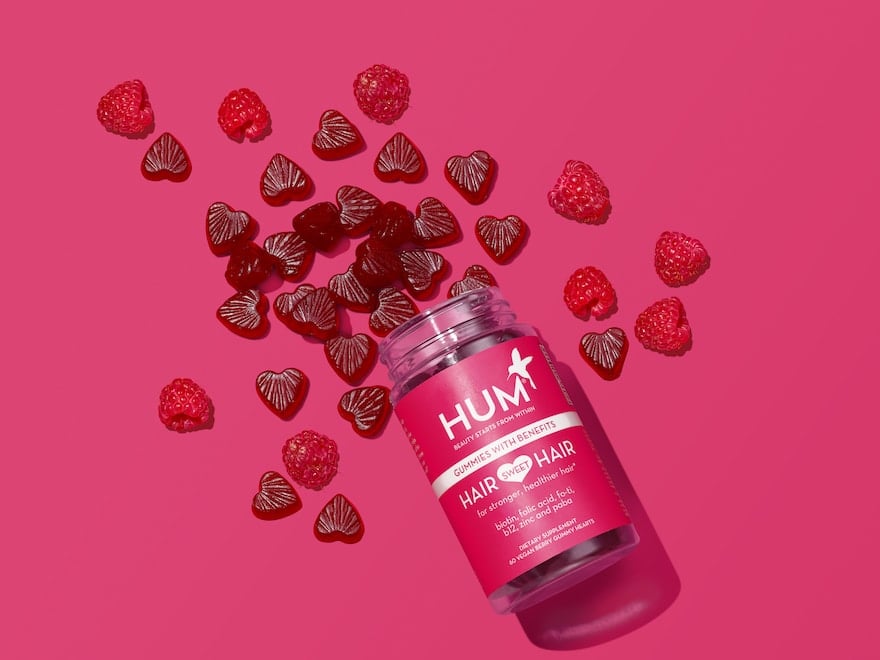 Help give your hair a boost from the inside out by adding supplements into your hair care routine. HUM Nutrition's Red Carpet contains omega fatty acids and vitamin E to help nourish hair follicles and support healthy, hydrated hair.
And if you want to grow out your hair, HUM Nutrition's Hair Sweet Hair can give your system a boost. It's formulated with biotin (which supports hair health), zinc (which promotes healthy hair follicles), and folic acid (which is key for healthy hair growth).
Style Your Hair Gently
Since high, tight 'dos can cause hair breakage at the crown of the head, switch them out for looser options. Try wearing your hair in a looser style if possible. Twist your hair into low, loose braided pigtails to secure your hair in a low bun or ponytail.
If you're totally tied to your Ariana Grande-inspired ponytail, be mindful of the elastics you're using. Scrunchies are much more gentle on your tresses (and they'll add a pop of 90s nostalgia to your look).
Limit Heat Styling
Since high heat can cause serious damage, one of the best ways to prevent hair breakage is to limit your hair's exposure to these intense temperatures. That means opting out of your usual heat styling (whether that's blowdrying, flat ironing, or curling). Gently squeeze excess water after your shower, brush it gently when it's damp, and let it air dry instead.
Scale Back Chemical Processing
If you're wondering how to stop hair breakage, one thing you can do is give your tresses a break from chemical processing (whether that's coloring or undergoing a keratin treatment). But if you simply can't give up your regular hair coloring appointments, one of the best things you can do is scale them back to give your hair a rest.

Maddy Sims
April 26, 2021
More like this