Which Hair Vitamin Is Best to Take? It Depends on Your Concern
Registered dietitian Gaby Vaca-Flores has the right hair vitamin to take for every type of concern.  
By now we know the rules. Keeping hot tools at a minimum, not washing your hair everyday, and eating a balanced diet all contribute to achieving healthy hair. But what about supplements? What exactly can they help with? And which one is right for your concerns? At HUM, we have two unique formulas specifically designed for hair. To help you choose between them, let's break it down by concern.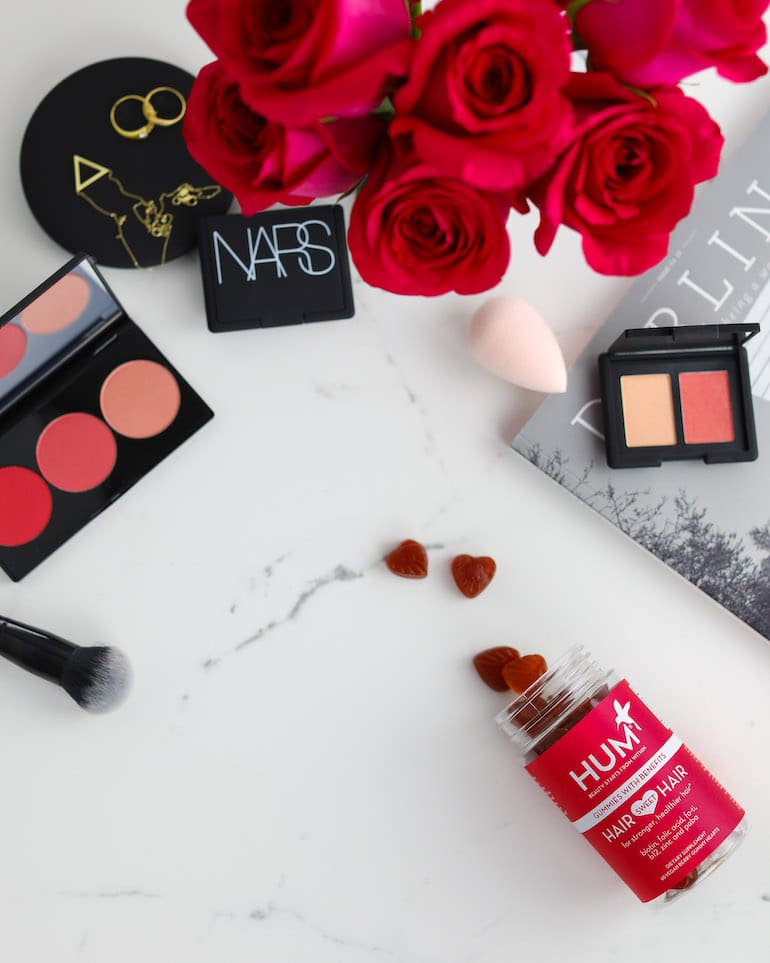 "My hair sheds a lot…how can I get it to grow?"
If long locks are your thing, then Hair Sweet Hair is the perfect supplement to add to your routine. Packed with biotin and B12, these delicious vegan gummies provide the necessary nutrients to get your hair growing longer and faster. Biotin, or vitamin B7, is a staple in most hair supplements. What sets Hair Sweet Hair apart from the rest is the unique blend of vitamin B7 with vitamin B12 (among other amazing ingredients that we will get into later).
Vitamin B12 is a key player in cell division and red blood cell count, making it an essential vitamin for hair growth and production. All you have to do is take two of these gummies per day (that's harder than it sounds because they're delicious!) and let the formula do the rest.
"My hair looks so dry, how do I make it look shiny?"
Sunflower seed oil is the hydrating ingredient in Red Carpet. The oil acts as an internal conditioning spray, if you will. Rich in Vitamin E, sunflower seed oil provides a boost of antioxidants. These help combat free radicals that are out to weaken and dehydrate hair. Exposure to free radicals is hard to control –– they're everywhere! But implementing antioxidants into your daily routine can help protect your hair from them.
Sunflower seed oil also provides Vitamin E in the form of d-alpha tocopherol, the only form of Vitamin E that meets human requirements. To use Red Carpet effectively, we recommend taking two capsules daily with food.
"I just found a gray hair! How do I make it Stop?"
Frankly, we like a little gray à la Tan France. But if this is a concern for you, here's the deal. While hair turning gray is unavoidable, Hair Sweet Hair has the secret to delaying the early onset of grays. Meet, PABA and Fo-Ti. These two key ingredients are not seen in many other hair supplements but here's why you'll want to try them out.
PABA (para-aminobenzoic acid) is derived from folic acid. Similar to Vitamin E, it also acts as a protective antioxidant. In the case of PABA, it protects your hair against losing its natural pigment. According to a 2017 study, the chinese herb Fo-Ti root (also known as polygonum multiflorum), plays a significant role in inducing melanin synthesis. Melanin is the pigment that keeps our hair, skin, and eyes looking dark rather than gray. By promoting the synthesis process, fo-ti is helping us strengthen and retain our hair pigment longer.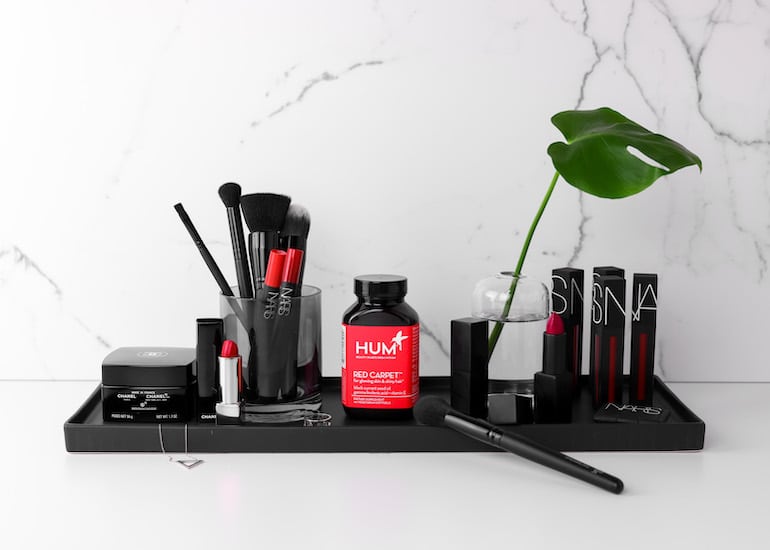 "I use hot tools on a daily basis, what should I use to protect my hair?"
Black currant seed oil, the protective ingredient found in Red Carpet, is going to help rescue damaged, overworked hair. It provides two essential fatty acids, ALA and GLA – both of which work together to help restore brittle hair.
Here's why you need it. Consistent use of heated tools can lead to moisture loss, which can then result in diminishing natural hair structure. ALA (alpha-linolenic acid), an omega-3 fatty acid, supports moisture retention by providing nutrients and structure integrity to the root of the hair follicle. GLA (gamma-linolenic acid), an omega-6 fatty acid, gives your hair a burst of anti-inflammatory and hair stimulating properties. (Read more about its amazing benefits here.) Pair this supplement with your favorite heat protectant spray and you're golden!
Is it okay to combine the two?
If you're anything like me, more than one of these scenarios may apply. That's totally fine. Hair Sweet Hair and Red Carpet work great together to provide a well rounded, hair-supporting supplement routine. You can also opt for our Runway Ready set that combines Red Carpet with Killer Nails biotin capsules for hair strengthening power in convenient daily packets.
REFERENCE LINKS
PRODUCT LINK
https://www.humnutrition.com/product/39/hair-sweet-hair
https://www.humnutrition.com/product/1/red-carpet

ARTICLE LINK
https://www.humnutrition.com/blog/hair-vitamin-guide/