What Vitamins and Supplements Should I Take?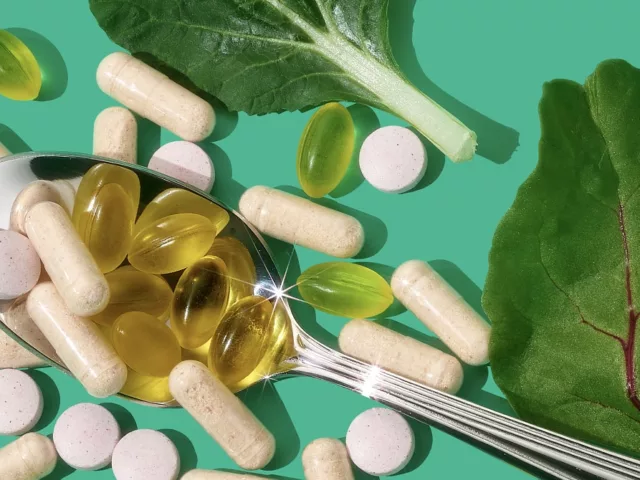 Curious about what vitamins and supplements you should take to best suit your needs? Learn how the HUM vitamin quiz can narrow down the right options for you.
So, you're committed to optimizing your health and learned that taking supplements can be a great addition to your new healthy lifestyle. (In fact, even the healthiest eaters could use an extra nutritive boost.) But where should you begin? Above all, it's important to understand which vitamins you really need. Every person's vitamin and supplement needs will be different and depends on factors such as your age, what you usually eat, your activity level, and whether you have certain medical needs.
We are constantly asked, " What vitamins should I take?" To simplify the process, HUM Nutrition CEO and co-founder Walter Faulstroh joined forces with leading nutrition researchers to develop our smart-match vitamin quiz. Keep reading for a closer look at how HUM's vitamin quiz works.
Why Vitamin Personalization Matters
"Micronutrient needs are very specific to your individual nutritional and lifestyle choices," Faulstroh says.
As far as your diet goes, certain plans and restrictions lack essential vitamins and nutrients. For instance:
Next, in terms of lifestyle, a range of diverse factors impact your levels of key nutrients. Such factors include but aren't limited to:
Gender
Age
Geographic location
Sun exposure
Fitness levels
Stress levels
Sleep habits
Finally, everyone has individual goals they're trying to reach—among them clear skin, stronger hair, more energy, improved digestion, less stress, and sounder sleep. Certain supplements are formulated to help you reach specific goals, so taking those into account will best set you up for success.
In light of these considerations, HUM teamed up with forward-thinking nutrition researchers at UC Davis early on to create our vitamin quiz.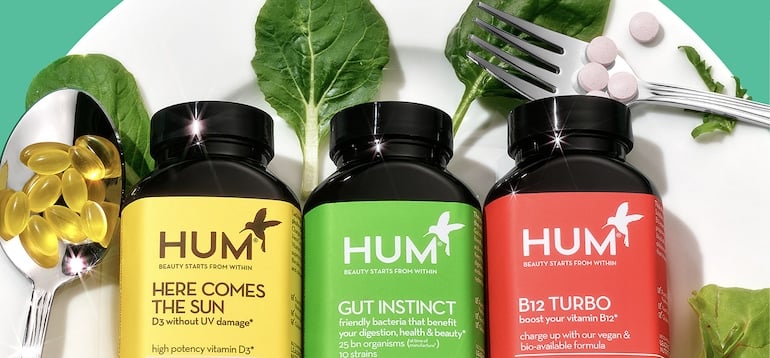 How the HUM Vitamin Quiz Works
Informed by science, clinical research, and advanced product-matching technology, our quiz can be your best ally to create a personalized supplement routine.
"We wanted to ensure that each of our customers will ultimately achieve their health and wellness goals," Faulstroh says. "It took us some time, as we wanted not only scientifically validated questions, but also a quiz that you could complete in under five minutes."
The result? An actionable, easy to take quiz that delivers the answers you need about what vitamins you should take. Learn more about HUM's vitamin quiz.
Targeted Questions
The vitamin quiz consists of 13 questions. They address factors that encompass key points outlined above, as well as portion size, your go-to drinks and snacks, skin concerns, and more.
"Every question in our 3-minute quiz helps us to better understand where our customers are in their wellness and nutrition journey," says Faulstroh. "It can also identify potential nutrient gaps."
Faulstroh admits that he was initially skeptical about this approach. However, once the team cross-referenced answers with actual blood tests, "the accuracy was surprisingly high, with the added benefit of being non-intrusive."
Curious about the methodology? Faulstroh illuminates the reasoning behind a few questions:
Of course, there are many pieces to your unique wellness puzzle. Rest assured that the HUM quiz can help select what vitamins and supplements you should take to complete your own.
Your Vitamin Quiz Results
Once you complete the short yet thorough vitamin quiz, you'll receive three product recommendations.
However, it doesn't stop there. From this point forward, we truly invest in you.
In addition to your product recommendations, you'll be paired with one of our HUM RDs, typically within 24 hours. Additionally, we'll send an in-depth report on your specific nutrition needs and lifestyle tips you can incorporate daily to more effectively reach your goals.
Match with A HUM RD
In addition to that nutrition report, you'll have free access to follow up with your HUM RD.
You can send a message to your dedicated nutritionist through your account dashboard at any time. Feel free to ask about product combinations, ingredients, dietary concerns, or whatever else comes to mind.
"This aspect makes HUM truly unique and personalized," Faulstroh shares. "It allows us to create a baseline and fine-tune recommendations with the help of our highly trained team of nutrition experts."
Customize Your Order
"Our vitamin quiz is a great starting point, and people tend to follow the recommendations," says Faulstroh. However, if another product or two strike your fancy, it's easy to swap your selections.
"We also limit the recommendations to three, though many of our consumers take more products than that," he adds.
No matter which membership plan you choose, you'll receive the same order conveniently shipped to your door on a monthly basis. If you want to switch things up for the next month, simply edit your selections via your account dashboard prior to the upcoming ship date. (Don't worry—you'll get a friendly reminder before the time comes.)
Personalized Vitamins And Beyond
Now that you understand how our vitamin quiz works to select the best supplements personalized for you, here's a recap of what you can expect with your HUM membership:
Final Thoughts
Several factors will determine which vitamins and supplements you should take. It's essential to understand your diet, lifestyle, and goals to find the perfect fit and get the results you want.
That said, we always advise consulting a trusted healthcare professional in your quest to optimize your health.
Personalization and accuracy of the quiz aside, perhaps the best aspect of the HUM journey is that you're supported at each step of the way thereafter. From having a dedicated RD to discuss any concerns to membership perks each month, taking your vitamins has never been so simple or rewarding.
Ready to get started? Start your HUM vitamin quiz now for personalized supplement recommendations and get access to one of HUM's registered dietitians to answer all of your questions and support you on your nutrition journey.
More like this