Everything You Need to Know Pairing HUM Supplements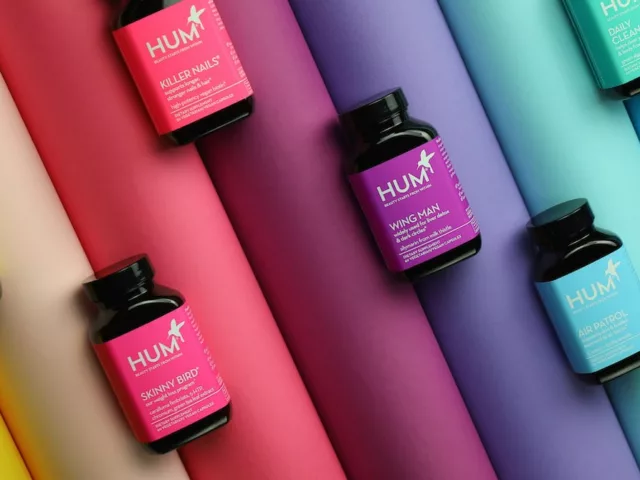 Are you ready for HUM Pairings 101?
HUM formulates vitamins and supplements that can be mixed and matched according to your specific beauty and wellness concerns. You can find out what our dietitians recommend specifically for you by taking the HUM Quiz. But as HUM's Education Specialist and a registered dietitian, I'm going to let you in on a few secrets. Below, you'll find a few of my favorite HUM supplement pairings to get you incredible results. Plus, HUM pairings you can do without, typically on account of overlapping active ingredients.
Opt for These Winning Combos
FOR HEALTHY SKIN: SKIN SQUAD+ OMG! + DAILY CLEANSE  

Did you know that Daily Cleanse was one of HUM's original products and remains one of our most popular? It supports your body's natural detox processes to bind and eliminate impurities and improve skin clarity. Next, our OMG! omega-3 fish oil helps tame redness and support an even skin tone. Lastly, banish breakouts by combining the two with one of HUM's Skin Squad, our pre and probiotic that simultaneously nurtures the gut while promoting clear skin.
FOR IMMUNE SYSTEM SUPPORT: BOOST SWEET BOOST + HERE COMES THE SUN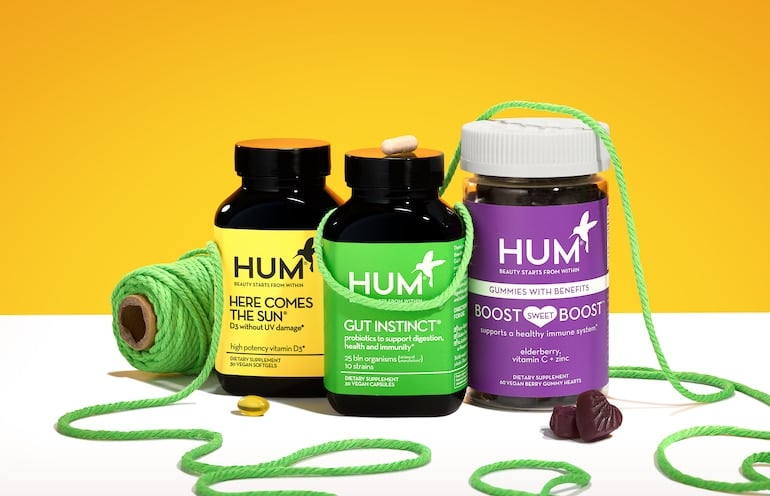 If you're looking to level up your body's defense systems, opt for a daily dose of Boost Sweet Boost and Here Comes the Sun. Boost Sweet Boost is packed with high potency vitamin C, plus zinc and concentrated elderberry extract. In fact, one serving of Boost Sweet Boost packs the equivalent of 15 fresh elderberries! Here Comes the Sun delivers vegan D3 and can help boost your mood, all while supporting your immune system all season long. (Psst: for an extra boost to your immune system, add our customer-favorite probiotic, Gut Instinct.)
FOR BETTER DIGESTION: GUT INSTINCT + FLATTER ME

You can think of Gut Instinct and Flatter Me as HUM's co-MVP's of gut health. Gut Instinct is HUM's original probiotic that promotes the growth of good bacteria for a balanced microbiome. Flatter Me, on the other hand, packs 18 full-spectrum digestive enzymes that help break down macronutrients for optimal digestion and decreased bloating. We love this HUM pairing for regular BMs and balanced digestion.
…But You Can Skip These HUM Pairings
COUNTER CRAVINGS + SKINNY BIRD OR RIPPED ROOSTER
Counter Cravings is a caffeine-free weight management supplement made with Chromax® chromium, l-theanine, and seaweed extract. This formula contains amounts of chromium which have been proven to help boost the metabolism and curb cravings. HUM's other weight management supplements, Skinny Bird and Ripped Rooster also contain chromium, but in smaller doses. 
Skinny Bird and Ripped Rooster can work well together when each formula is taken as directed. However, taking both Skinny Bird and Counter Cravings or Ripped Rooster and Counter Cravings exceeds the amount of chromium shown in clinical studies to support metabolism benefits, so we recommend picking one or the other.
Here's a quick reference guide to help you choose the best HUM weight management supplement based on your top goal:
If you struggle with daily cravings, choose Counter Cravings
If you struggle with healthy portions at mealtime, choose Skinny Bird
If you regularly workout and want to burn fat, choose Ripped Rooster
ZINC-CONTAINING SUPPLEMENTS
Zinc is a key ingredient in several of our supplements because it's loaded with skin clearing, immune boosting, and hair nourishing benefits, to name a few. However, too much of a good thing is not recommended. It's best not to go over 40 mg of zinc per day long term, according to the National Institutes of Health. 
To help keep things simple, we suggest taking no more than two HUM supplements containing zinc daily. Zinc can be found in the following formulas:
Base Control
Base Control Iron-Free
Boost Sweet Boost
Daily Cleanse
Hair Sweet Hair
Womb Service Prenatal Multi (Step 1)
SKINNY BIRD + BEAUTY ZZZZ OR MIGHTY NIGHT
Skinny Bird is HUM's secret to helping you feel fuller longer. It stars caralluma fimbriata and 5-HTP to help curb your appetite and balance your mood. However, 5-HTP has the potential to interact with botanicals such as melatonin (found in HUM's Beauty zzZz), valerian root (found in HUM's Mighty Night) and certain medications such as sedatives and antidepressants. If you are interested in managing your weight while also trying one of our sleep support supplements, we suggest considering Counter Cravings or Ripped Rooster instead of Skinny Bird. 
If you are taking prescription medications, please consult with your doctor before starting your supplement routine.
More like this