Introducing Womb Service: A Complete Prenatal With Nutrition to Support You Through Your Entire Pregnancy Journey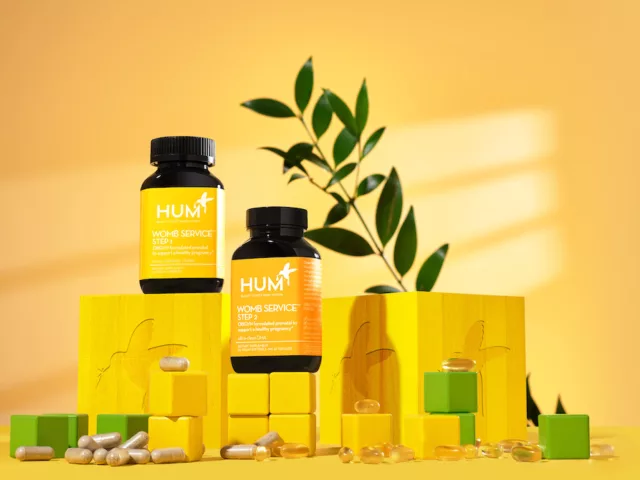 You asked, we delivered. We've had this bun in the oven for years, and we're finally able to announce Womb Service: an expertly-formulated, complete prenatal with 23 nutrients for all your and your baby's needs.
Whether you're just beginning to think about starting a family or you're already pregnant, prenatal vitamins are an essential addition to your routine. These supplements provide you with all of the essential nutrients for your pregnancy journey.
Given the added importance that prenatals have of supporting not just you, but your growing baby, it's no surprise most women want the best when shopping for a prenatal. A prenatal vitamin has been the most-requested product by our customers, and we're pleased to announce it's finally here! HUM Nutrition's Womb Service: An OB-GYN-formulated complete prenatal with 23 key nutrients in their most bioavailable form for all your and your baby's needs. It's a vegan formula, is non-GMO, and contains no artificial colors or sweeteners and is certified Clean by the Clean Label Project.
We also solved for the biggest complaint about prenatals we heard from women during our market research: Womb Service has no fishy taste or smell and no fishy burps.
In other prenatals, this is usually caused by a key ingredient, DHA, which is sourced from fish oils or vegan algae oils. "During pregnancy, it's a common complaint to have nausea (or morning sickness) and heightened sensitivity to tastes and smells," says Jennifer Martin-Biggers, PhD, MS, RDN, vice president of scientific affairs and education at HUM Nutrition. "We wanted to provide a vegan source of DHA, and the best source for that is from algae oil."
"During our extensive research and development process, we found that formulating DHA separately— in a separate softgel from the multivitamin—avoided the fishy aftertaste that is often associated with algae-based, vegan DHA," Dr. Martin-Biggers says. "We worked to carefully source an algae oil with a high DHA concentration and then taste-tested and smell-tested many options before finding an option that did not smell or have a fishy aftertaste."
Want to know more about this exciting launch? Read on to learn everything you need to know about prenatal vitamins—and why Womb Service stands out among the competition.
What Are Prenatal Vitamins?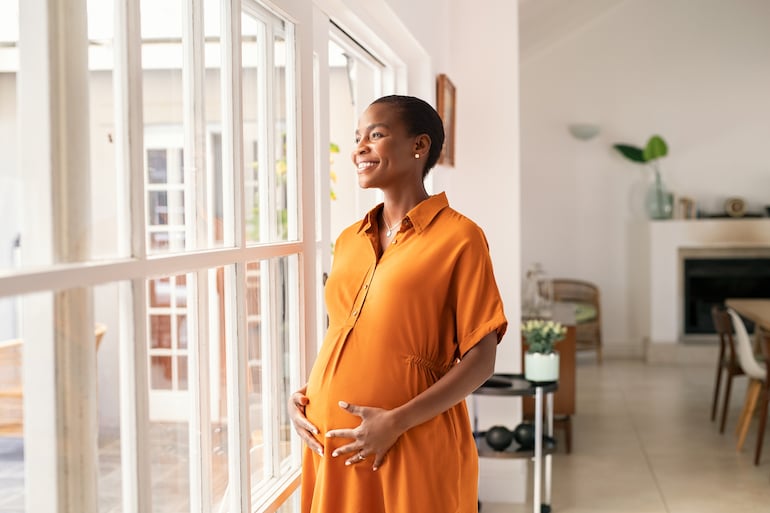 Whether you're trying to conceive, are pregnant, or are simply thinking about starting a family, you've likely heard of prenatal vitamins. But what exactly are they? "​​Prenatal vitamins are a collective of vitamins and minerals that are essential from conception through childbirth to aid with fetal development," explains Monica Grover, MD, double-board certified OB-GYN and Chief Medical Officer at VSPOT.
What Do Prenatal Vitamins Do?
"Prenatal vitamins assist in giving the critical vitamins and nutrients that the pregnant person and that the fetus need to support each stage of growth and development," Dr. Grover says. "It is critical that at the first thought of conception and pregnancy you take a prenatal with folate to reduce the risk of birth and neural tube defects."
Besides aiding in the baby's neural development, there are other prenatal vitamin benefits to know. Each ingredient has its own role in aiding fetal development (get the full run-down on each benefit of the ingredients in Womb Service, below). Prenatals typically contain iron, for example, to supply the fetus with oxygen, build up the placenta, and support the extra blood volume for you and your baby.
What Is In Prenatal Vitamins?
Prenatal vitamins typically contain these basic nutrients to help support your health and the baby's health, according to the American Pregnancy Association:
Folate (or folic acid)
Calcium
Iron
Vitamin D
Vitamin A
Vitamin B
Vitamin C
Vitamin E
Iodine
Zinc
Choline
Magnesium
Potassium
Sodium
Why All Prenatal Vitamins Aren't Created Equal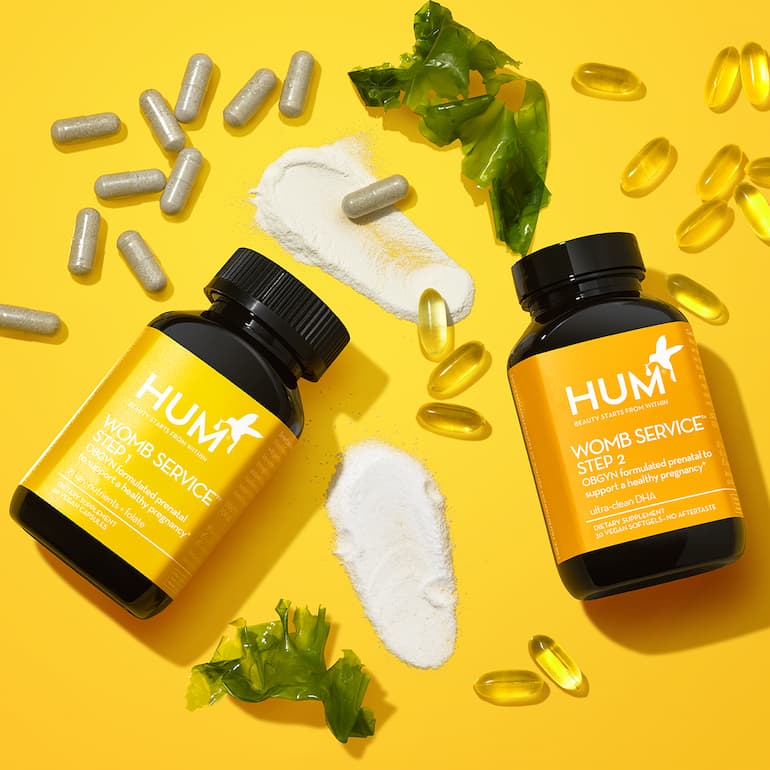 While the list above includes several essential nutrients, not all prenatal vitamins include them. And some (like HUM's Womb Service) include more. Womb Service is formulated with 23 nutrients to help give you and your baby full support.
Womb Service contains 800 mcg of MTFH folate, which is a methylated form of folate that is easier for everyone to absorb than folic acid. Some people have a genetic change that makes it difficult for them to absorb folate or folic acid if it is not methylated.
And if you're searching for a choline supplement for pregnancy, rest assured you'll get a boost from Womb Service. Our vegan prenatal vitamin also contains 15 percent of your daily value of choline, which is higher than many other prenatals.
Iron is another key ingredient that's sometimes missing in prenatals, but it's vital. Womb Service contains 27 mg of ferrous bisglycinate to meet 100 percent of your daily value of iron for pregnancy and lactation in a form that's less likely to cause an upset stomach.
Womb Service also contains methylcobalamin, a more absorbable form of vitamin B12 to ensure you're getting enough nutrients to support you and your baby. Plus, it contains 350 mg of DHA, about 150 mg above the industry standard.
HUM Nutrition's Womb Service: Clean Label Project Certified
One of the biggest concerns when it comes to taking any supplement is ensuring that the ingredients are safe and free of harmful levels of contaminants. At HUM, all of our ingredients are triple-tested for purity and verified by independent labs for potency. We know that when you're ingesting a supplement for both you and your baby, you want to be as confident as possible in the ingredients you're consuming.
To ensure you feel comfortable and confident taking Womb Service, we submitted our supplement to the Clean Label Project. The Clean Label Project is a national non-profit that works to bring transparency to consumer product safety and labeling. "To achieve the Clean Label Project Certification, the CLP independently tests for hundreds of environmental contaminants and harmful chemicals," Dr. Martin-Biggers says. We are proud to announce that Womb Service not only achieved the Clean Label Certification from testing but was also awarded the Purity Award, which is given to brands that meet the most rigorous standards among other products in the same category.
What's Inside HUM Nutrition's Womb Service Prenatal Vitamin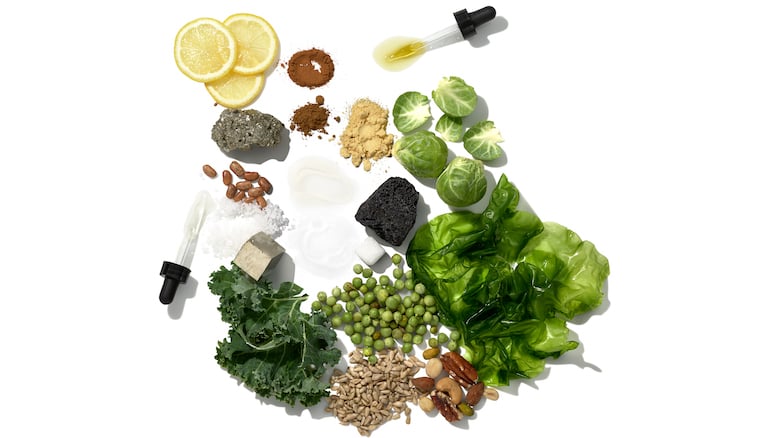 Womb Service comes with two bottles, one with DHA softgels and one with a supplement containing the other 22 nutrients. Womb Service helps support healthy fetal development including brain, visual, bone, and overall health. How? With the following ingredients:
DHA
DHA is an omega-3 fatty acid that supports the baby's brain, visual, and nervous system development. Our DHA is sourced from algae (meaning it's vegan) and comes in a separate softgel to eliminate any unwelcome fishy tastes or smells.
Folate
Folate is the most important B vitamin during pregnancy. It's key for neural tube development and DNA synthesis. Many prenatal vitamins contain folic acid, which your body then needs to convert to folate, a form of the vitamin your body can process. Womb Service contains MTFH folate, the most bioavailable form of the vitamin.
Choline
Choline is a vitamin-like essential nutrient that supports the production of neurotransmitters (chemical messengers in the nervous system that influence mood, muscle movement, heart rate, and many other functions) and the creation of phospholipids in cell membranes (which provide structure to the cell membrane and keep invaders out). Womb Service contains 15 percent of your daily value of choline, which is higher than competitors.
Vitamin B12
Pregnant or not, vitamin B12 is a crucial nutrient. It's important for the nervous system and spinal development as well as supporting red blood cell formation. Since it's most commonly found in animal products (think: milk, eggs, fish), it's critical for vegans to ensure they're taking a B12 supplement. The B12 in Womb Service is vegan, so it works for everyone—regardless of dietary restrictions.
Biotin
During pregnancy, metabolic needs increase, as the body is supporting accelerated tissue synthesis, increased active tissue mass, and increased cardiovascular and respiratory work. Biotin is a B vitamin that supports these metabolic needs during pregnancy.
Vitamin D3
Vitamin D3 supports healthy bone development in babies while supporting immune function and healthy bones in mothers.
Iodine
Iodine is important for thyroid hormones and thyroid health. The thyroid plays a role in fertility as well as metabolism, growth, and development of the human body. It helps to regulate many body functions by constantly releasing a steady amount of hormones into the bloodstream, according to the National Institutes of Health.
Iron
Your blood volume increases during pregnancy, so your iron needs also increase to support red blood cell formation. Iron in prenatal vitamins helps deliver oxygen to the fetus and builds up the placenta to create a healthy environment for the fetus to grow in. Womb Service contains 27 milligrams of ferrous bisglycinate to meet 100 percent of your daily value of iron for pregnancy and lactation. This form of iron is gentler on the stomach than other forms, so it's less likely to cause an upset stomach.
Vitamin A
The vitamin A in Womb Service comes from a combination of beta-carotene and retinyl palmitate (both of which are easily absorbed by the body) that supports good vision and a functioning immune system.
Vitamin C
Vitamin C is important for the mother's production of collagen, immunity, and ability to absorb iron, as well as the baby's bone and teeth development.
Vitamin E
Vitamin E is an antioxidant that supports overall well-being and skin health.
Vitamin K1
Vitamin K1 is important for proper blood coagulation (AKA blood clotting, which prevents excessive bleeding upon injury).
Vitamin K2
Vitamin K2 helps with bone calcification, a process in which calcium builds up in the body tissue, causing the tissue to harden. Vitamin K2 is especially important for the formation of the baby's teeth and jaw.
Vitamin B1
Vitamin B1 is essential for the baby's brain development and helps convert carbohydrates into energy for both the mom and the baby.
Vitamin B2
Vitamin B2 helps your body produce energy and promotes the baby's growth, vision, nerves, and healthy skin.
Niacin
Niacin is a B vitamin that helps nutrient metabolism.
Vitamin B6
Vitamin B6 supports the baby's brain and nervous system development as well as the production of neurotransmitters.
Molybdenum
Molybdenum is an essential trace mineral that works as a cofactor to key enzymes that drive reactions to eliminate harmful substances.
Magnesium
Magnesium is a mineral that supports nucleic acid and protein synthesis.
Zinc
Zinc is a trace mineral that's important for the baby's cell growth and brain development.
Selenium
Selenium is a trace mineral and antioxidant that's important for immune and thyroid function.
Boron
Boron is an element that works with vitamin D, calcium, and magnesium to support bone health.
Manganese
Manganese is a mineral that helps metabolize carbohydrates, amino acids, and cholesterol while supporting bone and cartilage development in babies.
Chromium
Chromium is an essential trace mineral that helps the body maintain normal blood glucose levels, especially important during pregnancy.
When to Start Taking Prenatal Vitamins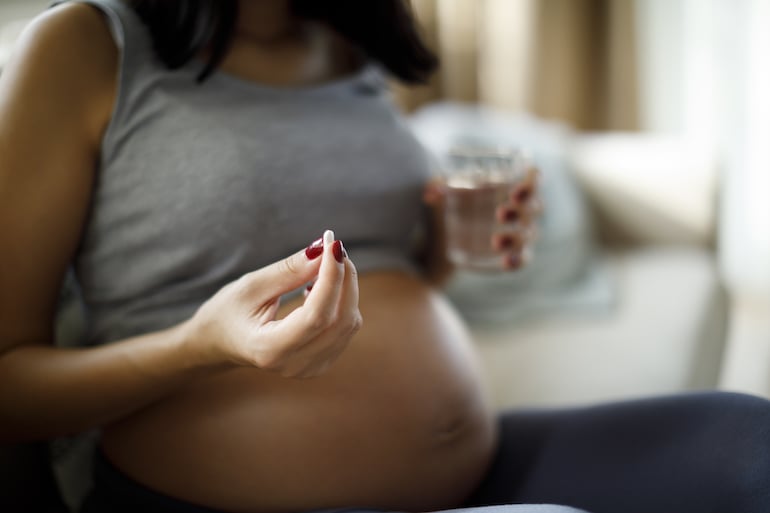 It's recommended to begin taking prenatal vitamins one to two months before you begin trying to conceive, or as soon as you decide to try to conceive. Taking prenatal vitamins helps prepare your body for pregnancy with adequate nutrients as your nutritional needs increase immediately after conception.
The good news? Womb Service is designed to provide support for every stage of the pre- to post-pregnancy journey (meaning you don't need to do any extra research or shopping during the different stages of your pregnancy). "It's important during preconception to make sure that you are in good overall health and to make sure that, in particular, you are taking a folate supplement in case you become pregnant without knowing it as folate is key for early stages of baby's brain development," Dr. Martin-Biggers says. "When pregnant, your body is undergoing many changes that require increases or changes in nutrient needs." For example, blood volume increases, doubling the requirement of iron each day to make sure there is sufficient iron to make red blood cells and transport oxygen to cells.
"After giving birth, it takes several months for your body to adjust from pregnancy, even if you aren't breastfeeding, so you should continue taking a prenatal for at least three months," Dr. Martin-Biggers adds. "If you are breastfeeding, you are passing nutrients to your baby, which means you need to be consuming higher amounts similar to pregnancy."
The Takeaway
When it comes to prenatal vitamins, the decision is deeply personal and often overwhelming. That's why we created Womb Service: to eliminate any unnecessary stress, research, and time spent buying different supplements. Womb Service was formulated by an expert team of OB-GYN and HUM RD Nutritionists—and we spent years getting the formula just right. Two easy-to-take pills a day will provide you with all of the nutrients you and your baby need throughout your entire pregnancy journey.
Bonus: When you join the HUM community, you also have free access to one of our registered dietitians, so you can get nutrition advice whenever you need it. Plus, if you sign up for monthly delivery, you'll save 25 percent or more on your subscription.
More like this