Exactly What to Look for When Shopping for A Prenatal Vitamin, According to an RD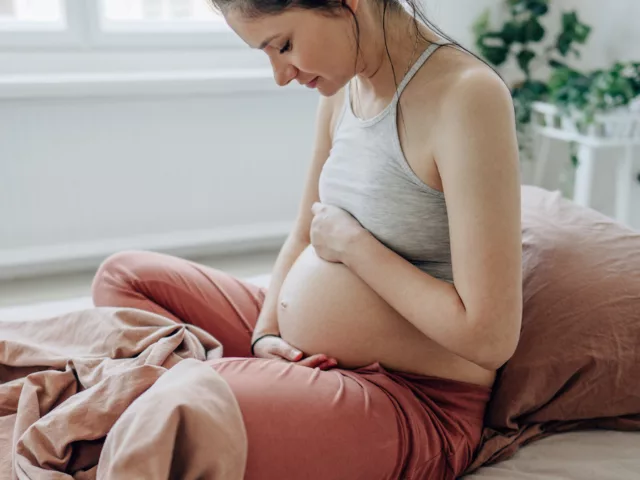 Prenatal vitamins are key to promoting a healthy pregnancy. They help you meet the increased demand for nutrients that pregnancy requires. So needless to say, picking a high-quality prenatal supplement is very important. 
However, with so many different options out there, finding the right prenatal can be tricky, and at times, overwhelming. In this article, we cover exactly what to look for in a prenatal vitamin. 
**This information should not be used in lieu of professional medical advice. Always follow guidance from your OB-GYN and/or primary care physician.
All Prenatals Are Not Created Equal
In a perfect world, prenatal vitamins or supplements would be made with premium formulas. But in reality, many fall short of some of the basic criteria that all prenatals should have. So what should you look for in a prenatal?
A good prenatal supplement should:
Be made with high-quality ingredients
Provide ingredients in their most bioavailable forms
Deliver each ingredient at the right dosage 
Formula Quality
Many of us (rightfully) assume that prenatals are automatically made with the best ingredients. Unfortunately, brands are not required to create high-quality formulas. But there are ways to help identify which supplements are well made.
If your prenatal product has earned a third-party certification, this can indicate that it's a high-quality formula.
For instance, HUM's Womb Service Prenatal Multi + DHA is Clean Label Project Certified. This certification tells us that it's made with clean ingredients that meet a high quality and safety standard. 
Other third-party certifications to look out for include: 
GMP: Supplements made in a GMP-certified facility mean the manufacturers run third-party ingredient testing to ensure that each product has the right identity, purity, strength, composition and limited contaminants. 
NSF: The National Sanitation Foundation assures consumers that the supplement was made in a facility that meets the highest safety standards.
HUM's Womb Service Prenatal Multi + DHA is manufactured in facilities that hold both GMP and NSF certifications.
Bioavailability & Dosage
A prenatal's nutrition label can look overwhelming. Usually, there's a list of over 10 vitamins and minerals, all in different amounts and forms. At a glance, this may seem like enough to inform your decision. As a dietitian, I encourage you to take a closer look.
A high-quality prenatal will have all of the right types of nutrients in their recommended amounts and in their most bioavailable forms. We'll cover the recommended amounts of each nutrient in a later section. For now, let's focus on the importance of bioavailability.
Bioavailable means the body can absorb and use the nutrient easily. In other words, mom and baby can immediately benefit from this nutrient because it doesn't require activation or additional processing by your body.
The good news is that most nutrients are typically present in bioavailable forms. However, there are a select few that are often found in forms that are not easily absorbed.
Here's a shortlist of important prenatal ingredients forms to look for (in their bioavailable forms):
*Note: ferrous bisglycinate is not the most highly absorbable form of iron. However, it is the most gentle on the GI system, which is especially important for those dealing with pregnancy symptoms like nausea and for those prone to constipation when taking high doses of iron.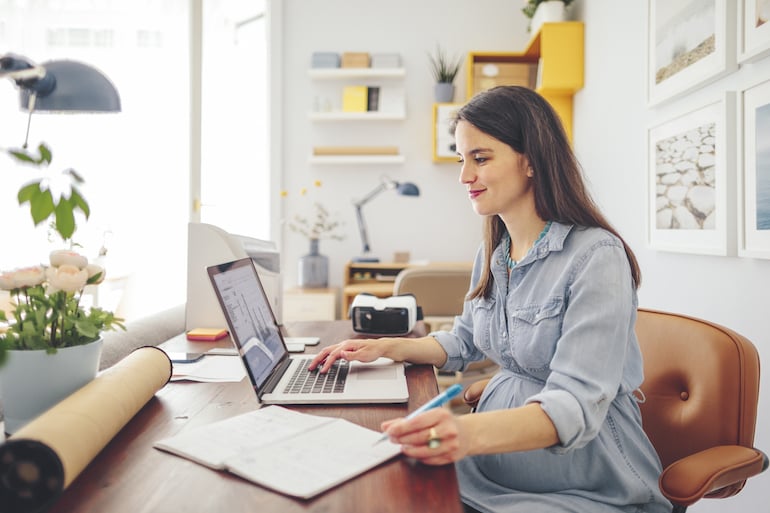 What You Need in Your Prenatal
As mentioned, high-quality prenatal supplements can help you meet your nutrient requirements during pregnancy. Also, they can help your body prepare for pregnancy prior to conception and after giving birth. 
Here's a quick reference guide of the nutrient recommendations to look for, according to the American College of Obstetricians and Gynecologists (ACOG):
choline: 450 mg
folate: 600 mcg
iodine: 220 mcg
iron: 27 mg
vitamin A: 770 mcg
vitamin B6: 1.9 mg
vitamin B12: 2.6 mcg
vitamin C: 85 mg
vitamin D3: 600 IU
Key Ingredients
While all nutrients contribute to a healthy pregnancy, some nutrients take precedence. These are a few to keep an eye out for.
Choline
Fun fact: The American Medical Association calls choline the "brain-building" nutrient.
Choline helps improve fetal brain development. More specifically, choline is a main player in several critical processes that occur during pregnancy.
To name a few, choline helps with cell and tissue growth, as well as gene expression. Further, studies show that adding choline to the maternal diet can help protect against certain neural and metabolic abnormalities.
A pregnant woman's body requires more choline than it can make. For this reason, food sources are usually the best way to get enough choline.
Despite the benefits of choline, a 2019 study reports that most pregnant women in the US don't get adequate amounts of it per day. This is an alarming statistic, especially since the demand for choline increases throughout pregnancy.
Since choline is widely available in the diet, prenatal vitamins will usually provide smaller doses to help meet the recommended intake. Experts suggest that pregnant women intake 450 milligrams of choline daily through diet and their daily prenatal.
DHA
DHA is short for docosahexaenoic acid, a type of omega-3 fatty acid. Sometimes called the marine omega, DHA is arguably one of the most critical nutrients for healthy pregnancy development.
DHA helps develop a baby's brain and vision. Brain growth usually occurs in the first few weeks of pregnancy. During the last trimester, DHA begins to accumulate in a baby's brain. This is why getting enough DHA is very important throughout every stage of pregnancy. 
However, it can be difficult for most pregnant women to meet the DHA recommendation.
One reason is that Western diets are often lacking in seafood. Fish like salmon, herring, and sardines are among the highest sources of DHA. Moreover, pregnant women who follow vegan or plant-based diets may also find it difficult to get enough DHA. 
Experts at the American Pregnancy Association urge pregnant women to consume a minimum of 300 mg of DHA. Many prenatal vitamins will pack between 120 and 390 mg of DHA. However, few offer vegan options that are easy to consume (many vegan DHA sources have a fishy aftertaste).
Fortunately, HUM Nutrition's Womb Service Prenatal DHA delivers 350 mg of vegan DHA sourced from algal oil without the fishy burps or taste.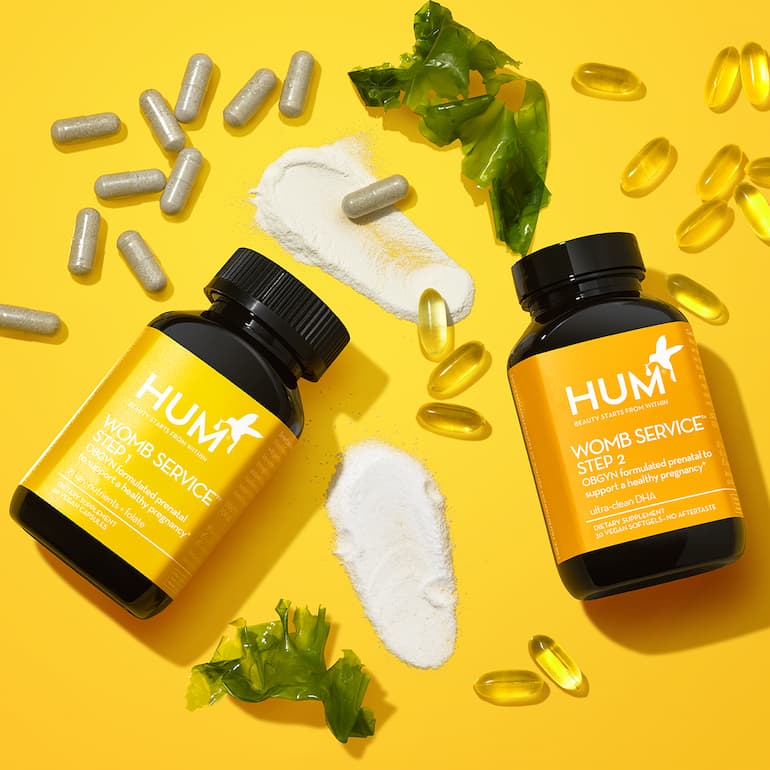 Folate
If you've done preliminary research on any pregnancy musts, then you've likely come across folic acid. Since folic acid is a critical vitamin for pregnant women, we won't gloss over it too quickly.
Folic acid is a B vitamin essential for the development of the fetus's neural tube, an early structure of the brain and spinal cord. For reference, the neural tube typically begins forming within three to four weeks of conception. Hence, folic acid can play a significant role to support healthy brain and spinal development.
Experts at ACOG recommend that pregnant women take 600 micrograms of folic acid each day via a prenatal vitamin. That said, many prenatal vitamins are likely to have upwards of 800 micrograms per serving to cover any potential nutrient gaps.
In addition, experts advise that women begin supplementing with folic acid as soon as they learn they're pregnant. However, some doctors recommend that their patients start supplementing two to three months before conceiving. (In any case, remember to always consult your doctor.)
Reminder: look for a prenatal with the absorbable MTHF folate.
HUM Nutrition's Womb Service Prenatal Multi delivers 800 mcg of methylated folate per serving.
Bottom line
It's important to be picky when shopping for a prenatal supplement. It's not enough to simply have a formula with vitamins and minerals. A good prenatal needs to deliver on formula quality, dosage, and bioavailability.
HUM's Womb Service Prenatal Multi + DHA supplements check these boxes off. 
Some women may also need additional nutrients during pregnancy, depending on their diet, but not all supplements are safe during pregnancy. Learn more about additional vitamins to take and avoid during pregnancy.

Gaby Vaca-Flores
June 8, 2022
More like this