How to Build a Pregnancy-Safe Skincare Routine, According to a Dermatologist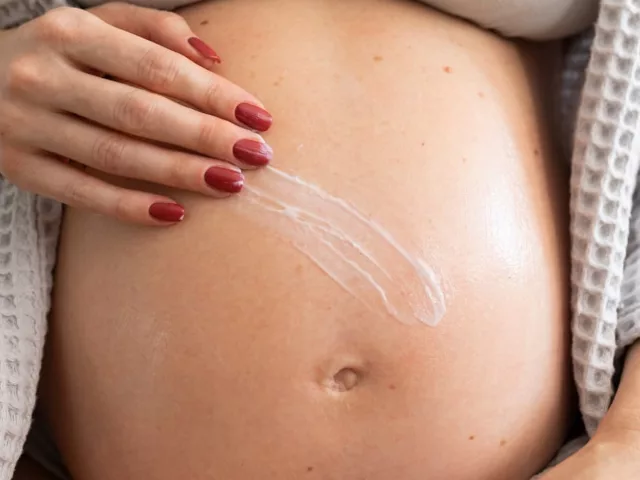 If you're expecting, you'll likely need to give your skincare routine a bit of a refresh, as some products may not be safe to use during this time. A board-certified dermatologist breaks down everything to know about pregnancy-safe skincare—including which products you should be adding to your routine and which ingredients to steer clear of.
With pregnancy comes a lot of change: from your body to your diet to your skin. Due to the massive shift in hormones, you may experience certain changes in your complexion, such as new breakouts, melasma, or stretch marks. Not only do new skincare concerns arise during this time, but some of your go-to skincare ingredients may not be safe to use while pregnant. And while you might be concerned that you'll have to toss your entire skincare stash, that's not entirely true. There are plenty of skincare products you can continue to use that may help with specific skin concerns during pregnancy. However, there are some that you should avoid for the time being, too.
Marisa Garshick, MD, FAAD, a board-certified dermatologist in New York City, breaks down everything you need to know about pregnancy-safe skincare, including what ingredients to avoid, which products to add, and how to treat any unwelcome skin conditions that may arise.
Why Do You Need to Change Your Skincare Routine When Pregnant?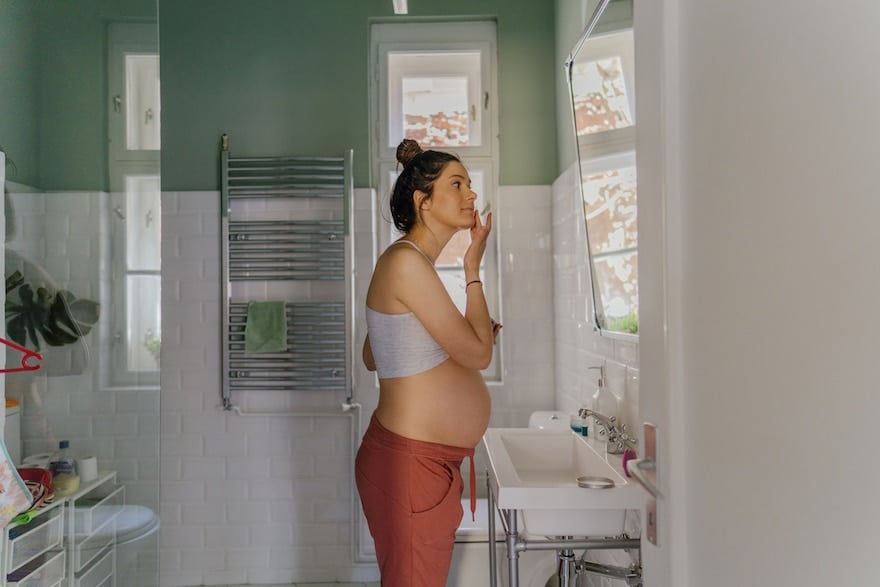 When you're pregnant, your hormone levels change drastically, which can impact your skin. "Your skincare needs and concerns may change in pregnancy, which may require you to use different products depending on the specific concern," Dr. Garshick explains.
Not only do new skincare concerns crop up, but your trusty products may not be pregnancy-safe. "Your skincare routine may need to change during pregnancy if some of the ingredients that you incorporate are not recommended during pregnancy, such as retinoids or hydroquinone," Dr. Garshick explains.
The Top Skincare Concerns During Pregnancy
Due to all the changes in hormones, your skin may change a lot during the nine months. Here are the top skincare concerns during pregnancy to be aware of.
Melasma During Pregnancy
"Changes in hormone levels during pregnancy can lead to or worsen melasma or hyperpigmentation in patients," Dr. Garshick explains. Increased levels of estrogen and progesterone lead to an increase in melanin stimulating hormone (MSH), triggering pigment cells and contributing to darker moles, darker nipples, a darker vulva, and patchy dark spots on the forehead, upper lip, and cheeks. Before you begin to worry, keep in mind this is a very common condition: Up to 70 percent of pregnant women experience melasma, according to the American Academy of Dermatology.
When it comes to melasma during pregnancy, prevention is key. "If you are prone to melasma, which can also be seen with oral contraceptive pills, it is especially important to use sun protection while pregnant to try to prevent it," Dr. Garshick adds.
Acne During Pregnancy
"Acne can also occur during pregnancy in some individuals as a result of hormonal changes which can trigger more oil production and lead to clogged pores," Dr. Garshick explains. Acne during pregnancy is common and can vary in intensity and severity depending on the trimester, but it can be treated.
"Certain ingredients that can be used include azelaic acid as well as some topical prescriptions available with the dermatologist," Dr. Garshick says. "In-office blue light treatment can also be used."
Here's the good news: Acne during pregnancy tends to result from changing hormones, so it'll likely clear up postpartum.
Stretch Marks During Pregnancy
Wondering how to prevent stretch marks during pregnancy? Topicals (like creams and those popular belly sheet masks) can help, but whether you get stretch marks or not is partially due to genetics, according to a study in the International Journal of Women's Dermatology.
"While some creams and certain ingredients (including centella asiatica and hyaluronic acid) may help to prevent stretch marks and reduce the potential formation, it is important to remember because there is a component that is genetic, even with using creams, it is possible to still develop them," she explains. "Importantly, there is limited evidence when it comes to using topical creams to prevent stretch marks."
Retinoids may be helpful to treat stretch marks after pregnancy and breastfeeding but should be avoided during pregnancy. If you're dealing with stretch marks (or nervous that you might), know that there are options. "There are lasers and in-office procedures such as microneedling that can be helpful for stretch marks as well, but are recommended to be performed after delivery," Dr. Garshick explains.
Puffiness During Pregnancy
Research shows that the body increases blood production by about 50 percent during pregnancy, which may boost circulation and contribute to an overall brighter complexion. But this increased blood production can also contribute to some puffiness and swelling. However, severe swelling can be a sign of preeclampsia (a serious medical condition). If you feel like you're more swollen than normal, contact your OB ASAP.
Skincare Products to Avoid During Pregnancy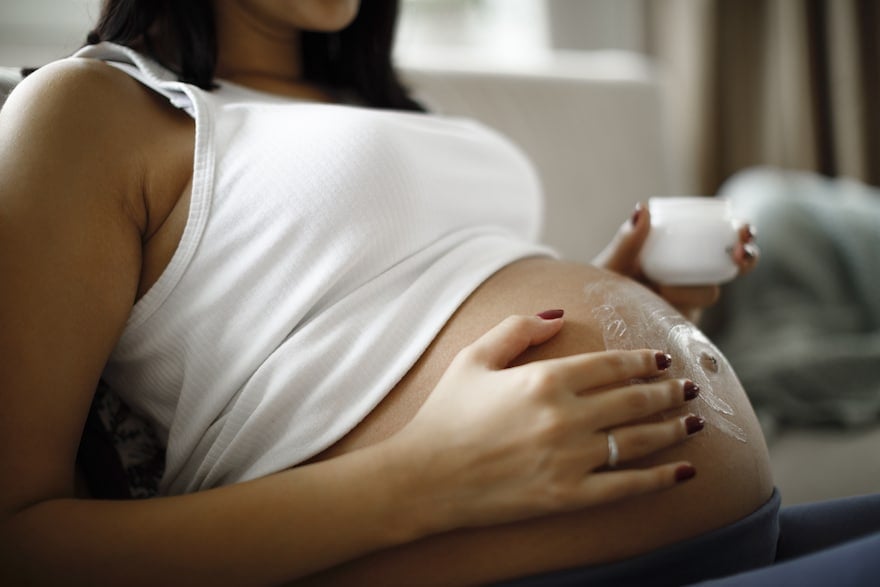 As mentioned before, there are some products to steer clear of during pregnancy, as they're believed to impact the development of the baby. "It is still okay to maintain a general skincare routine and continue with regular use of gentle cleansers, moisturizers, and sunscreen," says Dr. Garshick. "In general, any product you are using you should double-check with your obstetrician to make sure it's considered safe in pregnancy."
Retinol
While retinol boasts numerous benefits to the skin (think: decreased acne, increased collagen production, and more), experts recommend pregnant women pause their use of this popular topical. According to research, while the amount of drug absorbed from topical use is low, there have been published case reports of birth defects associated with tretinoin, and prescription-strength retinol. Out of caution, it's best to remove it from your rotation to create a pregnancy-safe skincare routine.
Hydroquinone
Hydroquinone is a topical used to treat melasma. While there isn't much research on the use of hydroquinone during pregnancy, it's estimated that 35 to 45 percent is absorbed by humans when applied topically. Because of the high absorption rate, research recommends pregnant women avoid exposure until more studies can confirm the safety of this ingredient.
High Concentrations of Benzoyl Peroxide and Salicylic Acid
Benzoyl peroxide and salicylic acid are both powerful active skincare ingredients that can help treat and prevent acne. But if you're building a pregnancy-safe skincare routine, it's best to leave them out—especially if the products you're using have high concentrations of either ingredient, Dr. Garshick says. That's because your body still absorbs these drugs, and, if the dosage is high enough, there's concern they may interfere with the pregnancy. Since there isn't much research done in this area, experts advise those who are pregnant to exercise caution.
Injectables
While Botox and fillers may be part of your typical skincare routine, they should be avoided during pregnancy. It's largely due to the fact that there's not enough research on how these treatments affect the pregnancy. Studies show that the FDA has classified Botox as a pregnancy risk category C, which means it should only be administered if the potential benefit outweighs the potential risks (such as affecting the fetus's development). As with Botox, there hasn't been much research on fillers during pregnancy, which is why many experts advise staying away from them during this time.
Skincare Products to Use During Pregnancy
"There are no products that you have to add in when pregnant, but if you're experiencing skincare concerns, there are products that are safe to use in pregnancy," Dr. Garshick says. Here are the best skincare products for pregnancy.
Sunscreen
Since pregnancy makes you more susceptible to melasma, SPF is an absolute must. "While you should always be wearing sunscreen, it can be especially helpful in pregnancy to help prevent worsening hyperpigmentation or discoloration," Dr. Garshick says. You may prefer to opt for mineral sunscreens during pregnancy, she explains, which are physical blockers containing zinc oxide or titanium dioxide. Mineral sunscreens sit on top of the skin and block the sun's harmful UV rays, while chemical-based sunscreens can still be absorbed by the body. If you want to be extra careful, opt for mineral-based sunscreens during pregnancy. Aim for an SPF of at least 30 (and don't forget to reapply every two hours).
Azelaic Acid
"Azelaic acid is an ingredient that is considered safe in pregnancy that can be helpful for hyperpigmentation or melasma that comes with pregnancy," Dr. Garshick says. "It is available over-the-counter or in a prescription form."
Moisturizer
The increased blood flow during this time can give you that "pregnancy glow" so many people talk about. But all the changes in your body can also lead to dryness or itching, Dr. Garshick says. To help prevent this from happening (and also to keep your skin glowing), it's important to hydrate your skin—both your face and your body. "For those who are experiencing dryness associated with pregnancy, it may be important to increase the frequency of moisturizing the skin or use a thicker moisturizing cream," Dr. Garshick says.
More like this