9 Homemade Face Masks For Acne, Dryness, and Dullness, According to Experts
Give yourself a full-on facial using ingredients in your kitchen cabinet. Below, dermatologists share the best homemade face masks for acne, dry skin, and sensitive skin.
Even if you have your skin on a consistent regimen, sometimes it needs a little boost. Enter: the face mask. Face masks are targeted treatments that penetrate your skin deeply and help to address specific skin concerns (think: dullness, breakouts, or dark spots). But instead of heading out to the store (or browsing online) for a face mask, all you have to do is head to your kitchen. That's right—the items you have in your fridge and pantry can create extremely effective homemade face masks.
Whether you're looking for the best homemade face mask for acne or the best homemade face mask for dry skin, we have expert-approved recipes that require staples in your home. You can give yourself a full-on facial from the comfort of your own home.
Benefits of Homemade Face Masks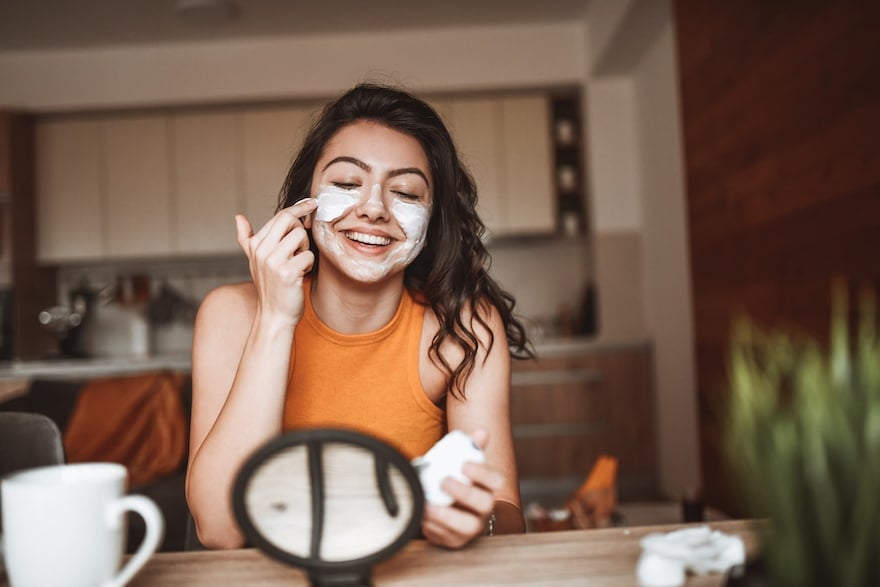 So why should you try DIY face masks? Your skin can benefit from the active ingredients found in natural foods, like fruits and vegetables. "Face masks made of ingredients like avocado, pumpkin, banana, and honey can help reduce the appearance of fine lines and wrinkles and promote tighter firmer skin," explains Dr. Corey Hartman, a board-certified dermatologist in Alabama. "Depending on the ingredient, homemade face masks can help with oily skin, dry skin, clogged pores, hyperpigmentation, and acne."
Plus, they're so convenient. "​​Another benefit is that they can be made from ingredients that are in your home, and can be made without much planning," says Dr. Purvisha Patel, a board-certified dermatologist and founder of Visha Skincare.
Homemade Face Mask Mistakes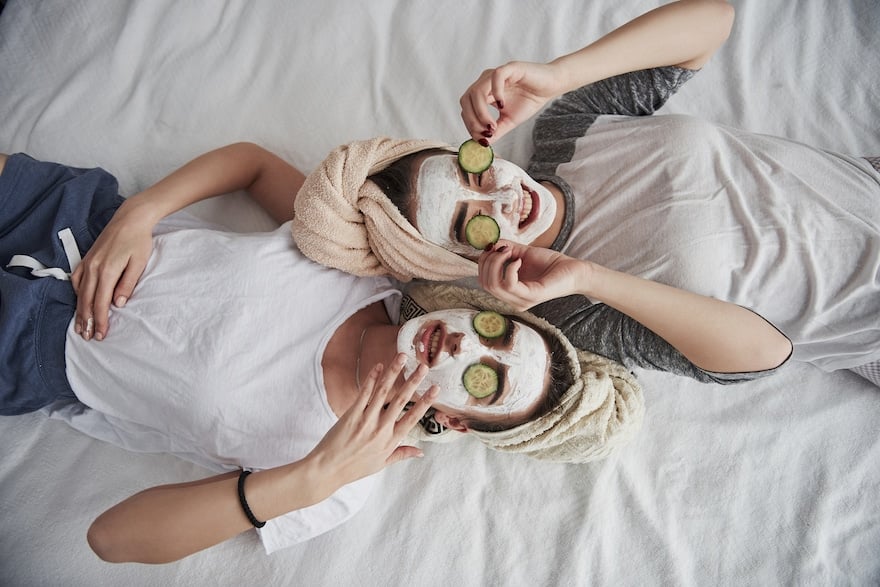 Of course, there are some risks involved with homemade face masks if you don't use the correct ingredients. The biggest mistake people make is not knowing their skin type first, says Dr. Patel. "If you have dry sensitive skin, masks that have acids or ingredients to soak oil can further dry the skin," she says. "If you have oily skin, using masks mixed with oils can make breakouts worse."
It all comes down to using the right ingredients. "It's easy to mix up ingredients, add the wrong one, or leave out crucial components that would make the mask more effective," Hartman says. That's why we got experts to share their favorite recipes for every kind of skin type or concern, below.
Expert-Approved
Homemade Face Mask Recipes
Wondering how to make a homemade face mask? Here are nine esthetician- and dermatologist-recommended homemade face mask recipes (complete with step-by-step instructions) that will give you healthy, glowing skin.
1. Honey and Cinnamon Homemade Face Mask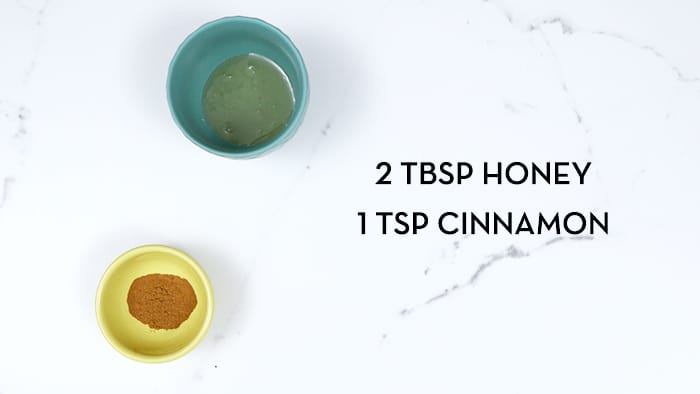 Jodi Shays, LE is a celeb-favorite esthetician and founder of Queen Bee Salon & Spa. She recommends this oh-so-simple homemade face mask with honey to all her clients with acne. Why? Honey is antimicrobial. In other words, it helps kill acne-causing bacteria. Meanwhile, cinnamon has anti-inflammatory properties—which helps calm irritated skin.
Ingredients:
2 tablespoons honey

1 teaspoon cinnamon
How To:
First, wash your face with your favorite cleanser and gently pat the area dry. Then, mix the honey and cinnamon together into a paste. Apply the mixture to affected areas. Leave the mask on for 10-15 minutes. Rinse off completely with warm water. For extra credit, Shays recommends steaming your face while you have the mask on(this helps the ingredients to really get into your skin).
2. Egg White Homemade Face Mask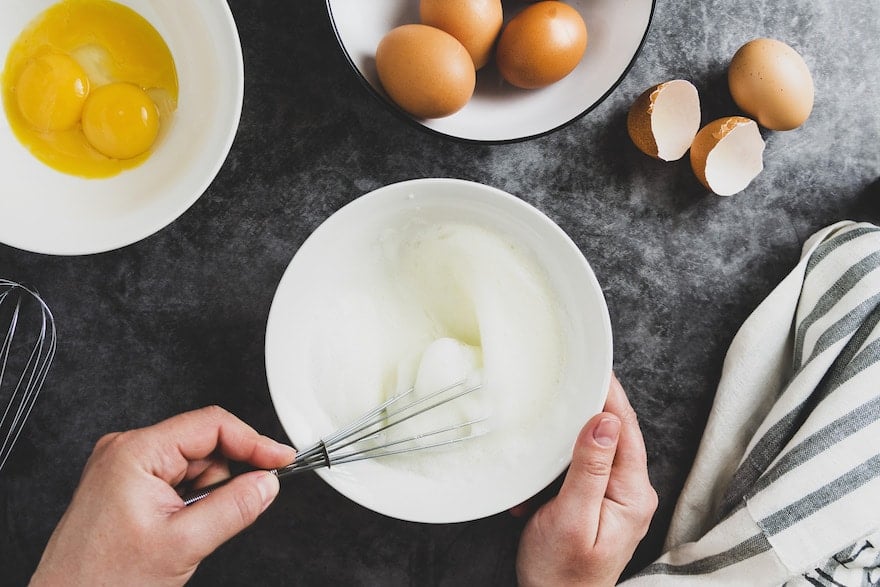 Dr. Hartman recommends this one-ingredient homemade face mask for acne: egg whites. The basic kitchen staple contains lysozyme, a protein that destroys the bacteria involved in acne formation. Egg whites also have astringent properties, meaning they can help draw dirt, debris, and excess oil out of clogged pores. Another reason this ingredient is such a powerhouse? It has anti-inflammatory benefits, as the protein forms a protective coating, which can help soothe inflammation.
Ingredients:
How To:
Separate the egg whites from the yolks and place the egg whites in a bowl. Then, wash your face with a gentle cleanser and pat dry. Next, dip a cotton swab into the bowl, and dab the egg whites all over your face (or on the areas you'd like to target). Let the mask sit for 10 to 15 minutes, and then wash it off with a damp cloth. To finish it off, apply a moisturizer.
3. Aloe and Almond Homemade Face Mask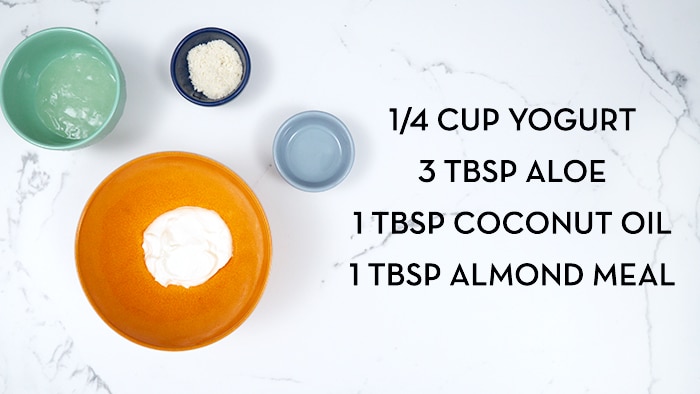 Celebrity esthetician Joanna Vargas's clients include Emma Stone. For a DIY face mask for acne, Vargas recommends whipping up this soothing and exfoliating mask. "Yogurt and aloe are both antibacterial and have skin-soothing benefits," she says. "The yogurt has lactic acid which helps exfoliate skin and dry out breakouts." Then, coconut oil contains lauric acid – also antibacterial. Lastly, almond meal gently exfoliates. "All of these ingredients together will help to combat acne and also leave your skin super hydrated," she says.
Ingredients:
1/4 cup yogurt

3 tablespoons aloe

1 tablespoon coconut oil

1 tablespoon almond meal
How To:
Start by mixing the ingredients together in a bowl. Then, apply the mixture to your face and leave it on for 15-20 minutes. Remove with a warm washcloth and apply moisturizer.
4. Banana Lemon Homemade Face Mask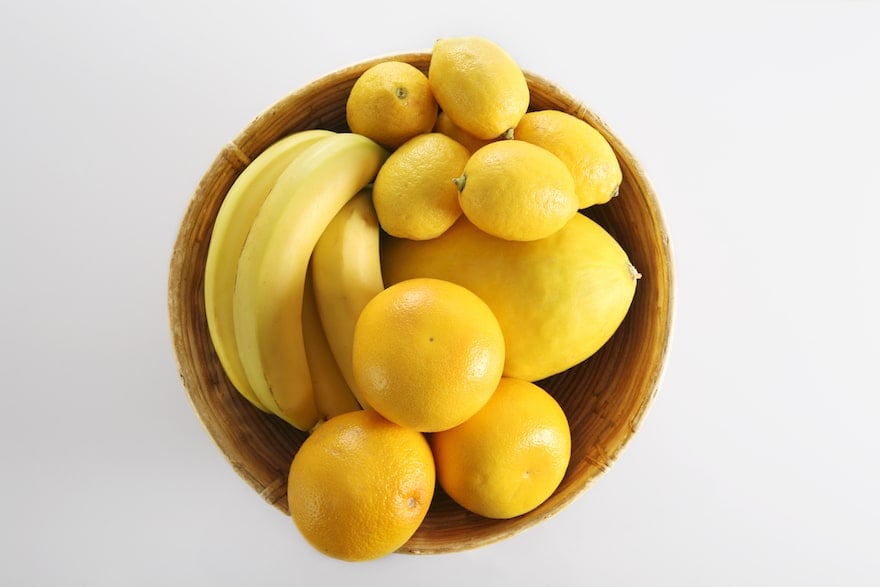 If you're dealing with oily skin, Hartman recommends this easy homemade face mask. It contains bananas, lemons, and olive oil. Banana is an effective exfoliator that helps slough off dead skin cells or excess sebum on the skin. Similarly, lemon juice contains citric acid, which can dry out excess sebum as well as acne-causing bacteria. Olive oil helps to balance these drying ingredients to ensure the skin isn't stripped of natural oils.
Ingredients:
1 banana

10 drops lemon juice

1 tsp. extra virgin olive oil
How To:
Mash the banana in a bowl, and then add the lemon juice and olive oil to create a liquid paste. Wash your face and pat it dry, and apply the mask all over your face. Let it sit for 15 minutes, and then wash it off with warm water. Moisturize, and you're all done.
5. Strawberry Lime Homemade Face Mask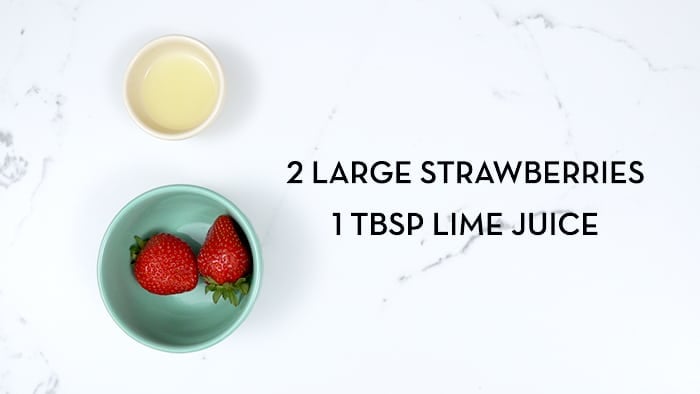 This acne-fighting mask practically screams summer (but you can make it any time of the year for clear, glowing skin). It uses strawberries and lime juice to unclog pores. Strawberries are one of the best fruits for inflammatory skin since they're rich in antioxidants and vitamin C, which help heal skin and reduce inflammation. Vitamin C also helps promote collagen production for glowing skin. Finally, the citric acid in lime juice helps whisk away dead skin while reducing bacteria and excess oil.
Ingredients:
2 large strawberries

1 tablespoon lime juice
How To:
First, mash the ingredients together. Then, apply the mixture to a clean, dry face and neck. Leave the mask on for 15 minutes and rinse off with lukewarm water. Lock it all in with a moisturizer and enjoy clear, glowing skin.
6. Aloe Vera Homemade Face Mask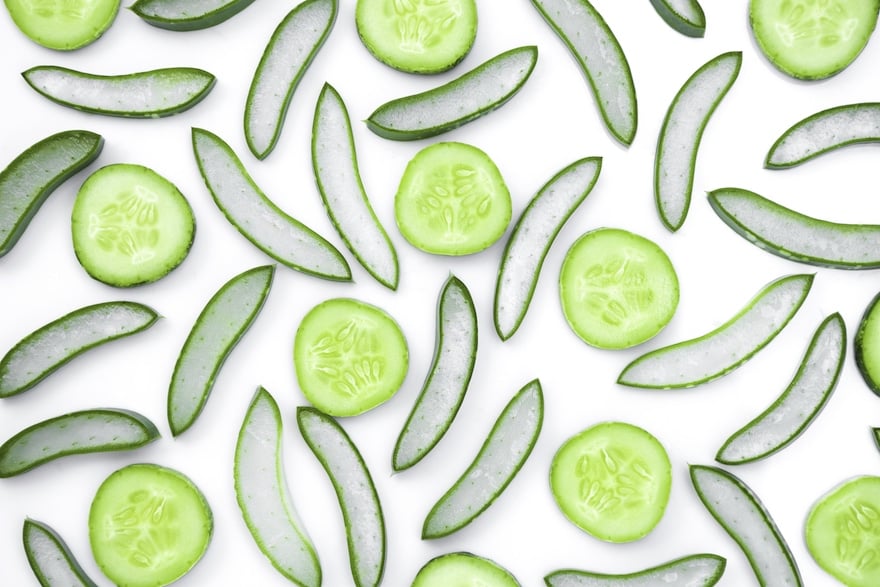 Looking for a homemade face mask for dry skin? This is it. It contains aloe vera, a soothing, hydrating ingredient. You may be familiar with its use for treating sunburn, but it can also restore moisture to your complexion. And since cucumber contains water, your skin will get an extra-heavy dose of hydration.
Ingredients:
1/2 cucumber

2 tablespoon aloe vera gel
How To:
Blend the cucumber in a food processor and combine it with the aloe vera gel. Gently massage the paste onto clean, dry skin and let it sit for 30 minutes. Wash it off with water and apply a moisturizer to seal in all that hydration.
7. Yogurt and Strawberry Acne Mask
Ildi Pekar perfects the skin of models like Miranda Kerr and Irina Shayk. Her DIY acne mask contains only two ingredients: strawberries and yogurt. "First, the lactic acid in yogurt helps dissolve dead skin and tighten pores," she shares. Furthermore, it also has soothing, hydrating properties. Lastly, strawberries also happen to be high in salicylic acid which you may recognize as an active ingredient in your favorite acne-fighting cleansers.
Ingredients:
2 mashed strawberries

2 teaspoons plain yogurt
How To:
Mash the strawberries well in a bowl. Then, mix in the yogurt. Afterward, apply over your entire face. Leave the mixture on for 20 minutes. Finally, rinse with lukewarm water.
8. Turmeric Homemade Face Mask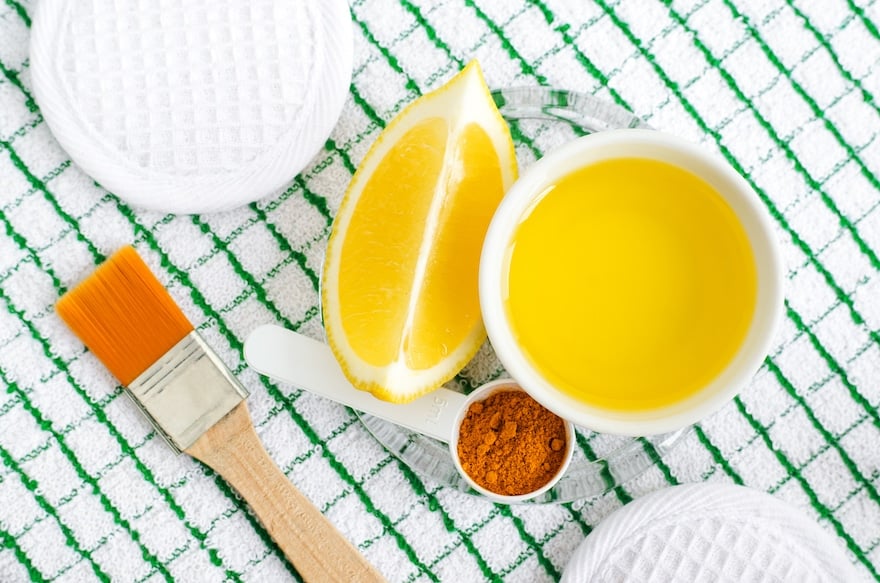 Turmeric is a spice that has some serious anti-inflammatory benefits when added to your food. But those anti-inflammatory properties can help your skin when you apply it topically too. Dr. Patel shares her favorite homemade turmeric face mask recipe, below. Psst: If you're looking for a homemade face mask for acne scars or a homemade face mask for glowing skin, this is it. Turmeric boosts your skin's brightness, fighting dark spots, discoloration, and dullness.
Ingredients:
3 tablespoons turmeric powder

2 tablespoons fresh lemon juice

Water as needed
How To:
Mix the turmeric powder with fresh lemon juice and enough water to make a thick poultice. Apply to the face for few hours or to spot treat pimples or hyperpigmentation, and then wash off. Moisturize after to boost your glow.
9. Baking Soda and Honey Homemade Face Mask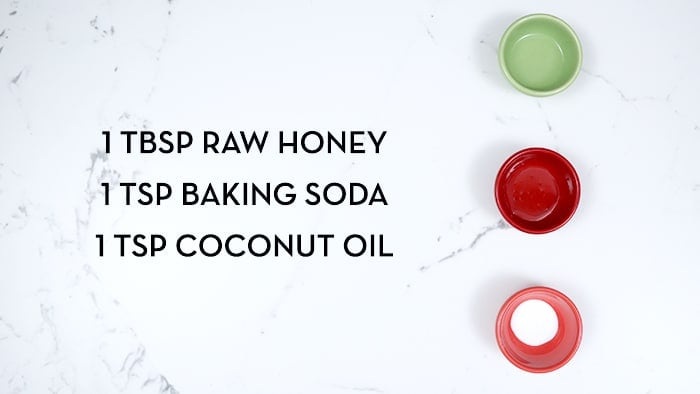 Rebecca Lee, RN, founder of RemediesForMe.com, recommends this simple homemade face mask for acne. The key ingredient is baking soda, which is antimicrobial and antifungal. Equally important, baking soda also helps absorb excess oil while gently exfoliating. Combine it with moisturizing coconut oil and antimicrobial honey for an effective acne fighter.
Ingredients:
1 tablespoon raw honey

1 teaspoon baking soda

1 teaspoon coconut oil
How To:
First, mix all the ingredients together until they form a paste. After, apply it over your face, avoiding your eyes, mouth, and eyebrows. Rub the paste in for one to two minutes in slow, circular motions. Leave it on for an additional 10-15 minutes. Finally, rinse the mask away with lukewarm water and moisturize.
More like this