How to Get and Maintain Balayage for Natural Hair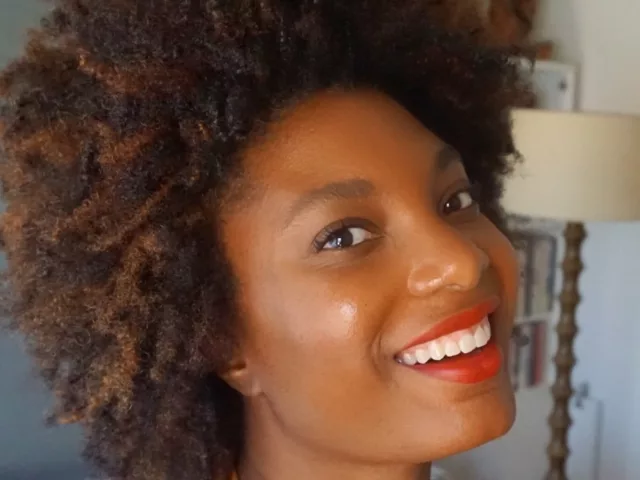 Just because you have curly hair doesn't mean you have to forgo more adventurous coloring. Here, a hairstylist explains exactly how to get (and maintain) balayage for natural hair and curly hair.
From a young age, I was told all the things my "nappy" hair couldn't do. I was told wearing my hair natural was unprofessional. And I was told that I couldn't color it because it's too dry and too "difficult" for color processing.
To be fair, the 4C hair type is usually more fragile than its curly counterparts and has more shrinkage than any other curl. Our tight zig-zag pattern tends to be on the drier side and requires a lot of moisture to prevent the hair from snapping. But that doesn't mean it's impossible to color 4C hair, which was great news to me—I'd been hoping to get in on the balayage trend for some time.
I sat down and spoke to Natarsha Scott of Pasadena-based salon Thairapy, and she explains exactly how to get and maintain balayage for natural hair. Here are her top tips to for highlights on natural hair in order to maintain a healthy, colorful, coily mane.
What Is Balayage Hair?
Balayage—which in French means "to paint"—is a hand-painting highlighting technique that usually doesn't require foil. Thus, balayage creates natural highlights without harsh lines. "The more natural the color, the longer you can go without a touch-up—usually four to six months," Scott explains. "The service can take up to six hours, so be prepared.".
Is It Possible to Get 4C Hair Highlights?
Yes, it's possible to highlight curly hair (read: 4A, 4B, and 4C hair) as long as the stylist understands the hair type. Coloring will vary from person to person, depending on what they've done to their hair in the past. It's important to let the colorist know if you've previously colored your hair, whether professionally or at home with box color. (Word to the wise: Box hair color can complicate things because it's hard to say what ingredients are in them.) Scott recommends a strand test pre-service, where the hairstylist "deposits a lighter color to the test strand(s) to make sure it'll lift," she explains. "Again, it goes case by case, person by person."
Why Balayage Hair Color Is Ideal For Natural Hair
Given that type 4 hair is already dry and fragile, coloring and heat aren't an ideal mix. But balayage offers a clever solution. Since body temperature already heats up chemicals on the head, hairstylists don't need to use foils (Scott doesn't use them, for example). Additional heat can cause more stress to curly hair, she explains, which is why balayage is her preferred method to highlight natural hair.
When coloring curly hair, Scott's motto is"low and slow. "By using a low developer and slowing down the process, you can achieve your ideal color without damaging the hair."
How to Prepare for Balayage on Natural Hair
Scott recommends washing your hair 24 to 48 hours before getting balayage on curly or natural hair. Pro tip: Refrain from using heavy leave-in or styling products leading up to the appointment. "If your hair is coated with products, it can prevent the color from lifting," Scott explains.
To help with maintenance, Scott recommends keeping your hair styled naturally—or however you prefer to wear it usually."I like for clients to come in with the same style in which they usually wear their hair—no buns or hats." Her goal is to enable clients to recreate what she does in the chair at home.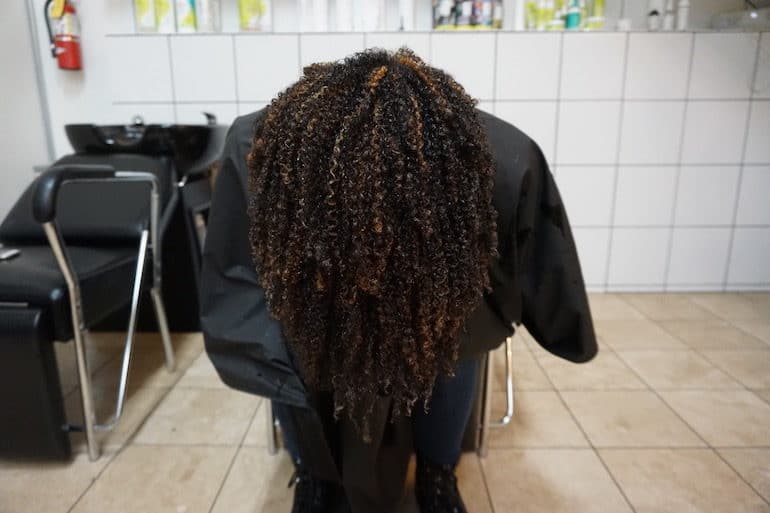 How to Care For Balayage on Natural Hair Post-Appointment
"For best results, wash your balayage hair once weekly or every other week, depending on how your scalp feels," Natarsha advises. "Additionally, massage your scalp under running water, and condition and detangle your hair every three to four days. Doing so more often can potentially cause damage." To help extend the life of the highlights, use a shampoo specifically formulated for color-treated hair.
How to Take Care of Color Treated Natural Hair
"A lot of the products geared toward curly hair aren't actually good for it," Scott says. "Products should have at least 40 percent water as their main ingredient. The rest of the water-based moisture should come from the water when washing and conditioning."
One of her favorite lines for curly hair is Innersense, an organic haircare brand that has a zero out of 10 rating on Think Dirty. (The Think Dirty app is an independent resource that allows you to discover the ingredients of everyday products.) "Product recommendations will vary from client to client based on their hair's condition. However, I often recommend Innersence's Color Awakening Hairbath, Color Radiance Daily Conditioner, Sweet Spirit Leave-In Conditioner, and the Hydrating Hair Masque for color-treated hair."
At the end of our chat, I asked Scott for one last piece of advice she'd give to curly-haired gals looking to add some color. "Take it slow and embrace the warmth," she says. "Those icy, pastel colors you see are usually wigs and aren't good for maintaining healthy natural hair."

Bianca Lambert
August 9, 2019
More like this