I Tried a Scalp Detox—Here's What Happened
Whether you're struggling with scalp issues or simply want to unlock your hair's full potential, a scalp detox is the key. We tried the buzzy treatment to find out exactly how—and if—it works.
Ask me about my skincare routine, and I'll tell you all about my sacred five-step lineup. Cleansing, moisturizing, and, of course, exfoliating are staples in my routine. But after years of struggling with greasy hair, an itchy scalp, and stunted hair growth, it never occurred to me that I needed to give my scalp the same amount of care. As someone who struggled with acne for years, I've learned exfoliation is key in shedding dead skin cells and ridding your complexion of unwanted bacteria. Turns out, your scalp benefits from that same type of exfoliation too. It's called a scalp detox, and it's a serious game changer when it comes to your hair health. Interested in trying one? Learn more about how a scalp detox works, my honest review of scalp detoxes, and the best at-home scalp detoxes to try.
What Is A Scalp Detox?
A scalp detox involves exfoliating the scalp to cleanse it thoroughly. Exfoliating removes buildup that accumulates over time (think: leftover product, dead skin cells, and oil and sweat). "With regular use of products, natural secretions, and environmental pollutants, the scalp will become congested," says Emma Fitzgerald, owner and hairstylist at The Salon in Chicago. "The process of sloughing off this buildup is known as a scalp detox."
All of that stuff sitting on your scalp and cause irritation and itching—but it can mess with your hair growth too. If you have buildup blocking a hair follicle, your hair isn't able to grow properly. That's why exfoliating away all that gunk can unlock healthier, shinier hair.
Wondering how a scalp detox differs from a normal shampoo? Think of it like a facial. While you may wash your face daily, a facial treatment involves steam, exfoliation, masks, and extractions to cleanse the skin on a deeper level. A scalp detox works similarly—it goes beyond a simple wash.
Benefits of A Scalp Detox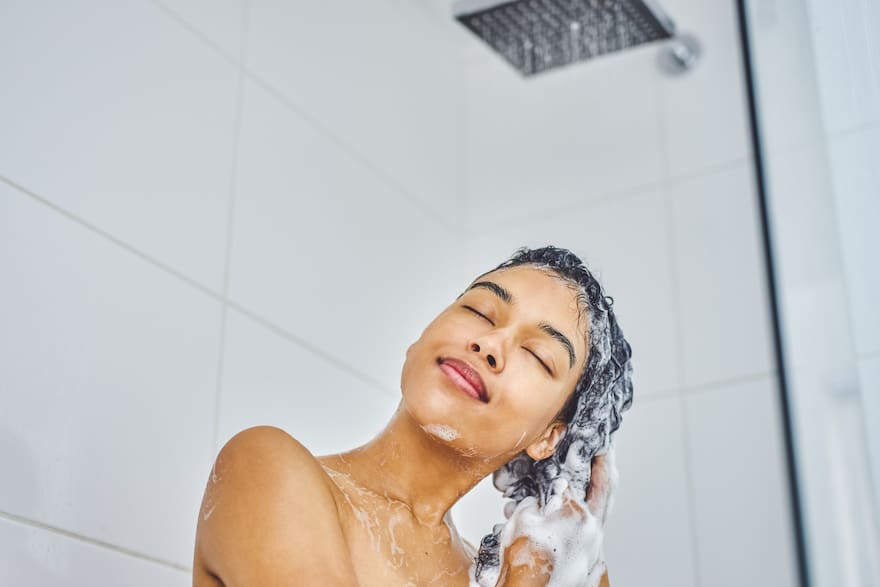 The major benefit of a scalp detox is that it clears out the skin on your scalp, removing product buildup, dead skin cells, and dirt and oil. But there are many other benefits, Fitzgerald says, which include:
Shinier hair
Softer hair
Reduction in scalp itchiness
Reduction in dandruff
Fuller hair (because it's free of buildup weight)
Reduction in scalp acne
Decreased chance of scalp irritation or infection due to scratching the skin
It's important to note that scalp detoxes are not one-size-fits-all. They should be customized to your specific needs. "Talking to your stylist is the best way to create a plan for your hair and scalp needs," Fitzgerald says.
My Scalp Detox Results
After trying my own scalp detox, I can honestly say I'm a believer. I'm not an avid dry shampoo user, but I still use a few products to tame my frizz-prone, wavy hair. My scalp sometimes feels dry and itchy, and occasionally I see some flakes. I didn't realize how desperately my scalp needed to be exfoliated. But after trying a scalp detox, my hair was revived.
For my own scalp detox, I used a scrub shampoo (The California Sea Salt Shampoo by Playa) and followed it up with a detoxifying mask (The Healing Hair Masque by Playa). Just buffing away buildup on my scalp made a huge difference, but the clay mask lifted up anything left behind and made my scalp feel squeaky clean (without feeling too tight or dry).
Once I blow dried my hair, I saw the results in full. My hair was shiner and more voluminous (because it wasn't weighed down by buildup or coated in product). My roots, which some days seem to get greasy just one day after I shower, felt completely clean. I couldn't stop running my hands through my hair.
And that occasional itching and dryness? I haven't experienced it since my scalp detox. I'm officially hooked—I've already planned my next treatment (Fitzgerald says a detoxification service should be performed every four to six weeks as needed).
Do You Need a Scalp Detox?
Here's the deal: Your scalp's health influences the health of your hair. Many, but not everyone, will need one at some point in time. If you're struggling with scalp issues, Fitzgerald says a scalp detox could help you achieve shinier, stronger hair. "You should do a scalp detox if you're noticing a change in oiliness, experiencing irritation, noticing flakiness, or are starting to feel spots of congestion (which is a sign of a clogged follicle)," she says.
What happens if you have a sensitive scalp? Proceed with caution, Fitzgerald says. Whenever scalp sensitivity is of concern, the product should be carefully selected. "Most products contain an antimicrobial property, which can cause a tingling or even burning sensation on a sensitive scalp," she says. "A detoxifying service could be beneficial to a scalp with allergies as long as the product being used is free of any irritating ingredients."
You should also proceed with caution if hair fall is already of concern. "When done correctly, it may promote a healthy environment to produce a hair follicle that is sustainable," Fitzgerald says. "If done incorrectly, the irritation and friction of a massage of a scalp brush may create increased premature hair fall."
How to Do A Scalp Detox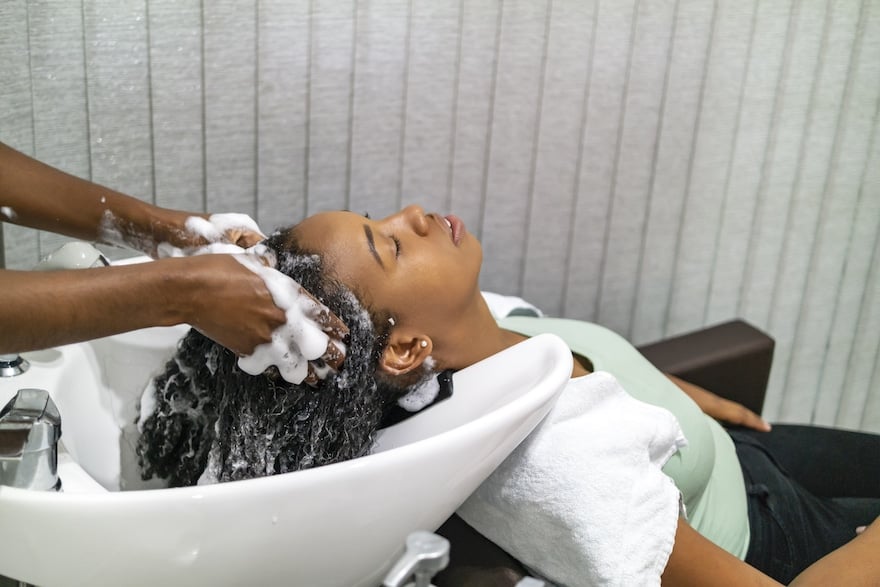 A Salon Scalp Detox
Some salons offer scalp detoxes (look for terms like "clarifying service" or "scalp exfoliation," Fitzgerald says). The treatment typically involves a series of steps including:
Warm or hot rinse
Clarifying shampoo (done twice)
Scalp treatment applied with a scalp brush or massage technique
Third shampoo
Conditioner applied on mid-shaft to ends
Rinse and detangle
Blow dry
The salon service offers a few benefits, Fitzgerald says. "The stylist can see and feel areas of the scalp that the individual may not be able to reach or be able to apply appropriate pressure to," she says. "Also, the stylist can recommend at-home treatments that will complement the service.
At-Home Scalp Detox
At-home treatments can be just as beneficial as salon treatments when done properly. "At-home treatments may still consist of a clarifying shampoo, but they may also involve more natural products, such as apple cider vinegar," Fitzgerald says. "To complete a successful at-home treatment, wet the hair, apply the detoxifying product of your choice to the scalp evenly, rinse the hair thoroughly, and end with a blowout. Some at-home scalp detox products contain physical exfoliants (think: sea salt), which can help remove excess buildup. "It helps to loosen the debris, dead skin cells, and other buildup on the hair while remaining gentle enough to not cause further irritation," Fitzgerald says.
Here are a few of our favorite products, below.
Playa Healing Hair Masque – $38
You've likely tried clay masks on your face, but have you tried one on your scalp? This treatment has kaolin clay to help lift impurities from your scalp (much like a clay mask does to your face). Plus, it has amla oil to treat dandruff and prevent premature pigment loss.
dpHUE Apple Cider Vinegar Scalp Scrub – $38
We're fans of this scrub because it contains both sea salt and apple cider vinegar to help physically and chemically exfoliate the skin. It'll remove dead skin, dandruff, and product residue without disturbing the pH level of your scalp (read: no unwanted irritation).
Briogeo Charcoal Shampoo – $42
The scalp scrub contains charcoal to draw impurities from the scalp and micro-exfoliators to remove dead skin cells and product build-up from the follicles. The cooling blend of peppermint oil, spearmint oil, and tea tree oil reduce itchiness and inflammation. Added bonus? It contains coconut oil to provide hydration so you don't experience dryness and flakiness.
Ouai Scalp And Body Scrub – $38
Trusted by beauty editors and hairstylists alike, this scrub will buff away any buildup in a flash. The formula is hydrating and gentle enough to use on your body, so you won't have to worry about irritation.
More like this