Can You Exfoliate Too Much? A Celeb Facialist Advises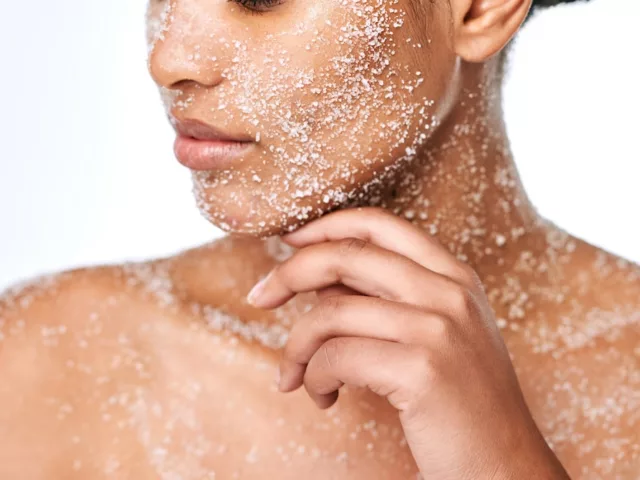 When it comes to skincare, we're inundated with products. Seriously: The global skincare industry is a $124 billion game. "Doing the most" isn't always a bad thing, especially when it comes to your health and wellness. But when do we start going overboard when it comes to masking, scrubbing, and lathering? Does everyone need to adopt a 14-step skincare routine twice daily? And when it comes to your
skin barrier
, can you ever exfoliate too much? To find out, we spoke with celebrity facialist
Joomee Song
, whose
practice
largely revolves around (incredible) intuitive facial massage and protecting our natural barrier.
First, what is exfoliation?
You're probably
familiar with exfoliating
, but humor me for this refresher. It's essentially the process of removing of the top layer of the dermis, which often results in fresh, bright, rejuvenated-looking skin and minimized dark spots and scarring. Exfoliation can be physical by using scrubs and abrasives, or chemical via acids, which can be anywhere from super gentle to intense and requiring downtime.
So, can you exfoliate too much?
It turns out that there
is
such a thing as overdoing it when it comes to exfoliation. While it may seem like you can't get enough of this miracle treatment, consider this: Your skin has its very own microbiome. It's a protective layer of good bacteria that helps fight infection and inflammation. It also prevents negative bacteria from causing breakouts, and even protects your skin from a certain amount of UV damage. "I've started to notice people having issues with inflamed skin more than ever nowadays, mainly due to over-exfoliating," Joomee says. She continues that too much exfoliation can actually accelerate the aging process, since it "contradicts the original intention." She expands upon the cyclical nature of the problem: Many people continue to exfoliate to solve skin issues like redness and irritation, while they may actually begin to experience
eczema
and other symptoms as a result.
The Importance of THE Lipid Barrier
It's not just dead skin that gets lost with too much exfoliation; it's also our lipid barrier. Lipids are fats (such as oils), and our sebum makes up ours. It's responsible for
a natural glow
and a certain amount of protective moisture. Constant skin stripping of both good bacteria and natural oils can result in the opposite results you're going for. It can incite not only red, raw, and reactive skin, but also drier skin that overproduces oil in a desperate act to rebalance itself. Joomee elaborates that we need certain elements to remain "on our skin's surface to protect us from the sun, allergens and dust from getting into our system. When you exfoliate too much, you're stripping natural moisture factor (NMF), which eventually causes micro-cracks on the skin's surface." In turn, everything that touches the skin can go directly to the nerve endings and cause reactions.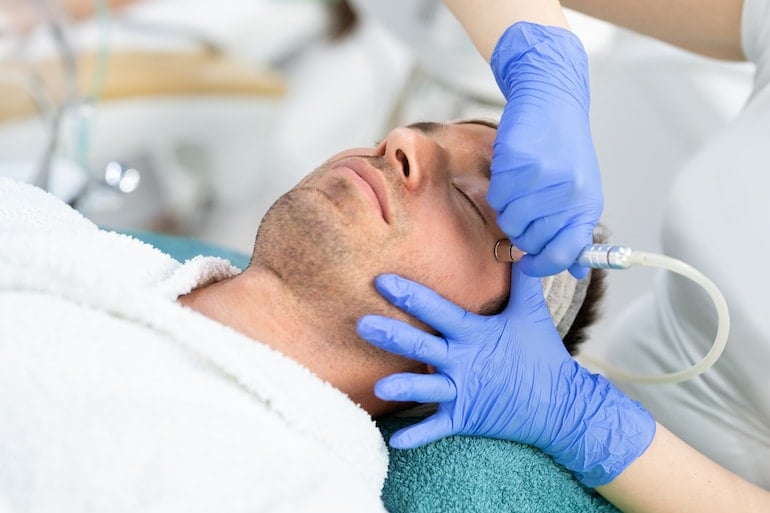 How to Avoid Stripping Your Skin
Exfoliate Mildly
Now I'm not trying to scare you away from chemical exfoliants. Even physical scrubs can be helpful, but mostly if used by a professional—think microdermabrasion—or gently at home when cleansing. But if you have a physical exfoliating cleanser, don't use it everyday. Aim to use it three times a week, as well as an acid solution once a week. Do it in the evenings so that your
skin has some time to recoup overnight
while you rest and go into healing mode. Additionally, always wear SPF during the day. Whether you're getting peels professionally or using an at-home system, stick to once weekly at most. However, even twice a month can be effective to fade dark spots and acne scars, as well as prevent dead skin from clogging your pores. The goal is to refresh without constantly compromising our skin's natural pH by way of skin stripping.
Trust the Process of Skin CELL Renewal
We all need a little help from our professional friends and products (ahem, cue Joomee). But we also need to have faith in our skin's natural abilities. She stresses that healthy skin is "capable of shedding dead skin cells every 28 to 35 days. If you have naturally dry or dehydrated skin, try not to exfoliate. Instead, use cotton gauze to buff the skin with
gentle toner
or moisturizer. That way, you can smooth out the skin's texture without causing more dryness." All things considered, it's okay to be extra—just be mindful about doing the most.
More like this