What Serum Should I Use? Here's the Ultimate Guide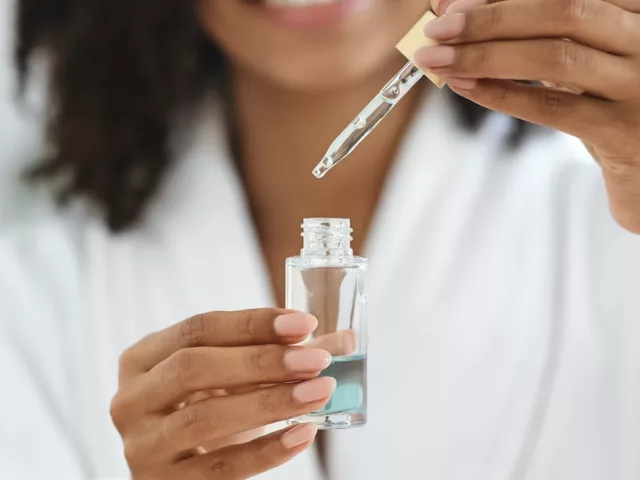 Have you ever wondered what face serum you should use? Or even if you should use one, for that matter? If so, consider this your ultimate guide to serums.
To understand this powerhouse product and navigate the different types, we reached out to Caroline Robinson, MD, FAAD, a board-certified dermatologist and founder of Tone Dermatology in Chicago.
What is facial serum?
Serums are highly concentrated skincare products that have a heightened ability to penetrate the skin. For these reasons, they're able to supercharge progress based on your needs.
"Serums are one of my favorite skincare products," Dr. Robinson shares. "They come in liquid, clear, gel, and oily forms. They're usually light and contain different active ingredients targeted to your skin concerns, including breakouts, aging, hyperpigmentation, pollution, fine lines, wrinkles, repair, and more."
You can think of serum as a star quarterback or the anchor leg in a relay race. Essentially, it can be your best, most potent ally in your daily regimen to achieve your idea of beautiful, radiant skin.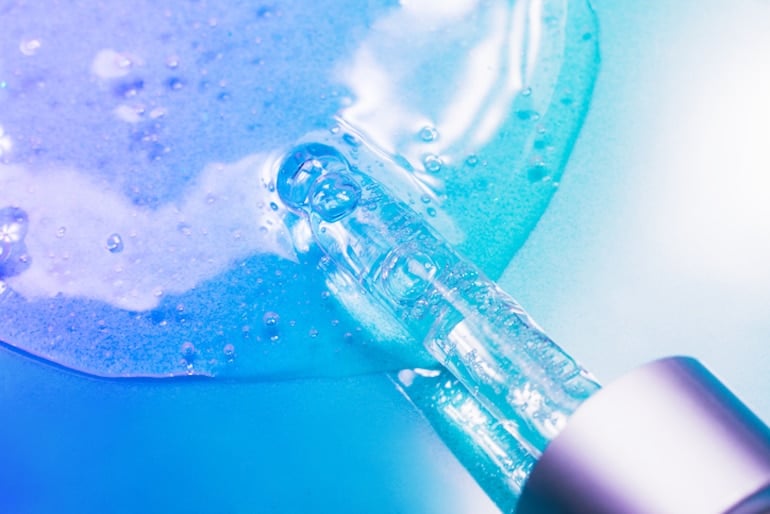 What Serum Should I Use?
Dr. Robinson notes that the market is very saturated today—which can be good in terms of finding the best serum amongst diverse skin types, tones, and goals.
Since they pack different actives, she continues, it's essential "to find something that's really customized to your concern, or even a combination [thereof]."
Ready to get glowing? Simply follow this dermatologist-approved guide to the best serums for your skin type and concerns.
Best Serums for Acne-Prone Skin
"Retinoids are the gold standard for acne," Dr. Robinson explains. However, they're most often available by prescription only and in cream form.
You can wait to get an Rx from your dermatologist. Otherwise, she advises looking into serums with BHAs (salicylic acid) as a worthy alternative in the interim.
Acne-prone select: Some By Mi 30 Days Miracle Serum, $27
Best Serums for Oily Skin
Dr. Robinson shares that many people with oily skin fear that hydration will exacerbate oil production. However, she says that they "can benefit from a water-based serum to use even in place of a moisturizer, rather than one that's lipid- or oil-based."
Additionally, since BHAs help tackle oil under the skin's surface, you may also opt for one targeted for breakout-prone skin.
Lastly, those containing niacinamide (vitamin B3) can help lower sebum excretion rates.
Oily skin select: Allies of Skin Prebiotics & Niacinamide Pore Refining Booster, $65
Best Serums for Mature Skin
Are your biggest skin concerns are fine lines, wrinkles, and other signs of aging? Dr. Robinson advises using serums that'll help with collagen rejuvenation.
She recommends using a vitamin C serum (typically in the form of L-ascorbic acid) in the morning for DNA repair, such as to remedy the effects of excess sun exposure. Then at night, opt for retinol to support skin cell turnover.
Some formulas, including the one recommended below, blend the two ingredients for a safe and effective one-two punch.
Pro-aging select: iS Clinical Pro-Heal Serum Advance+, $88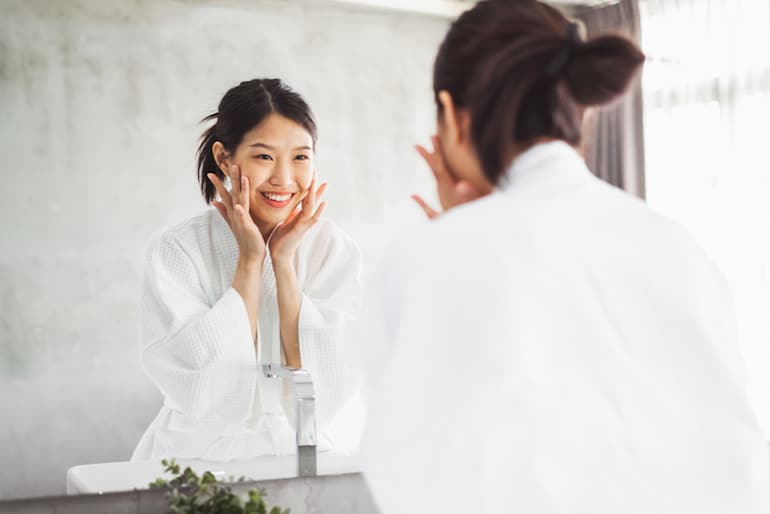 Best Serums for Dry Skin
"My go-to for hydration is hyaluronic acid, but also glycerin and ceramides," Dr. Robinson begins. However, you can also look to "more familIar ingredients like aloe (a humectant) and other hydrating botanicals."
She advises looking for a hydrating serum with any of the big three ingredients, with a primary claim to quench dry and dehydrated skin.
However, she notes, "most people can benefit from using a hyaluronic acid serum. A lot of serums on the market are HA-based, or include some form of it. It's naturally found in the skin, and attracts water to deeper layers."
Hydrating select: Klur Immersion Serum, $70
Best Serums for Sensitive Skin
Similar to the folks above, those with sensitive skin "can always benefit from hydrating products because their skin barrier is more reactive," Dr. Robinson shares. A concentrated boost in hydration can "support skin cells prone to dryness, redness, and cracking."
Otherwise, do you hope to experience the benefits of retinol but can't tolerate its potency? If so, she recommends bakuchiol, which is gentler and "has many of the same anti-aging benefits of retinol that we're just discovering."
Due to a higher chance of reactivity, you may want to opt for a clean formula with minimal ingredients and few (if any) additives.
Sensitive skin select: Biossance Squalane + Phyto-Retinol Serum, $72
Best Serums for Hyperpigmentation
"There are so many exciting serum options for hyperpigmentation," Dr. Robinson shares. Whether yours is in the form of melasma, age spots, sun spots, or post-inflammatory hyperpigmentation (e.g., the remnants of a past breakout), there are several terrific ways to fade dark spots.
For starters, Dr. Robinson advises looking for a stable vitamin C serum to effectively target hyperpigmentation. Yet there are also serums that blend vitamin C with botanicals to further brighten the skin, such as:
licorice

kojic acid
azelaic acid
mulberry extract
alpha arbutin
Finally, in addition to its ability to normalize oil production, niacinamide can help lighten dark spots.
Hyperpigmentation select: Hyper Skin Hyper Clear Serum, $36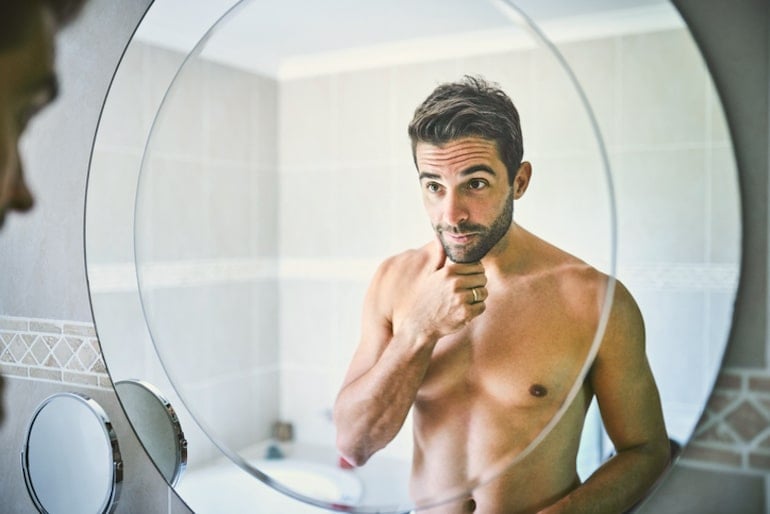 Best Serums for Dullness
Is your skin is lacking glow and radiance? If so, you should look for a product with gentle chemical exfoliants.
"Dullness is often related to slow skin cell turnover," Dr. Robinson mentions, which should happen about every 28 days. A serum with mild AHAs (alpha-hydroxy acids) or PHAs (polyhydroxy acids) should do the trick.
Dull skin may also benefit from a serum with fruit enzymes, which can contain antioxidants in high percentages to brighten the skin.
Dullness select: Farmacy Honeymoon Glow AHA Resurfacing Night Serum, $58
Can you layer face serums?
Dr. Robinson mentions that doubling up on serums is an advanced technique. That said, you usually can—but with caveats.
"If you completed your skincare routine and feel like product is sitting on your skin (rather than absorbing), it's a sign that you over-layered," she explains.
Additionally, certain ingredients don't pair well together.
"Avoid mixing retinoids and retinol-based serums with benzoyl peroxide," Dr. Robinson advises. "Doing so can cause irritation and also counteract each other's effects." Similarly, she says you should avoid layering vitamin C and retinol serums—unless they're formulated together—to avoid irritation.
All things considered, Dr. Robinson recommends "finding one with both actives you want, so you know it's formulated in the right way to limit to one product."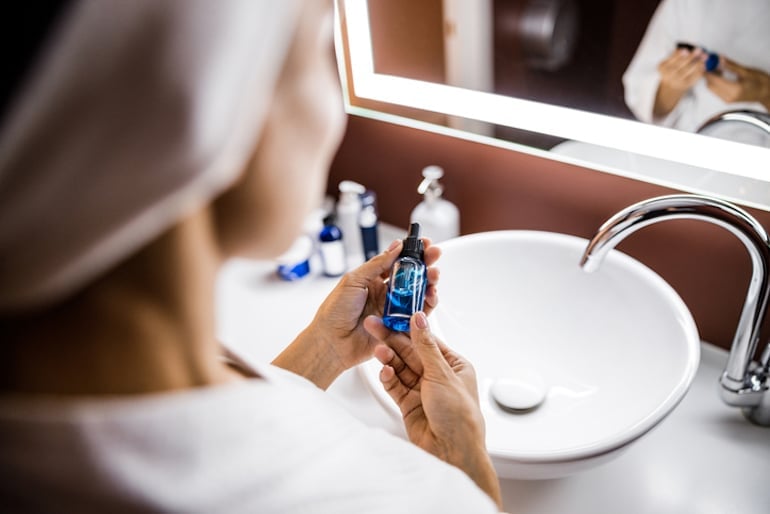 How to Use It
Apply serum after cleansing and before moisturizing. If you follow a more advanced regimen, apply it after toning and spraying a facial mist, yet before creams and other occlusives. (When in doubt, a general rule of thumb is to apply products from thinnest to thickest consistency.)
As Dr. Robinson advised earlier, if you're layering serums, you can use one in the morning and the other at night. You may also find that you prefer to rotate them on a daily basis.
In terms of how often you should use it daily, follow the instructions on the package or as advised by your dermatologist.
Final Thoughts
If you have a major skincare goal, there's a great chance that serum can significantly help you achieve it.
It's worth mentioning that since they have higher concentrations of active ingredients, they tend to be on the pricier side. However, once you find the best serum(s) for you, you'll likely find that beautiful skin—as well as the confidence that results from it—are priceless.
More like this