4 Plant-Based Skincare Swaps for Cleaner Beauty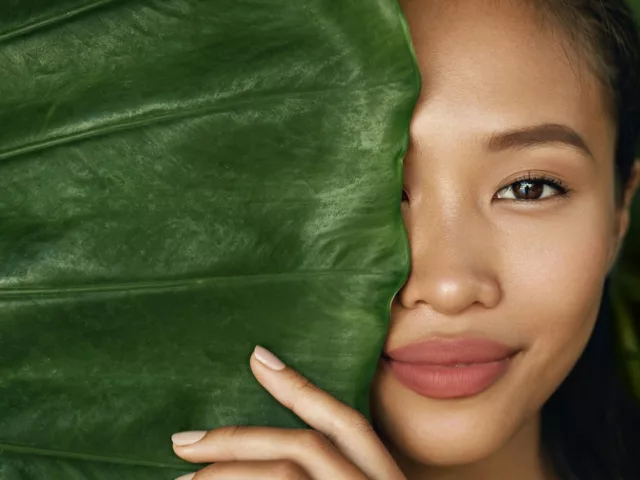 Here's the skinny on cleaner, greener ingredients. Plus: four plant-based skincare swaps you'll want to make on your next beauty haul.
Today,
plant-based diets
are all the rage on the wellness front. But have you considered turning to a plant-based skincare regimen? As consumers become increasingly aware of the benefits of
clean skincare
, many are turning to more natural solutions to target complexion concerns. Luckily, the market is expanding rapidly to meet the demands of this trend. Even better, you don't have to sacrifice quality and results for the sake of going green.
Why You Might Want to Make Skincare Swaps
First, people with varying skin types will react to products differently. Perhaps you'd like to add brightening, anti-aging ingredients to your regimen, but your skin doesn't tolerate standard actives well. In another scenario, you may have health concerns that you don't wish to exacerbate with potentially harmful chemicals and synthetic ingredients. Otherwise, it could be that you've already adopted a plant-based diet, and would like to make other changes that are harmonious with this lifestyle. Further, your interest could stem from concerns about animals and the environment, or just plain curiosity. Whatever the case may be, newer brands and formulations are looking back to nature to address these needs so you can put your best, cleanest, and most confident face forward.
What We Mean by Plant-Based Skincare
Just as eating plants are great for your body, applying them topically can work wonders for your complexion. Thankfully, we now have plenty of options to make plant-based skincare swaps for highly popular active ingredients. Still, it's worth remembering that regarding skincare, the terms natural and organic aren't necessarily synonymous with good, and synthetic with bad. Further, with the following list of plant-based skincare swaps, we're looking at ingredients
derived from and inspired by nature
. That's not to say that the product recommendations below are certified vegan, organic, or fair trade. You'll be able to find such designations on the label, all of which come with their own unique sets of regulations.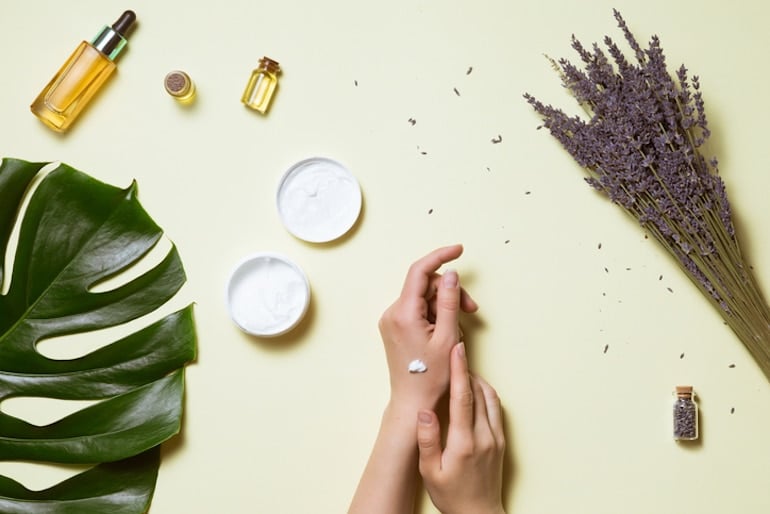 The Best Plant-Based Skincare Swaps
Swap Retinol for Bakuchiol
By now, you probably know that
retinol is among the top skincare ingredients
that dermatologists recommend. (
Sunscreen
, of course, reigns supreme.) Among its other benefits, retinol
boosts collagen production
, minimizes signs of aging, and combats inflammation. But despite its status as an A-list skincare active, synthetic retinol can potentially cause dryness and sensitivity. Enter: trending plant-based retinol dupe, bakuchiol. Derived from the babchi plant, bakuchiol can sidestep such reactivity given its gentler anti-inflammatory properties, all the while mimicking the activity and anti-aging benefits of retinol. In fact, a
2018 study
shows that the results from using bakuchiol twice daily mirror those of once-daily retinol, and even demonstrated fewer instances of scaling and stinging.
Bakuchiol select: Herbivore Bakuchiol Retinol Alternative Smoothing Serum, $54
Swap Hydroquinone for Arbutin
If you suffer from hyperpigmentation, you know that dark spots are some of the toughest nuts to crack. While a variety of topical actives work to lighten dark spots, derms tout hydroquinone as the gold standard since it
inhibits melanin production
. However, this potent ingredient is pretty controversial. Hydroquinone is banned in many places worldwide—beginning with South Africa and later the EU, Japan, and Australia—for its potential to spur
certain skin disorders
and pose
carcinogenic risks
. But since
other reviews
speak to its relative safety, the FDA has yet to follow suit by banning hydroquinone. If you want to effectively
treat hyperpigmentation
yet err on the side of caution, look to alpha arbutin, an extract from the bearberry plant. It brightens skin by
interfering with the activity of tyrosinase
, an enzyme required to produce pigment. You'll best fade dark spots by using arbutin twice daily in tandem with other skincare actives.
Arbutin select: Goldfaden MD Light Treatment Dark Spot Corrector, $80
Swap Benzoyl Peroxide for Tea Tree Oil
Think back to your first adolescent breakout. You probably reached for a cleanser or
spot treatment
that included benzoyl peroxide, an antimicrobial, anti-inflammatory chemical compound. Experts still recommend it to banish breakouts. However, benzoyl peroxide can cause redness, dryness, and other skin sensitivities. If you're looking for a plant-based skincare alternative, consider replacing it with tea tree oil. Similar to benzoyl peroxide, tea tree oil boasts antimicrobial and anti-inflammatory properties to fight breakouts. On top of that, it's an antioxidant that can
expedite wound healing and avert more serious skin issues
 from arising.
Tea tree oil select: Biossance Squalane + Tea Tree Detox Mask, $39
Swap Phenol for Willow Bark Extract
Ask beauty editors about the
best toner
for clear skin, and nine of out 10 will mention
Biologique Recherche P50
. P50 is often deemed the holy grail of
chemical exfoliation
for glowing skin. However, most of the P50 varieties contain phenol, an antimicrobial compound that's banned for cosmetic use in the EU and Canada due to its
risks of toxicity
. As of July 2019,
the FDA is tightening regulations
on products with such antiseptic ingredients since long-term use
hasn't yet been proven safe
. Thankfully, skincare brands have noticed both P50's cult following and consumers' desire for a cleaner, plant-based dupe. In turn, many of these ensuing formulations substitute willow bark extract in place of phenol. This replacement is a worthy swap, as willow bark extract
increases antioxidant enzymes and reduces oxidative stress
. Additionally, white willow bark extract contains salicin, which metabolizes into acne-fighting salicylic acid. This potent active has been shown to lessen the appearance of wrinkles and
significantly improve
pore size, smoothness, and radiance.
Willow bark extract select: REN Clean Skincare Ready Steady Glow Daily AHA Tonic, $38
The Bottom Line
Since you absorb the majority of ingredients you apply to your skin, it's wise to be cognizant of what's really going onto and beneath its surface. As always, education is crucial and knowledge is power. At the end of the day, a skincare regimen will always be unique to your own concerns, reactivity, and ingredient preferences. In any case, it's comforting to know that you can make worthy plant-based skincare swaps to follow a lifestyle more in tune with nature, if you so choose.
More like this