My Results After 30 Days on a Whole-Foods, Plant-Based Diet
Is subsisting on a vegan diet with zero processed foods or ingredients really worth it? After 30 days, here are my whole-foods, plant-based diet results. Plus, some tips and resources for anyone brave enough to attempt it.
First, what is a whole-foods, plant-based diet?
A whole-foods, plant-based diet is one that focuses on minimally-processed plant foods. While some interpretations of this diet may merely limit the intake of meat, it's most widely interpreted as a vegan diet. Besides animal products, you also want to avoid any artificial ingredients, preservatives, or otherwise processed foods.
Examples of food you can eat on a whole-foods, plant-based diet include:
fruits
vegetables
whole grains
legumes
nuts
seeds
It's also sometimes referred to as the WFPB diet, for short.
Why I Wanted To Try This Challenge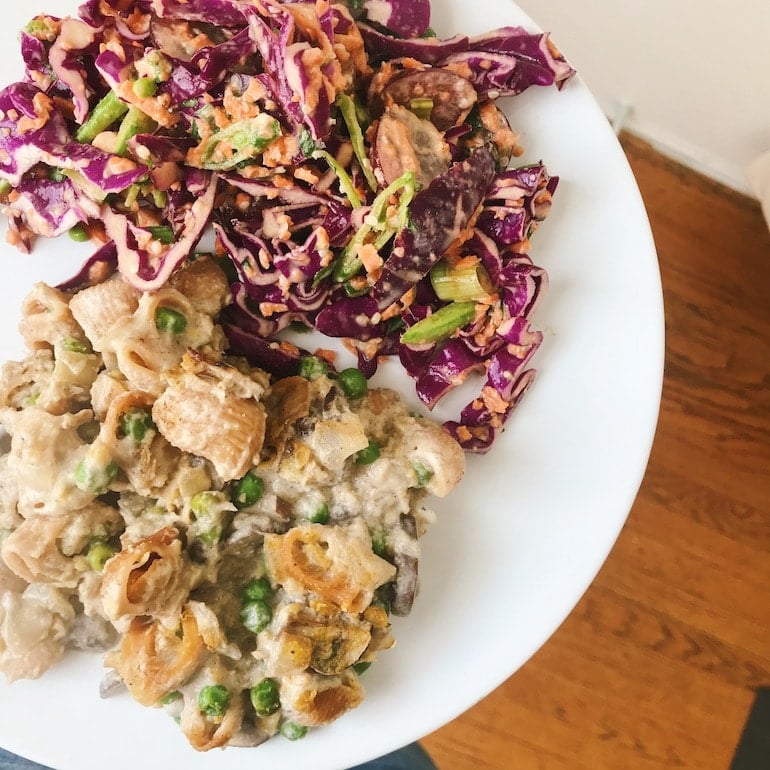 In truth, I've dabbled with vegan diets before. But, the last time I tried a 30-day vegan challenge I pretty much subsisted on Veggie Grill and Erin McKenna pastries. At least, when I wasn't too busy cheating on my diet outright with cheese… And, okay, fine. There may have also been a late-night vegan Postmates delivery from Taco Bell which wasn't exactly peak health. Similarly, my more recent flirtations with vegan fare have included a heavy reliance on the wonders of Impossible Burgers and Beyond Meat.
But, after interviewing Dr. Michael Greger about the merits of a whole-foods, plant-based diet at the start of the new year, I was interested to try a vegan diet the way you're supposed to, as in, by actually eating vegetables.
In theory, this diet makes a lot of sense to me. It's good for the environment, nice to animals, and is widely recommended by doctors and anti-aging scientists alike.
30 Day Challenge Rules
For 30 days, I committed to following a vegan diet with minimally processed foods.
Eliminations
Here were some specific items on my list to avoid:
meat
fish
dairy
eggs
other animal products
preservatives and fillers
pre-packaged meals
sugar and other sweeteners
alcohol
oil
That's right! To really avoid processed foods, I even went so far as to avoid alcohol and oil. Why? Because they rely on extraction and distillation negating the "whole goal" of a WFPB diet.
Exceptions
Admittedly, I did make an exception for my daily multivitamin from HUM. There's always some amount of processing when it comes to making supplements. But with non-GMO, vegan formulas, I felt like this was a fair enough exception to ensure I was getting enough vital nutrients each day.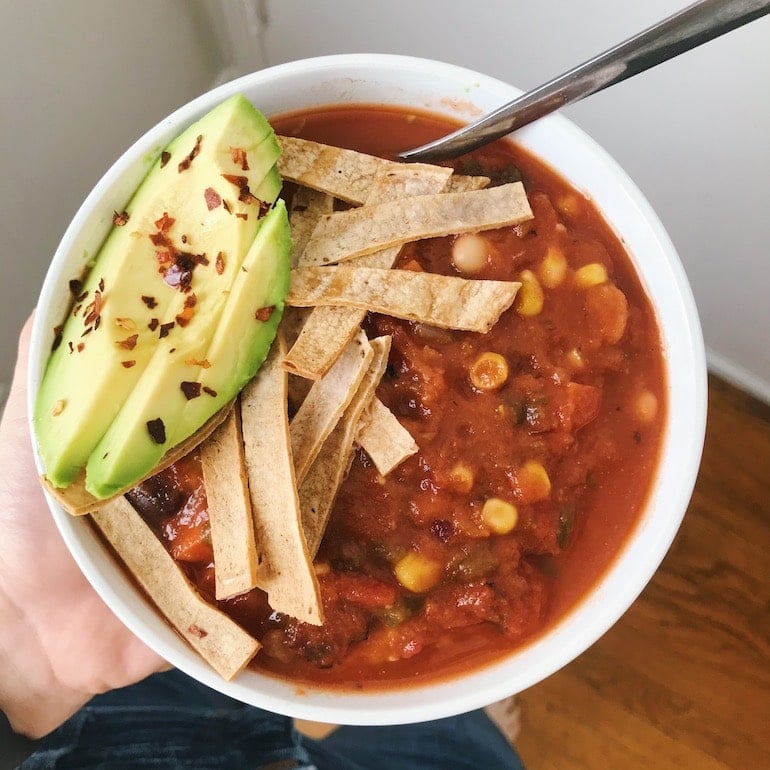 My Whole-Foods, Plant-based Diet Results
At the end of 30 days, here were my whole-foods, plant-based diet results:
I lost 7.8 lbs
My waist measurement decreased by two inches
My body fat percentage went down by 1.8%
Use the sliders below to see the difference in my before and after photos:
[before_after id=1]
[before_after id=2]
Having tried 30-day Whole30, Keto and no-sugar challenges in the past, these were by far the most drastic results I've seen! More importantly, I felt great on this diet. I was prepared to have withdrawals from sugar and processed foods, but the transition was pretty seamless. Throughout the 30 days, my digestion was excellent and I felt a steady lift in my mood and energy.
6 Things I Learned ON a WFPB Diet
Here are some of my learnings on after following a whole-foods, plant-based diet for 30 days.
1. "Minimally-processed" is a very big gray area
The first week of this challenge induced a bit of a philosophical headache. In the quest to avoid processed foods, I had excluded things like wine, juice, and oil from my diet for not being "whole" plant foods. This seemed in line with the recipes I found for this diet.
Then again, many of the same recipes still included vinegar, or, occasionally, vanilla extract. Didn't these also exclude plant fibers and go through fermentation processes? Should lemon juice be off the menu for that matter? Also, whole-grain flour seemed overly processed compared to eating cooked rice or quinoa. But spices also undergo drying and grinding process. And isn't blending, or baking, or cooking a process also?
"Oh yes—we tend to think 'processed' is a four-letter word but much of our diet is processed. And that's okay!" HUM dietitian and plant-based eating expert, Alex Caspero, MS, RD, advised. "Focus more on ingredients and minimizing things like added sugars and salts."
Following her advice, I decided to continue to omit alcohol and oil but otherwise focus on the ingredients more than the processes behind foods.
2. Skin purging can happen
During the first week of this challenge, my skin broke out in all sorts of places: my cheeks, chin, even the bridge of my nose! When I related these concerns to my trusted co-worker and nutritionist, Sarah Greenfield, RD, CSSD, she gave me a surprising response.
"Oh, that's great!" she beamed. Why? "That means it's working!" She encouraged that when we make a sudden dietary change or even add a detoxifying supplement to our routine, it's normal to experience some purging through the skin.
3. read labels to know your options
Although the majority of my WFPB diet came from fresh produce and bulk bins at the grocery store, the few pre-packaged pantry items I bought taught me the value of reading labels—specifically, allll the labels.
Before, if a recipe called for canned tomatoes, I'd grab any can with "organic" on the label and call it a day. But for this challenge, I learned that even between organic options there are varying degrees of preservatives. The majority are canned with citric acid and calcium chloride but one or two brands on the shelf use only tomatoes. Winners!
It's worth taking the time to review ingredients for staples like this that you'll use over and over again. That way, you learn the brands with minimal ingredients and have your go-to's. Also, it's not always the brand with the most claims of "all natural" on the front of the label.
4. It's easier to live without oil than you think
Going into this challenge, I was the most skeptical of cooking without oil for a whole month but it was surprisingly easy to do without. To sauté, I simply added a tablespoon of water or vegetable broth to prevent ingredients from sticking to a hot pan. For baking, you can line baking trays or glassware with parchment paper to achieve a natural and oil-free non-stick barrier.
Admittedly, you don't achieve quite the exact same crispy texture as cooking with oil but for soups and stews, you would never know the difference.
5. You will save money… but lose time
Because restaurants and alcohol were both off-limits, I saved a ton of money on my monthly dining, delivery, and bar expenses. However, this also meant I was cooking each and every single one of my meals all month long. Even as someone who enjoys cooking and meal prepping, going from preparing 60% of my meals to 100% added a considerable shift of time to my weekly routine. Especially when you factor in the dish washing.
6. Accountability is key
One thing I highly recommend is pairing up with a buddy to try this challenge! Whether it's someone you live with, a friend to text, or a Facebook group—the camaraderie makes a world of difference. I had a partner who was game to try this challenge with me and the whole month became a fun shared experience instead of a case of total FOMO.
Resources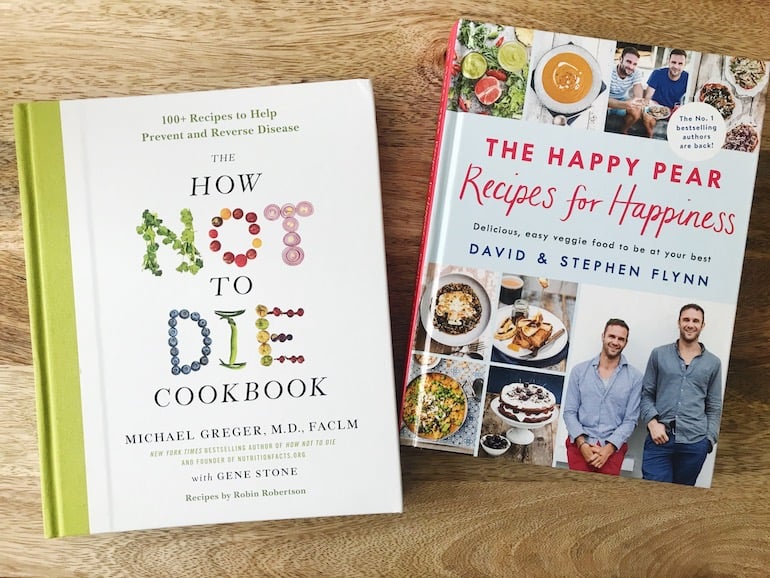 Here are some resources I found very helpful for following the whole-foods, plant-based diet:
Dr. Michael Greger
Besides being the original inspo for this challenge, I also made lots of delicious recipes from his How Not to Die Cookbook throughout the month.
The Happy Pear
As a food network lover, this whole-foods, plant-based YouTube channel was a dream come true. I also loved their Recipes for Happiness cookbook.
HUM RDs
In addition to answering all of my questions, HUM RDs also had some wonderful WFPB diet recipes! I highly recommend Alex Caspero's weeknight tortilla soup or Jessica Bippen's chickpea noodle soup for some delicious whole-food, plant-based eating.
Impressed with our whole-foods, plant-based diet results? Be sure to check out our other challenge results below!
More like this