Our Shocking 30 Day No Sugar Challenge Results
What happens when you avoid added sugars for thirty days? Honestly, much more than we expected. Here were our physical results from our no sugar challenge along with five lessons.
Why we tried the no sugar challenge
I'll admit it. I'm a total sugar addict. In my normal diet, I like to have a dessert every single day. I keep chocolate in my desk drawer. Once a month I sample all of the seasonal flavors at Salt & Straw. I have double servings of cake at the office on birthdays. And I never leave a grocery store or pharmacy without also picking up a treat with my purchases.
But, I also know the stuff is terrible for you. Frankly, my dental bills are alarming enough. Cavities aside, I also know sugar can also lead to weight gain, hormonal imbalances, and really mess with your skin. Perhaps most importantly for me, are the effects of sugar on your mind and mood. When researchers at the Mood Disorders Center of the Baylor College of Medicine looked at data across six different countries, they found that there was "a highly significant correlation between sugar consumption and the annual rate of depression." Similarly, in another survey at West Virginia University, researchers found a correlation between anxious young adults and higher added sugar intake.
As someone who struggles with mood swings and anxiety, I was eager to improve my mental wellbeing with a sugar elimination diet. I was also curious to see physical changes in the clarity of my skin and weight.
And to make the challenge more fun, I enlisted our sales director, Vanessa Lee, to try it with me.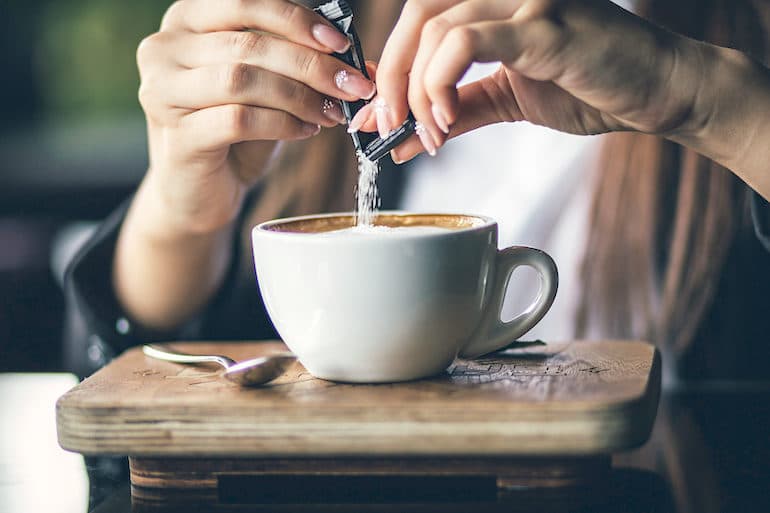 Our No Sugar Challenge Rules
For our no sugar challenge, we decided to remove the following culprits from our diet:
Processed sugars (White, brown, coconut, etc.)
Other natural sweeteners (agave, maple syrup, honey, etc.)
Sugar substitutes (stevia, xylitol, monkfruit, etc.)
Dried fruits and dates (mango, raisins, apricots, etc.)
Fruit juices (apple juice, orange juice, grape juice, etc.)
Wine and beer
However, we did allow the following during our no sugar challenge:
Fresh fruit (apples, oranges, berries, bananas, etc.)
Sugar-free hard alcohols (vodka, tequila, gin, etc.)
Why this list? My primary goal was to eliminate the negative mental and physical side effects of added sugars. But we also wanted to eliminate the psychological reliance on other super-concentrated and processed sweeteners. For that reason, we went so far as to also avoid honey, stevia, dried fruits, and fruit juices.
Alternatively, because fresh fruit comes in its natural unprocessed state and is full of fiber to counterbalance its natural sugars, we kept this one as okay for our purposes.
Our No Sugar Challenge Results
After thirty days of the no sugar challenge, here were our results…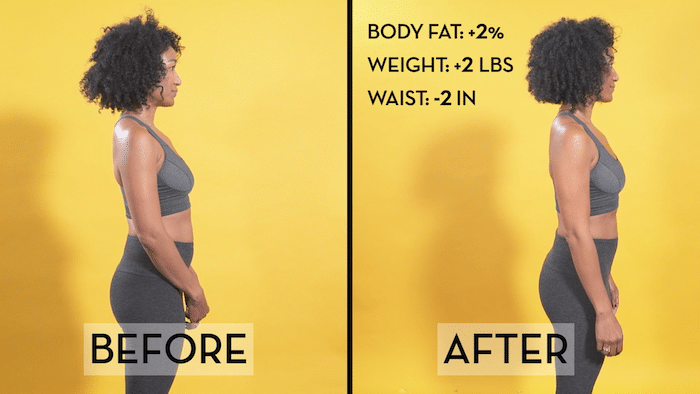 Vanessa
Interestingly, Vanessa actually gained two pounds and also two percent body fat during this challenge. (Perhaps due to more lax compliance, but more on that later…) Still, the decrease in her waist is noticeable in these photos. Measurements revealed she lost two inches from her midsection. "I definitely had extra room in my pants by the end of the month," Vanessa confirms.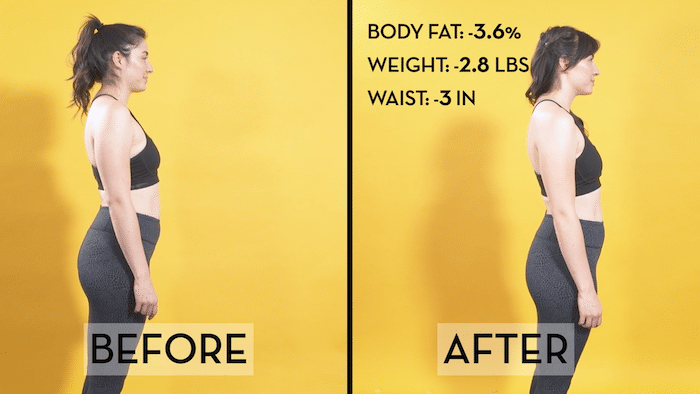 Zena
In thirty days I lost 2.8 pounds and decreased my overall body fat by 3.6%. Shockingly, my waist decreased by three full inches. (For context, that's better than the results I saw doing Whole30! And I didn't even have to give up grains and legumes this time. Hallelujah.) More importantly, I felt the mental health benefits I was looking for. By the end of the month, I felt empowered in my food choices, stable in my energy and mood, and even more productive in my work days.
What we learned during the no sugar challenge
Here's a full breakdown of our biggest lessons from completing the no sugar challenge:
Avoiding sugar at Restaurants is Basically impossible
If undergoing this challenge yourself, be prepared to be that person at restaurants. Between sauces, dressings, marinades, and bread, no dish is a sure thing. All of these seemingly harmless side ingredients are likely sweetened with some form of added sugar in a restaurant setting.
Don't be afraid to question your server⁠—but do remember to tip them nicely. They will most likely have to check with the chef to confirm specific ingredients. Our suggestion? Be your own chef as often as possible for optimal ease and compliancy in the no sugar challenge.
Most of your so-called "health foods" are also loaded with sugar
Vanessa considers herself a fairly healthy eater with only the occasional sweet tooth. However, she was surprised to find that many of her pantry staples didn't make the cut.
"My full-fat greek yogurt, my nut milk, my granola, and my cereal all had added sugar. One of the most challenging parts of this was realizing how much sugar is in the foods that I thought were healthy," she shares.
Don't let a label claim fool you. Learn how to read nutrition labels like an expert and decide for yourself whether a product is in line with your goals, or not.
Sugar withdrawal symptoms are no joke
Seven to ten days into the no sugar challenge, I felt downright dismal. I was tired, sad, anxious, and couldn't focus at work. So much so that I feared I was entering a serious depressive episode or having an existential life crisis.
Luckily, some quick research on sugar withdrawal symptoms revealed otherwise. Medical News Today reports that sugar withdrawal symptoms can include headaches, fatigue, irritability, and feeling down. Ding, ding, ding! Knowing this gave me some peace of mind, but I wish I'd been better prepared.
If attempting yourself, I recommend scheduling therapy in advance or clearing your schedule to allow for as much rest and relaxation as possible during the testy withdrawal period.
You are stronger than your cravings
Doing the no sugar challenge gave me a whole new awareness of the inner workings of my sugar cravings. Personally, my sugar cravings typically arose out of boredom, sadness, or with the intent to celebrate.
However, by abstaining from these cravings, I became more aware of my needs in a more real way. Instead of numbing every need with a spike of sugar, I learned to recognize how I was doing throughout the day and address my needs in other ways.
Finally, in times when I truly just felt snacky, a more nutritious alternative was always just as satisfying.
if you slip up, keep going
Throughout the month, Vanessa and I weren't perfect. If I had to estimate, I'd say I complied by all of our rules perfectly 85-90% of the month.
I had wine twice during the month, beer once, dates once, some dried fruit and bread at restaurants a few times. Vanessa gives herself a compliance score of 60%. Her cheats included wine, dates, ketchup, a cookie, and a mini cupcake.
Did we cheat a little? Yes. But the reality is sugar is omnipresent all the time and avoiding it is no small task. When we cave it can be tempting to throw caution to the wind and abandon our efforts completely.
But even with our dallying, Vanessa and I both saw positive results that prove you can get results without the shame and pressure of 100% perfect compliance.
More like this