A Nutritionist's Easy Weekly Meal Prep For Beginners
Save money, time, and calories. Registered Dietitian
Miriam Jacobson
 shares an easy and affordable weekly meal prep for beginners.
Why Meal Prep?
In short, because you'll save lots of money and time throughout your week—and also eat much healthier. "Having a well-balanced meal already prepared for you, by you, reduces post-meal bloating and cravings," Miriam shares. "Plus, it also helps you feel light and energized as you move through your day."
But isn't meal prepping complicated and time-consuming?
"Most beginners get caught up in prepping because they feel like they need to prepare a beautiful and super complex meal," Miriam agrees. "However, I find that meal prep is more like putting a puzzle together. As a rule, when building a meal I try to hit the aspects of what I call the 'optimal food plate.' That means veggies, a high-quality protein, a high-quality carbohydrate, and an anti-inflammatory fat."
About This Meal Prep
For this easy meal prep for beginners, Miriam has two recipes you can make in tandem for a full week of meals. Together, both recipes should only take an hour to set yourself up for the whole week. Not bad, right? First up on the menu: a roasted veggie bowl with eggplant, sweet potato, and chicken sausage. "Roasting veggies always brings out their natural sweetness. So this is a great option if you're someone who doesn't
love
veggies but wants to start making healthier choices," Miriam tells us. "Incidentally, roasted veggies are also more digestible." Win-win! Following is a vegan Greek salad with tempeh protein that's easy to assemble and transport in a Mason jar. "This is a perfectly balanced plant-based meal," Miriam says. "First, the tempeh adds the perfect amount of protein. Also, I try to get
as many colors
as I can in salads. Different colors contain different beneficial compounds like antioxidants." In order to make the most of your time, Miriam recommends prepping your roasted veggies first. Then you can conveniently assemble your salads while they cook.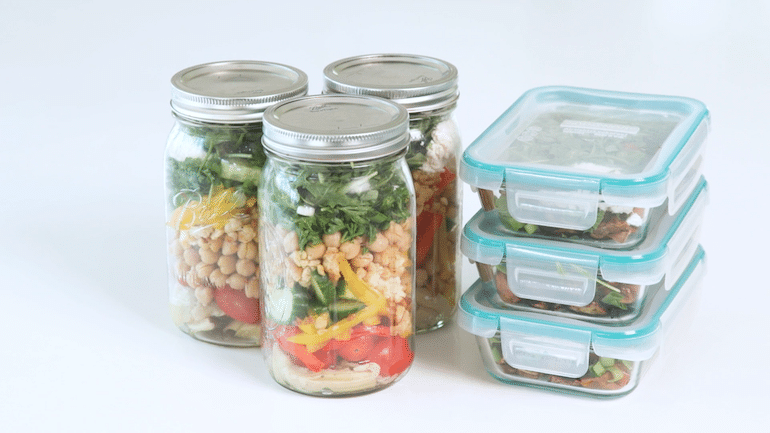 Roasted Vegetable Bowl Recipe
Ingredients
2 medium eggplants 1 large sweet potato 1 package of organic chicken sausages 1/2 package of pre-washed organic snap peas (save the other 1/2 for snacking!) 1 container of pre-washed arugula 1 container of hummus 2 tbsp avocado oil 1 tsp each of salt and pepper
Supplies
3 large roasting pans 4 single-meal glassware containers roll of parchment paper cutting board sharp knife
Instructions
First, preheat oven to 375 degrees Fahrenheit and line baking sheets with parchment paper for easy clean-up later.
Second, chop your sweet potatoes into roughly one-inch cubes and spread across a parchment-lined baking pan. Drizzle with olive oil and a pinch of salt and pepper.
Repeat with the eggplant in a separate pan.
Cut the chicken sausage into quarters and spread across the last pan.
Put all three pans into the oven. If desired, start prepping the next recipe while you wait for them to cook.
Remove the chicken sausage after 20-25 minutes or when slightly browned around the edges. However, allow the eggplant and sweet potato to continue roasting for a full hour. When the vegetables turn golden brown, remove them from oven.
 After items are done roasting, assemble them into lunch containers. Add a scoop of sausage, eggplant, and sweet potato. Then top it with a handful of snap peas and arugula.
Lastly, top with a scoop of hummus or almond ricotta.
Vegan Greek Salad Mason Jar Recipe
Ingredients
1 container of pre-washed arugula (can be shared from above recipe) 1 pint of cherry tomatoes 2 packages of gluten-free tempeh 1 large cucumber 1 BPA-free can of chickpeas (Eden Foods is Miriam's favorite!) 2 organic lemons 1 yellow pepper 1 red pepper 2-3 green onions 1 handful of fresh parsley 1 container of Kite Hill almond ricotta 4 tbsp olive oil 1 glass jar of artichokes in oil 1 tsp each of salt and pepper
Supplies
4 Mason jars 4 small dressing containers cutting board large skillet sharp knife
Instructions
Start by preparing the tempeh. First, remove from the package and crumble into small pieces with your hands. Cook in a large skillet over medium heat with a pinch of salt and pepper for 10 minutes until crispy and golden brown. Set aside.
Drain and rinse chickpeas well in a colander. Set aside.
Continue by rinsing the cherry tomatoes and set aside.
Rinse the cucumber and slice into one-inch cubes and set aside.
Drain the artichokes well and set aside.
Similarly, rinse the yellow and red bell peppers. Then remove the seeds and core and slice the remainder into small bite-sized pieces.
Rinse the parsley and green onion and pat dry with a clean towel. Roughly chop and set aside.
Next, assemble your jars! Start with the wettest ingredients on the bottom so your salad doesn't get soggy. First, begin with a small scoop of almond ricotta. Then add a handful each of artichokes, cherry tomatoes, cucumbers, bell peppers, tempeh, chickpeas, and arugula. Finally, top it off with fresh herbs.
Repeat with remaining jars, cover, and place in the refrigerator.
Lastly, add a tablespoon of olive oil and the juice of half a lemon with a dash of salt and pepper to separate dressing containers to store. Finally, when you're ready to eat your salad at work or home, simply pour the contents into a large bowl, add your dressing, and mix!
Check out more nutritionist-approved meal prep ideas here. For more beginner tips, check out Miriam's Food Foundations course and follow her on Instagram.
More like this