Meal Prep Tips from Two Registered Dietitians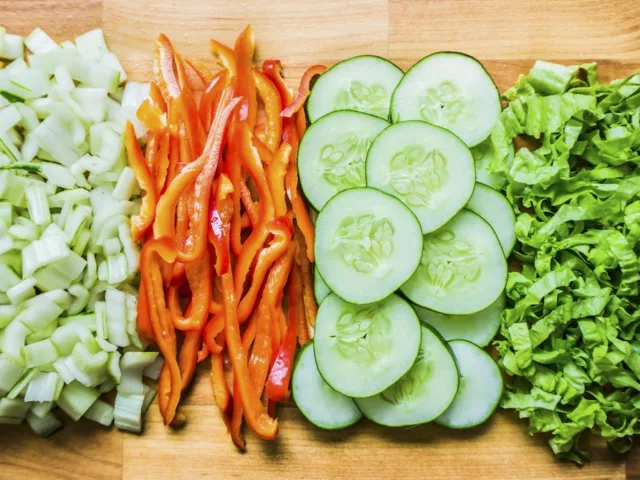 Plus: what science says about meal prepping. The
#mealprep
hashtag is insanely popular on Instagram right now, and with good reason: It's scientifically proven to deliver results. A study published in the
International Journal of Behavioral Nutrition and Physical Activity
reports that women who plan their meals ahead of time are less likely to be overweight than those who don't plan ahead.
Another study
shares that adults who spend less time preparing their meals spend significantly more on food. Finally, it's RD-approved. To save yourself lots of time and money, here are a few ideas on how to meal prep for the week from HUM's registered dietitians.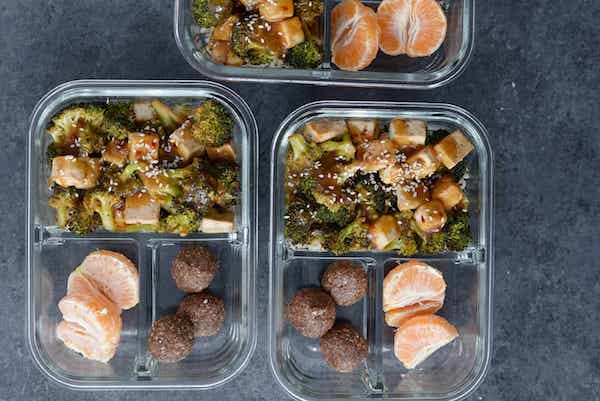 Alex Caspero's Vegan Meal Prep
Every weekend, I set aside some time to get meal prepping done for the week ahead. It usually do it on Sunday evening, but I sometimes also get up earlier to knock it out if we've got a busy day ahead. While my menu rotates each week, I almost always prep the following items: soup, cut vegetables, a breakfast item, cooked grains, a protein, and a healthy snack. Prepping these items makes for effortless mix-and-match breakfast, lunch, and snack items throughout the week.
This week, I cooked a big batch of quinoa, sesame ginger tofu, Nutella energy bites, lentil soup, and baked oatmeal. The entire process took roughly two hours to complete, which is hugely time-saving for the week. For breakfast, I had either baked oatmeal or a smoothie. For lunch, I packed four containers of cooked quinoa, sesame ginger tofu, and steamed broccoli into containers with a few Nutella energy bites for snacks. This prep gave me a healthy lunch option Monday through Thursday with the option to dine out on Friday. The lentil soup was an easy dinner two times this week, and I popped the leftovers into the freezer for a healthy option later this month.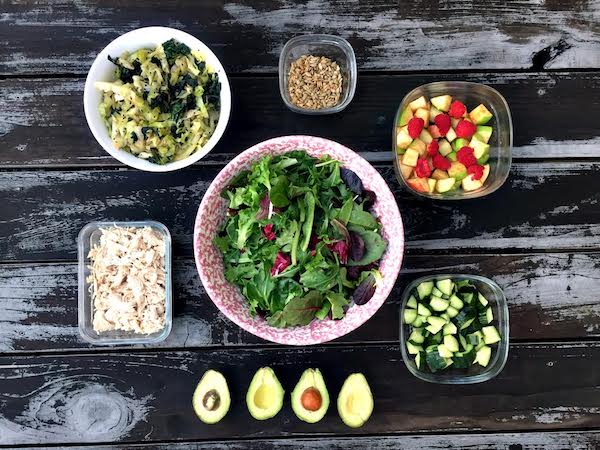 Sarah Greenfield's Paleo Meal Prep
I also like to carve out time on the weekend to prep my meals for the week. Whenever I cook, I always try to have all of my food groups represented. I love to focus on low-glycemic fruits, complex carbs (like brown rice, quinoa, and sweet potatoes), lots of low-starch veggies, clean sources of protein, and healthy fats. I think about these food groups when I'm shopping and grab a couple of options in each category at the supermarket. There are typically two ways that I meal prep.
Paleo Meal Prep: First Way
The first way is to create a couple larger-batch dishes that I can combine in different ways. That way if I feel like getting more variety throughout the week, I have options. For example, in the photo above, I was feeling inspired by places like sweetgreen. To get that vibe at home, I create a bunch of side dishes that can be combined differently. If I want a salad, I can combine all of the ingredients. Or if I want a warm meal, I can combine just the avocado, chicken, and sautéed cabbage.
Paleo Meal Prep: SECOND Way
The second way I meal prep is to put together actual meals so I have even less to think about during the week. I use these three-compartment glass containers, which help me get more creative with my meal prep.
One thing I like to do is make an entire roasted chicken and use the meat for meal prep. (Bonus: I can use the bones to make a homemade bone broth.) Then, I add sautéed veggies and a carrot, apple, and sweet-potato roast. I also love making quiche because it can be a very balanced meal. I always load up my quiche with veggies and make a barley gluten-free crust so it's dairy-free. It's a great source of protein, fiber, and healthy fat!
I try to keep things as simple and straightforward as possible. I really enjoy cooking and being creative in the kitchen. It's not only good for your body, but it can also save you a lot of money in the long run!
More like this