10 Fresh Fall Foods to Eat All Season Long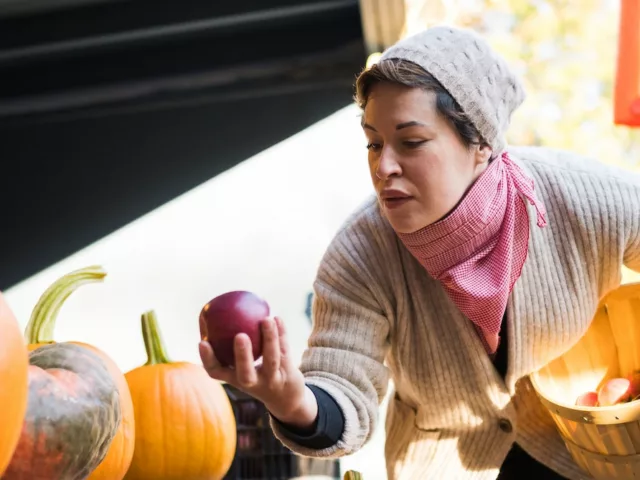 The leaves are falling, pumpkin spice everything is now available and it's getting harder and harder to find sweet berries and ripe tomatoes in the market…which means fall is here! One of the most exciting aspects of fall is a fresh crop of produce to enjoy. (Sure, those tomatoes were good, but eating fall foods in season will be much tastier and nutritious than out-of-season produce.)
Right now is the time to shop for apples, Brussels sprouts, cranberries, and winter squashes to enjoy as the weather cools. Not only is shopping in-season a great way to actually eat more nutrients, but it's more sustainable for the planet too.
Why you should eat what's in season
As a perk to a global economy, you may be able to find fresh blackberries year-round, but this can come at a cost to the environment. Did you know that most produce travels over 1,500 miles before it reaches the supermarket? By choosing local, seasonal fare you can drastically cut that travel time and reduce greenhouse emissions. Eating more sustainably can help preserve the health of our planet.
In addition, eating seasonally may be better for your health. Optimal growing conditions, such as the right temperature and sun exposure, can lead to more nutrients in your food, including antioxidants, vitamins, and minerals. As a result, this means more health and wellness benefits for your body.
You may have also noticed that certain fruits and veggies just taste better when you eat them in season (looking at you again, tomatoes.)
As the temperatures begin to cool, make sure to shop your farmer's market or look for locally grown sources of these nutritious fall foods in season.
10 fresh and healthy fall foods in season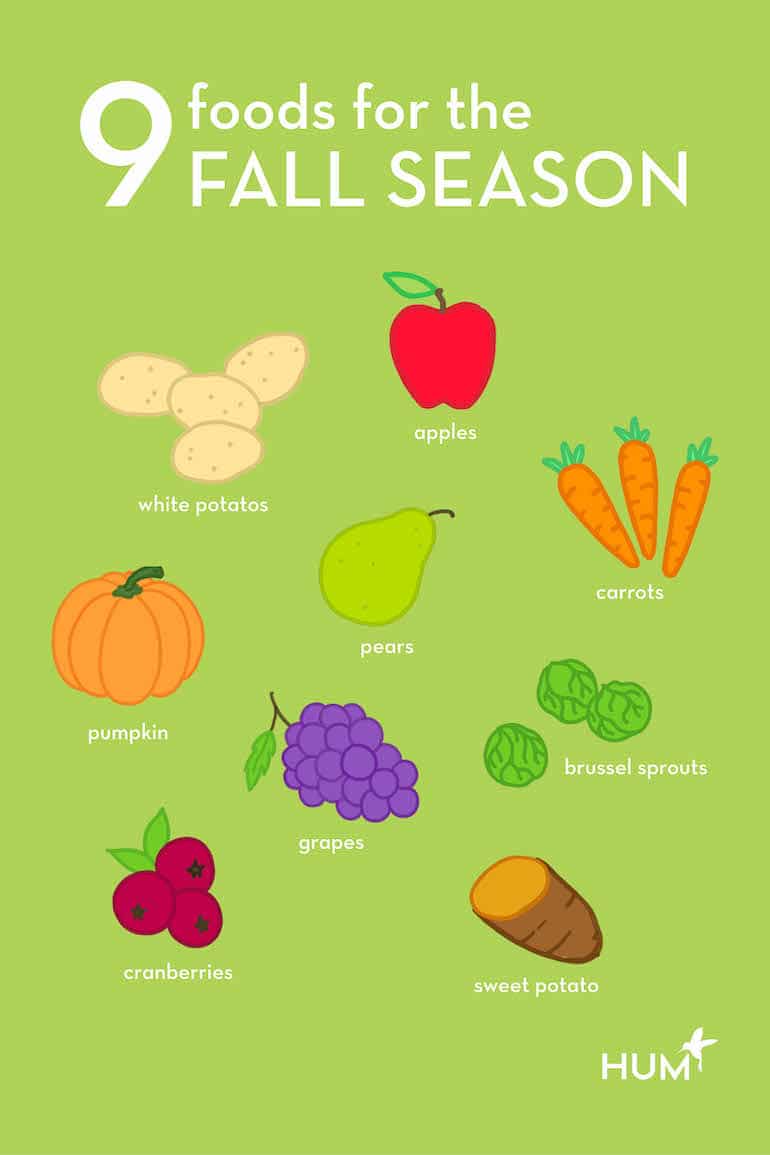 1. Apples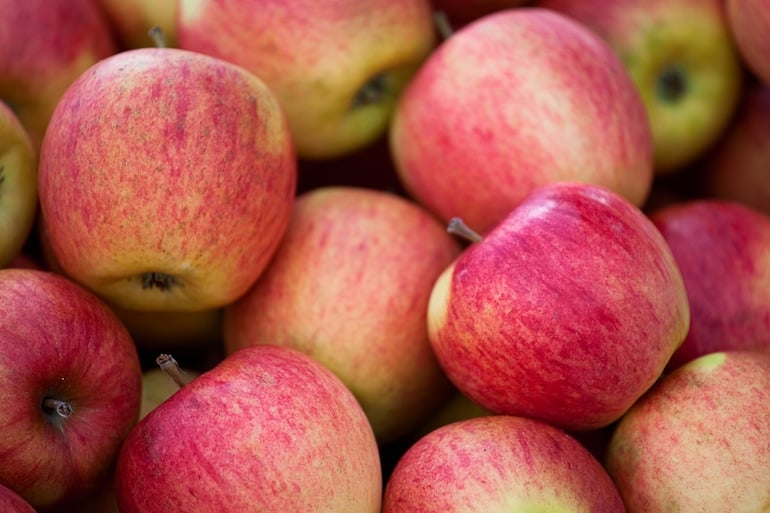 The phrase "an apple a day keeps the doctor away" may have some truth to it. Although apples are no cure-all, this fall crop is loaded with nutrients that boast serious health perks.
Add this affordable staple fruit to your cart this season because one medium apple, with the skin, contains about:
95 calories
25 grams of carbohydrates
Over 4 grams of fiber
14% Reference Daily Intake (RDI) of vitamin C
6% RDI of potassium
5% RDI of vitamin K
Numerous antioxidants, polyphenols, and flavonoids
As a result of these outstanding nutritional benefits, apples are a superstar fruit for your health, just don't take off the peel. Over half of the polyphenols, compounds that have antioxidant effects, are concentrated in the peel. Studies have shown that these polyphenols can help support heart health and even protect against type 2 diabetes. For example, one study found that individuals who ate an apple a day had a 28 percent lower risk of type 2 diabetes compared to individuals who didn't eat apples.
Many of apples' health-supporting benefits can actually be due to their high fiber content. In fact, one medium apple contains over 15 percent of your daily recommended fiber needs. Luckily, some of this fiber acts as a prebiotic, serving as food for your gut bacteria.
Even more, thanks to their high fiber and water content, apples are an extremely filling snack. Try pairing with protein and/or healthy fats, like nut/seed butter, string cheese, or yogurt, to stay full between lunch and dinner.
Mostly grown in the Northeast and Northwest of the United States, there are so many varieties available with subtle differences in flavor, so it's hard to get bored. Plus, you can enjoy apples in sweet or savory dishes. Add them to your next chicken dinner, or bake at 350°F for 45 minutes to an hour for a low sugar dessert that's naturally sweet.
2. Pumpkin
Arguably the most popular fall produce, pumpkin is another fresh fall food in season you'll want to add to your rotation thanks to the beauty and health benefits of pumpkin.
One cup of mashed pumpkin contains:
Under 50 calories
Nearly 3 grams of fiber
A whopping 245% RDI vitamin A
19% RDI of vitamin C
16% RDI of potassium
8% RDI of iron
4% RDI of calcium
Thanks to its deep orange hue, pumpkins are packed with beta-carotene, as well as other carotenoids or antioxidants. These antioxidants help protect your cells from inflammatory damage and even protect your skin. Studies show that carotenoids can help shield your skin cells from UV rays, acting as a natural sunblock of sorts. (But you'll still need SPF, FYI!)
Even more, pumpkin's rich vitamin C content helps boost natural collagen production. Collagen is one of the most abundant proteins in your body and helps your skin remain firm, thanks to its structural role. But collagen requires support from vitamin C for adequate synthesis. While you no longer have fresh summer strawberries at your disposal to meet your daily vitamin C needs, you can now rely on pumpkin.
Further, did you know regularly eating pumpkin can aid your immune system? Vitamin A, vitamin C, folate, and iron—all of which are found in pumpkin—can help your body fight infections.
If cooking with an entire pumpkin is intimidating to you, rely on canned pumpkin puree. It's just as nutritious as fresh and much easier to work with. Add pumpkin puree to smoothies, oatmeal bowls, chia pudding, and of course, fall baking. (We even used it to make healthy pumpkin spice latte!)
3. Brussels sprouts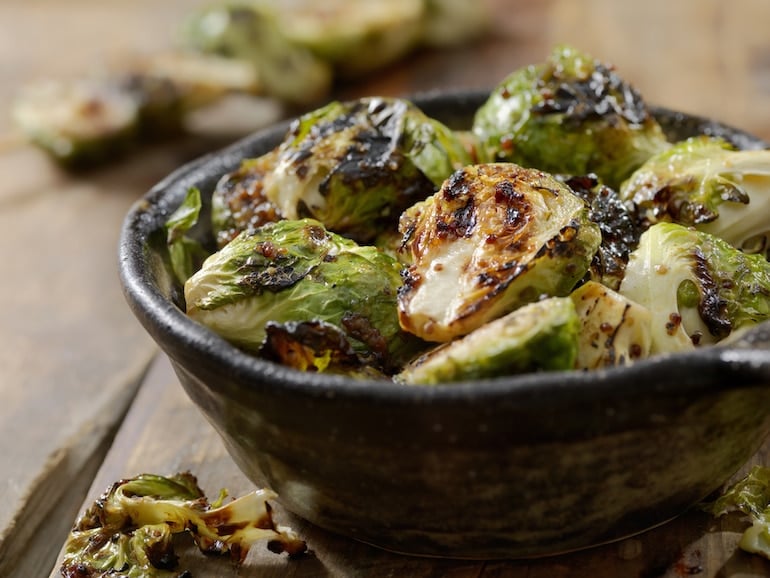 These cute little balls of cruciferous cabbage-lookalikes may not have been your favorite vegetable growing up, but it's time to give them another shot.
Why? Just one cup of raw Brussels sprouts contains:
Less than 40 calories
Less than 10 grams of carbohydrates, including…
Over 3 grams fiber
3 grams protein
195% RDI of vitamin K
125% RDI of vitamin C
13% RDI of folate
7% RDI of iron
ALA omega-3 fatty acids
Thanks to their rich nutrient profile, Brussels sprouts tout many health-enhancing benefits. Most notably, their sizable vitamin K content is responsible for blood clotting and bone health.
Furthermore, Brussels sprouts are a great fall food to regularly include in your meals because they're particularly filling, thanks to their fiber content. Just one cup of Brussels sprouts will help you reach over 10 percent of your daily recommended fiber needs. This filling fiber supports your overall gut health and bowel regularity too.
Brussels sprouts are also an underrated source of protein, with 3 grams per cup, which is more than many other vegetables. Protein is a satiating nutrient, important to include in most meals and snacks.
While you may remember mushy steamed Brussels sprouts your grandma made at holidays growing up, there are many more delectable ways to enjoy sprouts these days. Roasting Brussels sprouts with a little bit of olive oil caramelizes the natural sugars found in this green vegetable, making them sweeter and less bitter.
However, my favorite way to enjoy Brussels sprouts is as a lettuce substitute. Use shredded brussels sprouts instead of lettuce for a crunchy salad base.
4. Carrots
Whether you prefer snacking on baby carrots, roasting them whole, or pureeing them into soup, this is a fall produce pick that should make its way onto your plate.
While orange carrots are by far the most popular, you can find yellow and purple carrots at the farmer's market as well.
One cup of carrots contains:
50 calories
Less than 12 grams of carbs
Nearly 3.5 grams of fiber
408% RDI of vitamin A
20% RDI of vitamin K
11% RDI of potassium
And many more vitamins and minerals
I'm particularly a fan of carrots because they contain a hefty punch of vitamin A. Especially in the fall, any enhancement to your immune system you can get, you should take!
Even more, carrots are particularly filling thanks to their fiber content. Just one cup of carrot strips helps you meet 14% of your daily recommended fiber needs. Since most Americans do not meet their estimated fiber needs, carrots are a great choice to help you get closer. Fiber is filling, helps diversify your gut microbiome, and supports bowel regularity.
If you're not a fan of snacking on raw carrots, try roasting carrot "fries" tossed in some olive oil, salt, and pepper at 400°F for about 30-35 minutes. Roasting carrots caramelizes their natural sugars, leading to a sweeter bite.
5. Pears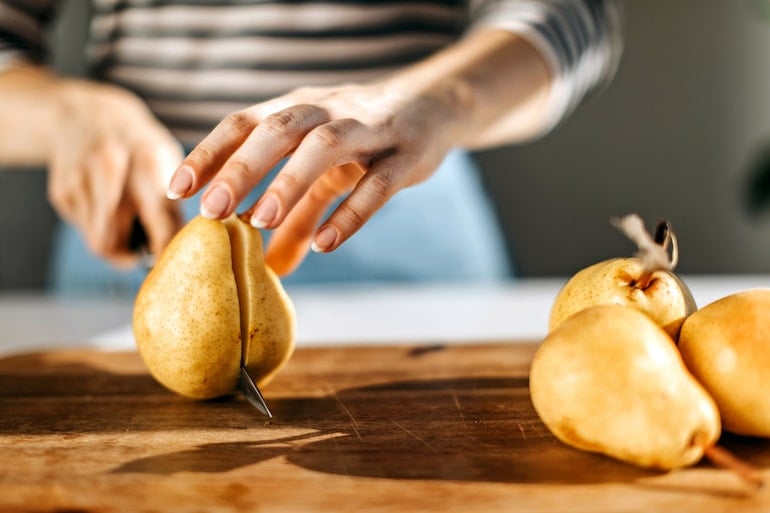 Apples always seem to steal the stage, but pears are an underrated fall food in season you should definitely keep stocked.
One medium pear contains:
About 100 calories
5.5 grams of fiber (over 20% of your daily needs)
12% RDI of vitamin C
10% RDI of vitamin K
Small amounts of other important vitamins and minerals, like copper and potassium
Antioxidants
When enjoying your pears, be sure to leave the peel on because, like apples, it's a potent source of antioxidants and fiber. Simply wash, slice, and enjoy alongside nut butter for a filling snack that will also help balance your blood sugar.
One type of filling fiber in pears is prebiotic fiber. Prebiotics are like food for your gut bacteria, so they can help you keep a balanced gut microbiome.
Snack on pears as you would apples or try adding firm Bosc pears to savory dishes.
6. White Potatoes
If you often overlook white potatoes for sweet potatoes you may be missing out on some serious nutrients and delicious flavor!
Compared to their "sweeter" counterpart, white potatoes are equally packed with nutrients, except vitamin A from beta-carotene.
In fact, one medium white potato contains:
Just 150 calories
36 grams of carbohydrates
5 grams of fiber
Over 3.5 grams of protein
70% RDI of vitamin C
25% RDI of potassium
11% RDI of magnesium
6% RDI of iron
Many B vitamins, including vitamin B6, niacin, thiamin, and more
Tons of antioxidants
Like apples and pears, it's important to leave the peel on white potatoes too. The peel contains many nutrients, including most of the fiber and antioxidants.
White potatoes contain resistant starch, which similarly to fiber isn't broken down or absorbed by your digestive system. Resistant starch helps feed your beneficial gut bacteria and can even help with blood sugar control.
Instead of digesting resistant starches, gut bacteria turn them into short-chain fatty acids, like butyrate. Butyrate is currently a heavy topic of interest because it may help reduce inflammation in the colon.
Even more than their health impact, their affordability and convenience makes white potatoes an excellent starch of choice to help balance your dinner plate.
Opt to bake, roast, or boil potatoes most of the time. (You can easily make your own healthy french fries in the oven or an air fryer but slicing them, soaking in water for 20-30 minutes, drying and tossing with a dash of olive oil, salt, and pepper, then baking at 400°F for around 40 minutes.) Pair with a protein and extra non-starchy veggies to make the most of this starchy vegetable.
7. Sweet potatoes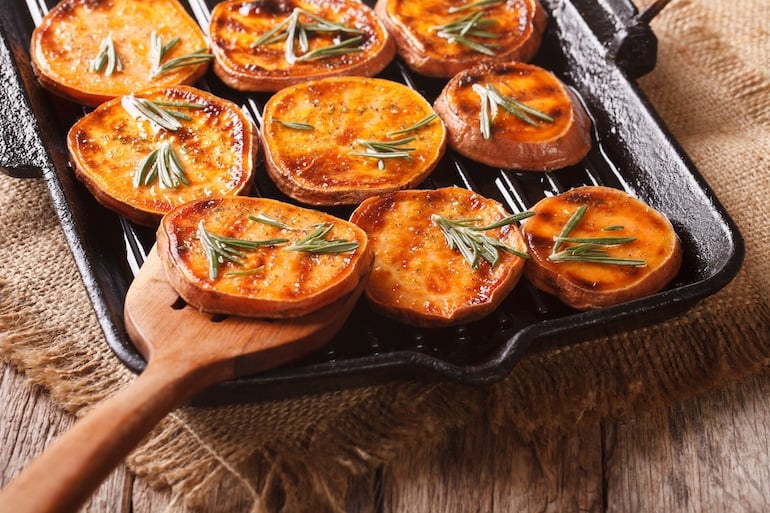 Of course there's no fall holiday that's complete without sweet potatoes, so we couldn't leave them off the list of fall produce to enjoy this season.
An average sweet potato, about 5-inches in length, contains:
112 calories
26 grams of carbohydrates
4 grams of fiber
2 grams of protein
369% RDI of vitamin A
5% RDI of vitamin C
14% RDI of vitamin B6
13% RDI of potassium
Thanks to their vibrant orange color, sweet potatoes contain a hefty punch of vitamin A. Vitamin A is known to support your immune system, which is especially helpful through the fall cold and flu season.
Sweet potatoes are also a good source of fiber and potassium, two nutrients that support your heart health.
Like white potatoes, you can roast, bake, broil, steam, or mash sweet potatoes, too. They're particularly delicious baked and stuffed with sweet or savory fillings. For example, reheat a baked sweet potato for breakfast and stuff with eggs and hot sauce or yogurt, cinnamon, and a drizzle of your favorite nut/seed butter.
8. Grapes
If your current grape intake is limited to a bottle of wine, you may want to rethink the fruit. Popping nature's candy fresh can do wonders for your health and beauty.
Most of the benefits of grapes come from the skin of deeper red and purple hues. Namely, per cup, grapes contain:
Just about 100 calories
About 30 grams of carbohydrates
1.4 grams of fiber
No fat
Almost 30% RDI of vitamins C and K
Over 1,600 antioxidants have been identified in grapes
Many of the popularized health benefits of wine and grapes come from their abundant antioxidant concentration. Antioxidants help fight free radicals and inflammation in the body, supporting your overall health. Specifically, the antioxidants in grapes have been found to protect your brain and even have cognitive anti-aging benefits.
Grapes also contain natural melatonin, which can help support better quality sleep. (New bedtime snack!?)
Grapes are a great poppable snack, but you can also enjoy them alongside savory dishes. Try roasting grapes at 400°F for about 25 minutes, until they wilt.
9. Cranberries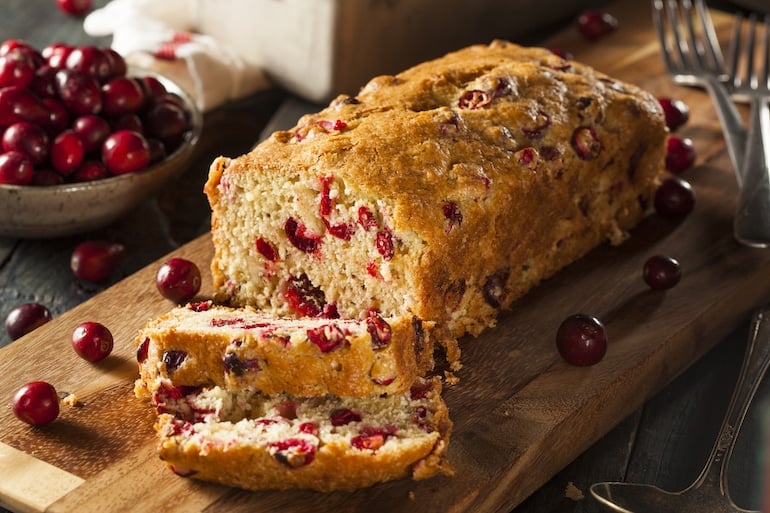 Probably one of the most underutilized fruits throughout the fall season, cranberries are loaded with nutrients and so affordable (check your freezer section).
One cup of whole cranberries contain:
Less than 50 calories
Just 12 grams of carbs
Over 4.5 grams of fiber
22% RDI of vitamin C
Small amounts of other vitamins and minerals
High antioxidant content
Cranberries are full of antioxidants called "proanthocyanidins" (PACs), which have been shown to promote good health of the urinary tract system. (That's why PACs are a key ingredient in HUM's Private Party.) Even more, other antioxidants found in cranberries can promote overall good health by supporting your immune system, heart health, and more.
Their naturally sour taste when raw definitely makes them less snackable compared to other berries. That's why cranberries are typically sweetened in cranberry sauce for Thanksgiving. But, you can reap the benefits of cranberries, sans sugar, in other dishes throughout the fall season. Try adding a handful of cranberries to your next oatmeal bowl or roasted chicken recipe.
If you don't like fresh, raw cranberries, you can also add dried cranberries to your salads this season. Try to look for unsweetened varieties by checking the ingredients lists.
10. Beets
As a late fall vegetable, you can look forward to adding more beets to your diet this year. Found in red/purple and yellow varieties, beets are loaded with nutrients to support your health and tickle your taste buds!
One cup of raw beets contains:
Almost 60 calories
Just 13 grams of carbohydrates
Nearly 4 grams of fiber
37% RDI of folate
11% RDI of vitamin C
13% RDI of potassium
6% RDI of iron
Dietary nitrates
Many antioxidants
One of the most impressive things about beets is that they contain dietary nitrates, which are converted to nitric oxide in your body. This can actually have a blood pressure-lowering impact and improve the efficiency of your energy-producing mitochondria in your cells. Believe it or not, consuming beets prior to exercise has been found to improve athletic performance.
Similar to many other types of produce rich in vitamin C, beets can also contribute to more youthful-looking skin. Remember, vitamin C is essential for collagen production, which can help fight signs of aging.
As you can see, there are many delicious and nutritious fall produce options available for you to take advantage of! Variety is key for a well-rounded nutrient-rich diet, so try adding one of these fabulous fall produce options to your cart each week this season.
Chelsey Amer
October 4, 2021
More like this