These 5 Bloat-Free Breakfast Ideas Will Help You Start Every Day off Right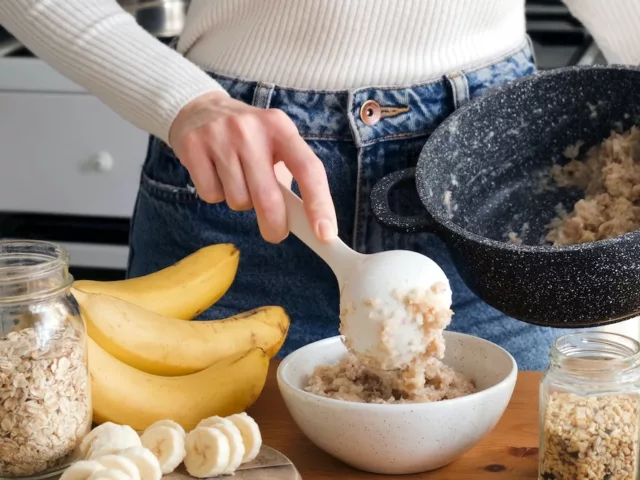 Chelsey Amer, MS, RDN, CDN, shares low FODMAP breakfast recipes that will help keep digestive issues at bay and leave you feeling energized.
If you've ever tried to follow a low FODMAP diet, you know how intense it can get. Not only are you dealing with uncomfortable digestive symptoms that led you to the diet in the first place, but now you have to figure out the maze that is the low FODMAP diet: what you can eat, what you can't, and the correct portion sizes.
That said, there's strong scientific evidence behind the low FODMAP diet to help alleviate digestive symptoms like abdominal pain and bloating. Plus, by relieving those symptoms with the low FODMAP diet, you may also experience additional benefits such as less fatigue and greater happiness and vitality, according to the journal Nutrition in Clinical Practice.
Before we get to delicious low FODMAP breakfast recipes below, let's first look at what FODMAPs are exactly and what a low FODMAP diet entails.
What Are FODMAPs?
FODMAPs are different types of carbohydrates including:
fermentable oligosaccharides
disaccharides
monosaccharides
polyols
Fermentable carbohydrates are types of short-chain carbohydrates that your digestive system doesn't fully digest or absorb. They travel from your small intestine to your large intestine and become fermented by your gut bacteria. For some people, this isn't problematic—but in more sensitive individuals, it can produce excess gas and other digestive symptoms.
High-FODMAP Foods
Here are a few specific examples of foods high in FODMAPs, or fermentable carbohydrates:
fructose: natural sugars found in some fruits and vegetables, sweeteners, and some alcohol (asparagus, mango, watermelon, honey, agave syrup, rum)
lactose: natural sugar found in dairy products (cow's milk, yogurt, cheese)
fructans and GOS: type of oligosaccharide found in grains (wheat, barley, rye), vegetables (garlic, onions, artichokes), legumes, beans, and even some types of tea (chamomile, oolong)
polyols: type of small-chain carbohydrate found in vegetables, fruits, and sweeteners (cauliflower, mushrooms, peaches, plums, sorbitol)
Again, this list of high FODMAP foods isn't exhaustive. Plus, some foods even contain more than one type of FODMAP. For example, apples and cherries both contain fructose and polyols.
People who experience excessive bloating, gas, abdominal pain, and discomfort after eating may benefit from the low FODMAP diet to help pinpoint if certain foods may be triggering their symptoms.
What Is the Low FODMAP Diet?
The low FODMAP diet is an elimination diet that excludes fermentable carbohydrates to help you single out which foods trigger your digestive issues. The first phase includes strict elimination of all high FODMAP foods. (Note: It's best to complete this rigid protocol under the supervision of a qualified dietitian or healthcare provider.)
After about two to six weeks of strict elimination, you reintroduce FODMAP-containing foods, one group at a time, to identify which category of fermentable carbohydrates (or specific foods) are causing your digestive discomfort.
The goal of the low FODMAP diet is not to stay on it forever, as it's meant to be a short-term protocol. However, due to the restrictive nature of the weeks-long elimination phase, many individuals struggle with what to eat during this time.
If you're following this regimen, your usual go-to foods may now be (temporarily) off-limits. It can become stressful, which in turn only exacerbates digestive issues.
If you're struggling with what to eat for breakfast on a low FODMAP diet (sigh, no more avocado toast), give these easy recipes a try.
5 Low FODMAP Breakfast Recipes
Although the elimination phase of the low FODMAP diet is short-lived, it's still important to focus on eating a variety of foods. With so many foods on the "do not eat" list, this can be tough. However, rotating what you eat for breakfast can help alleviate boredom and ensure you get a variety of nutrients.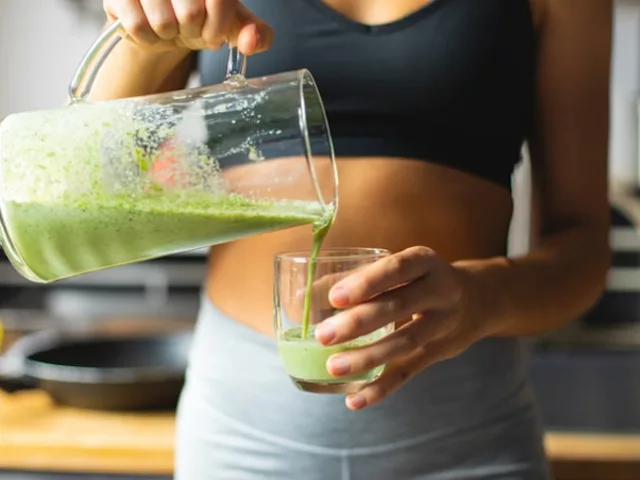 1. Low-FODMAP Vitamin C Smoothie
This immune-boosting smoothie is rich in vitamin C thanks to strawberries, kiwi, and kale. Kiwis and strawberries are both low FODMAP fruits, and kale is a low FODMAP vegetable, so you're packing in lots of nutrient-dense foods.
Even more, as a registered dietitian, what I love about this smoothie is that it also contains a kick of protein and healthy fats to actually keep you full throughout the morning. HUM's vegan protein powder, Core Strength, is low FODMAP and a great addition to this smoothie.
To ensure this smoothie remains low FODMAP, limit the almond milk to one cup and be sure to use just one tablespoon of almond butter.
PREP
2 min
COOK
0 min
SERVES
1
INGREDIENTS
1 cup unsweetened almond milk
2 scoops Core Strength
1 kiwi, peeled and cut
1 cup strawberries, trimmed
1/2-1 cup kale
1 tbsp almond butter
1/2 cup ice (optional, if not using frozen fruit)
INSTRUCTIONS
Combine the almond milk and protein powder and blend until smooth.
Add the fruit and greens. Blend again for 30 to 45 seconds until combined and smooth. Pour into a glass and enjoy.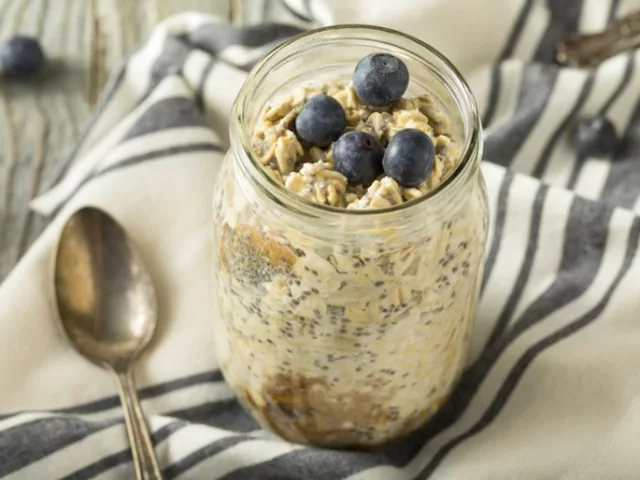 2. Golden Milk Overnight Oats
Golden milk overnight oats are a great make-ahead low FODMAP breakfast with a fun twist on a traditional turmeric or golden milk latte. The warm blend of spices add a lot of flavor as well as anti-inflammatory perks. Moreover, this recipe is packed with fiber and protein to keep you full throughout the morning.
Be sure to follow the quantities listed below so it remains low FODMAP. For example, coconut milk is considered low FODMAP at quantities of one-half cup, but not more. The same is true for rolled oats. Instead of coconut milk, you can swap in lactose-free milk or almond milk to keep this recipe low FODMAP too. Also, be sure to use lactose-free yogurt to keep this recipe low FODMAP. I suggest using plain yogurt so the golden milk flavor shines through!
PREP
5 min
COOK
5 min
SERVES
1
INGREDIENTS
1/2 cup rolled oats
1 tbsp chia seeds
1 tsp ground turmeric
1/2 tsp ginger
1/2 tsp cinnamon
1/4 tsp black pepper
1/2 cup plain lactose-free yogurt
1/2 cup coconut milk
Optional: almond butter, blueberries
INSTRUCTIONS
In a bowl with a lid or mason jar combine all ingredients. Shake or mix to combine. Refrigerate overnight.
Enjoy in the morning with optional toppings such as almond butter or blueberries.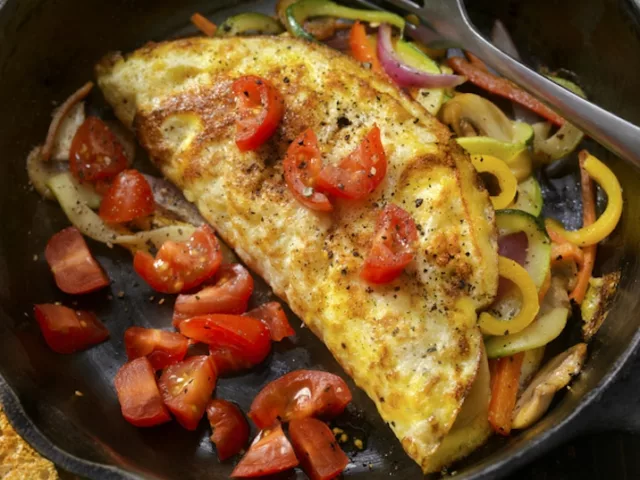 3. Low FODMAP Rainbow Veggie Omelette
If you have a few extra minutes in the morning, an omelette is a great idea to kickstart your day with a hefty protein punch. Relying on low FODMAP veggies is a great way to boost your fiber and nutrient intake. Of course, you can swap in any low FODMAP veggies you'd like.
To ensure you stay full, serve with a side of low FODMAP fruit (like grapes or an orange), low FODMAP (gluten-free) toast, or roasted potatoes.
PREP
5 min
COOK
5 min
SERVES
1
INGREDIENTS
2 large eggs
Optional: splash of lactose-free milk
2 tsp olive oil or avocado oil
1/4 cup shredded carrots
1/4 cup chopped red bell pepper
1/2 cup baby spinach, loosely packed
1 tbsp scallions, finely chopped (green parts only)
1/4 cup feta cheese
INSTRUCTIONS
In a small bowl whisk together the eggs with a splash of milk. Set aside.
Heat oil in a small pan over medium heat. When the pan is hot, add the shredded carrots and bell pepper. Saute until they begin to soften, about 4-5 minutes. Add baby spinach and green onions. Continue to saute until spinach wilts.
Pour the eggs into the pan. When the eggs are mostly cooked through, carefully flip the omelette.
Add cheese and fold the omelette in half. Serve warm.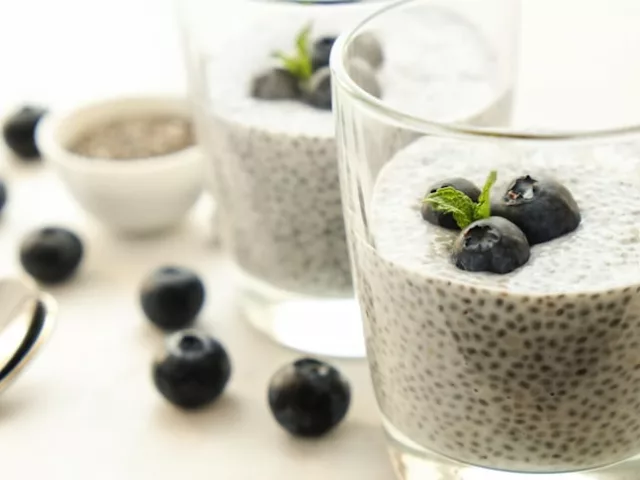 4. Blueberry Chia Pudding
One drawback of the elimination phase of the low FODMAP diet is that it excludes a lot of fiber-rich foods. For example, wheat, barley, rye, spelt, and many beans are off-limits.
Luckily, chia seeds are packed with fiber to help keep you regular while adhering to the elimination phase of the low FODMAP diet. Even more, chia seeds are loaded with heart-healthy fats and even some plant-based protein. Be sure to limit chia seeds to a serving of just two tablespoons (or half of this recipe).
You can customize this chia pudding using any low FODMAP fruit you have available, such as strawberries, kiwi, orange, pineapple, or even dragon fruit.
PREP
5 min
COOK
5 min
SERVES
2
INGREDIENTS
1 cup blueberries, fresh or frozen and thawed
1 cup almond milk
1/8 teaspoon lemon zest
1/4 cup chia seeds
Optional: 1 tsp maple syrup
INSTRUCTIONS
In a high-powered blender, blend blueberries with the milk until smooth.
Transfer blended blueberry and milk mixture into a container or bowl with a lid and add lemon zest, chia seeds, salt, and (optional) sweetener. Mix together until well combined, cover, and refrigerate overnight, or for at least 30 minutes.
Top with additional berries before serving. Makes 2 servings.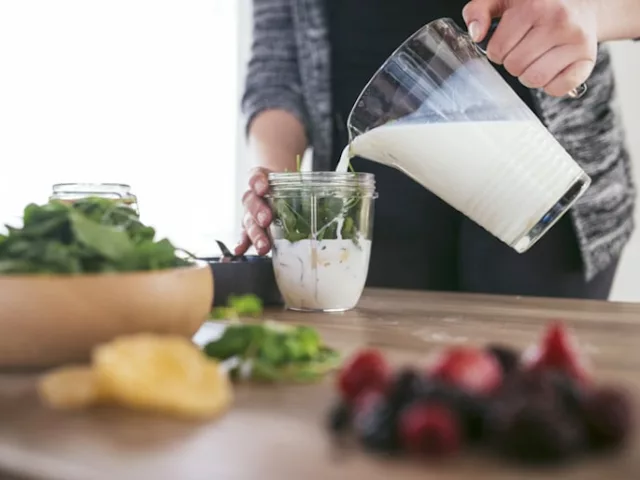 5. Very Berry Smoothie
Smoothies are a great choice while following the low FODMAP diet because some claim smoothies are easier to digest, thanks to the blending.
Personally, as a registered dietitian I love smoothies because they're a great way to add a ton of nutrients first thing in the morning. It's hard for many individuals to eat a cup of spinach, but it becomes much easier to add to your meal if it's blended in a fruity smoothie.
I do suggest, however, that you chew your smoothie and abstain from using a straw. Pour your smoothie into a bowl and top with some low FODMAP granola. Use a spoon instead of a straw to avoid swallowing air, which can lead to even more bloat.
PREP
2 min
COOK
2 min
SERVES
1
INGREDIENTS
1 cup baby spinach
1/2 frozen banana
2 tbsp frozen blueberries
1 tbsp almond butter
1 scoop Core Strength
1 cup vanilla almond milk
INSTRUCTIONS
Add all ingredients to a blender and mix until smooth.
More like this