11 Creative Ways to Enjoy Thanksgiving Leftovers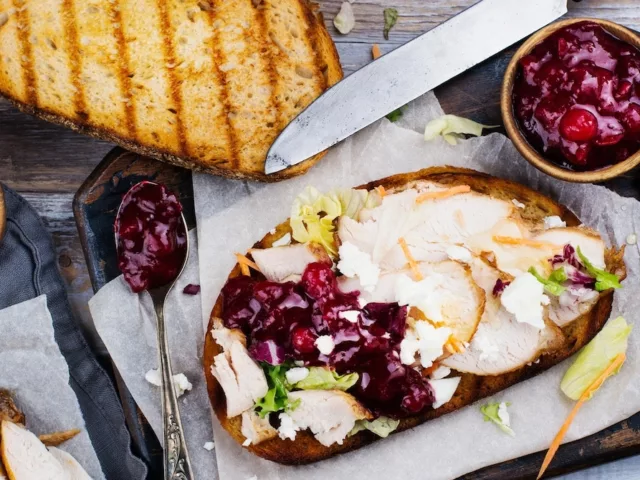 Carrie Gabriel, MS, RD, cooks up creative ideas for Thanksgiving leftovers.
The holidays are a great time to
get together with family
and friends. We enjoy traditions like running turkey trots, relaxing, preparing delicious recipes, and many times, facing a mountain of leftovers. The problem is that there are only so many Thanksgiving leftover servings we can eat on their own before we get sick of turkey, stuffing, yams, and the other usual suspects. While I personally love just re-heating the same turkey leftovers, I thought it would be fun to give everyone a few creative ideas for other ways to enjoy your Thanksgiving leftovers.
Creative Thanksgiving Leftover Ideas
1. MEXICAN FARE
If you're a fan of Mexican food, might I suggest turkey nachos or turkey fajitas? Prep a pan of corn tortilla chips with 1-2 cups of shredded leftover turkey. Sprinkle with cheese, tomatoes, black beans, and salsa for a delightful bite. Next, you can make turkey fajitas by mixing turkey slices with fajita seasoning and sautéing them with onions and peppers in a skillet. Add guacamole, salsa, sour cream, and any other fixings you desire, and wrap it up in a warm tortilla. Alternatively, you can sub beans and rice for the tortilla.
2. Thanksgiving Pizza
Another fun idea is to make a Thanksgiving pizza! Yes, that's actually a thing—and high on my list of fantastic leftover turkey ideas. Take store-bought pizza dough and spread it with leftover yams or regular mashed potatoes. Then add shredded slices of turkey and top with leftover Brussels sprouts, broccoli, and/or green beans. Finally, add some grated cheddar cheese and bake the pizza at 475 degrees Fahrenheit for 8-10 minutes. For an extra kick, add a few dollops of cranberry sauce!
3. Turkey Meatballs + Pasta
A turkey pasta dish could also work well if you want to add your leftovers to noodles. You can follow this easy
turkey meatball recipe
from a fellow dietitian for a crafty way to lessen your leftover turkey load.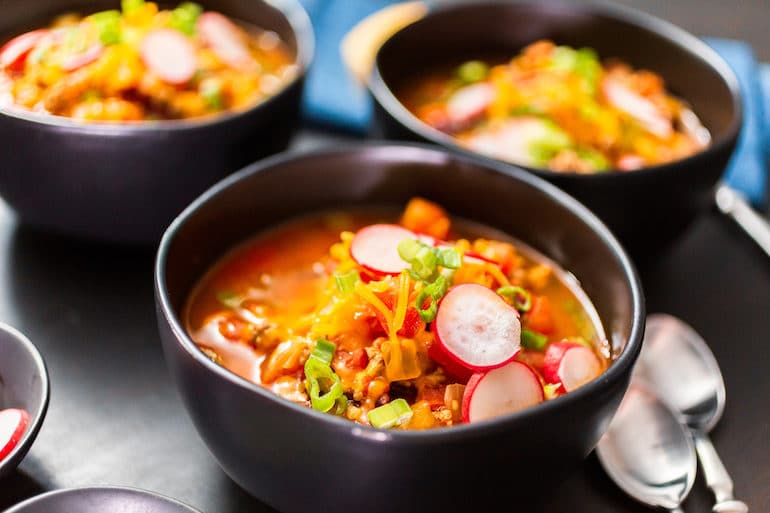 4. Turkey Chili or Soup
There are infinite ways to turn turkey leftovers into a hearty chili or soup. To cook up a simple pot, use tomato sauce or broth, a can of beans, and leftover veggies.
5. Turkey-Topped Sweet Potatoes
Fill up baked sweet potatoes with leftover turkey and stuffing. If desired, spread cranberry sauce on them.
6. Roasted Turkey Sandwich
Whole grain bread, honey mustard, lettuce, a little cranberry sauce, avocado, and turkey can make a delicious, hearty sandwich for a quick snack or lunch.
7. Simple Salad
Mixed greens, avocado, tomato, cucumbers, leftover roasted vegetables, and a dressing of your choice can make a filling salad by adding leftover turkey to it.
8. Thanksgiving Breakfast
How about Thanksgiving for breakfast with leftover turkey, potatoes, and stuffing hash with eggs and cheese? You can also whip up a Thanksgiving breakfast sandwich. How delicious does turkey and cranberry sauce between two waffles sound?
Vegetarian Thanksgiving Leftovers
Cooking a vegetarian or
vegan Thanksgiving
? Then look no further than these alternative leftover varieties.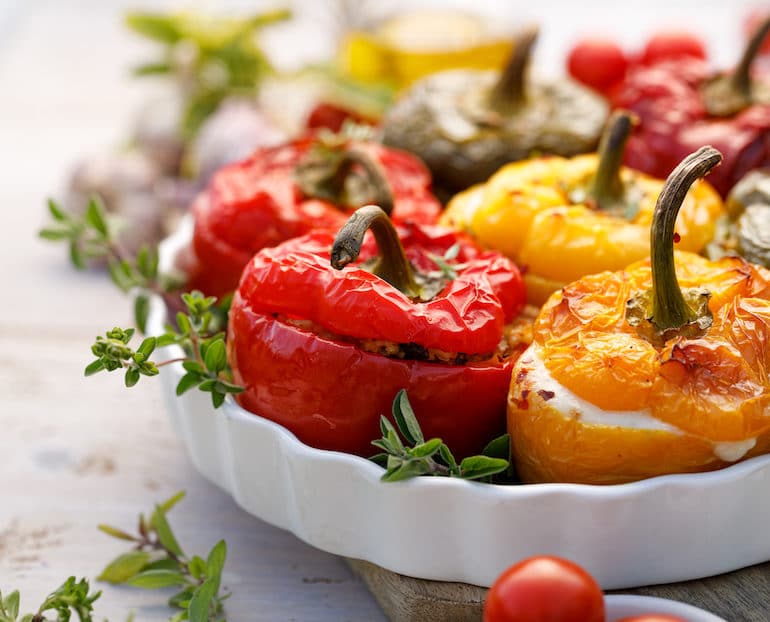 9. Stuffed Peppers
Have lots of leftover stuffing? I suggest baking it inside halves of bell peppers for a nutrient-dense snack.
10. Sweet Potato Pancakes or Waffles
To make sweet potato pancakes, add two eggs to a cup of leftover sweet potato casserole. If you have a waffle maker, you can use this same mixture to make sweet potato waffles. Top with leftover cranberry sauce as syrup for a sweet treat.
11. Grilled Cheese + Cranberry
After cooking up grilled cheese, top with cranberry sauce to add a sweet tang to a savory sandwich.
Final Tips for Thanksgiving Leftovers
Depending on how much leftover food you have, you can freeze items like turkey or mashed potatoes cooked in butter and cream. You can even freeze pumpkin pie to save for later! However, I'd thaw and enjoy these frozen leftovers within three months. Lastly, I suggest taking HUM's
Flatter Me
—our
digestive enzyme supplement
that helps prevent indigestion and bloating—with your Thanksgiving meal and leftovers. To reap maximum benefits, take one capsule
before eating
.
On behalf of Team HUM, I wish you and yours a joyful Thanksgiving!
More like this