An RD's List of Healthy Snacks for Weight Loss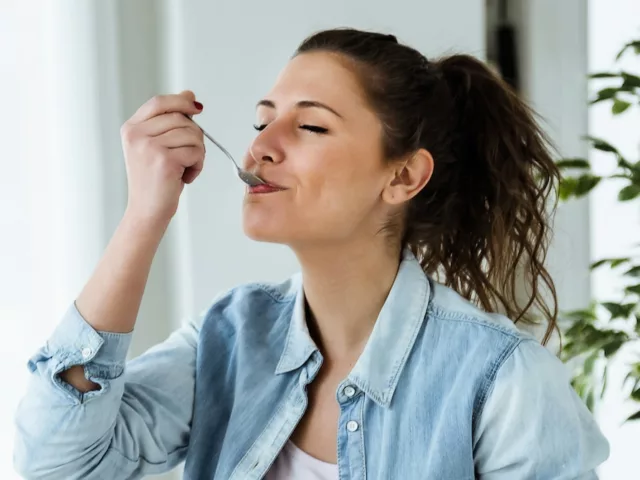 Can snacking be part of a healthy diet? Thankfully, yes. It
is
possible to lose weight and not give up snacks. Eating a snack helps curb hunger so that you won't inhale your next meal. Keep in mind, however, that snacking all day can result in overeating if you're not paying attention. Looking for healthy snacks for weight loss? Opt for whole-food options packed with protein,
healthy fat
, and fiber. They should typically amount to 150 to 200 calories per serving. Some can even help
keep you full
throughout the day and limit your cravings for unhealthy foods.
Healthy Snacks for Weight Loss, According to a Nutritionist

Greek Yogurt and Blueberries
Plain Greek yogurt delivers protein and
gut-friendly probiotics
. The protein you get from this snack is also helpful in keeping your skin firm. Nutrition-wise, Greek yogurt has less sugar than regular varieties. To maximize nutritional benefits, it's best to add real fruit instead of buying flavored versions. I recommend blueberries since they're high in vitamin C, antioxidants, and fiber. Plus, they add natural sweetness and texture to this smooth snack.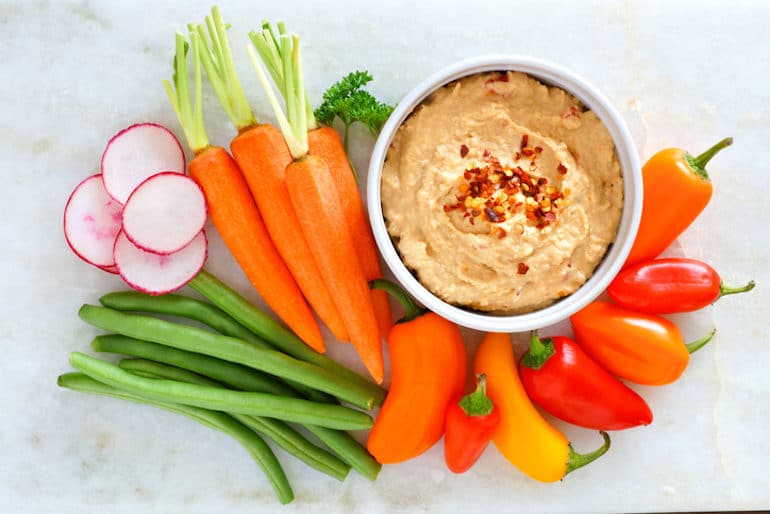 Hummus and vegetables
Get your Mediterranean diet on with this filling snack. Hummus is typically made with chickpeas, which are full of fiber and some protein. Tahini—a sesame-seed butter known for its healthy fat content—is also used in this spread. Additionally, garlic, lemon, olive oil, and a little salt are part of the mix. Ideally, you'd make your own for the best-quality hummus around. But if you're buying it from a store, look for brands that don't have a huge
list of ingredients
. Hummus tastes great with many vegetables. Carrots, celery, broccoli, and bell peppers are only a few winning options. High-fiber crackers or pita are also great with hummus—but for weight loss, vegetables are probably a smarter choice. Three tablespoons of hummus and a half cup of veggies make a smart, satisfying snack.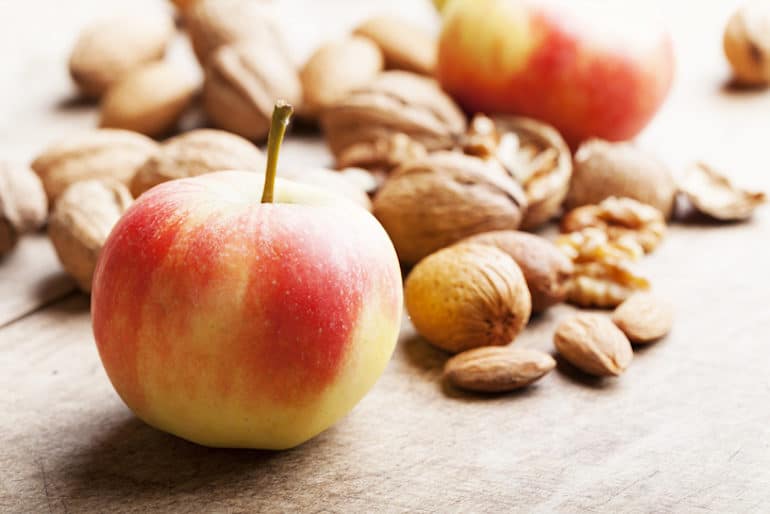 Almonds and apples
Almonds are an excellent source of protein, healthy fats, and fiber. A
2015 clinical trial
featured in the Journal of the American Heart Association indicates that substituting high-carb snacks for almonds may result in overall weight loss, specifically in the
belly
. Subjects who made these changes to their diet lost significant weight in the abdominal region within six weeks. Vitamin E, one of the key compounds in almonds, is also said to be
excellent for skin protection
. It can help relieve psoriasis and dermatitis, plus
protect skin from UV radiation
. One serving of almonds amounts to a quarter cup, or 25 pieces. Next, apples are one of the most frequently consumed fruits. They're high in fiber and polyphenols that are
said to improve gut health
. Apples also contain a lot of water. Water-rich foods are usually more filling and can lead to reduced calorie intake, since water doesn't add calories to food.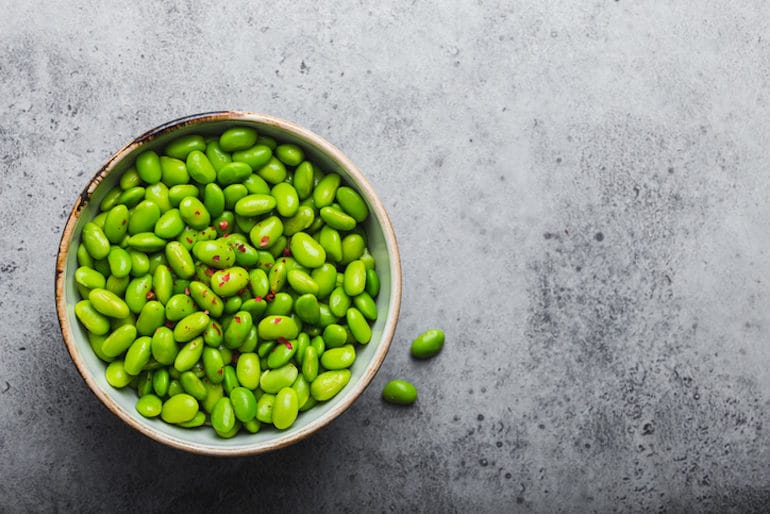 Edamame
Edamame are green soybeans that contain essential nutrients such as
omega-3 fatty acids
, iron, zinc, vitamin C, folate, and vitamin E. Each half cup contains only 95 calories, eight grams of protein, and a whopping four grams of fiber. Edamame can promote fullness and reduce calorie intake because of its satiating nutritional content. It's also rich in kaempferol, which has been shown to
aid weight loss and lower blood sugar
. Eaten alone, edamame makes for a high-fiber, high-protein snack. Otherwise, you can dip raw veggies into an edamame-based spread.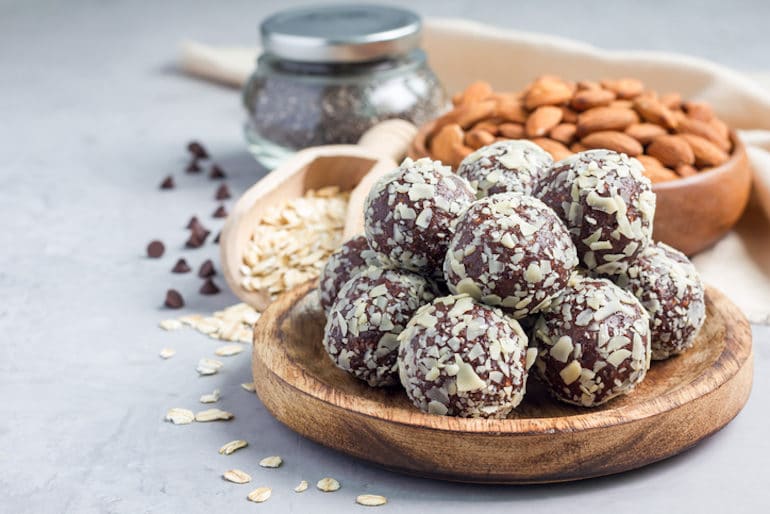 Protein Balls
Maybe you're craving
something sweeter
or more innovative. If so, protein balls are a fun snack to make. Not only are they portable, but also
portion controlled
for weight loss. They typically need five or six ingredients that you can probably find in your cupboard. It'd help to use a food processor, but you can also grab a mixing bowl. Use rolled oats and
protein powder
as the base, and then combine it with a nut butter or coconut oil. Next, add some flax or chia seeds to the mix for added fiber and healthy fats. Add spices such as cinnamon, ginger, or cardamom for additional flavor. Lastly, toss in dried fruit and/or some dark-chocolate chunks. They'll typically need to be refrigerated for an hour or so. Eat them within a week or freeze them to enjoy later.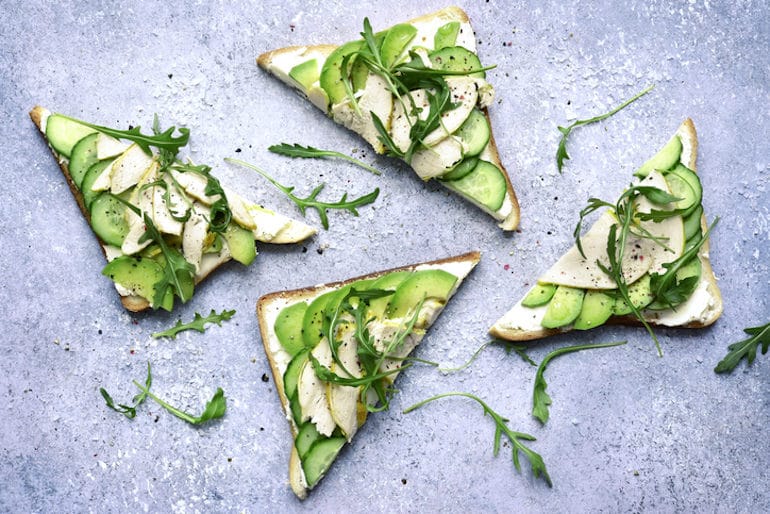 Sliced turkey and avocado
Turkey provides high-quality animal protein. It helps you feel satisfied while also preserving muscle mass. There's also
research
indicating that it burns more calories during digestion than fat or carbohydrates. Next, avocados are high in fiber, potassium, and monounsaturated fat. They provide satiety in small amounts and can even help
protect your skin from sun damage
. For a bite-sized snack, cut avocado into slices and roll your turkey meat around each piece. Sprinkle each slice with a little cayenne pepper and salt for an extra kick.
More like this