But Really, Is the Impossible Burger Healthy?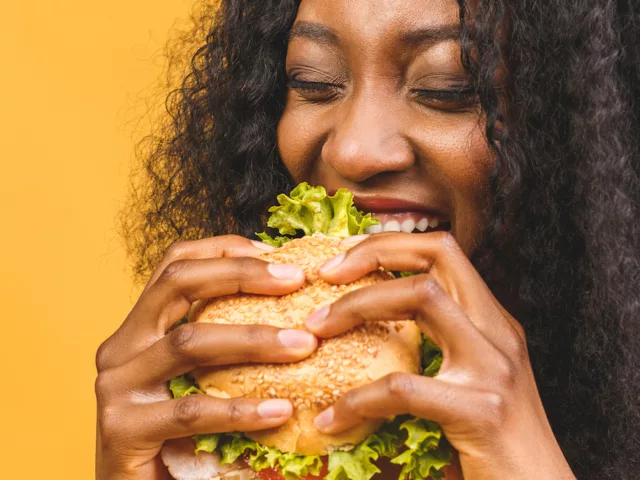 Plant-based eating is on the rise, largely due to innovative meat alternatives like the Impossible Burger. But is it healthy? Jessica Bippen, MS, RD, breaks down the impossible burger nutrition facts and answers.
Several years after its launch, the Impossible Burger continues to have a major moment as a plant-based option at major fast-food chains and burger joints around the country. It claims to rival a standard beef burger in taste, texture, and looks. Even Impossible Burger reviews rave about shocking similarities to juicy beef options. In addition to making a convincing vegan burger, Impossible Foods prides itself on being environmentally friendly by using significantly less water, land, and resources than regular meat. But the most pressing question remains: Is the impossible burger actually healthy? Below, we break down everything you need to know about impossible burger nutrition.
Beef Burger vs. Impossible Burger Nutrition
The creators of the Impossible Burger did an incredible job mimicking not only the taste and texture of a beef patty, but also the nutrition. Both the Impossible Burger and a beef burger contain protein, fat, and important micronutrients including iron, thiamine, vitamin B12, niacin, and zinc.
Impossible Burger Nutrition Facts
A four-ounce Impossible Burger contains:
240 calories

14 grams of fat

8 grams of saturated fat

Zero cholesterol

19 grams of protein

9 grams of carbohydrates

370 grams of sodium

3 grams of fiber
In contrast, a four-ounce, 80percent lean beef burger contains:
290 calories

23 grams of fat

9 grams of saturated fat

80 grams of cholesterol

19 grams of protein

Zero carbohydrates

75 grams of sodium

No fiber
While the beef burger may have higher overall fat content and cholesterol, the Impossible Burger contains significantly more sodium.
Impossible Burger Ingredients
When it comes to nutrition, the main difference between an Impossible Burger and a beef burger is the ingredients. The Impossible Burger contains soy protein isolates, fats, natural flavors, and binders. Take one look at the lengthy ingredient list and you can see why it's called a bioengineered burger, especially compared to beef burgers with only one ingredient. It's also worth mentioning that many burger joints and restaurants typically take pride in using 100-percent beef burgers. Conversely, fast-food chains often add binders, fillers, and preservatives.
Impossible Burger Ingredients: Water, Soy Protein Concentrate, Coconut Oil, Sunflower Oil, Natural Flavors, 2% or less of: Potato Protein, Methylcellulose, Yeast Extract, Cultured Dextrose, Food Starch Modified, Soy Leghemoglobin, Salt, Soy Protein Isolate, Mixed Tocopherols (Vitamin E), Zinc Gluconate, Thiamine Hydrochloride (Vitamin B1), Sodium Ascorbate (Vitamin C), Niacin, Pyridoxine Hydrochloride (Vitamin B6), Riboflavin (Vitamin B2), Vitamin B12
Beef Burger Ingredients: 100-percent Beef
Other Impossible Burger Health Considerations
The controversial question is if the engineered Impossible Burger is really healthier than beef. As much as I wish there were a straightforward answer to this question, there isn't. It completely depends on the type of beef to which you compare the Impossible Burger, and your personal opinion on consuming genetically modified organisms (GMO's) and soy isolates.
Impossible Burger GMO's
Impossible Burger states that the "soy and potato protein gives it a meaty bite. Heme gives it a craveable taste. Coconut and sunflower oils make it sizzle on the griddle. Methylcellulose and food starch hold it together so you can make it into meatballs, kebab, sausage patties—the possibilities are endless."
Chances are you aren't exactly familiar with heme and methylcellulose. That's not surprising, as they're not something you can buy at the store. Soy leghemoglobin (which is also their most controversial ingredient) is genetically engineered by a yeast bacterium, giving the burger its meaty taste. Even though the FDA has deemed soy leghemoglobin safe, there have not been long-term studies conducted on this ingredient in humans. It's also important to recognize it's still a genetically-engineered food. Generally speaking, the ingredients in the Impossible Burger are highly processed.
Impossible Burger Fat and Nutrient Profiles
This also raises the discussion of grass-fed and finished beef versus conventional beef. Grass-fed, grass-finished beef indicates that cows freely grazed and foraged throughout their lives. This process is far superior to that of conventional beef regarding both nutritional and environmental aspects. Grass-fed and finished beef usually contain less total fat and monosaturated fat than conventional grain-fed beef. It also contains significantly more omega-3 fatty acids, conjugated linoleic acid (CLA), vitamin A, vitamin E, and other antioxidants. In comparison, conventional beef is typically raised in massive grain feedlots. The result is beef that contains fewer nutrients and more unhealthy fats, growth hormones, and antibiotics.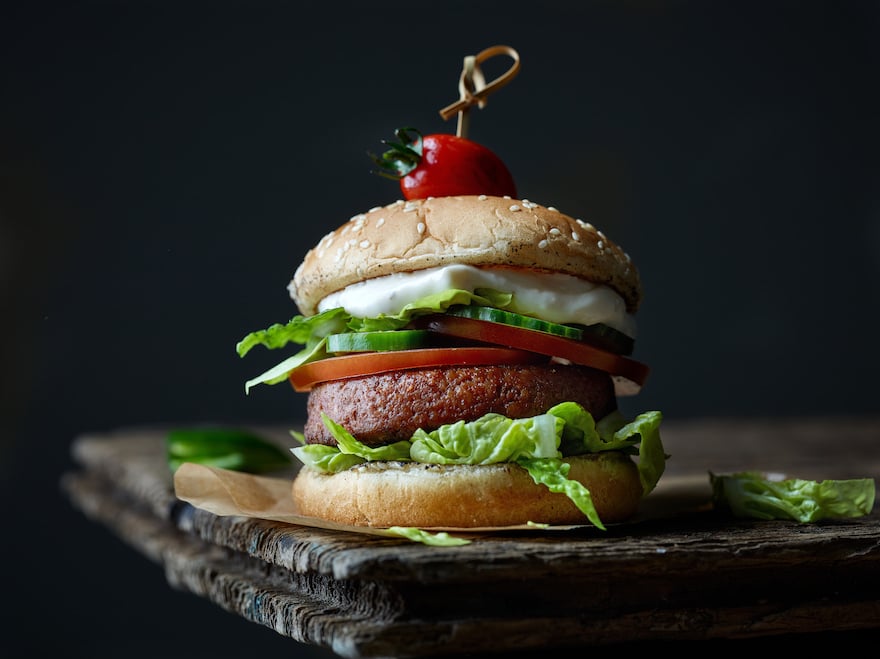 The Impossible Burger's Environmental Impact
Personal health matters aside, another controversial topic includes the environmental impact of the Impossible Burger versus regular burgers. Companies making plant-based burgers usually boast about their environmental benefits, but how true are their claims?
A life cycle assessment (LCA) performed by Quantis shows that the Impossible Burger uses 87-percent less water, 96-percent less land, 89-percent fewer GHG emissions, and 92-percent less aquatic pollutants than conventional ground beef.
On the flip side, there's regenerative agriculture, a system of farming that increases biodiversity, enriches soils, improves watersheds, and enhances the ecosystem. In short, cattle farms that use regenerative agriculture return nutrients to the soil and helps it absorb carbon dioxide from the atmosphere. Beef from grass-fed and grass-finished cows fall under this category.
Taking a look at the environmental impact of regenerative farming, another LCA performed by Quantis looked at the carbon footprint at White Oaks Pastures, a 3,000-acre farm following regenerative grazing practices. The report found that the beef from White Oaks Pastures has a carbon footprint 111-percent lower than conventional beef. It also produced a net "carbon sink" of -3.5 carbon emissions after taking account of all greenhouse gases in the farming operation. The takeaway? This farm actually absorbs more carbon than it releases as carbon dioxide.
While the Impossible Burger may have the upper hand over conventional beef on the environmental front, regenerative farming can actually play a very valuable role in reducing the carbon footprint that contributes to the effects of climate change.
The Bottom Line
The Impossible Burger isn't as healthy as you may think, and it shouldn't be your go-to when seeking healthier options. If you want to optimize your health, you're better off focusing on whole foods and less processed foods with minimal ingredients. If you're seeking a healthier source of vegan protein, stick with beans, lentils, organic tofu, tempeh, nuts, and seeds. Otherwise, organic, grass-fed, and grass-finished beef is a healthier option.
However, I do understand that many food purchases are made out of convenience. Next time you're grabbing packaged foods on the go, look at the ingredient list. Do you know each by name, could actually buy them, and potentially make that food in your own kitchen? If so, it's a less-processed, and in most cases healthier, option.
Next time you want to eat something healthy, I advise skipping the Impossible Burger. There are much better choices out there for clean eating. Vegans can opt for a black bean or veggie burger, while omnivores can feast on a grass-fed, grass-finished beef burger. But even still, for people seeking a plant-based greasy burger to satisfy the occasional craving, the Impossible Burger will do the trick.
More like this