A Protein-Packed Vegan Quinoa Bowl Recipe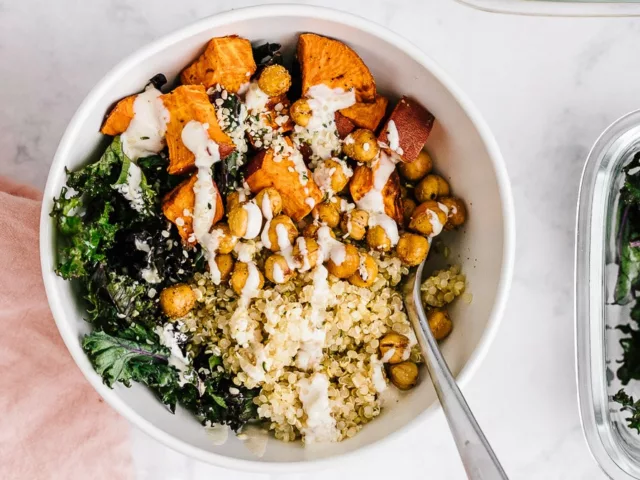 Trying to transition to eating more plant-based meals, but need more simple and delicious recipes? Look no further than this protein-packed vegan quinoa bowl recipe by Jessica Bippen, MS, RD. We have a feeling it'll be a new weekly staple!
About This Vegan Quinoa Bowl Recipe
This sweet potato chickpea quinoa bowl makes for a simple weeknight dinner. Plus, it's perfect for
meal prep
! The bowl starts off with a base of fluffy, gluten-free quinoa and massaged kale. It then gets topped with crispy roasted chickpeas and golden brown sweet potatoes. Just add a drizzle of tahini sauce and sprinkle of hemp seeds, and you have a delicious,
perfectly balanced meal
with 15 grams of plant-based protein,
healthy fats
, and complex carbohydrates. This meal comes together in less than 45 minutes, making it easy enough to cook on a weeknight. Also, if you want to get a head start on the week, these quinoa bowls are perfect for meal prep. Simply prepare the ingredients on Sunday. From there, you can store the fully assembled bowls in the fridge for up to five days, or store the ingredients and assemble the bowls just before serving. Either way, your future self will thank you!
QUINOA Nutritional Value
Quinoa, pronounced
keen-wah
, is an incredibly nutritious ancient grain. Despite its popularity as a grain, quinoa is actually classified as a pseudocereal. These are non-grassy plants that have similar nutritional properties to whole grains. This superfood has numerous nutritional and health benefits. For starters, it's one of the few complete
vegan sources of protein
, meaning it contains all essential amino acids, including lysine, not usually present in most grains. Second, quinoa is a
good source of minerals
including magnesium, calcium, phosphorus, potassium, zinc, and iron, as well as vitamin E and B vitamins. It also contains
quercetin and kaempferol
, flavonoid antioxidants that may have numerous health benefits.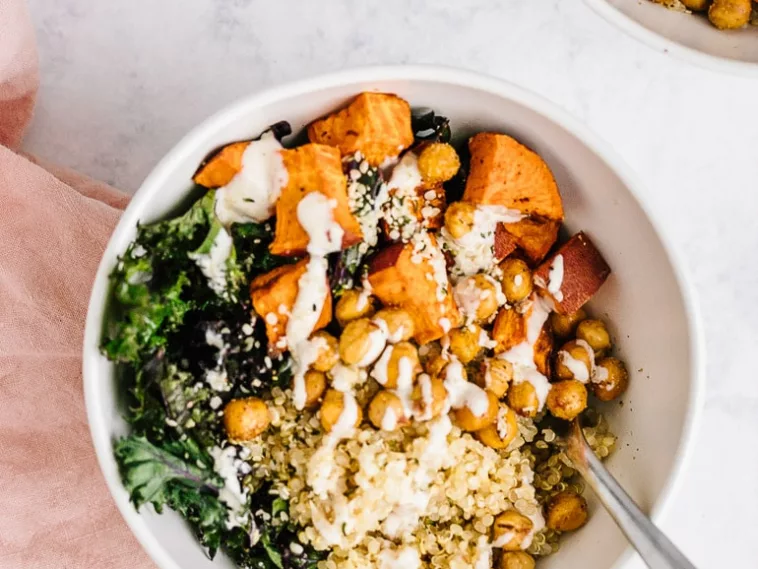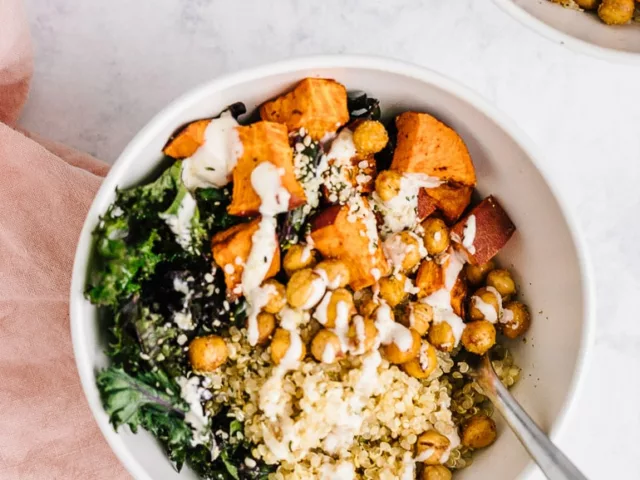 Sweet Potato Chickpea Vegan Quinoa Bowl
This sweet potato chickpea vegan quinoa bowl packs 15 grams of protein per serving. It's a healthy, balanced meal ideal perfect for meal prep.
PREP
10 min
COOK
25 min
SERVES
2
INGREDIENTS
1 cup cooked quinoa
1 medium sweet potato, sliced into 1-inch cubes
15 oz can chickpeas, drained and rinsed
1 tbs olive oil
½ tsp cumin
¼ tsp garlic powder
2 cups chopped kale
1 tbs hemp seeds
2 tbs lemon juice, divided
¼ cup tahini
⅓ cup hot water
Salt and pepper to taste
SUPPLIES
Baking sheet
Parchment paper
Medium bowl
Large bowl
INSTRUCTIONS
Preheat the oven to 425° F. Line a baking sheet with parchment paper.
Toss the sweet potatoes with a half tablespoon of olive oil. Season with salt and pepper. Place on one side of the baking sheet. Roast in the oven for 25 to 30 minutes. After the first 10 minutes, remove the baking sheet from the oven. Place the chickpeas on the other half of the pan. Toss with a half tablespoon of olive oil and season with cumin, garlic powder, salt, and pepper. Place back in the oven for the remaining 15 to 20 minutes.
Meanwhile, place the chopped kale in a large bowl. Add one tablespoon of lemon juice and a pinch of salt. Massage the kale for two to three minutes, or until tender. Set aside. In a medium bowl, whisk together the tahini, lemon juice, and hot water. Season with salt and pepper. Add more water to thin consistency to your liking.
To assemble, divide the kale between two bowls, add a half cup of cooked quinoa, half of the cooked chickpeas, and half of the sweet potatoes. Top each bowl with a drizzle of tahini and hemp seeds. You will have leftover tahini sauce. Place it in an airtight container and store in the fridge for up to a week.
More like this