3 Bedtime Latte Recipes for the Ultimate Rest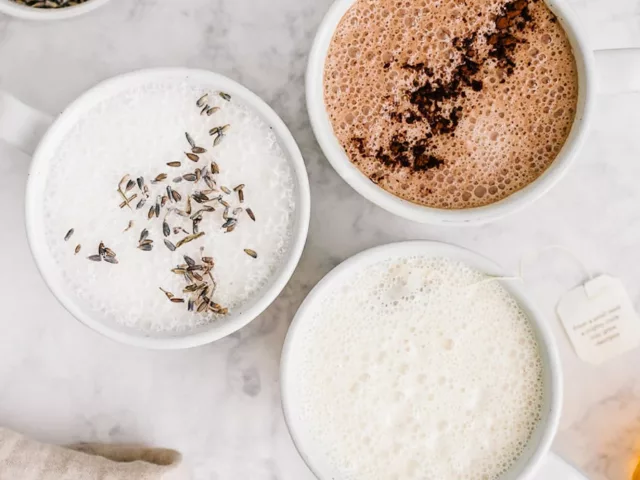 Looking for the ultimate pre-bed drink? Jessica Bippen, MS, RD, shares three delicious, caffeine-free bedtime latte recipes.
Having troubling getting the solid rest you need? Given our fast-paced lifestyles, constant screen time, and never-ending to-do lists, falling (and staying!) asleep isn't the easiest task. But a
good night's rest
, of course, is essential for your well-being. Sleep quality also affects your hormones and your appearance—hence the term beauty sleep! Creating a nighttime routine centered around self-care can help relieve stress and get you ready for a restful night. Below, each of the latte's unique ingredients aid with sleep and/or stress relief, thus helping you slow down before bed. So
put down your phone
, shut off the TV, and cozy up with one of these bedtime lattes for a luxe pre-zzZz treat.
Bedtime Latte Recipe Ingredients
One by one, these caffeine-free latte and sleep tea recipes pack:
lavender
chamomile
carob
Each of these bedtime latte ingredients have unique functional properties to help you drift soundly to sleep, which we'll detail below. In addition to the pro-sleep benefits, they're luxuriously rich in taste, as their smooth palates come from full-fat plant-based milk and coconut oil. These ingredients are also essential to yield a creamy texture and thick layer of foam. They also pack healthy fats to nourish skin, hair, and nails.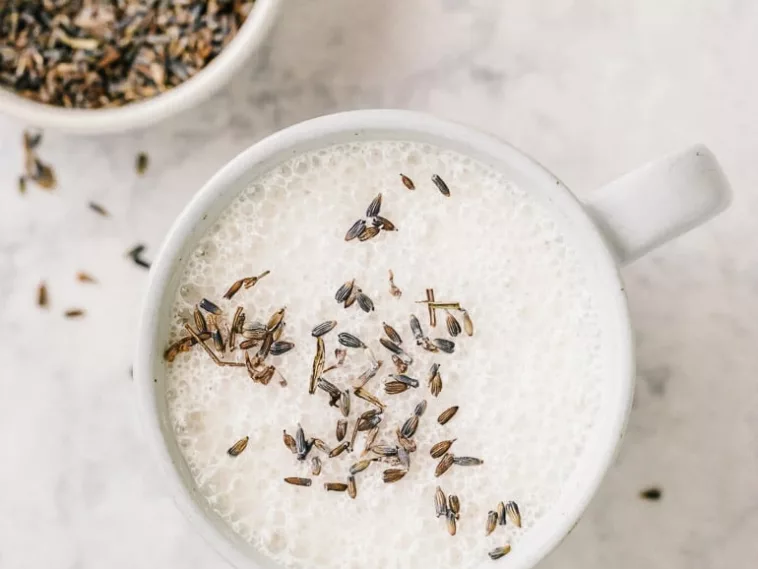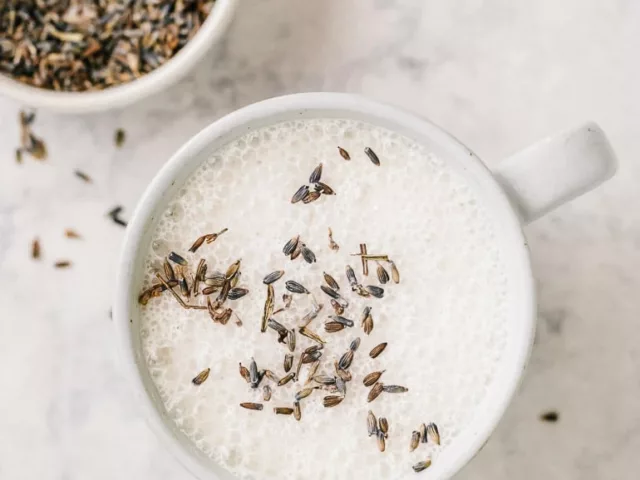 Lavender Vanilla Latte Recipe
You're probably most familiar with lavender in the form of essential oils. While this fragrant plant is commonly used in aromatherapy to help promote calmness and relaxation, you can also enjoy it in tea or food. In tea form, it's made from the small purple buds of a flowering lavender plant.
Lavender latte benefits include:
relaxation
settling nerves
easing yourself to sleep
Better yet, this star ingredient boasts well-researched benefits for sleep.
Research shows lavender can help improve sleep via aromatherapy and ingestion alike. So sip your lavender latte mix, and don't forget to breathe in its soothing aroma for an additional snooze-friendly benefit.
PREP
5 min
COOK
1 min
SERVES
1
INGREDIENTS
½ cup hot water
1 cup heated full-fat almond milk
1 tsp culinary-grade lavender (or one lavender tea bag)
1 tsp coconut oil
½ tsp vanilla
Optional: honey for sweetness
INSTRUCTIONS
Steep the lavender or lavender tea bag in hot water for 3-5 minutes. (If using loose lavender, strain before adding to blend.) Add the rest of the ingredients to the blender. Blend, mix together, and enjoy!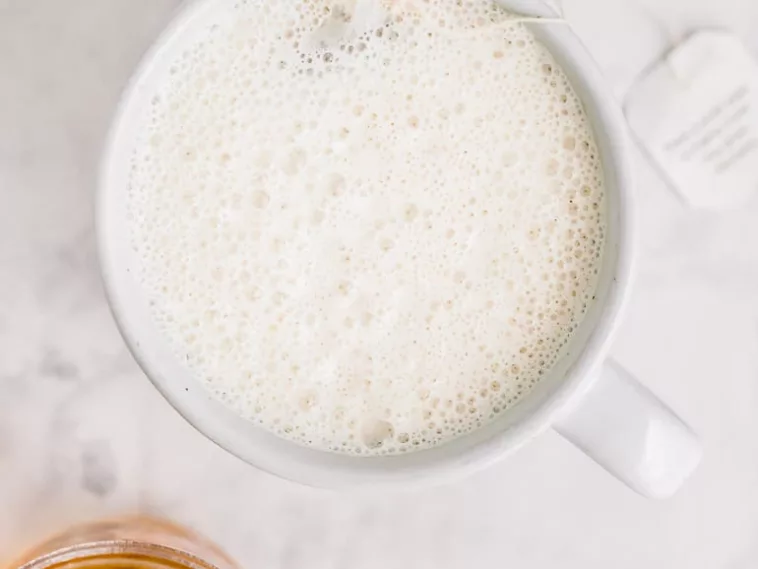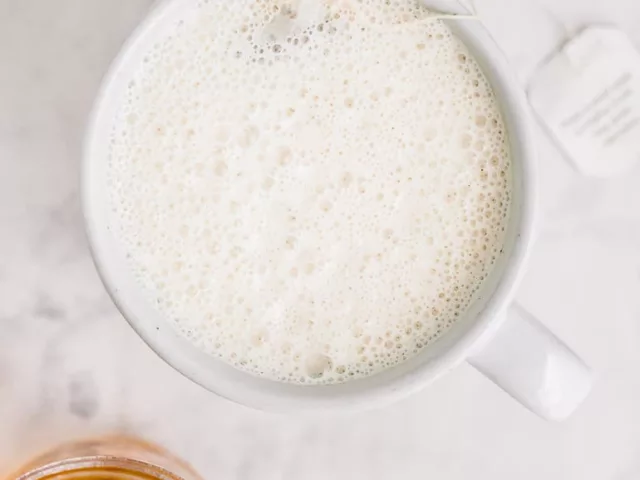 Chamomile Honey Latte Recipe
This floral tea comes from the daisy-like flowers that are dried and then infused into hot water. It has an earthy, mildly sweet taste that pairs wonderfully with honey.
Chamomile tea is a caffeine-free alternative to black or green tea, making it perfect for use in a sleep tea recipe. Chamomile is known for its calming effects, and is commonly used as a natural remedy to treat insomnia and reduce both stress and inflammation.
A 2011 study found that people who consumed 270 milligrams of chamomile extract twice daily for 28 days woke up less throughout the night and fell asleep 15 minutes faster.
Chamomile's calming effects may be attributed to an antioxidant called apigenin. Apigenin binds to specific receptors in your brain that may help decrease chronic stress and initiate sleep.
PREP
5 min
COOK
5 min
SERVES
1
INGREDIENTS
½ cup hot water
1 cup heated oat milk
1 chamomille tea bag
1 tsp coconut oil
1-2 tsp honey
INSTRUCTIONS
Steep the chamomille tea bag in the hot water for 3-5 minutes. Add the steeped tea and the remaining ingredients to a blender. Blend, mix together, and enjoy!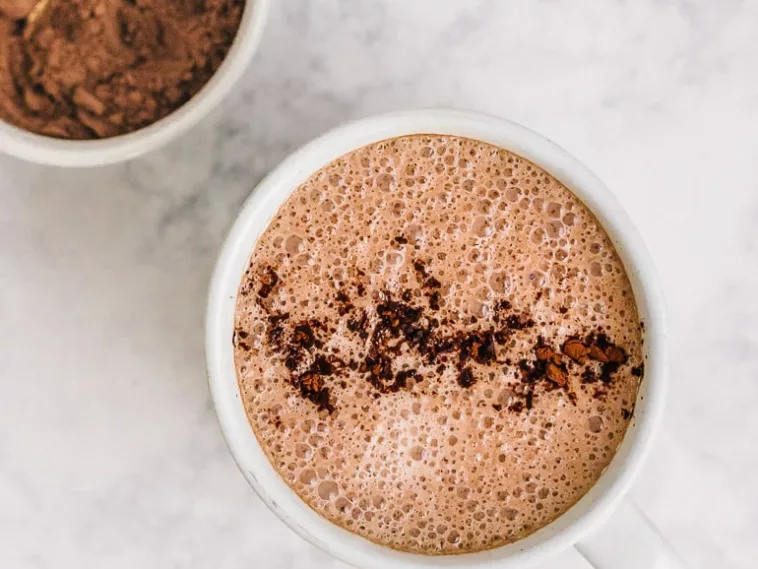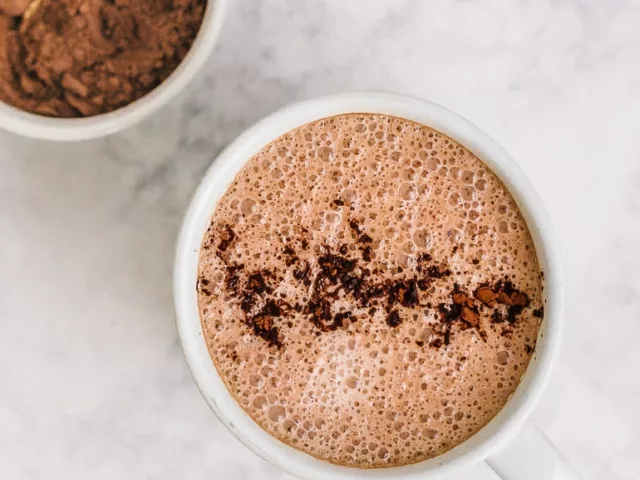 Peppermint Hot "Chocolate" Recipe
This hot chocolate uses carob in place of traditional cocoa powder. (You can think of it as a caffeine-free alternative for cocoa powder.)
Carob powder is made from dried, roasted carob-tree pods. It's dark brown and looks shockingly similar to cocoa powder. Unlike cocoa and its distinctly bitter taste, carob powder has a uniquely sweet taste, making it perfect for sweet treats and cozy beverages like hot chocolate.
However, does this hot chocolate help you sleep?
Since carob powder is caffeine-free, it's a perfect nighttime hot chocolate alternative. In essence, you can enjoy its rich chocolatey taste, minus the undesired side effects of caffeine, such as:
restlessness
faster heart rate
nervousness
irritability
With that said, this bedtime latte recipe is especially recommended for those who are sensitive to caffeine but still want to get a chocolatey fix.
Additionally, carob powder is a good source of antioxidants. A 2003 study identified 24 antioxidant compounds in carob fiber, including gallic acid and flavonoids. These polyphenols may help reduce oxidative stress.
PREP
5 min
COOK
5 min
SERVES
1
INGREDIENTS
1 ½ cups heated full-fat cashew milk
2 tsp carob powder
2 tsp maple syrup
⅛ tsp peppermint extract
INSTRUCTIONS
Add all the ingredients to a blender. Blend and enjoy!
One Final Bedtime Treat
To help boost your zzZz's, I recommend pairing your bedtime latte of choice with HUM's Mighty Night skin and sleep supplement.
While your cozy latte may help you wind down and fall asleep, Mighty Night can help you stay asleep with sleep-promoting herbs including valerian root, passionflower, and hops.
In addition, Mighty Night's unique formula also works while you sleep to support skin cell turnover and scavenge free radicals. The result? A fresh, well-rested complexion.
More like this