A Healthy Dark Chocolate Almond Butter Cup Recipe
Shavonne Morrison, MS, RD, LD, shares her favorite dark chocolate almond butter cup recipe. Stevia-sweetened chocolate is paired with creamy almond butter for a dessert that's full of healthy fats and protein.
When sugar cravings hit, it can be challenging to find healthier treats that still hit the spot.
Enter: this dark chocolate almond butter cup recipe. These treats are perfect for when you want something that satisfies your sweet tooth, but still packs plenty of nutrition benefits!
How to Make Almond Butter Cups
This almond butter cup recipe couldn't be easier to make, and it's ready in less than an hour. Plus, there's no baking required!
First, you only need three ingredients:
your favorite low-sugar dark chocolate
almond butter
a little coconut oil
You'll also need a muffin tin and liners (either paper or silicone, depending on your preference).
The recipe only requires pouring chocolate, the almond butter/coconut oil mixture, then more chocolate, and freezing in between pouring the layers. In about 55 minutes, you'll have a crowd-favorite dessert.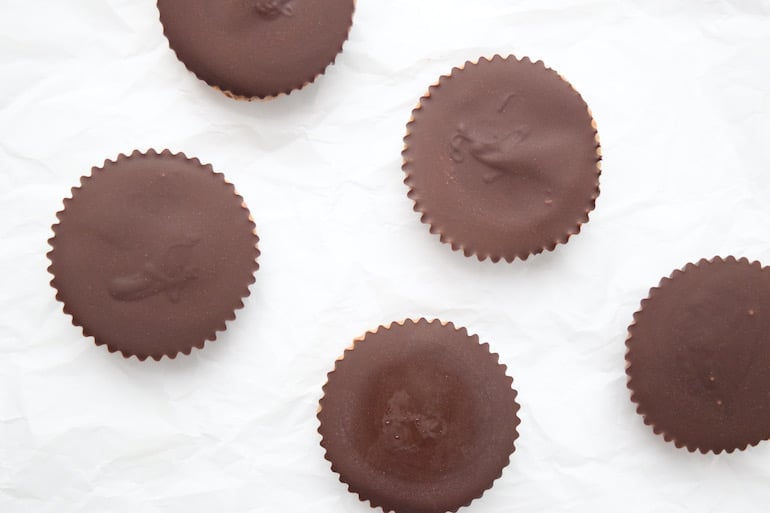 Ingredient Highlights
What's better than enjoying sweets? Enjoying sweets that come with nutritional benefits!
Here's what makes this dark chocolate almond butter cup recipe a healthier alternative to other chocolate treats.
dark chocolate
I love dark chocolate because it's a great source of magnesium. Among other things, magnesium is important for:
optimal nerve function
promoting restful sleep
reducing stress
If you ask me, this is a great deal to get from enjoying a tasty dessert!
Plus, you can customize your dark chocolate to your personal preferences. Some people prefer the darkest they can find, while others choose one that's on the sweeter side.
For this recipe, I used 55 percent Lily's brand Original Dark Chocolate. (Lily's has dark chocolate ranging from 55 to 92 percent cacao!) I particularly like it since it includes stevia, an alternative sweetener. Stevia comes from a plant called Stevia rebaudiana, which doesn't affect blood sugar because it passes through the body undigested.
Unlike most desserts that can cause a rapid rise and fall in blood sugar (which is fine from time to time), sweets made with stevia can maintain more balanced blood sugar levels.
almond butter
Almonds are a good source of healthy unsaturated fats and protein—which also makes a handful of them a nutritious, satiating snack. Almonds offer vitamin E as well, which is important for healthy skin and hair. Plus, almonds pack some calcium, phosphorus, and magnesium.
Almond butter comes in several varieties, but most often consists of ground almonds. I recommend opting for almond butter that has as few ingredients as possible—the simpler, the better!
Many health food stores even offer the option to grind your own fresh almond butter in-store, which is my personal preference.
Dark Chocolate Almond Butter Cup Recipe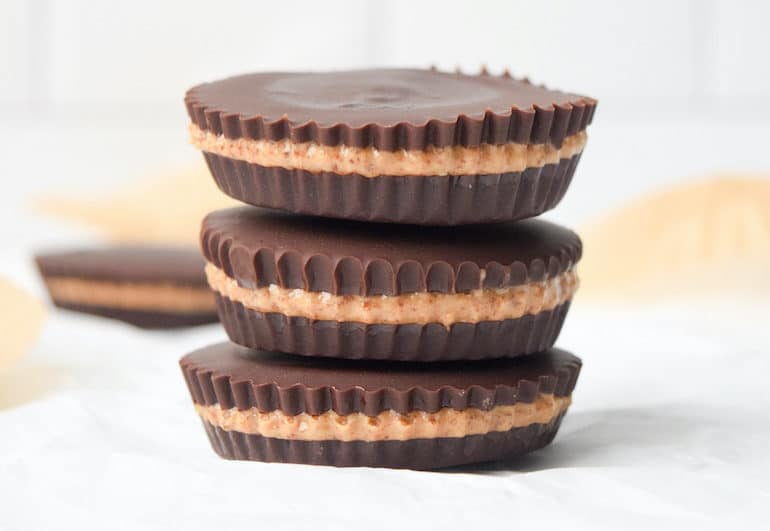 Dark Chocolate Almond Butter Cup Recipe
This recipe for dark chocolate almond butter cups is easy and quick to make. Better yet, it's a healthy dessert that's perfect for satisfying your chocolate cravings.
PREP
10 min
COOK
45 min
SERVES
12
INGREDIENTS
4 Lily's Original Dark Chocolate bars (or 12 oz of your favorite dark chocolate)
1/2 cup almond butter
1 tbsp coconut oil
1/4 tsp stevia
Sea salt (optional)
SUPPLIES
12-count muffin tin
Paper muffin tin liners
Bowl and/or saucepan
Measuring cups + spoons
INSTRUCTIONS
Line a muffin tin with 12 liners. Set aside.
Melt all four chocolate bars in the microwave. Heat in 30-second intervals, stirring with a spoon or baking spatula in between heating.
Place one tablespoon of melted chocolate into the bottom of each muffin liner. Tap it gently on the counter a few times to allow any air bubbles to escape. Place the entire tray in the freezer to set for about 10 minutes.
While the first layer of chocolate is setting, prepare the almond butter mixture. In a microwave-safe bowl or small saucepan, combine almond butter, coconut oil, and stevia. Stir to combine. The almond butter mixture should be smooth and shiny.
Take the muffin tray out of the freezer and immediately add about one teaspoon of the almond butter mixture to each tin. Spread the almond butter evenly. Place muffin tray back into the freezer for another ten minutes. (I like to clean during this step while the cups are setting, so that by the time they're done I can dig right in! You also may reheat the chocolate in this step if it's started to thicken a bit.)
Once the almond butter layer has set, remove the muffin tin from the freezer and evenly distribute the remaining chocolate into each tin. Place the muffin tin in the freezer to set for 10 minutes one last time. Add sea salt on top halfway through setting the cups, if desired.
Once the cups are finished setting, remove them from the freezer. You can enjoy them immediately, or store in the fridge in an airtight container for up to a week.