Indulge with This Avocado Chocolate Mousse Recipe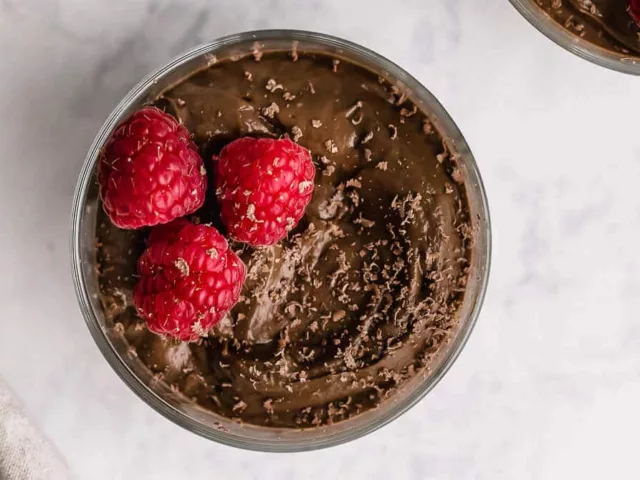 Jessica Bippen, MS, RD, whips up a delectable avocado chocolate mousse recipe. It's perfect for any occasion, from impressing your S/O for a romantic night in to satisfying a weekday craving.
Ever have those days when you just
need
chocolate? Us too! For example, if it's
that time of the month
, a romantic date night, or just a random weekday craving, it's perfectly natural to crave something rich and sweet. However, next time your chocolate craving hits, put off reaching for the first brownie you see. Instead, head to the kitchen to make this healthy chocolate avocado mousse. Your body (and tastebuds) will thank you!
Wait… avocados and chocolate?
You're probably thinking,
avocados and chocolate… really?
Yes, really! If you've never had avocado chocolate mousse, the combination probably isn't the first that comes to mind when daydreaming about delicious dessert. But if
beans can turn into brownies
and cauliflower can create pizza crust, trust that avocados can blend into chocolate mousse. First, avocados offer a neutral taste. Second, they have a luscious, creamy texture, making the perfect base for a silky smooth mousse. Simply mix the avocados together with
honey
and cocoa powder, and the results will surprise you. The ingredients magically transform into a rich chocolate mousse that you'd never guess is healthy!
Avocado Nutritional Value
Consider avocados an
everyday superfood
. They're loaded with healthy monounsaturated fats, fiber, antioxidants, vitamins, and minerals. Your body needs these essential components to thrive. Here's why.
Healthy Fats
Your skin needs healthy fats!
For instance, healthy fats contribute to hydrated skin and smooth, glowing texture. Additionally, these healthy fats are shown to
benefit your heart
.
Fiber
One avocado packs 14 grams of fiber. A
high-fiber diet
helps boost your metabolism, supports digestion, and helps reduce the risk of
numerous health conditions
.
Antioxidants + Nutrients
In addition to healthy fats and fiber, avocados contain a wealth of antioxidants, vitamins, and minerals. Specifically,
glutathione
(an antioxidant found in avocados) helps support liver health and your natural
detoxification pathway
. The
high amounts
of vitamin K, folate, vitamin C, vitamin B6, and potassium help support healthy skin and hair, plus optimal cellular function. So whether you eat your
avocado on toast
or make this avocado chocolate mousse, avocados deserve a place in your daily diet. Simply put, eating them makes for an easy and delicious way to optimize your health!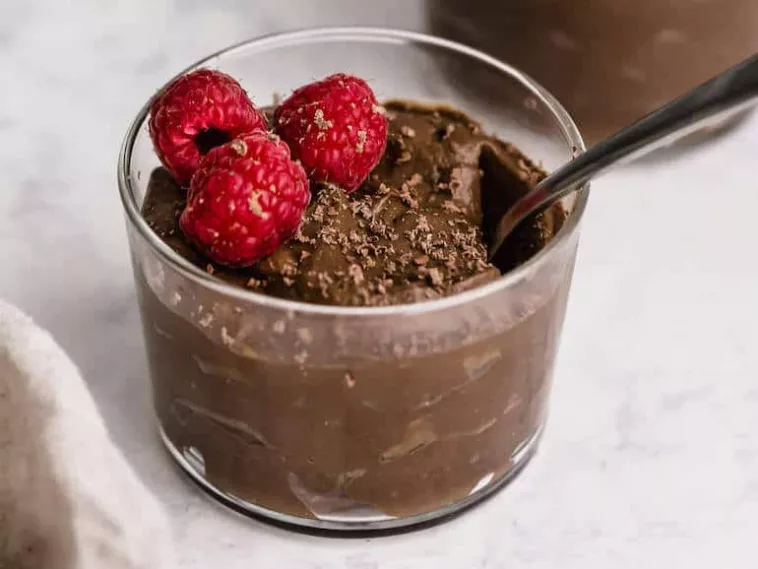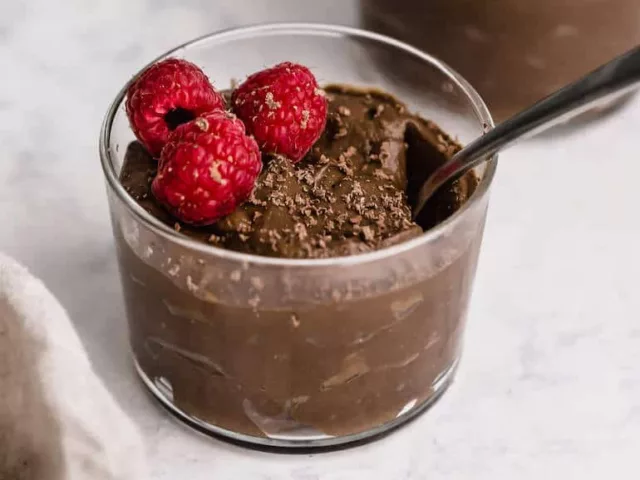 Chocolate Avocado Mousse Recipe
Whip up this rich and creamy chocolate mousse made from avocados, honey, and cocoa powder.
PREP
10 min
COOK
0 min
SERVES
2
INGREDIENTS
2 large ripe avocados
1/3 cup honey
3 tbsp unsweetened cocoa powder
2 tbsp almond milk
1/2 tsp vanilla
1/4 tsp fine sea salt
Raspberries and dark chocolate chips (optional)
INSTRUCTIONS
Combine all ingredients in a food processor. Puree until completely smooth. Taste and adjust the sweetness to your liking.
Top with raspberries and dark chocolate chips (if desired).
Store any leftover mousse in an airtight container in the fridge for up to three days. Mix well before serving.
More like this