We Tried a 30-Day Vegan Challenge
Two HUM employees switched to a vegan diet for thirty days. Read on to see what we loved, where we went wrong, and what we learned at the end of the month. But first, a little about why you might consider going plant based…
Nutritionist Advice On Going Vegan
Before we start, we check in with HUM's Director of Education, Sarah Greenfield, to get her tips on going vegan. "There are a lot of nutritional benefits to going vegan. You increase your fruit and vegetable intake exponentially, which is great for nutrient density in your diet. Then, because you're eating more produce, your overall fiber intake increases, which is great for your gut." But, there's a big caveat. "That's only if the vegan diet is done
right.
What you don't want is to eat a lot of processed vegan junk food." (More on how much we're able to stick to this advice later…) "The biggest concern I hear about a vegan diet though, is with protein," Sarah tells us. "My advice is to stick to beans, peas, higher protein grains, tempeh, edamame, and getting a balanced variety." And for supplements? Sarah suggests we get on
Red Carpet
and
B12 Turbo
to get a boost of healthy fats and energy on our new regime. Read to see how it went? Watch the video diary of the experience above or read our recap below.
Vegan Challenge Q&A
Why try a vegan diet for 30 days?
Aekta:
I'm already a vegetarian for the sole reason of being an animal lover. Still, I realize that not eating meat alone isn't cutting it. So much needless suffering goes on behind all animal products, including those I consume on a regular basis like dairy and eggs. I've also started noticing more adverse affects from dairy specifically (such as
bloating
, indigestion, and general stomach discomfort). I do want to go completely vegan at some point, so for me this was a starting point and initial test for my body and mind.
Zena: 
I recently completed
Whole30
on a quest to see what works best for me. I actually was a vegan for a year and a half in college, but that was six years ago. I felt really good when I did it before, and read so much about the many benefits to one's health, the environment, and of course animals. Eventually though, I got off track and never returned to it. So I want to see if I can get back in that groove and if veganism is something I can sustain long term.
What was the most challenging part?
Aekta:
I was pretty good about vetting out the ingredients in my main meals. However, I found it was a lot easier to forget that certain snacks I was used to munching on aren't vegan—biscuits, bagels, bisques, popcorn, and ranch to name a few. I know these should normally be obvious, but when you're in the middle of a busy day, it can be easy to miss these details.
Zena:
 The transition into a vegan diet right after
Whole30
was difficult because they're so different. On Whole30, you can't have grains, but you can rely on animal proteins to keep you satiated. And the opposite is true in a vegan diet: no animal products, but grains are an  encouraged source of proteins. Mentally, this was really challenging and made
meal planning
feel a bit demoralizing.
Did anything surprise you?
Aekta:
I think I was most surprised at how bad I was at following the diet in a healthy way. The blame totally lands on me, but I was constantly tempted to eat vegan junk food when I knew I should have been opting for more vegetable- and protein-centric meals.
Zena: 
Same! I have fond memories of eating healthy as a vegan in college, but I think there were a lot less vegan cheat foods available then, so I was forced to really make my own meals. This time around, it was too easy to just pick up a bowl from Chipotle or order delivery from Veggie Grill, which, of course, didn't leave me feeling the cleanest. Ditto on vegan sweets which are abundant in LA! And on top of that, I slipped up eating non-vegan items quite a few times.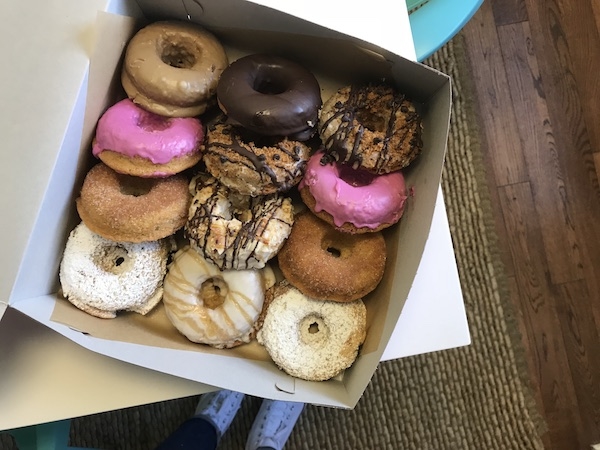 What was your favorite vegan meal?
Aekta: 
I found a recipe online for Balela salad, and it was so flavorful and filling.
Zena: 
Do
donuts
count as a meal? I brought a box into the office from Erin McKenna's vegan bakery one morning and they were delicious.
What were your results after 30 days?
Aekta: 
Due to my own poor food choices, I felt pretty bloated throughout the diet. I gained just under a pound, which was actually surprising, because I felt like I'd gained more weight than that. However, it was just the bloat that created that illusion. My skin stayed more or less the same throughout the diet.
Zena: 
My waist measurements stayed the same. However, I was very surprised to hear that I lost three pounds, especially considering how much junk food I ate throughout the 30 days. My acne also cleared up a bit, which was great, but I started to notice some eczema flaring up on my hands towards the end—probably due to the all the sweets I was eating.
Would you try this again?
Aekta: 
Absolutely! I want to go fully vegan at some point. Next time though, I would definitely meal prep and keep a food journal to keep me on track and less likely to miss any details.
Zena: 
I would! I still think you can't argue with the benefits of a plant-based diet. I'm disappointed that I didn't do better at it this time around, but I learned a good lesson about bouncing from one restrictive diet to another.
More like this