What I Eat in a Day on the Whole30 Diet
No grains, legumes, dairy, or added sugar… what's left? For anyone wondering what the heck is left to eat on this restrictive 30-day challenge, I got you. Here's everything I eat in a day:
Whole30
style.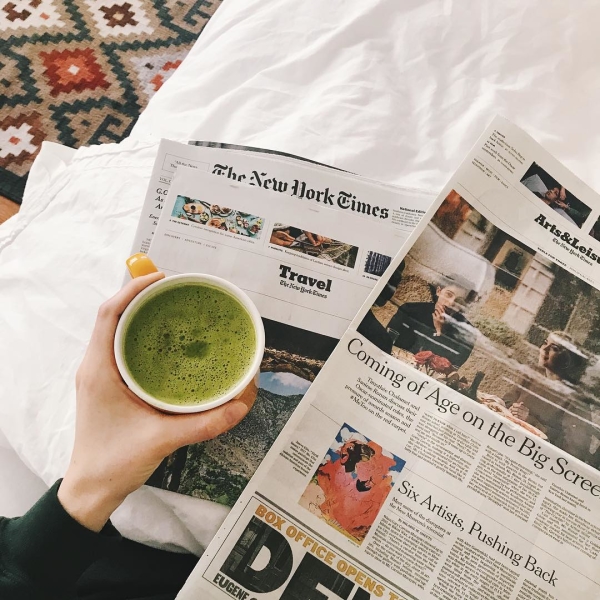 Morning Matcha Latte
First, Having a matcha latte when I wake up helps me ease into the day. Lately, I've been making mine using hot water, matcha, coconut butter, cinnamon, and sea salt. I also like to incorporate a serving of HUM, depending on what I'm in the mood for. For example,
Big Chill
is a great one to incorporate if you're having a hectic week and want to stay relaxed and focused. You just twist the ends of the capsule apart over your blender and mix with everything else!

Breakfast
This sweet-potato smoothie bowl is seriously delicious and blissfully Whole30-compliant. As a bonafide sugar addict, I was most afraid of not being able to eat sweets. But recipes like this satisfy my sweet tooth with the natural sugars in fruits and vegetables. Most importantly, check the labels to make sure all of the other ingredients used are unsweetened! Here's the recipe so you can enjoy this drool-worthy treat.
Ingredients:
1 frozen banana 1/2 steamed then frozen sweet potato 1/2 cup of warm water 2 tbsp unsweetened almond butter 1/2 tsp pumpkin pie spice 1/4 cup unsweetened coconut shreds dash of cinnamon pinch of sea salt
Directions:
Place the frozen banana, sweet potato, warm water, almond butter, pumpkin pie spice, cinnamon, and sea salt in a blender and combine until smooth. Top with coconut shreds and more cinnamon.
Lunch
Hiding at the bottom of this lunch bowl is a bed of greens topped with roasted broccoli and Brussels sprouts. Additionally, I meal prepped some meatballs by seasoning grass-fed beef and cooking with a little ghee. There's also some sauerkraut for a
gut-friendly probiotic
. (Again, I double checked at the store to make sure it didn't have any added sweeteners!) Finally, half an avocado. Because I'm not able to eat grains on Whole30, I find it really important to focus on getting healthy fats and proteins and other sources of carbohydrates. With too little of any of these macros, I don't feel totally satiated.
Snack
Larabars to the rescue! They're also easy to carry in your bag if you're out running around. To stay Whole30 compliant, just make sure you get one that doesn't have peanuts or chocolate chips. (Personally, I'm a big fan of the coconut flavor.) That said, I try to mix things up and not rely too heavily on these, as they're still rich in natural sugars. I alternate these with cut-up veggies and guacamole or some type of fruit.
Dinner
Pasta is definitely something I miss on Whole30! These carrot noodles are from the frozen section of Trader Joe's and super convenient to throw together. I also got the tomato sauce canned from there. (As always, read the label! All of the ones that came in jars had added sugar, but this canned option was safe.) The meat sauce brings it together into a really feel good, childhood favorite with a healthy spin. Finally, I try to get a serving of something green in with most meals, so I did a simple side salad of arugula and avocado. Yum!

Zena Wozniak
March 7, 2018
More like this