The Best Protein Powders According To A Nutritionist
There's endless options and claims on the labels but how do you select the best protein powder for you? Registered dietitian and NASM certified personal trainer, Jessica Nelson, RDN, CPT educates us on what's out there.
First things first…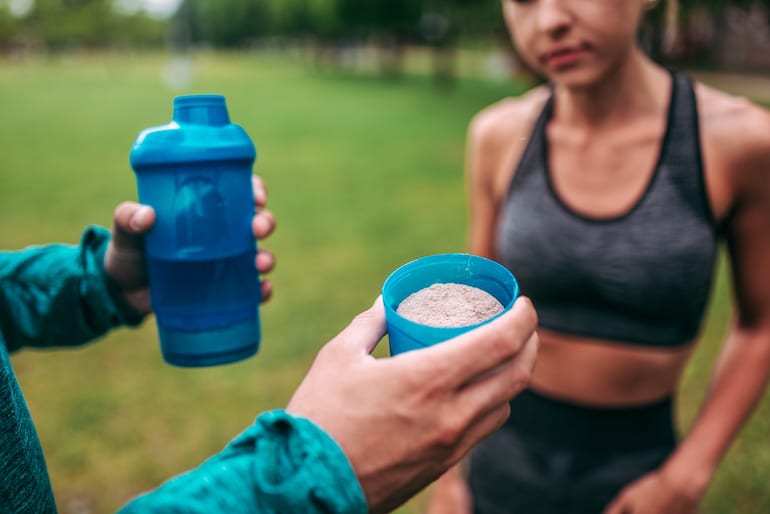 Are Protein Powders Really Necessary?
Nutritionally speaking, if you are eating an adequate diet – then no. You do not need a protein powder. In reality, many individuals struggle to meet protein needs. Perhaps you're a vegetarian or vegan – or you have food allergies or sensitivities. Maybe you're someone who works out constantly and your body needs extra protein for muscle recovery.
Whether medically necessary to fill in nutritional gaps, or for an athlete that needs to get extra protein in fast and efficiently, protein powders do have a place and purpose.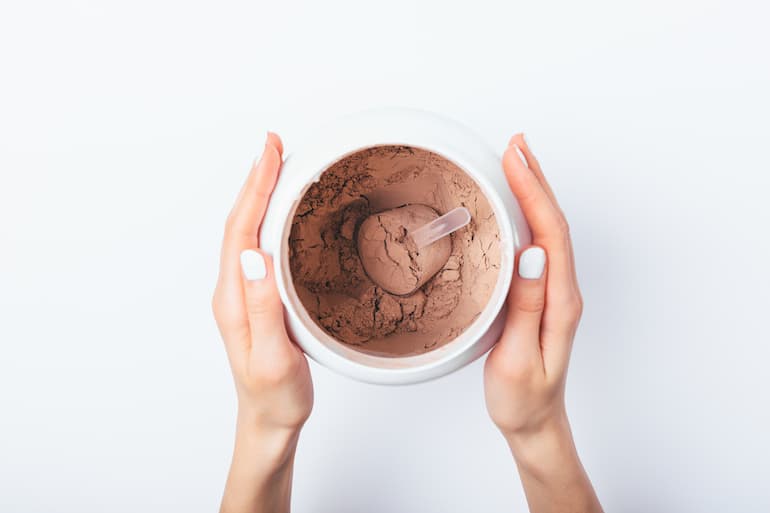 Whey Vs. Plant-based
Choosing the best protein powder for you really starts with your dietary preference. Omnivore? Go with a whey option. Vegetarian or vegan? Then there's plenty of plant-based options for you.
Whey Protein Powders
When it comes to choosing whey powders there are three main forms including isolate, hydrolyzed or concentrate.
Isolate means the protein comes from a whole food source and is filtered to remove trace contaminants or other components, giving you a very pure form of protein. Protein concentrate yields a product that is lower in nutritional value, but is a more affordable product. Finally, hydrolyzed protein goes through a process to make it more absorbable. This means it's easier to digest – but again, a more expensive product.
For some, whey can cause bloat due to the lactose component. If you experience this with whey protein powders, you may benefit from shelling extra out for the hydrolyzed option.
In terms of taste, whey-based powders yield a creamier texture than plant-based powders. but they may also have a chalky taste – especially the unflavored options. If this is the case, try adding it with other ingredients to mask the flavor.
Plant-Based Protein Powders
For a protein to be complete, it needs nine essential amino acids. Animal proteins naturally offer all the amino acids. By default they qualify as high biological value proteins. When looking at plant-based proteins, this isn't the case. Individually, plant-based proteins are incomplete because they each lack some of the amino acids. However, when you combine plant proteins with other plant proteins it makes up for the missing aminos. For that reason, you'll see that plant-based protein powders tend to combine several sources in one powder.
Plant-based powders generally have a more earthy taste and the texture can have some grit. But again, you can always improve the taste and texture by preparing your protein powder with different mixers.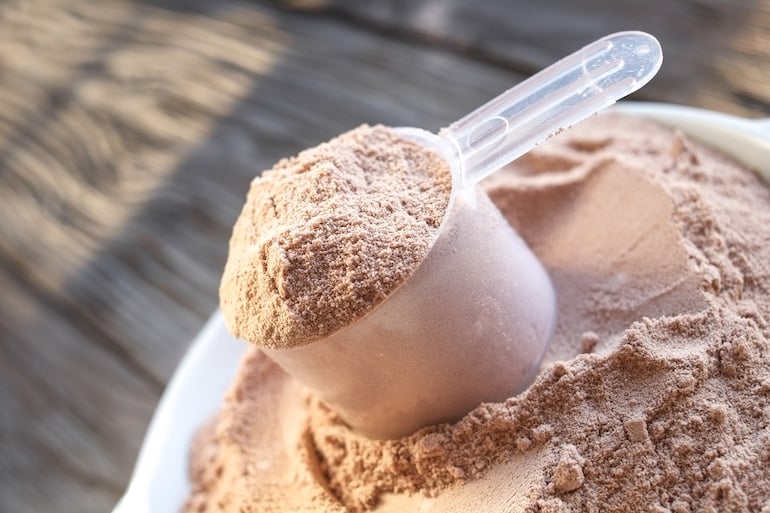 Other eSSENTIALs to Check For
Whether you're committed to whey or plant proteins, here are other crucial factors you want to check for on the label and in reviews.
Sweeteners
Many products use artificial sweeteners, dextrins, or high fructose corn syrups to create a sweet taste in their product. A better option is to choose products with "no added sugars" or that are "naturally sweetened." This means the sweet flavor comes from things like coconut, cocoa, monk fruit, or yacon root. All of these offer additional properties and are often easier to digest. Other naturally sweet and simple ingredients to look for include vanilla bean extract, cinnamon, and juice powders.
Digestibility
While timing can play a big part into your body's ability to digest protein powder, there are some ingredients to watch out for. Thickeners or gums (carrageenan, xanthan, locust bean gum, etc.) are manufactured food additives that are indigestible and may cause constipation, bloating and gas. The same goes for added fillers like fiber or psyllium. While fiber is an important part of nutrition and necessary in many ways, too much fiber may be problematic for sensitive GI system.
Ease of Use
A protein powder should be easy to use – but this isn't always the case. Some may not mix well, especially if you are just using it with a shaker bottle. If that happens, try mixing with creamier milk alternatives, like coconut or cashew milks. You can also try blending with a banana, avocado, or creamy nut butter to really smooth things out.
A good protein powder should also be versatile. That way you can cook or bake with your protein powder. (That's right, protein powders do not just have to be used as a beverage!) Try adding unflavored protein powder to creamy soups, casseroles, pizza crust, meatballs, mashed potatoes, or even hummus. Unflavored protein can really up the nutritional value of whatever it is that you are eating without altering the taste. It's a win-win. Other fan favorite foods to make with protein powder include pancakes, smoothie bowls, oatmeal, baked goods and chia pudding.
Recommended Whey Protein Powders
Ready to pick the best protein powder for you? Here are a few of my favorites to explore…
Primal Kitchen Primal Fuel Whey Protein, Vanilla Flavor
$49.95 for 42 servings
This powder provides 10 grams of whey isolate protein per serving. It's soy-free, grain-free and gluten-free which is helpful for anyone with sensitivities. It's made with natural fat from coconut milk and is sweetened with vanilla and monk fruit extracts. It also contains prebiotics for digestive benefits.
BioChem 100% Whey Isolate Protein, Vanilla Flavor
$31.19 for 28 servings
Another isolate option for a high quality protein source. This one has 20 grams from grass-fed cows per serving and is free of artificial hormones. It's also 99% lactose free for easy digestion. If you prefer the real deal when it comes to sweetening, this pick does contain 6 grams of cane sugar.
Naked Nutrition Less Naked Vanilla Whey Protein Powder
$89.99 for 61 servings
This option has a whopping 25 grams of whey protein concentrate from grass fed cows. Again, no artificial hormones here. I like that this company goes through heavy metal testing and that this powder only has three ingredients including coconut sugar as the sweetener.
REcommended Plant-Based Protein Powders
Plant Fusion Complete Protein, Creamy Vanilla Bean Flavor
$57.95 for 30 servings
This powder has 21 grams of protein per serving from peas, artichoke, algae, sprouted quinoa and amaranth. It uses stevia and monk fruit to sweeten and is a very fine texture for easier use. For improved digestion, this formulation even boasts a blend of digestive enzymes to support absorption.
Aloha Organic Plant-Based Protein Powder, Vanilla Flavor
$30.00 for 15 servings
Here, we get 18 grams of plant proteins from pea, pumpkin seed, and hemp seed. Aloha's product is not only vegan, non-GMO and gluten-free – but also Kosher! I love that they use all USDA organic ingredients. It's sweetened with apple juice powder, monk fruit, cinnamon, vanilla, coconut sugar and coconut cream. You also get 3 grams of fiber with every serving.
Nuzest Clean Lean Protein, Smooth Vanilla Flavor
$44.95 for 20 servings
This select has 19-21 grams of all natural plant-based protein per serving. There's no sugar added. Instead, it's sweetened with katemfe fruit. They boast a 98% digestibility rating and are free of allergens for anyone with sensitivities.