Cozy Up with This Healthy Pumpkin Spice Latte Recipe
I hate to break it to all you PSL lovers, but your favorite fall beverage is a total
sugar bomb
disguised as a cozy drink. It's time you ditch the junky ingredients and additives. Instead, give your pumpkin spice latte an upgrade with a healthy homemade version! Here's the nutritional breakdown of common PSL's today. Plus: why making a homemade pumpkin spice latte is so much better for your health and your budget.
Are Pumpkin Spice Lattes Healthy?
If you're referring to pumpkin spice lattes sold at major coffee establishments across the country, the answer is a firm no. They're loaded with sugar, artificial flavors, dyes, and fillers. With that said, Starbucks has made an effort to clean up their pumpkin spice concentrate. It used to include only natural flavors and chemical dyes. But now they use real pumpkin and natural food coloring made from fruits and vegetables. This change resulted from backlash from consumers who became privy to the fact that what you put in your body truly matters.
Traditional PSL Nutrition Facts
Here's the nutrition information and ingredients in traditional pumpkin spice lattes.
Ingredients in a Tall Starbucks Pumpkin Spice Latte
Milk, Pumpkin Spice Sauce [Sugar, Condensed Skim Milk, Pumpkin Puree, Contains 2% Or Less Of Fruit And Vegetable Juice For Color, Natural Flavors, Annatto, Salt, Potassium Sorbate], Brewed Espresso, Whipped Cream [Cream (Cream, Mono And Diglycerides, Carageenan), Vanilla Syrup (Sugar, Water, Natural Flavors, Potassium Sorbate, Citric Acid)], Pumpkin Spice Topping [Cinnamon, Ginger, Nutmeg, Clove, Sulfiting Agents]
Nutrition: 380 calories, 12 g fat, 57 g carbs, 12 g protein, 51 g sugar, 1 g fiber
What About psl's Elsewhere?
Unfortunately, Dunkin' Donuts doesn't disclose the ingredients in their pumpkin spice latte… which makes you wonder why. However, they do have the
nutrition facts
available online for their small cinnamon sugar pumpkin signature latte, which still isn't very encouraging:
Nutrition: 310 calories, 11 g fat, 44 g carbs, 8 g protein, 38 g sugar, 0 g fiber
Next, if you forgo big coffee chains and opt to get your PSL elsewhere, your neighborhood cafe still might not use the best ingredients. Even if you're lucky enough to frequent a coffee shop that makes their own pumpkin spice latte syrup or blend, it's still often loaded with sugar. I recommend always asking about ingredients. Also, you can always request they use less pumpkin spice syrup or blend. After taste testing, you can always add more cinnamon to *spice* up the flavor.
Some Notes on Sugar
Sugar Content in Your Pumpkin Spice Latte
Regardless of the difference in sugar content (58 grams at Starbucks, 38 grams at Dunkin'), these PSL's pack an immense amount of sugar. Think about it: Four grams of sugar amount to one teaspoon, meaning 40 grams equals 10 teaspoons—or a little over three tablespoons—of sugar. Imagine adding three tablespoons of sugar to your coffee, and you might think twice about your go-to fall beverage order.
Effects of Sugar on Your Health
Now that you know how much sugar is in your PSL, here's a reminder about the negative effects of sugar on your health. First, there's
sugar cravings
. Sugar can trigger an incredibly strong reward response in your brain, and the sweet stuff may be
more addictive than cocaine
. Next, eating too much of it can lead to weight gain, increased inflammation, metabolic dysfunction, and a host of other serious health issues. Additionally, sugar can negatively affect
your skin
and is associated with a
higher risk of developing acne
. Because sugary foods spike blood sugar and insulin levels (to which your body becomes resistant over time), they increase androgen secretion, oil production, and inflammation. On top of that, constant spikes in blood sugar can
disrupt
your
hormonal balance
and cause you to crave more sugar.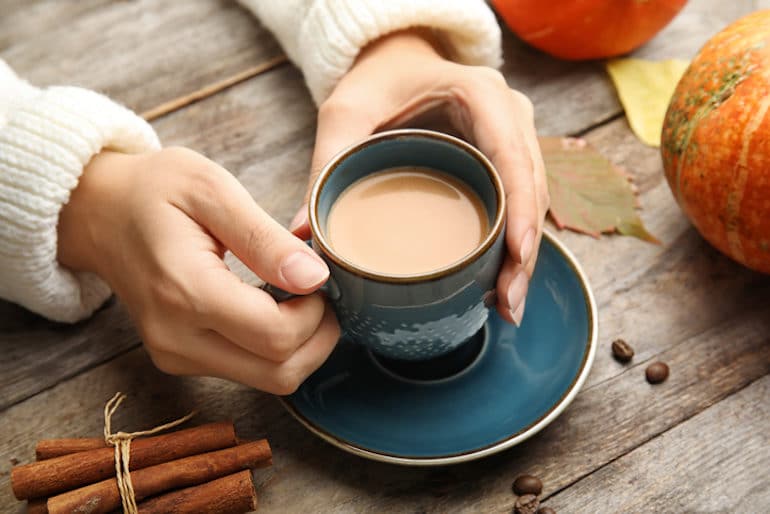 Benefits of Making a Homemade Pumpkin Spice Latte
Making a homemade pumpkin spice latte is incredibly easy, as well as your best option when it comes to nutrition, health, and budget. You can use real food ingredients like actual pumpkin puree, maple syrup, and your milk of choice; I recommend
oat milk
or coconut milk. The nutrition benefits of making a healthy pumpkin spice latte at home are far superior to any of those you can buy. When you make it with real pumpkin, you're getting a boost of nutrition from the winter squash. Pumpkin is a
rich source of vitamin A
in the form of beta carotene, potassium, and zinc. Your homemade PSL will pack about 25 percent of the RDA for vitamin A, which is incredible for eye health. Additionally, pumpkin is an excellent source of fiber. Fiber is essential for healthy digestion and feeding the
good gut bacteria
found in your intestinal tract. If not for anything else, you'll save a significant amount of money making by a homemade pumpkin spice latte. Your average PSL ranges from four-to-six dollars depending on the size. If you treat yourself to two pumpkin spice lattes weekly over one month, that's $40 or more. If you make this recipe for a healthy pumpkin spice latte, it'll only set you back around a dollar apiece. You can't beat that!
Healthy Homemade Pumpkin Spice Latte
INGREDIENTS
8 ounces brewed coffee (or 1–2 shots of espresso)
½ cup oat milk or coconut milk
2 tablespoons pumpkin puree
2 teaspoons maple syrup
½ teaspoon pumpkin spice
SUPPLIES
Coffee or espresso maker
Blender or milk frother
INSTRUCTIONS
In a medium saucepan, heat the oat milk or coconut milk, pumpkin, maple syrup and pumpkin spice over medium heat. Bring to a simmer.
Transfer to an upright, vented blender and blend until frothy. You can also use a handheld milk frother.
Place brewed coffee or espresso in a mug. Add frothed pumpkin spice milk. Enjoy immediately.
More like this