9 Reasons Why You Should Eat More Ginger (Plus, An RD's Easy Ginger Tea Recipe to Try)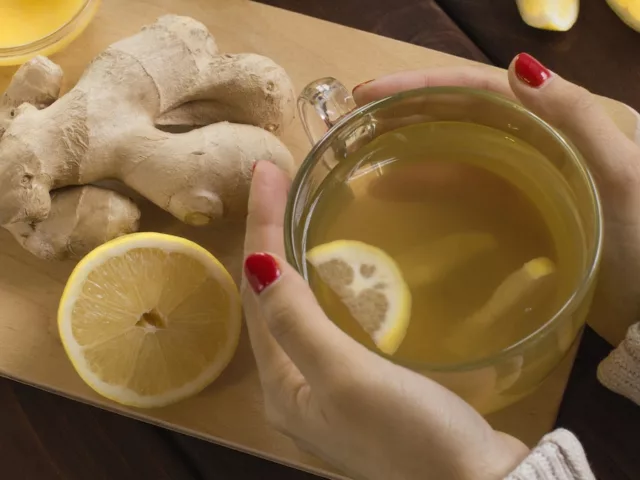 Few foods boast as many benefits as ginger. Gaby Vaca-Flores, RDN, HUM's educational specialist, breaks down the powerhouse plant and shares her favorite lemon ginger tea recipe.
While certain superfoods rise and fall in popularity (think: kale or sweet potatoes), ginger is one that has stood the test of time. Originally used in ancient China and India, this root was believed to cure several ailments. Turns out, it does have impressive science-backed benefits. From better digestion to improved cognitive health, there are a multitude of amazing ginger benefits. Gaby Vaca-Flores, RDN, HUM's educational specialist, breaks down all the different ways consuming ginger can improve your overall health.
What Is Ginger, Exactly?
Ginger is a tropical plant native to southeast Asia. Originally used in ancient Chinese and Indian communities, it became a staple in the Roman community in the first century. The underground rhizome (also known as the stem) of this medicinal plant is called the ginger root, which is what you've probably seen at your local farmers market or sliced alongside a plate of sushi. Ginger root has been praised for thousands of years for its therapeutic properties, and now we also have research to support its many uses.
9 Health Benefits of Ginger
Here are eight science-backed health benefits of ginger that'll encourage you to include it in your daily diet.
1. Improves Digestion
If you struggle with bloating or indigestion, consider adding ginger into your diet. Consuming fresh or powdered ginger can support healthy digestion and lessen discomfort after eating. Researchers found that consuming ginger before a meal can stimulate digestion by speeding up gastric emptying (the process of your stomach emptying its food contents into the small intestine). Slow gastric emptying is a common underlying cause of acid reflux, abdominal pain, and bloating. But more critically, slow gastric emptying can impact your body's ability to break down and absorb nutrients. Looking to improve your overall digestion? Take a supplement with ginger in it, like HUM Nutrition's Flatter Me.
2. Fights Inflammation
One of ginger's most impressive benefits is its ability to fight inflammation. Inflammation is your body's response to injury or infection. When the body senses a threat (whether that's muscle damage from a workout or a potential illness), your immune system reacts and tries to fight off the threat. But if you experience chronic inflammation, this response can cause damage to your body over time. But studies have found that ginger has anti-inflammatory properties, meaning it can reduce redness, swelling, or pain in the body.
3. Relieves Muscle Soreness
Making it to the gym is hard, but dealing with post-workout aches is even more difficult. The good news? Fighting muscle soreness is one of ginger's benefits. According to a 2010 study by the American Pain Society, consuming two grams of ginger per day can help reduce pain associated with exercise-induced muscle soreness. Researchers deem ginger's anti-inflammatory properties as hypoalgesic, meaning it counteracts pain stimuli. Plus, its anti-inflammatory properties help your muscles repair themselves more efficiently. Incorporate ginger into your daily meals, or try the lemon ginger tea below to help soothe any muscle soreness post-workout.
4. Combats Nausea and Motion Sickness
If you have a sensitive stomach, experience motion sickness, or experience morning sickness, ginger can be an effective antidote. Its ability to reduce nausea is one of ginger's most traditional and well-supported uses for health and wellness. Both motion sickness and general nausea often result from gastric dysrhythmias, a condition that occurs when the stomach's muscle rhythms are out of sync. Luckily, a 2003 study suggests you can avoid gastric dysrhythmias by consuming ginger ahead of time. Before you travel, take a supplement with ginger (like a ginger chew or lozenge).
5. Eases Menstrual Pain
Let's face it: menstrual cramps can be a pain. If you're looking to ditch your OTC pain meds during that time of the month, ginger may be the solution for you. A 2009 double-blind study found that ginger root was just as effective as ibuprofen and mefenamic acid (common pain meds) in reducing menstrual-related pain. Additionally, a 2014 study suggests that if you take ginger daily during the week leading up your new cycle, your mood and other behavioral PMS symptoms can improve. Pro tip: If you're struggling with period side effects, work HUM Nutriton's Moody Bird into your routine. It's made with chaste berry and dong quai to help ease PMS symptoms such as cramping and mood swings.
6. Supports Cognitive Health
Another one of our favorite ginger benefits? Improved cognitive health. There's substantial research on ginger's ability to support healthy brain function. In a 2012 study, women who took ginger daily experienced significant boosts in their memory and cognitive performance. Other studies also show similar findings, suggesting that the bioactive properties and antioxidant activity in ginger may be beneficial in protecting the brain against cognitive decline.
7. Can Combat Migraines
Dealing with migraines? Ginger might help ease symptoms. A 2014 study found that ginger provided comparable relief to prescription medicine. Within two hours, researchers found that, on average, headache severity decreased significantly. Added bonus: Participants who consumed ginger powder experienced less clinical adverse effects than those who took prescription medicine.
8. Can Lower Blood Sugar Levels in People with Diabetes
While this is a fairly newer area of research, studies have shown that consumption of ginger can lower blood sugar levels in people with type 2 diabetes. The participants in the study showed improvement in blood sugar levels and cholesterol levels.
9. May Help With Weight Loss
If you're hoping to shed a few pounds, ingesting ginger might help you get closer to your goals. Research has found that ginger can help decrease body weight, waist-to-hip ratio, and insulin resistance in obese and overweight people. Additionally, scientists found that ginger could help increase HDL cholesterol levels (also known as "good cholesterol").
Weekly reads to help you level-up your skincare, wellness, digestion, nutrition, and more.
By signing up to receive our weekly newsletter, The Wellnest, you agree to our privacy policy.
Gut-Friendly Ginger Tea Recipe
Psst: Mixing ginger with other foods (like lemon) can give you an extra health boost too. Since there are endless lemon ginger tea benefits, Vaca-Flores created a super-simple recipe to try. It only has four ingredients, but it has countless health advantages.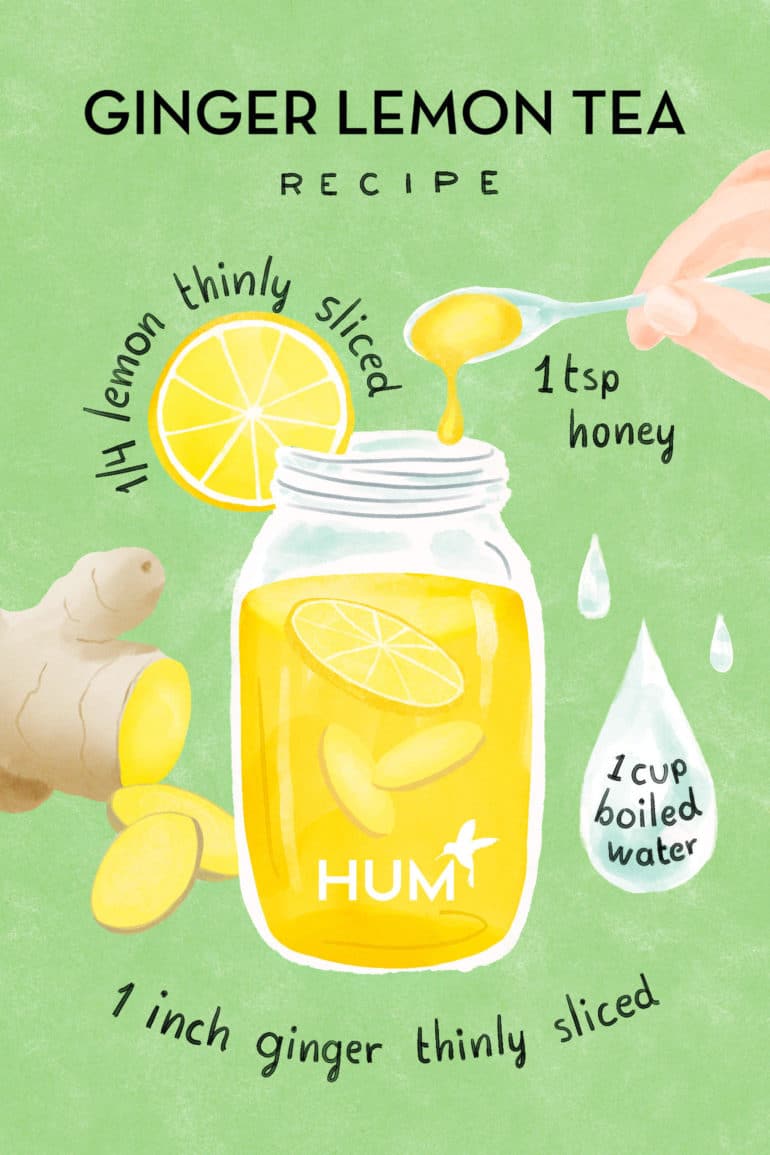 INGREDIENTS
1 cup boiled water
1 inch of ginger, thinly sliced
¼ lemon, thinly sliced
1 tsp honey
INSTRUCTIONS
Boil one cup of water

Slice ginger and lemon

Combine water, ginger, lemon, and honey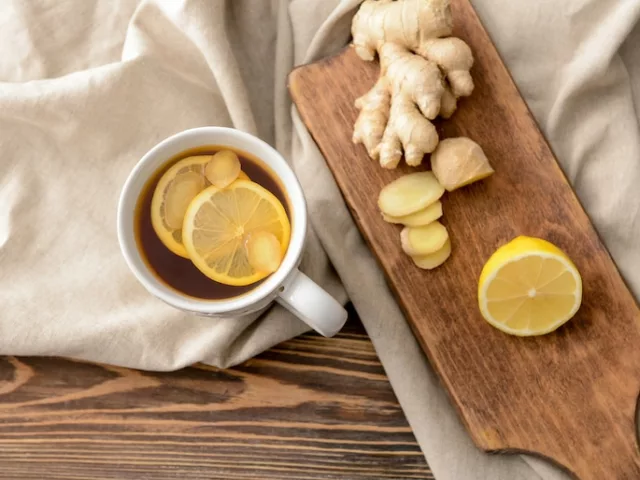 Lemon Ginger Tea Recipe
The perks of including ginger root in your daily routine are undeniable, but ginger's pungent taste isn't for everybody. However, don't let its strong flavor be the reason you miss out on ginger's promising health benefits. One of easiest ways to mask ginger's zingy taste is to brew it in a tea!
PREP
5 min
COOK
10 min
SERVES
1
INGREDIENTS
1 inch fresh ginger root, thinly sliced with skin on
1/4 lemon, thinly sliced
1 cup boiled water
Honey or maple syrup (optional)
INSTRUCTIONS
Remove the boiling water from heat. Carefully add thinly sliced ginger and lemon.
Steep for 10 minutes and strain. (Optional: Add honey or maple syrup to dilute the taste of ginger.) I recommend serving it warm for indigestion, or cold for a more refreshing taste.
Final Thoughts
On a final note, ginger is on the US Food and Drug Administration's GRAS (generally recognized as safe) list. However, pregnant women and people undergoing medical treatments or procedures should check with their doctor before supplementing ginger into their daily diet.
Mentioned in this article
More like this