7 Easy Home Remedies for an Upset Stomach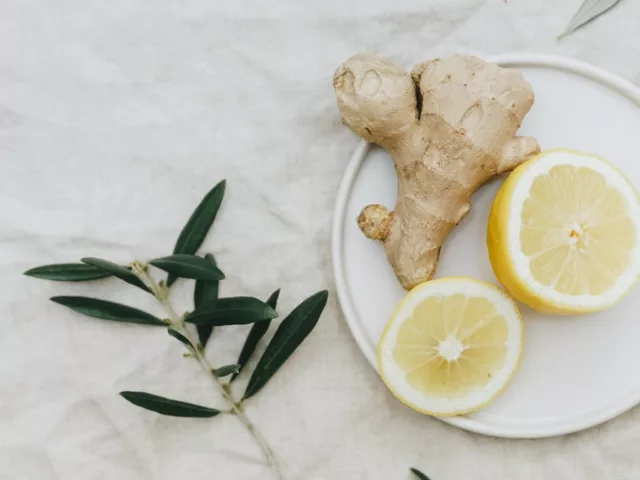 Dealing with stomach pain or discomfort? Turns out, there are ways to find relief from things you likely already have in your house. Read on for seven home remedies for an upset stomach.
Any kind of stomach pain is, well, a pain. Gastrointestinal discomfort is unsettling and confusing—you may be wondering if you should drink ginger ale, eat saltines, or pour out some Pepto Bismol. Of course, your plan of attack may vary slightly based on what you're dealing with. But here's the good news: Relieving common stomach discomfort doesn't have to be complicated.
If you're dealing with one-off stomach issues, simple items you likely already have in your kitchen can help you feel better. Try these seven amazing home remedies for an upset stomach the next time you're experiencing bloating, indigestion, cramps, or other stomach aches.
7 Natural Home Remedies For An Upset Stomach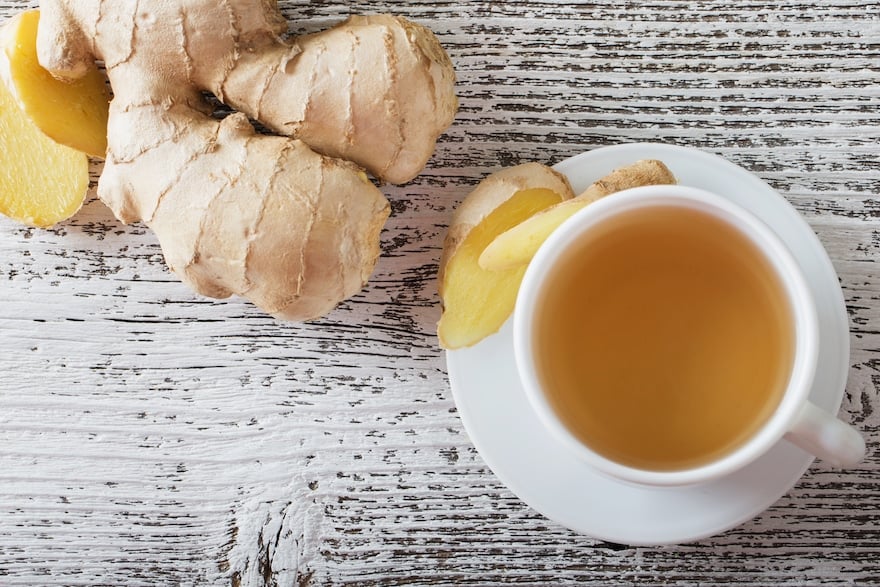 Ginger
Ginger is a seriously strong anti-inflammatory agent. A tropical plant native to Southeast Asia, ginger has been used for thousands of years for therapeutic purposes. But what does that mean for your stomach? It contains soothing properties to ease your digestive tract (AKA fewer stomachaches, cramps, and less general discomfort). Pro tip: You can use it to prevent digestive discomfort, too. Studies have found that consuming ginger before a meal can stimulate digestion by speeding up gastric emptying (when your stomach empties its food contents into the small intestine). Why does that matter? Slow gastric emptying is a common cause of bloating, acid reflux, and abdominal pain. Looking to improve your overall digestion? Try a supplement with ginger in it before your two biggest meals of the day, like HUM Nutrition's Flatter Me.
How to use: You can cook fresh ginger root into dishes, blend it into juices, or simply steep it into hot water for a calming ginger tea. Any of these recipes with ginger will work for your upset stomach.
Baking Soda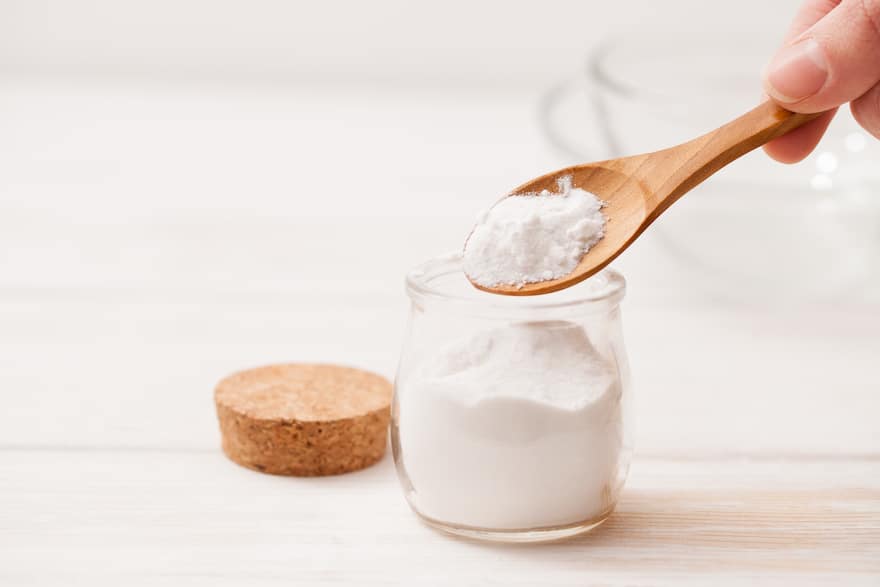 If you're dealing with discomfort, try baking soda for your upset stomach and diarrhea. This natural antacid has been found to combat an umbrella of stomach discomforts including heartburn, acid reflux, indigestion, bloating, and gas. This alkalizing ingredient is an effective home remedy for an upset stomach, but there are some risks to be aware of.
According to a case study by the California Poison Control System, baking soda contains sodium bicarbonate and has the potential for significant toxicity when ingested in excessive amounts. There are even documented fatal cases of people ingesting too much baking soda. So while some may suggest using baking soda for a stomach ache, it's best to speak to your doctor about this particular at-home remedy for your upset stomach.
How to use: Combine eight ounces of water with one teaspoon of baking soda for fast results.
Apple Cider Vinegar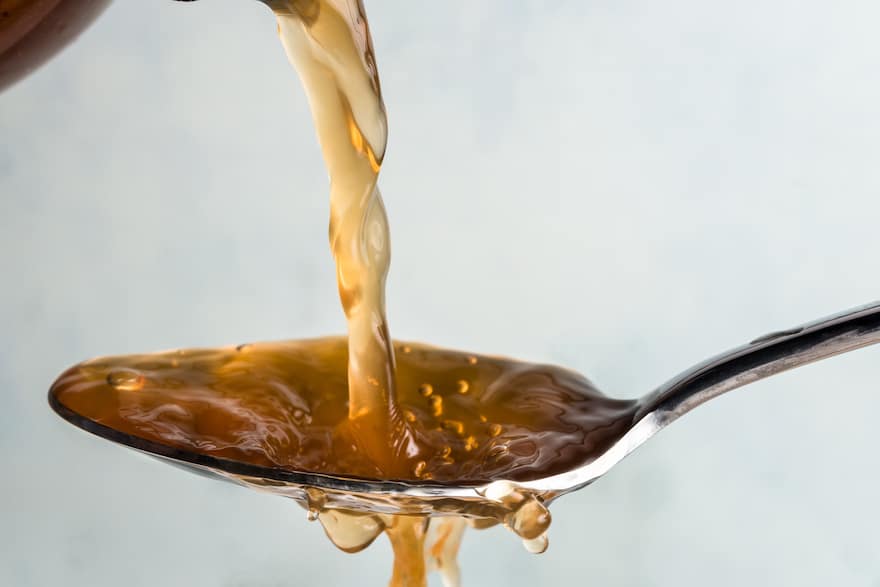 Bottoms up! A dose of apple cider vinegar (ACV) a day can help promote healthy weight management as well as normal cholesterol and blood pressure levels. But this powerful ingredient can also help relieve indigestion and bloating, and it promotes regular bowel movements. Apple cider vinegar is great for an upset stomach because its acidic makeup encourages a proper pH balance. Fun fact: A teaspoon of apple cider vinegar can also stop the hiccups almost immediately!
However, studies have shown that ACV can actually delay gastric emptying, which can leave you feeling queasy. To avoid that, make sure you consume your shot of apple cider vinegar on an empty stomach. Additionally, studies have shown that ACV can affect your blood sugar levels, so it's important to consult your doctor about this buzzy ingredient before taking it—especially for those with type 2 diabetes.
How to use: Try one teaspoon of apple cider vinegar mixed with eight ounces of warm water each morning. Can't handle the taste? Take it as a shot chased with your favorite morning drink instead.
Peppermint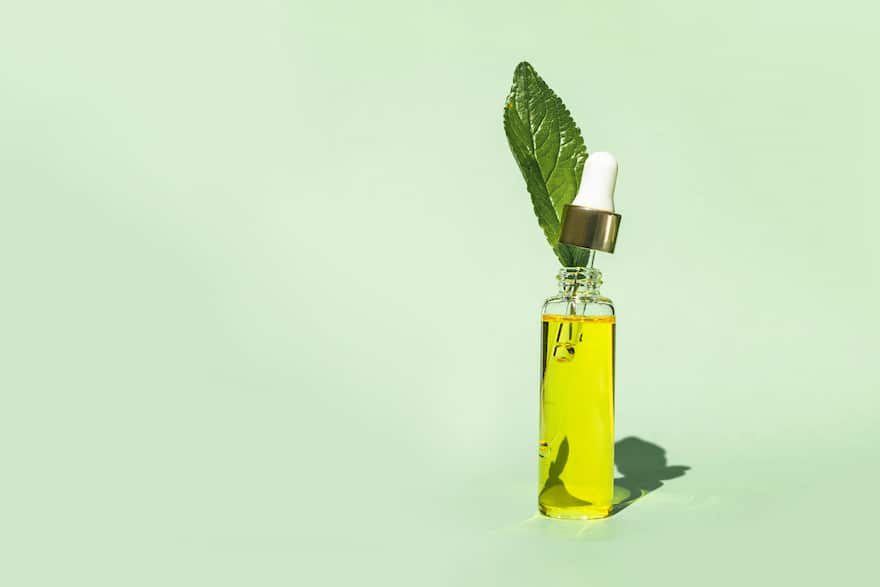 Peppermint does more than give you fresh breath. Studies support its use for irritable bowel syndrome, functional dyspepsia, childhood functional abdominal pain, and post-operative nausea. In fact, one study found that peppermint oil can significantly reduce abdominal pain and discomfort as well as ease symptoms of IBS. Aside from promoting healthy digestion, peppermint leaves help your muscles relax. They're a great remedy for cramps during that time of the month or even after an intense workout.
How to use: After a heavy meal, chew some peppermint leaves to promote healthy digestion. Or, sip peppermint tea for your upset stomach.
Fennel Essential Oil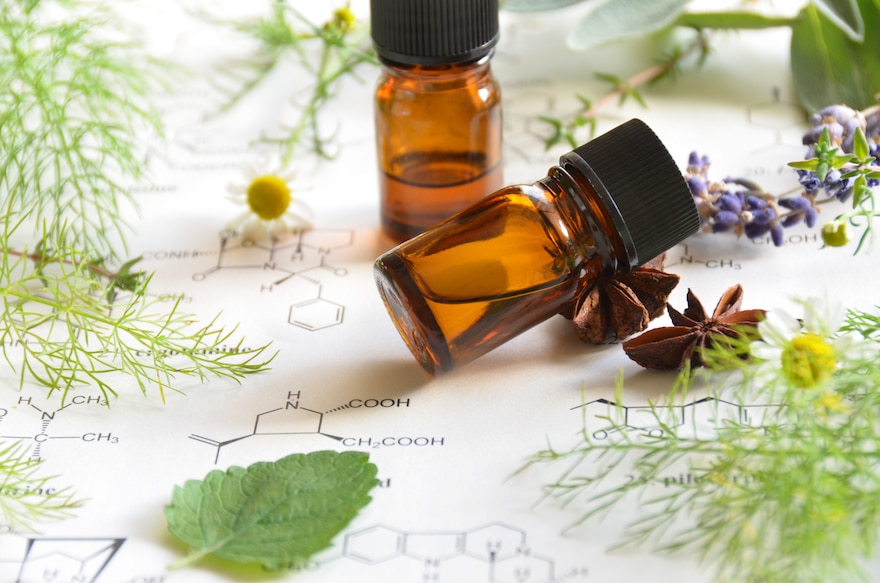 Is fennel good for an upset stomach? Yes, but mainly as an essential oil. Skip the strong laxatives and relieve symptoms of abdominal pain with this anti-inflammatory oil. A few drops may help relieve constipation and promote regular bowel movements. Studies found that, when combined with turmeric, fennel essential oil improved symptoms and quality of life in patients with IBS (regardless of age, sex, or initial severity of symptoms).
How to use: Mix one to three drops into your favorite drink and enjoy! (One important disclaimer: Fennel essential oil isn't recommended for pregnant women.)
BRAT Diet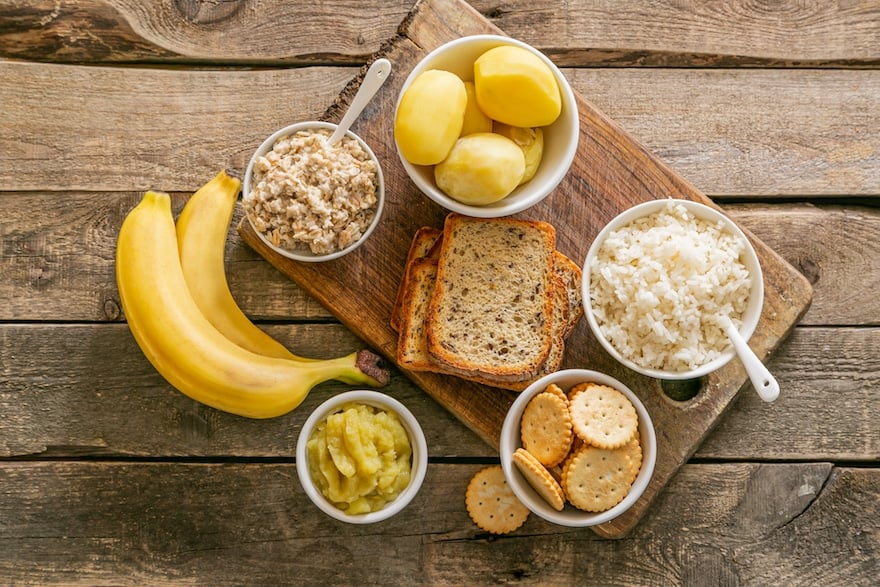 If you need to eat (or are finally starting to feel hungry) after food poisoning or the stomach flu, try the BRAT diet for an upset stomach. It consists of bananas, rice, applesauce, and toast. All of these foods are low-fiber and high-binding (meaning they'll help with loose stool). They don't contain salt or spices, which can sometimes aggravate an upset stomach. This nutrition plan can help with recovery from symptoms like nausea or diarrhea.
How to use: Eat bananas, rice, applesauce, and toast for a few days until your symptoms go away.
Heating Pad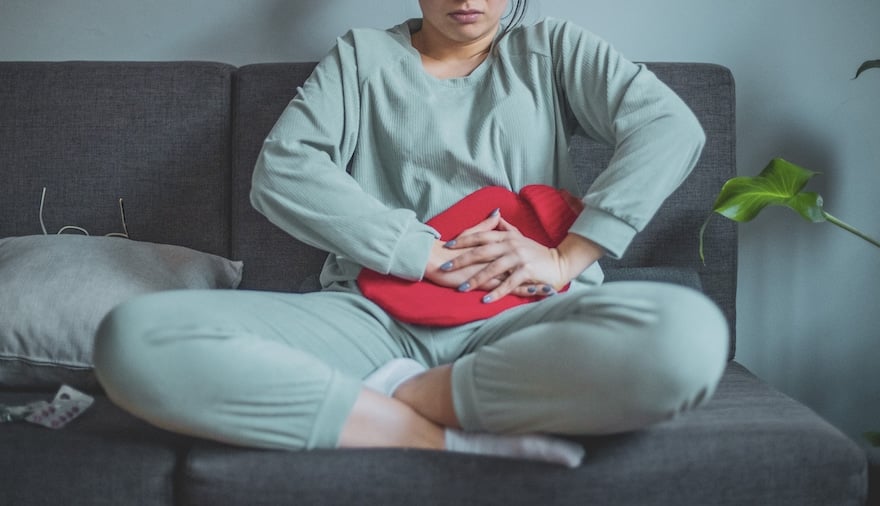 Whether you're struggling with cramps or nausea, a heating pad might help. When applied to your stomach, it relaxes the muscles, which can soothe cramps and minimize your woozy feelings. Don't keep it on your stomach for too long, though, as the heat can damage your skin if you overuse it. If you're unsure about how long to keep it on, ask your doctor for some guidance.
How to use: Place the heating pad on your stomach for 10 minutes.
More like this