Your Guide to Repairing Heat-Damaged Hair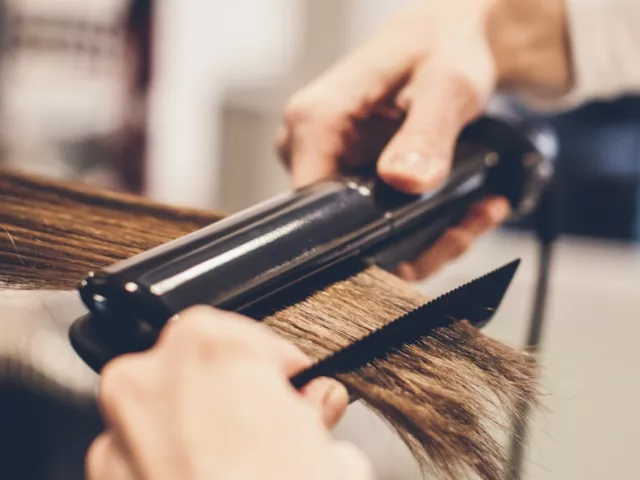 Wondering how to repair heat-damaged hair? Experts give their advice (and top product recommendations).
Whether you prefer to flat iron, curl or blow out your hair, one thing remains the same: All that heat can take a toll on your strands. High temperatures or frequent styling can harm the health of your hair. If you're dealing with heat-damaged hair, nursing your strands back to health may seem impossible. But with patience and the right products (and potentially the help of a professional), it can be done. We spoke to experts to find out exactly what happens to your hair when it's exposed to heat, how to repair heat-damaged hair, and how to protect hair from heat damage.
How Does Heat Affect Your Hair?
Hair that's exposed to high temperatures loses its resilience and strength. That's because intense heat can dry out the outer layer of the hair, also known as the cuticle. "The cuticle develops small areas of injury, which represent breaks along the hair's cuticle," explains Caren Campbell, MD, a board-certified dermatologist in California.
High heat also zaps hair of its critical hydration levels. "High temperatures can also cause the hair's natural oils and moisture to evaporate," explains Justin Toves-Vincilione, a California-based hairstylist and advocate with Authentic Beauty Concept. "Hair is made up of keratin proteins, and high heat can permanently change the shape of these proteins on a molecular level—causing irreversible damage."
What Does Heat-Damaged Hair Look Like?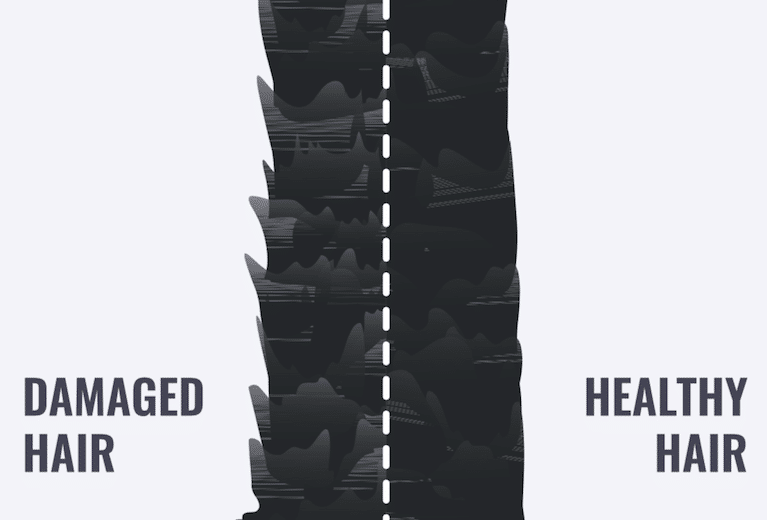 Wondering how to tell if your hair is heat damaged? You'll likely be able to see it (or feel it), experts say. "Signs of heat damage include hair looking dry and dull, a lack of moisture, split ends, frizziness, rough or changed texture, hair loss, and frequent tangling," says McKenna Watts, a hairstylist based in California.
Another giveaway? A change in color. "Heat-damaged hair may even appear lighter than normal on the ends," Toves-Vincilione says. "Whether the hair is virgin or colored artificially, the high heat causes color molecules to oxidize and look lighter."
And if you have curly or textured hair, you might notice a significant change in your hair's look and feel. "Curly or tight, textured hair that is heat damaged usually appears lighter on the ends and feels coarse and extra dry," Toves-Vincilione says. "This is due to high temperatures stripping the hair of natural oils that this hair type already naturally lacks. In some cases, curly hair can lose its curl pattern and appear straight due to heat damage."
On a microscopic level, Dr. Campbell says this damage is even more noticeable. "Damaged hair under a microscope looks like bark that is peeling off the trunk—and the more peeling, the more damage that's present."
Can You Repair Heat-Damaged Hair?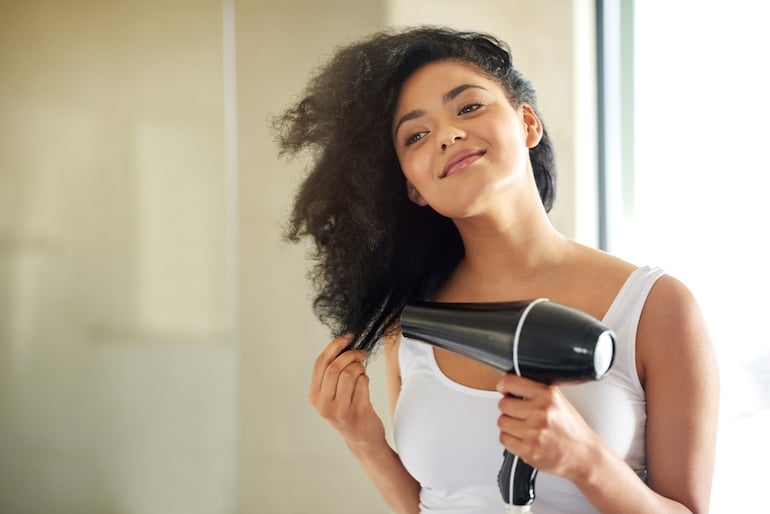 Damage caused by temperatures above 365 degrees is irreversible, says Toves-Vincilione. "The breakdown of the hair at these temperatures doesn't reflect the same characteristics as healthy hair. It can be treated but not restored," he says.
Dr. Campbell says there is some evidence that bis-aminopropyl diglycol dimaleate (a molecule discovered by scientists) can help repair the bonds that get broken down from heat damage. "You can also use oils to help smooth the 'ruffled' cuticle, but that won't repair the underlying issue," she explains. Adding a deep conditioning mask a few times a week may also help to improve hair's appearance, but as with hair oil, it won't get to the root of the problem.
The good news? New hair growth, if you can minimize heat tools and potentially damaging styles, will be undamaged. But to get rid of damage, you'll need to trim it off. "Depending on how much damage you have, you may have to be willing to have some short hair," Watts says. Follow the big chop up with regular trims to ensure your ends are as healthy as possible.
The Best Products for Heat-Damaged Hair
So, what can you use to repair heat-damaged hair? Experts list their go-to products, below.
Olaplex No. 3 Hair Perfector, $28
This product contains bis-aminopropyl diglycol dimaleate, which is known to help repair broken bonds in hair. The protein ingredients can help build your strands' strength too. Apply it once a week to see best results, Watts says.
Build healthier hair from the inside out. While this supplement won't repair damaged hair, it'll help fortify hair against future breakage. The star ingredient, vitamin E, nourishes the hair follicle ensures new hair growth is healthy and shiny.
SheaMoisture 100% Extra Virgin Coconut Oil, $12
Looking for a DIY way to address heat damage on hair? Try a coconut oil treatment, Watts says. "Unlike other oils, coconut oil gets deep in the cuticle and penetrates the hair shaft," she explains. The best time to use this is at night, as it has more time to work on your hair.
Gisou Honey-Infused Hair Oil, $87
This hair oil is formulated with sustainably-sourced honey to deeply nourish and protect your strands. Apply on damp hair for protection or on dry hair for added moisture and shine.
Authentic Beauty Concept Replenish Mask, $38
"This vegan formula strengthens the hair and seals the cuticle," Toves-Vincilione says. "Natural ingredients like rice and pecan shell extracts work to replenish dry, heat damaged hair."
How to Prevent Heat-Damaged Hair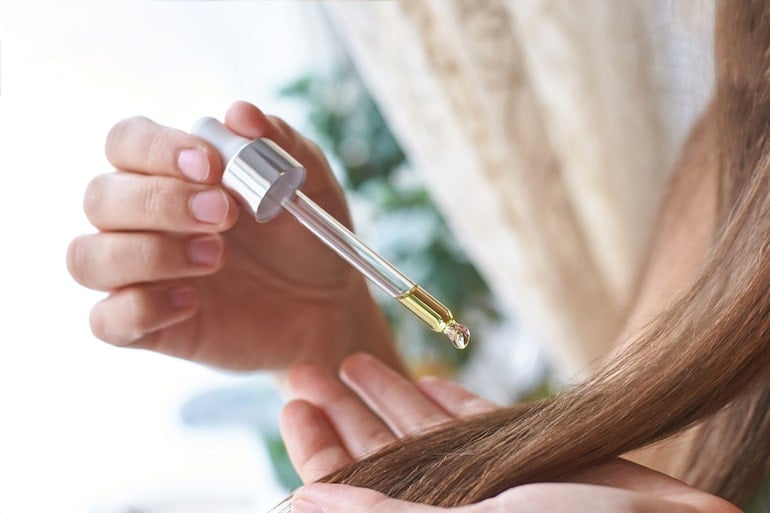 Since heat damage is often irreversible, prevention is key. "The best practice you can adopt is to always use a heat protectant before blow drying or applying a hot tool," Toves-Vincilione says. "Another key practice is to keep your hot tools at or below 365 degrees."
Word to the wise: Blowdryers count as hot tools too. Still, sometimes blowdrying your hair is the better option—especially if your hair is thin, dry, or prone to breakage. When your hair is wet, it swells—which puts more pressure on the proteins that keep your hair intact. This pressure can result in hair breakage. And the longer it stays wet, the more swelling (and potential breakage) that can occur. "Using a hairdryer 15 centimeters away from the hair with continuous motion can cause less damage to the cuticle than drying hair naturally." Of course, you'll need to apply a heat protectant first and ensure your blowdryer is set at a medium temperature, as high heat can cause damage.
The Best Products for Preventing Heat-Damaged Hair
If you want to keep your hair healthy and happy, heat damage prevention is the name of the game. Here are four expert-approved products to use.
Olaplex No. 7 Bonding Oil, $28
"This oil contains dimethicone, which provides a protective barrier, and bis-aminopropyl diglycol dimaleate, which helps to repair the disulfide bonds that get broken down," Campbell says.
This product protects all hair types from heat because it contains silicones. It's loved by dermatologists and hairstylists alike.
OUAI Heat Protection Spray, $28
"I like this heat protectant because it's a light spray that you can use on damp hair before blow-drying and also on dry hair before using a flat iron or curling iron," Watts says.
Authentic Beauty Concept Blow Dry Primer, $25
"This product is step one in preventing damage during any heat styling process," Toves-Vincilione says. "This dual-purpose spray works as a heat protectant and a styling aid to provide a gorgeous, healthy finish to your styles."
If you typically heat style your hair, it might be time to invest in items that are better for your hair. The Dyson Airwrap system uses controlled heat and powerful airflow to dry, straighten, and curl your hair quickly and with minimal damage.
More like this