The Results Are In: We Tried Hair Slugging on Three Hair Types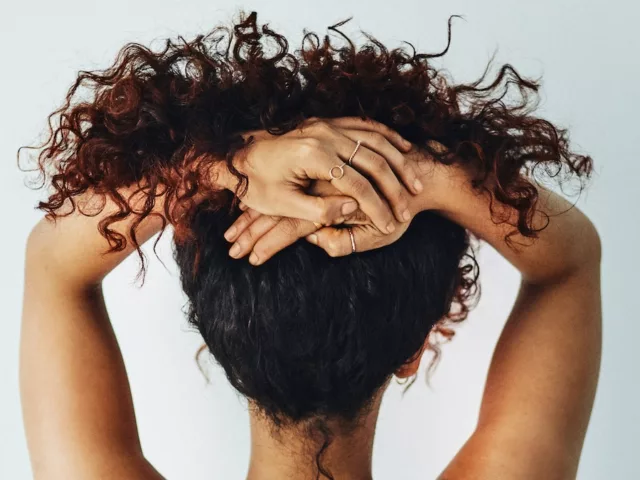 Does your hair need some TLC? Users on TikTok claim hair slugging is the answer. It's a haircare technique that involves coating your strands with a hydrating product, wrapping it up, and sleeping in it overnight. But does it live up to the hype? We tried it on three different hair types to find out.
By now, you've likely heard of TikTok's favorite skincare hack: slugging. It's a Korean beauty protective skincare practice that involves sealing in all of your skincare with a heavy occlusive (a moisturizing product that forms a protective barrier to prevent moisture loss). That's why so many TikTokers have been coating their faces with vaseline. As one of the most effective occlusives you can find, it can help those struggling with extremely dry skin.
Recently, the skincare trend has entered the hair care conversation, creating a brand new trend: hair slugging. Hair slugging promises soft, hydrated, and glossy hair. The trend is gaining some serious traction on TikTok—there are videos with users showing off shiny, soft hair with millions of views.
But does the viral haircare hack live up to the hype? We tried it on three different hair types to find out.
What Is Hair Slugging?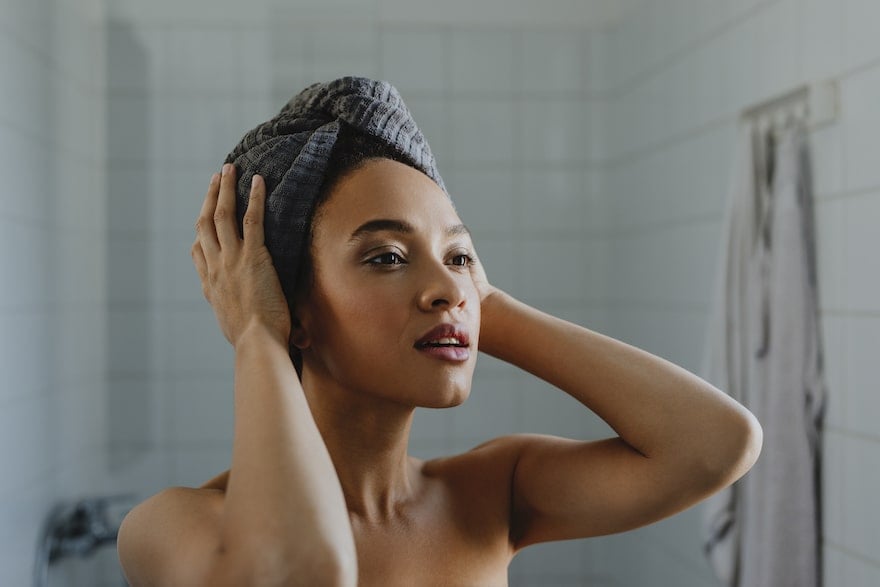 Hair slugging involves coating the hair with a hydrating product (most often a leave-in hair oil), wrapping up your strands in a fluffy sock, and letting it soak in overnight. The goal is nourished, shiny, and healthy-looking hair.
While this tip has been trending everywhere, the idea of oiling your hair has been around for some time. Hair oiling has a rich history in South Asia. It's an Indian tradition that's been around for centuries, as the oil contains fatty acids that hydrate and strengthen the hair. And using protective hair wraps isn't a new idea either: Black women and people of color have been using protective wraps for centuries.
Still, the dramatic results on TikTok are compelling enough for anyone to give this trend a try. But as with any trend on the internet, results may vary based on your hair type and depending on the product you use.
The good news? Just about any hair type can slug their hair, says Raven Hurtado, Stylist at Maxine Salon in Chicago. "Curly hair needs lots of moisture to keep those curls hydrated and bouncy. Dry, curly, and brittle hair will benefit more from hair slugging and using heavier oils for deep hydration a few times a week," she says. "People with finer hair can use a lightweight oil and slug their hair once a week—if you use heavy oils and masks, it can weight it down."
What Does Hair Slugging Do?
Hair slugging works in the same way skincare slugging does: by sealing in moisture. "The oils and serums lock in moisture, eliminating frizz and adding shine," Hurtado says. If you're struggling with dry, brittle hair, hair slugging can help restore your texture and improve the overall look and feel of your hair.
How to Slug Your Hair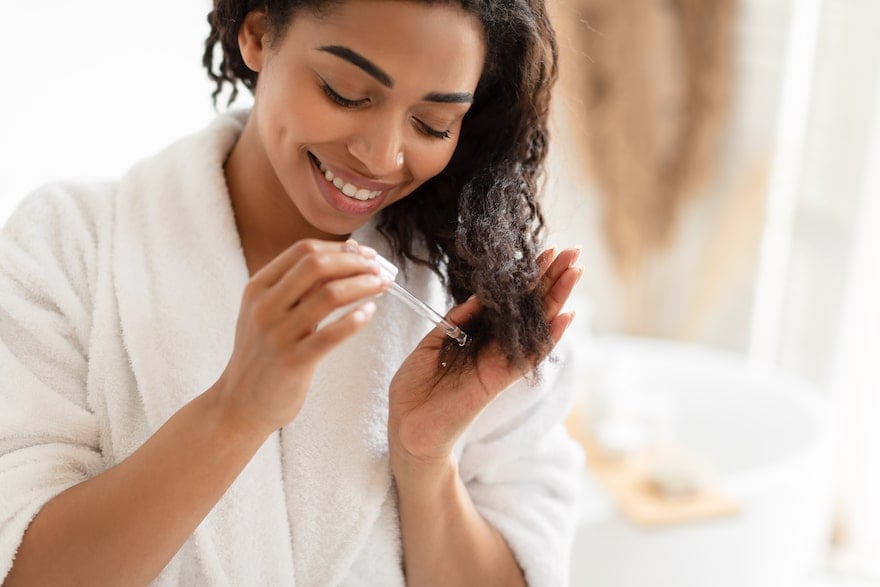 Want to try the trend for yourself? Here's a step-by-step guide to hair slugging.
Apply an oil or hair mask to dry hair from the mid-length to the ends
Put the hair into a fuzzy sock, protective silk scarf, or tie it up in a silk scrunchie
Leave the product on overnight
If you used oil, brush out your hair and style as usual. If you used a hair mask, rinse it out in the morning so your hair doesn't look clumpy or heavy.
"It's recommended to slug your hair one to three times a week depending on density and texture," Hurtado says. "If you're slugging your hair every night, you can strip out the natural oils in your hair and it'll make it dryer."
Does Hair Slugging Actually Work?
So, does the viral TikTok trend live up to the hype? We tried it on three different hair types to find out. Check out our results, below.
Sara (Hair Type: 1b)
My hair is long, straight, medium-thickness, and I have a lot of it. It's generally pretty soft and shiny, but I have noticed it's been drier recently, so I was hoping slugging would help. I swim about once a week, so I know the chlorine can be drying.
My first challenge was finding a sock that fit my hair, so long-haired people be warned! I ended up digging a knee-high sock out of my drawer that finally fit all of my hair. It wasn't the fuzziest, but it would have to do. I used Briogeo's Don't Despair, Repair! Strengthening Treatment Oil. The product itself smelled really nice and was lightweight, which I loved. I rubbed about 8-10 drops into my palms and applied to my ends first, then worked the remainder in from mid-shaft down to the ends.
When I woke up, the sock had migrated about halfway down my hair. The sock/scrunchie combo ended up leaving a weird line in my hair. I didn't notice a big difference in most of my hair, but the ends definitely felt smoother and more hydrated. I don't think I would do this trend again on dry hair, but I like the idea of adding a hair oil into my routine once or twice a week for hydration. I'm planning to use the product again on damp strands and skip the sock.
Maddy (Hair Type: 2b)
My hair is long, wavy, and pretty fine. It's perpetually dry (likely from two decades of swimming competitively) and always a little frizzy, so I was excited to try this trend. Seeing TikTokers show off their sleek, shiny hair had me hoping hair slugging would do the same for me.
For this experiment, I used Authentic Beauty Concept's Nourishing Hair Oil. It's extremely lightweight, which is perfect for my thin hair. The product smells amazing and has a weightless feel. I put 10 drops into my palm, rubbed my hands together, and then ran it through my hair, starting at the mid-lengths and going to the ends.
Like Sara, I noticed that the scrunchie left a little bit of a crease in my hair (though I tied it pretty tight so it wouldn't fall off in the middle of the night). When I took off the sock and let my hair down in the morning, I was, well, disappointed. The bottom part of my hair definitely felt soft, but it didn't look very different—honestly, it looked a little greasy from the oil.
I don't think I would try this trend again, but hair oil will definitely become a staple in my routine. A little bit on the ends before I head out (or before bed) gives it some extra shine, which I love. But overall, I think this trend is a little too intense for my fine hair.
Fatima (Hair Type: 3c)
My hair is typically dry (I have curly hair), so I figured that it wouldn't hurt to give it a little love. I used the Jojoba Oil Blend from Pattern Beauty.
Truthfully, I didn't really know what to expect. It was suggested that I put six to 10 drops of oil in my hair before wrapping it, but with the amount of hair I have, I doubled the amount to 20 drops.
This morning, I don't know why I was expecting my hair to be a little more moisturized than I found it to be, probably because I had used overnight hair masks before and my hair felt alive those mornings. But a little bit of hydration is better than none at all. I think that using hair oil more often and all over my hair rather than just mid to end of it might be more beneficial for my hair type.
More like this