Have Hair Extensions? 8 Essential Hair-Repair Tips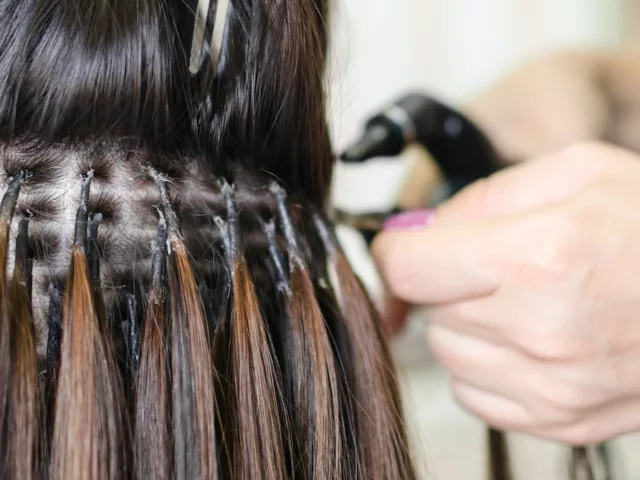 Lobs (aka long bobs, for the uninitiated) may be the hairstyle of the moment. But IMHO, there's something undeniably alluring about Blake Lively-esque waves. Clearly, I'm not alone: The hair extension industry is estimated to be worth $761 million by next year. Extension-specific salons like RPZL in New York and Just Extensions in Los Angeles are popping up, meeting a rise in consumer demand. But, in a cruel twist of fate, could our quest for mermaid hair actually be ruining the hair we already have? The answer: probably. However, it's not all doom and gloom. Follow these tips and say hello to healthier hair, whether or not you choose extensions. Here's how to prevent and treat damage from hair extensions.
The Damage
"Most of the damage from extensions comes from traction or pulling on the hair follicle," says Dr. William Yates, a hair-loss expert based in Chicago. "Over time, this damage to the hair follicle can cause hair loss that can be permanent." Yikes. This type of hair loss is known as traction alopecia.
Extensions can also cause damage to the external hair shaft, says Yates.
Shelley Goodstein, a Ford model, has seen this type of damage first-hand. She understands the feel-good power of extensions from her years in the modeling industry, which is why she started Hidden Crown Hair. It's a line of temporary extensions that feature a clear wire that sits around your head with no damaging clips, glue, or tape.
For Immediate Hair Extension Damage Control
Hair Treatments Are Your New BFFs
A weekly hair treatment can do wonders for repairing damage. Try Joico Luster Lock, which was designed with weak, damaged, abused hair in mind. "For best results, I always apply Luster Lock to damp hair and leave in for up to five minutes. Then I rinse my client's hair thoroughly with warm water," says Joico celebrity colorist Denis Desouza.
Lay Off the Hot Tools
If you've just had your extensions removed, Yates recommends that you avoid heat styling as much as possible. As a result, your hair will recover faster and you'll prevent further damage. However, if you absolutely can't live without your Beachwaver, make sure to use a heat-protectant spray like Amika Bombshell Blowout Spray.
Brush YouR Hair… and Then Brush It Some More
If you have extensions, it's important to take really good care of them to avoid as much damage to your natural hair as possible. Brush your hair multiple times a day using a gentle detangling brush (I like the Tangle Teezer) to prevent matted hair. Additionally, use a hair oil like Kerastase Elixir Ultime on the ends of your extensions. (The natural oils from your scalp that keep your hair healthy won't reach the ends of your extensions.)
For Long-Term Hair Health and Repair After Extensions
Use a Sunscreen for Your Hair
Yates recommends using gentle products that can protect your hair from UV rays. Products like Living Proof Restore Instant Protection spray and Alterna Bamboo Beach BB Balm for Hair are designed to protect your hair from the sun, which can dehydrate your strands and make your hair more prone to breakage. Furthermore, UV rays can also fade your hair color.
Take a Supplement
Look for hair supplements that contain black currant-seed oil and vitamin E. The former contains good-for-hair acids that stimulate hair growth. The latter increases capillary growth, which increases blood circulation around the hair follicles and helps hair grow fuller, shinier, and free of split ends. You can find both of these ingredients in HUM's Red Carpet supplement.
Sleep on a Silk Pillowcase
It's time to upgrade your basic cotton pillowcase since cotton absorbs moisture. While you sleep, your pillowcase is sucking up oils from your hair that are essential for its health. On the other hand, silk keeps the natural oils on your hair where they belong. Plus, silk doesn't create frizz- and split end-causing friction.
Eat Beans and Lentils
These foods pack protein, iron, zinc, and biotin, which can seriously improve the health of your hair. Protein and iron help your hair grow stronger and fuller by nourishing the hair follicle. Furthermore, studies suggest that zinc and biotin can help prevent hair loss and even help you grow more hair.
See a Dermatologist
If you experience traction alopecia, see your dermatologist. They can help you come up with a sustainable plan for your hair health. Thankfully, you can stop this type of hair loss and reverse it if you catch it early and take away the tension on the roots of your hair, according to a study by Johns Hopkins Medicine.
Also, you can lessen your chances of developing traction alopecia by giving your hair a break between extension sessions.
If you do decide to go for extensions, do your research and choose a reputable salon. "There's no better way to move forward with trying extensions than to take all the necessary research step and ultimately follow your gut feeling. We should all use our intuition more; it's without doubt the best guide we have," says Lucinda Ellery, founder of Lucinda Ellery Consultancy.
Another reason to choose a reputable salon: They understand that extensions aren't a one-size-fits-all product. "Applying extensions safely is about weights and measures in a nut shell. We have approximately 150,000 to 200,000 hairs on our head at any one time, plus a hair cycle of rest, shed, and grow. The hair sheds approximately 100 strands per day. Each hair is said to be programmed to return approximately 22 times and last for six years. So when applying extensions with this knowledge and appraisal of the hair being worked on, then it's essential to add the correct size. It's not one size fits all!" says Ellery. An expert will find the right balance to lessen the damage to your natural hair.
More like this