Does Hyaluronic Acid Help Your Hair? Experts Answer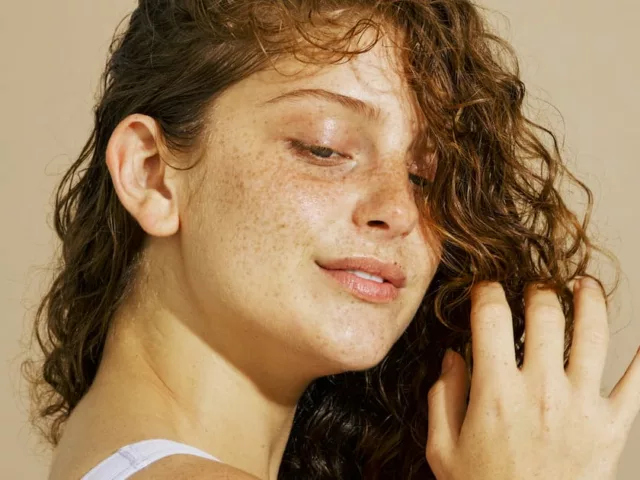 Hyaluronic acid is best known for plumping up the skin, but it also has powerful properties for hair health. A dermatologist breaks down everything you need to know about using hyaluronic acid for hair.
Few skincare ingredients are as popular as hyaluronic acid. It's a powerful humectant (meaning it attracts water) that can hold up to 1,000 times its weight in water. By attracting and binding water, the ingredient can plump up the skin's surface—minimizing the appearance of fine lines and wrinkles for smoother and firmer-looking skin. It's used as a topical and as a supplement (it's the star ingredient in HUM Nutrition's Glow Sweet Glow, which helps boost hydration levels from the inside out).
But you can also use hyaluronic acid (HA) for your hair. In the same way it boosts your skin's moisture levels, HA can do that for your strands. The practice has become popular on TikTok, as users have posted videos showing their hair looking softer and shinier than before. But does hyaluronic acid really work for hair? We spoke to experts to find out.
What Is Hyaluronic Acid?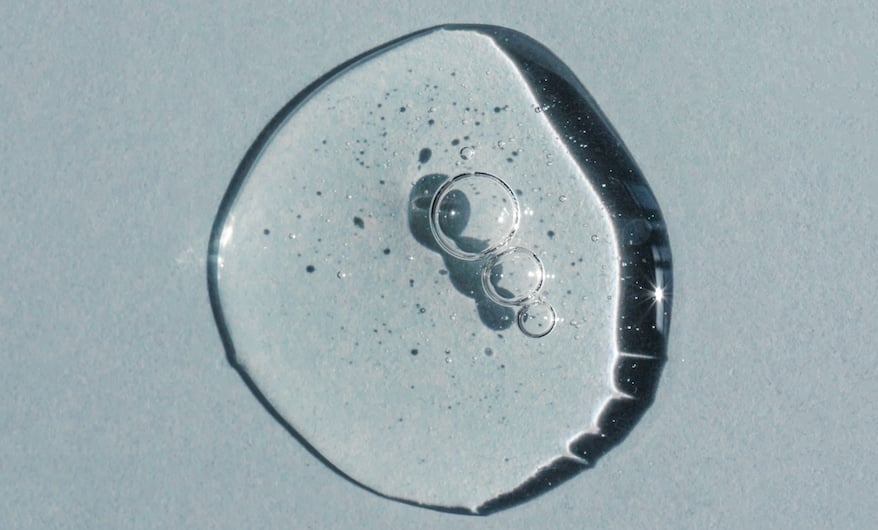 Technically speaking, hyaluronic acid is a sugar that our bodies naturally produce. It's found in our skin, eyes, connective tissue, and in the fluid between our joints. As we age, our bodies start producing less and less (which can cause the skin to look dry, lose volume, and show fine lines and wrinkles).
As mentioned before, it's a humectant, meaning it attracts and pulls water in. In skincare, t's typically used to plump or hydrate the skin, but given its ability to retain moisture, it may also be able to help you get hydrated hair.
Hyaluronic Acid Benefits for Hair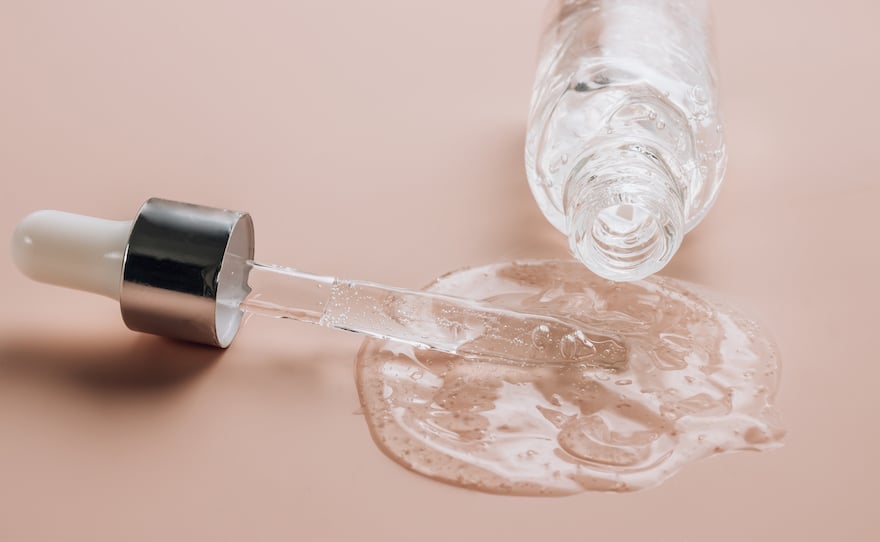 Despite its popularity on social media, the evidence is thin around using hyaluronic acid for hair. "There are limited studies that specifically look at the impact of topical hyaluronic acid on the hair, however, it is thought to have similar benefits as it would in other areas of the body and skin," says Marisa Garshick, MD, FAAD, a board-certified dermatologist in New York City. "Some small studies have shown benefits for hyaluronic acid on the hair, but a lot of the benefits relate to the way hyaluronic acid can be helpful in other parts of the body and skin." Still, experts say there may be some benefits to trying this popular trend. Plus, it's perfectly safe to try—as with many haircare trends on TikTok, hyaluronic acid for hair might help but won't hurt.
So, what does hyaluronic acid actually do for your hair? Below are three different ways this buzzy ingredient may improve your mane when applied topically.
Increased Hair Hydration
Just like using HA for your skin, using hyaluronic acid for your hair helps to boost overall moisture levels. As a humectant, the ingredient allows hair fibers to attract and retain moisture. It's especially effective for dry, damaged hair, as it can fill in the porous hair shaft and help hydrate it.
Increased Scalp Hydration
We know HA is great for your skin, and the skin of your scalp is no different. A hydrated, balanced scalp is the ideal condition for hair to grow, as hair follicles are free to sprout new strands. "Having the proper amount of hyaluronic acid in the scalp and using proper scalp products can help you maintain a moisturized scalp, which can be helpful in combating a dry and itchy scalp," says Samaria Grandberry, MS, RDN, LDN, a dietitian at HUM and trichologist. "Using a topical hyaluronic acid serum can help boost the moisture content in your scalp."
When the scalp is dry or flaky, hair follicles may be blocked, stunting hair growth and potentially even leading to hair loss.
Reduced Frizziness
Frizzy hair is usually a sign of dry, dehydrated hair. "People with dry or frizzy hair may benefit from trying hyaluronic acid," says Gaby Vaca-Flores, RDN, HUM's educational specialist. Hyaluronic acid can help seal the cuticle of your hair, minimizing unwanted moisture (think: humidity from the air) from affecting the hair follicle. So not only can it help boost hydration levels, but it can also give you smoother, shinier hair.
How to Apply Hyaluronic Acid to Hair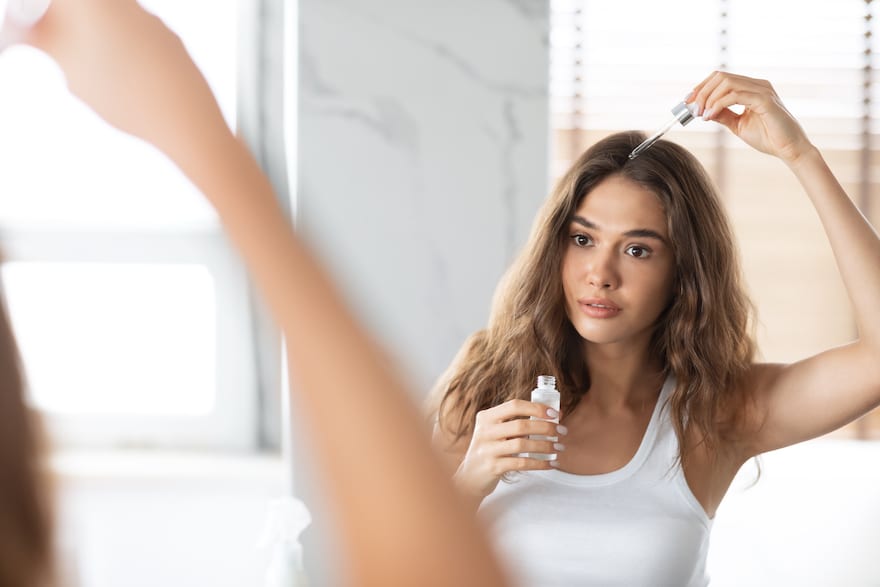 There are a few different ways to apply hyaluronic acid to your hair (or scalp). You can choose the method that works best for your hair type and concern. The good news? Hyaluronic acid works for any hair type, so you're free to experiment.
Apply Hyaluronic Acid Serum On Damp Hair
The key phrase here is "damp hair." Hyaluronic acid pulls in and attracts water, which is why it's critical to add water to your hair. If you use it on dry hair, you'll get the opposite result (because the HA will pull whatever moisture is left in your hair). By adding water to your hair, hyaluronic acid can better hydrate your hair.
Use Hyaluronic Acid Serum as A Scalp Treatment
If your scalp could use a little extra hydration, use hyaluronic acid as a pre-shampoo moisture treatment. Once your hair is wet, apply hyaluronic acid liberally all over your scalp. Rinse it out and shampoo and condition as normal.
Use Hyaluronic Acid Hair Products
If you'd rather not use your HA serum (or other hyaluronic acid products specifically made for your face), try using hair products that contain the popular ingredient. Many leave-in conditioners or hair masks contain hyaluronic acid to promote softer, healthier strands. (Just make sure you're applying these products on damp hair!)
Take a Supplement with Hyaluronic Acid
Another way you can try this trend? Take a supplement with hyaluronic acid in it, like HUM Nutrition's Glow Sweet Glow. "At this point, there's not enough scientific evidence to show the effect of hyaluronic acid supplements on hair health—most research highlights HA's hydrating effects on the skin," Vaca-Flores says. "However, it couldn't hurt to give HA a try if you struggle with dryness."
Eat Foods Rich in Hyaluronic Acid
As with supplements, there isn't much research showing the effects of ingesting hyaluronic acid. Still, experts say that by ​​incorporating HA into your diet, you can support your body's levels. Bone broth and organ meats (meaning the organs of livestock) are the best food sources for hyaluronic acid, but there are vegan options too (such as grapefruits, oranges, tomatoes, berries, and sweet potatoes).
The Takeaway
If you're struggling with dry hair (or a dry scalp), using hyaluronic acid for your hair can certainly help. But while it does make hair look shinier and more hydrated, healing hair is more about repairing broken bonds (which cause dullness and split ends). "Hyaluronic acid doesn't repair these breakages," explains Caren Campbell, MD, FAAD, a board-certified dermatologist in San Francisco. So while it may offer positive results, it's not getting to the root of the problem. "I would also be concerned it would make the texture of the hair sticky and unappealing," she says.
If you're struggling with dry, damaged hair, try using a protein treatment to help strengthen your strands. Olaplex is a popular protein treatment that also contains ingredients to help repair broken bonds in the hair.
While hyaluronic acid may give your hair a boost, Dr. Campbell says taking preventative measures is more important. "Keeping hair healthy is more about avoiding damage in the first place," Dr. Campbell says. "Avoid excessive heat, the tension on the root with tight hairstyles, braids or extensions, and avoid dyes."
More like this