Can You Stop Hair from Turning Gray by Addressing the *Root* Causes?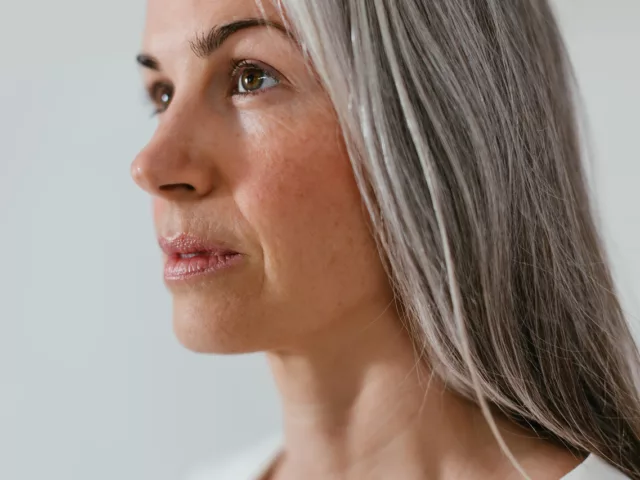 Why does hair turn gray, and is it possible to stop (or at least delay) it? Find answers below, according to leading derms and research.
We all know aging is inevitable—try as we might to delay it. Most of us start to see signs of aging all over—in sun-damaged skin that leads to wrinkles, reduced muscle strength, and shifts in our sleeping patterns and energy levels. But one of the most obvious signs of aging is what happens to our hair: It turns gray.
The medical term for going gray is canities. This refers to the diminishment of pigment in the hair shaft, causing it to acquire a gray or white color, explains Brendan Camp, MD, a Manhattan-based dermatologist at MDCS Dermatology. "The process by which hair grays or turns white as a result of aging is due to the loss of melanocyte stem cells within the hair follicle," he says. "Melanocytes are cells that make pigment, which is incorporated into the hair shaft, giving hair its distinctive color." When these melanocytes start to reduce and their count is not replenished, the pigment in the hair shaft is also reduced, eventually causing the hair to turn white.
Also, you may have heard that you can exacerbate gray hair by plucking… but this is totally untrue. While plucking a hair can damage a follicle so that it may not grow back, doing so will not trigger the formation of additional gray hairs, says Dr. Camp. There are, however, some factors that do influence how early or to what extent one might go gray. It mostly has to do with genetics. For example, those of Asian and African descent often go gray later in life than Caucasians, explains stylist Penny James, IAT-certified trichologist and owner of Penny James Salon in New York City.
Yet there are other factors that need to be taken into account when it comes to premature graying. Here's a look at some of the most common causes of gray hair, and what you can do to potentially offset premature grays.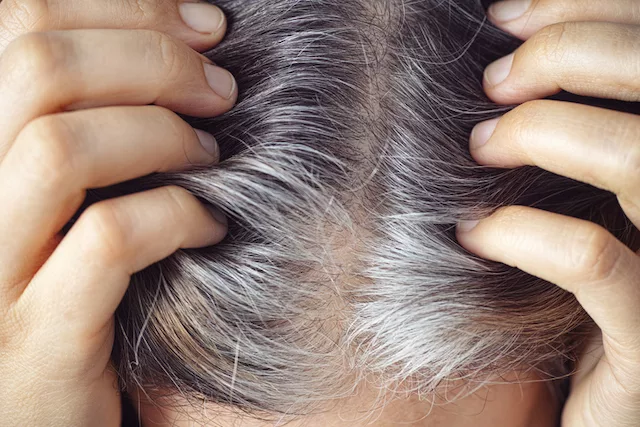 Why Does Hair Turn Gray?
Here are five key factors that cause hair to turn gray:
1. Genetics
Again, your genes have a lot to do with whether or not you'll go gray—and how early. In addition to your ethnic background, you may have a certain gene known as interferon regulatory factor 4 (IRF 4), which may help to regulate melanin production. Additionally, certain genetic conditions may be associated with premature graying. "Those who have a history of eczema or asthma are more likely to experience premature graying," says Marisa Garshick, MD, FAAD, a board-certified dermatologist at Medical Dermatology & Cosmetic Surgery (MDCS) in New York City. 
2. Stress
Though more research is needed, stress may contribute to premature graying. "Stress leads to oxidative damage, which can lead to damage to the pigment-producing cells, leading to less melanin being produced," explains Dr. Garshick. One study published in the journal Nature was able to support this theory by showing that a stress response in mice led to a decrease in melanocyte stem cells, which can lead to graying.
3. Autoimmune Conditions
A host of autoimmune conditions may make you more susceptible to going gray sooner. With any manifestation of autoimmunity, your immune system is essentially attacking itself. With certain hair- and skin-related conditions such as vitiligo and alopecia, it can attack the cells on the scalp, thus reducing the pigment and causing hair to turn gray.
4. Vitamin Deficiencies
Gray hair may also be the result of being deficient in certain nutrients—namely vitamin B12. Individuals lacking B12 in large amounts "have been shown to be more likely to experience premature graying, also suggesting that maintaining adequate B12 may help to [offset] premature graying," says Dr. Garshick.
5. Smoking
We all know smoking is far from healthy, but perhaps you never associated it with going gray early. One study published in the Indian Dermatology Online Journal showed this connection. It found that smokers were at a greater risk of premature graying than nonsmokers. Dr. Garshick notes that smoking increases your exposure to oxidative stress, which can then lead to reduced pigment in the hair follicles.
Can You Stop Your Hair from Graying?
You can't control everything, especially in regards to aging. After all, aging is the number one cause of gray hair. However, you may be able to reduce your exposure to certain elements that may exacerbate your grays.
A great place to start is your diet. "Ensuring that your diet includes antioxidant foods, including fresh fruits and vegetables, olive oil, fish, and green tea may help with graying," says Dr. Camp.
It's also a good idea to curb your lifestyle habits to make sure you're not doing anything that could expedite the growth of grays, such as smoking. "If you are a smoker, stop smoking because of the oxidative damage it causes on many parts of the body, including hair follicles," Dr. Camp adds.
Excessive alcohol intake may also lead to early grays. One study published in the International Journal of Trichology suggested that maintaining a normal weight, following a proper diet, and reducing alcohol consumption may help to offset graying.
Supplementation may also play a fundamental role, especially when it comes to ensuring you're getting adequate nutrients. For example, HUM's Hair Strong Gummies contain a blend of hair fortifying nutrients—including B12 (refer to Dr. Garshick's callout on the vitamin's influence on gray hair above). The hair supplement also includes Fo-Ti, a revered plant in Traditional Chinese Medicine that has a positive impact on gray hair by maintaining your natural hair color and delaying the development of new grays.
Lastly, Dr. Camp recommends maintaining good health and sleep hygiene. "Exercising and getting enough sleep will keep your body healthy so that it can effectively address insults that can contribute to aging or graying hair," he says.
More like this