Skincare Meets its Perfect Match with These HUM Supplement Pairings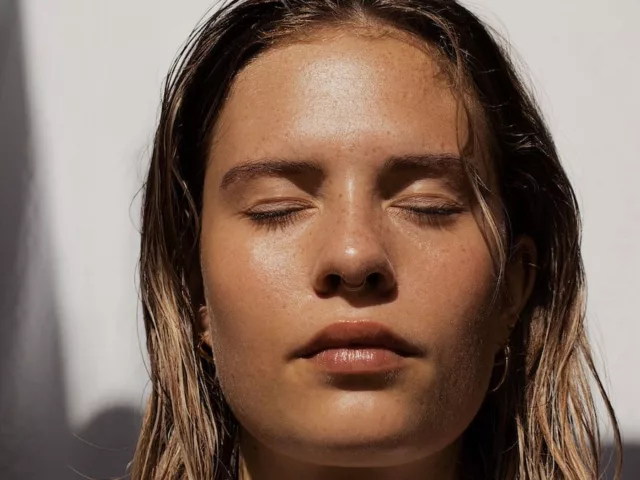 If you're like us, you're *obsessed* with skincare, or rather, hooked on dewy, fresh skin that lets you put your best foot forward. So we're always looking for ways to maximize our skincare results, from a de-puffing morning routine or overnight beauty treatments to perfecting our skincare routine order or doing a skincare audit. Lately, we've been experimenting with the best ways to reach our skincare goals from the inside out and the outside in. Here's why this method can be so effective and our favorite combos to try.
Perfect Match: Ingestibles and Topicals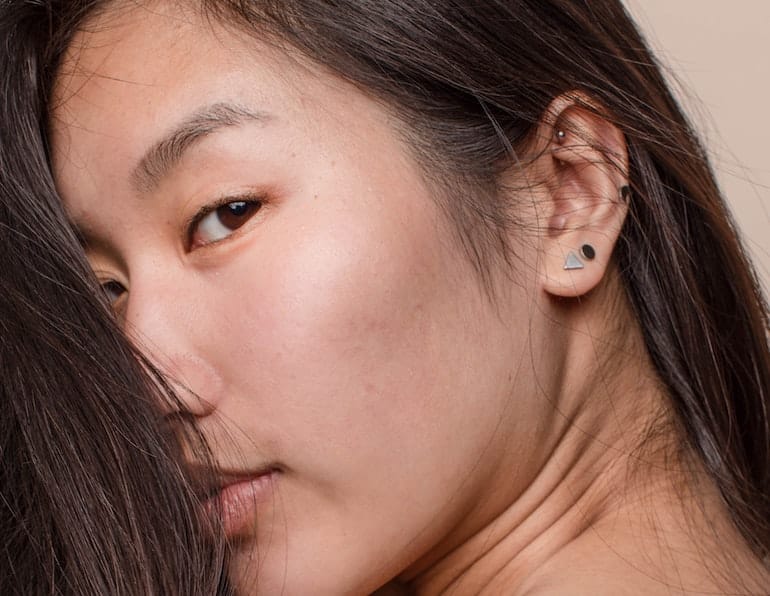 Beauty is more than skin deep. Topical products play important roles in addressing numerous skin concerns, however, it is vital to examine your diet and make modifications as needed to support skin health. "We have known for decades that the foods and nutrients we eat (or don't eat) can have effects on our skin," says Jennifer Martin-Biggers, PhD, MS, RDN, vice president of scientific affairs and research at HUM Nutrition.
That's because the foods we eat impact our gut microbiome, the bacteria that live in your digestive tract. "The microbiome has emerged in recent years as a key contributor to our skin health and vice versa," Dr. Martin-Biggers says. "People with skin conditions like eczema are likely to have gut dysbiosis, and gut dysbiosis can lead to skin conditions like eczema. The research into the gut-skin connection only continues to grow." For example, clinical research has proven the link between dairy consumption and acne. 
Topicals also only go so far—supplementing your skin with ingestibles can help keep your complexion healthy. A diet deficient in vitamin C, for example, means that skin may not heal properly due to the nutrient's vital role in collagen production.
"This idea has expanded through research into many different nutrients and botanical ingredients that have beneficial effects on our skin," Dr. Martin-Biggers says. "For example, carotenoids and polypodium leucotomos extract have been found in clinical research to help with UV damage control—similar to how topical SPF helps mitigate damage." Vitamin C also helps to support collagen production, which declines with environmental insults like sun exposure. It is important, however, to continue to use topical protection as it provides a barrier to UV light as a line of defense.
How to Pair HUM Supplements with Topicals to Reach Your Skin Goals
If you want…glowy, plump skin
Glow Sweet Glow + Hyaluronic acid serum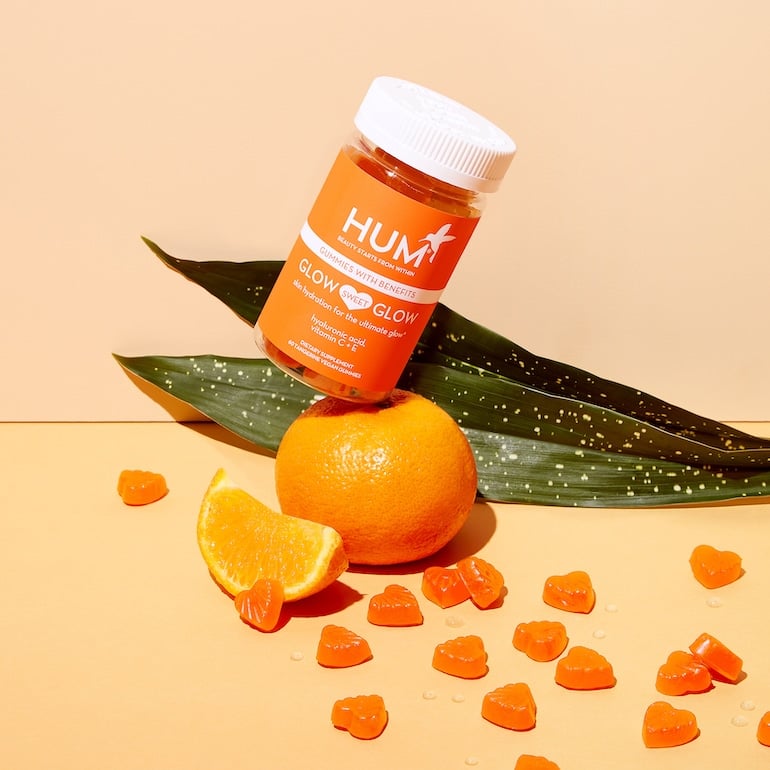 Hyaluronic acid is a substance found naturally in your body. It helps to lubricate joints, eyes, and skin. Hyaluronic acid's superpower lies in that it can hold up to 1,000 times its weight in water.
Translation: it's super hydrating. HUM's Glow Sweet Glow is a vegan tangerine gummy that contains a low molecular weight hyaluronic acid—the most absorbable form—that helps boost skin moisture from the inside out. It also packs vitamin C, which research shows aids collagen synthesis and neutralizes free radicals that can damage the skin.
Apply a hyaluronic acid serum on damp skin after cleansing to help it absorb even better, then follow with a moisturizer. We love Osea's Hyaluronic Sea Serum ($88) because it also packs the benefits of seaweed for skin.
If you want…healthy, ageless skin
Turn Back Time + SPF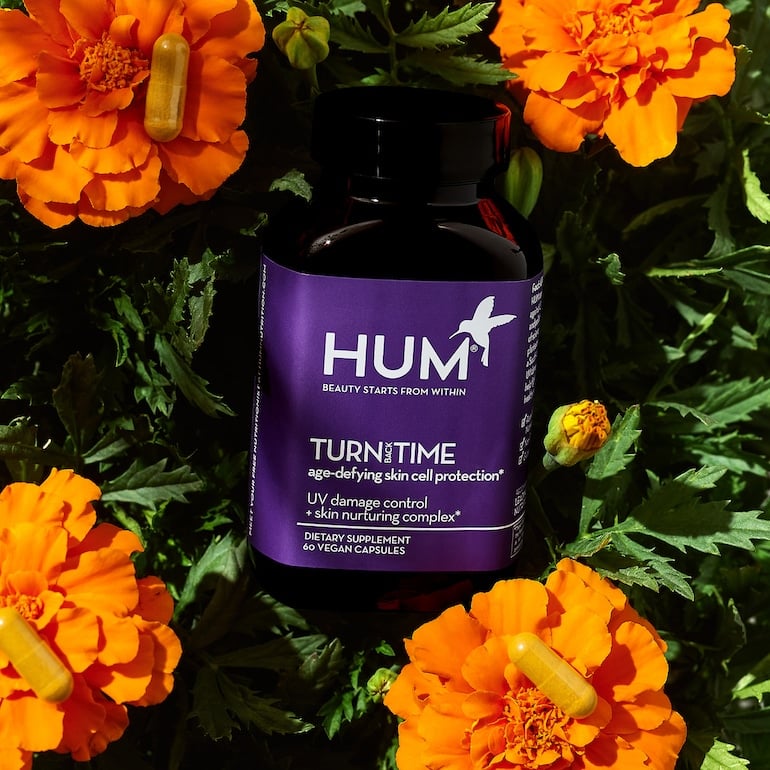 Every dermatologist, facialist, and beauty writer will tell you how important sunscreen is for your skin. (In case you need to quick reminder: Wear it Every. Single. Day. Rain or shine. Use a broad-spectrum SPF of at least 30. Reapply every 2 hours if you're sweating or swimming.) It should be the final step of your skincare routine before you apply makeup. We're mega-fans of Supergoop's full lineup of SPF because they have an SPF for every occasion and every preference.
While we could sing the praises of SPF for days, there's also a little-known ingredient that can help shield the skin from after-sun effects (because no one is perfect!) Polypodium leucotomos, found in HUM's Turn Back Time, are a type of fern with photoprotective properties.
A small study in the Journal of the American Academy of Dermatology found that when people took 240mg of Polypodium leucotomos, the same amount found in Turn Back Time, eight and 24 hours before exposure to UV light, it helped to manage photodamage to the skin.
Turn Back Time and SPF is a must-have duo for anyone who wants healthy-looking skin now or in the future.
If you want…a firm, radiant complexion
Collagen Love + Vitamin C serum
As you age, your skin loses its elasticity—causing fine lines, wrinkles, and a loss of volume. That's because your levels of collagen (the structural protein in your skin) deplete with time. But not all hope is lost: There are ways to stimulate collagen production in your skin, such as applying a vitamin C serum. Vitamin C neutralizes free radicals that are caused by sun damage and pollution in the air (both of which speed up the breakdown of collagen). We're fans of SkinCeuticals C E Ferulic ($169), which is clinically proven to help with firmness and reduce the appearance of fine lines and wrinkles.
Studies also show that taking a collagen supplement, for example, improves skin hydration, elasticity, and texture with time. By taking Collagen Love and applying a vitamin C serum consistently, you'll achieve a firm, radiant complexion that will have everyone around you guessing your age.
If you want…clear, blemish-free skin
Daily Cleanse + Charcoal Mask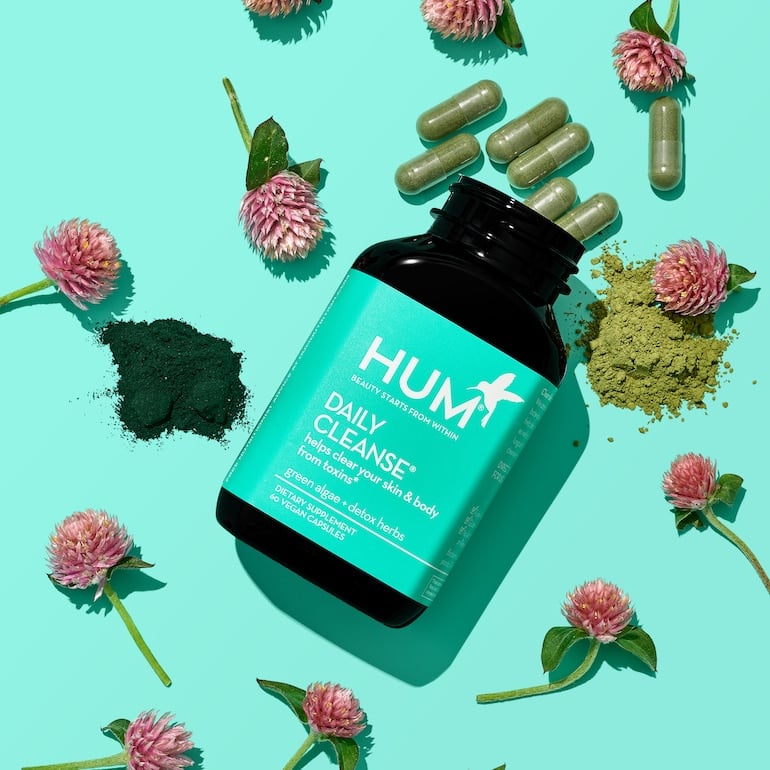 Whether you've battled breakouts your whole life or are struggling with adult acne for the first time, there's no doubt about it: Acne is hard to beat. That's why taking an inside-out approach can help clear things up. A charcoal mask will attract and draw acne-causing bacteria and impurities from the skin, helping to clean out clogged pores and reduce the appearance of blemishes. We love Innisfree's Pore Clearing Clay Mask 2X ($15), which is a creamy, non-drying formula made with volcanic clusters and chemical exfoliants to absorb acne-causing oil and gently exfoliate the skin for a clean, clear complexion.
Hit your acne with a one-two punch by pairing your clay mask with a supplement, like HUM Nutrition's Daily Cleanse. It works like a clay mask on the inside, as it contains a blend of 14 detoxifiers, which bind to impurities and eliminate them to help detoxify the body.
If you want…reduced redness and an even skin tone
Skin Squad + Probiotic moisturizer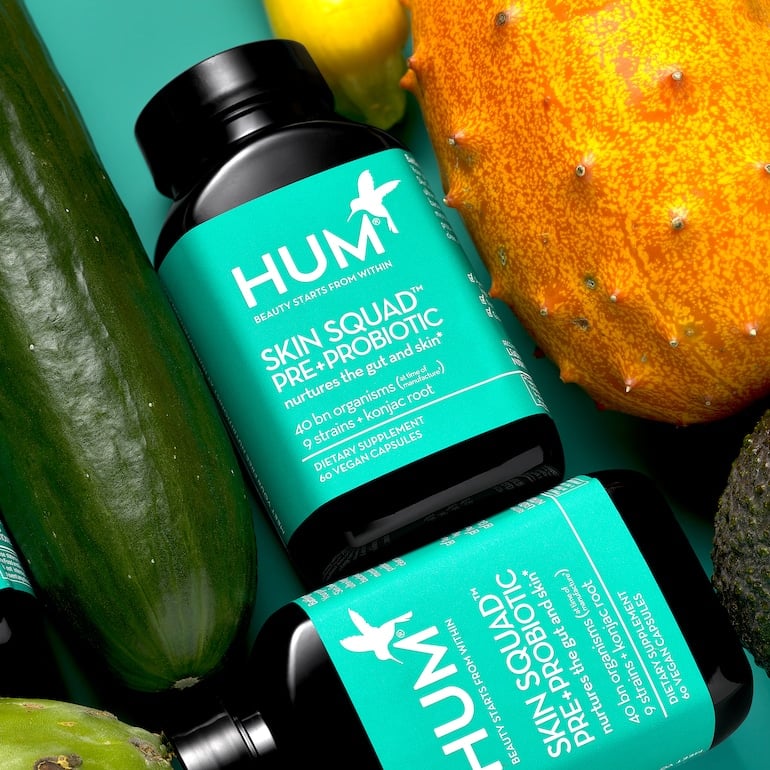 Sensitivity and redness can be indicative of an issue with your skin barrier (the outermost layer of skin, which helps to protect the skin cells and regulate hydration levels). Give your sensitive skin the support it needs with probiotics, which are good bacteria that help keep your skin clear and even-toned. It all starts inside, with the gut-skin axis (yes, the connection between your gut and your skin has been proven by research). When the balance of bacteria in your gut gets disturbed HUM Nutrition's Skin Squad contains a blend of probiotics to help balance the gut microbiome and promote clear skin from within.
Give your skin an extra probiotic punch by using a moisturizer made with probiotics. When applied topically, probiotics help to restore your skin's microflora, which also helps to regulate inflammation on your skin. Try Hero Cosmetics Clarifying Prebiotic Moisturizer ($13), which feeds the good bacteria on your face to keep your complexion clear and calm.
If you want…a fresh-faced look
Mighty Night + Retinol serum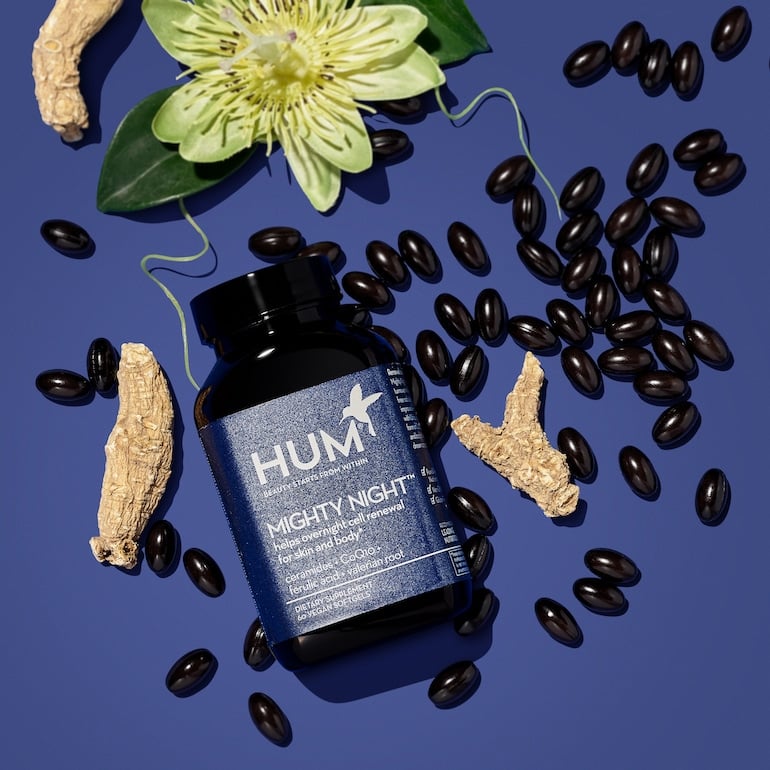 The key to a refreshed, lit-from-within glow? Skin cell turnover. It's the process of shedding dry, dead skin cells from the uppermost and outermost layer of our skin. These dead skin cells are replaced with newer ones, which helps to keep your complexion bright and clear. Skin cell turnover rate slows with age (and varies based on other factors like hydration levels, diet, and stress levels). But you can give it a boost with retinol, a vitamin A derivative, that speeds up skin cell turnover for brighter, clearer, firmer skin. It's one of the most recommended skincare products by dermatologists for its anti-aging and acne-fighting properties. As with many skincare products, retinol takes time to work—expect to see results in six to 12 weeks. The most effective retinoid is prescription, but for an over-the-counter option, try La Roche Posay Pure Retinol Serum ($40), which is made with sensitive skin in mind.
You can also speed up your skin cell turnover rate internally by taking HUM Nutrition's Mighty Night. It's made with a powerful blend of antioxidants that promote skin cell turnover. Plus, it contains ceramides to help boost hydration levels in addition to Valerian root, passion flower and hops to promote a deeper, more restful sleep. The end result? A fresh-faced glow first thing in the morning.
If you want…skin free from fine lines
Artic Repair + Bakuchiol serum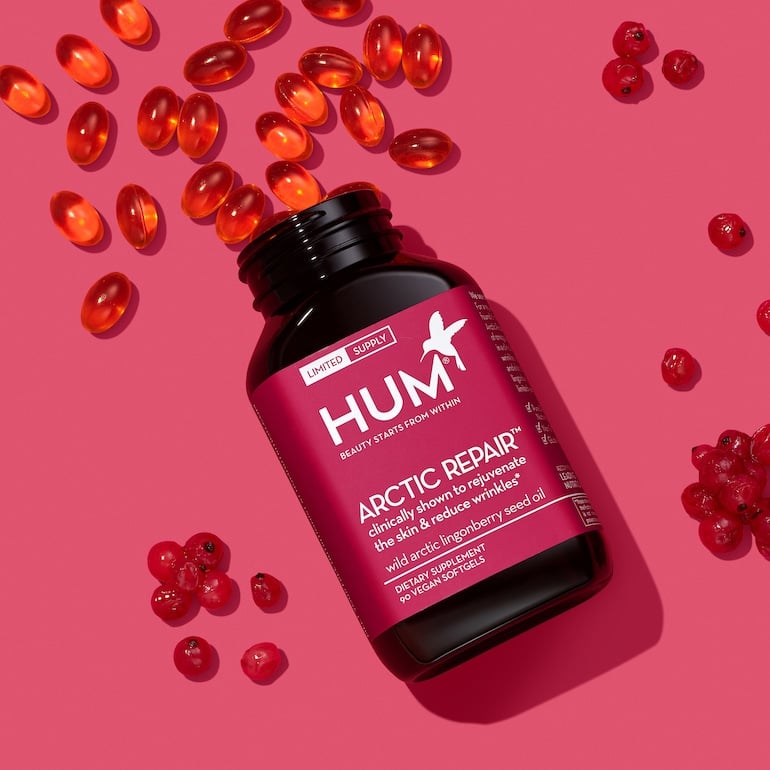 Noticing fine lines but don't know what to do about it? One of the most effective ways to combat them is by taking a supplement to help boost hydration and antioxidant levels. HUM Nutrition's Arctic Repair is formulated with Lingonberry seed oil and contains a blend of omegas 3, 6, and 8 to support a healthy skin structure. Plus, it has Vitamin A to help fight off free radical damage (which contributes to the skin's aging process).
Pair this supplement with a bakuchiol serum for ultimate results. What's bakuchiol, you ask? It's a plant that stimulates skin cell turnover, smooths fine lines and wrinkles, and improves skin tone and texture. It's also an antioxidant, meaning it can provide some protection from free-radical damage (read: smoother, fuller skin). You can think of bakuchiol as retinol's plant-based, gentler cousin. While there isn't much research on its acne-fighting properties, it has been proven to reduce the appearance of fine lines and wrinkles over time. We like the Bioassace Squalane + Phyto-Retinol Serum ($72)
The Takeaway
Making supplements part of your skincare routine can help you reach your skincare goals better than topical skincare products alone. More than one goal? Double up! Most of HUM's supplements are designed to be mixed and matched so you can get exactly what your body and skin need.
Not sure which HUM supplements to pair together? Take the HUM quiz to find out which supplements are right for you. Already a HUM subscriber? Reach out to your personal HUM dietitian for questions on pairing up supplements or adding a new product to your monthly order.
More like this