The Multi-tasking Benefits of Seaweed for Brighter, Bouncier Skin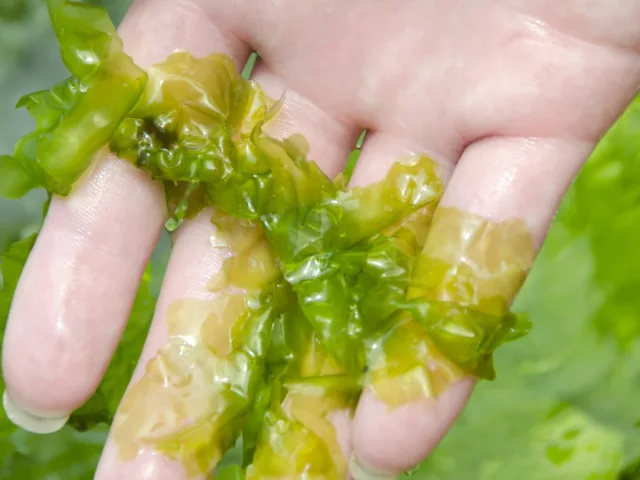 If you want a true "beach glow," there may be no better place to look than the ocean itself. Seaweed, the overarching name for all different species of marine algae, is having a major moment in the skincare world.
You're likely already familiar with the health benefits of seaweed varieties like nori, wakame, and dulse, which contain highly concentrated doses of nutrients like iodine, iron, calcium, potassium, antioxidants, and more. Just like these properties have health benefits, they also impart their perks on your skin when used topically.
"Seaweed is a superfood rich in vitamins, nutrients, and minerals," says Brooke Babcock, an esthetician and Senior Manager of Education at OSEA. "Most seaweed varieties offer unique benefits."
Learn more about the benefits of seaweed for skin, how to bring it into your skincare routine, and some of our favorite seaweed-containing products to try.
What is seaweed skincare?
You may be able to find a real seaweed wrap (read: long strips of actual seaweed!) on the menu at some spas, but you can get the benefits of seaweed for skin at home with products infused with seaweed.
"We infuse our seaweeds in skin-loving carrier oils such as babassu, avocado, and macadamia oils," explains Babcock. "To create our Undaria Algae Body Oil, Undaria pinnatifida algae is soaked in barrels of botanical oil for up to six months."
The power for seaweed skincare comes down to bioactive compounds found in seaweed, including phenolic compounds, polysaccharides, polyunsaturated fats, proteins, peptides, and amino acids that can be used as active ingredients, according to research.
Benefits of seaweed for skin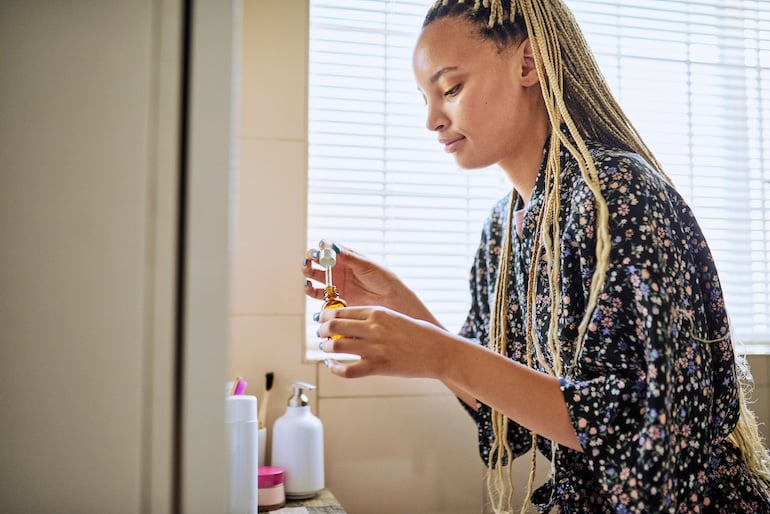 "Different species of algae can provide a myriad of benefits, including anti-aging and moisturization," explains Babcock. "For example, Undaria pinnatifida algae, which is found in several of our products, including our best-selling Undaria Algae Body Oil and Seabiotic Water Cream, is rich in amino acids, antioxidants, minerals, nutrients, and vitamins. It replenishes the skin's moisture barrier and helps keep skin looking healthy by fighting free radicals," she says. Laminaria saccharina, another type of algae found in OSEA's Anti-Aging Sea Serum, is rich in potassium, magnesium, calcium, and iron.
In general, research has found a range of benefits of seaweed for skin, including:
Anti-aging
Free radicals, which are unstable molecules that damage cells, can contribute to aging skin via oxidative stress. Our bodies become less able to fight off oxidative stress as we age, but research shows seaweed may help. One study in the Journal of Dermatological Science found that astaxanthin, an antioxidant derived from seaweed, had a protective effect on human cells against UVA radiation by reducing DNA damage. Further research also found that different marine algae compounds can play an antioxidant role.
Brown seaweed also contains a compound that studies show inhibits a type of enzyme that breaks down your body's natural hyaluronic acid. Hyaluronic acid helps skin retain moisture, but depletes with age, which can make wrinkles appear more pronounced and skin dry and less firm.
Firming
In addition to maintaining skin's plumpness through hyaluronic acid, compounds in seaweed also promote collagen production and elastin synthesis. Collagen and elastin are both proteins responsible for the structure of your skin.
Hydrating
Polysaccharides found in seaweed can be particularly beneficial for moisturizing skin and helping to lock in moisture. In one study, polysaccharides from the seaweed Saccharina japonica were found to be even more effective at moisturizing than hyaluronic acid. Another study discovered an extract of Laminaria japonica improved skin moisture in study participants by forming a protective barrier to prevent moisture loss.
Brightening
Several species of seaweed may inhibit an enzyme involved in the creation of melanin, the pigment that gives skin color, research shows. This means seaweed can be an all-star ingredient if you're looking to even out your skin tone or for a naturally brighter complexion free from dark spots, sun spots, and hyperpigmentation,
Reduces acne and oil
Certain species of seaweed have antimicrobial properties that may fight acne-causing bacteria, shows research. Compounds from the brown seaweed Laminaria digitata were even discovered to reduce sebum production, meaning less greasy skin and a lower likelihood of acne.
How to incorporate seaweed skincare in your routine
Ready to try seaweed skincare for yourself? You're in luck: "Seaweed pairs well with so many powerhouse ingredients, including vitamin C, niacinamide, peptides, ceramides, and hyaluronic acid," says Babcock, so you can find seaweed in a range of products, from cleansers and moisturizers to serums and oils. It's also well suited for most skin types, so anyone can benefit.
"I always recommend focusing on keeping your skin hydrated and using products that support your skin's moisture barrier," recommends Babcock. "Without these fundamentals, active ingredients that target concerns like brightening or anti-aging won't work as well."
Start small with one hero product that protects your skin barrier, like a gentle hydrating cleanser, or go big and overhaul your routine.
Aside from products clearly labeled as containing seaweed, look for terms like "marine algae," and "sea algae."
Our favorite seaweed skincare products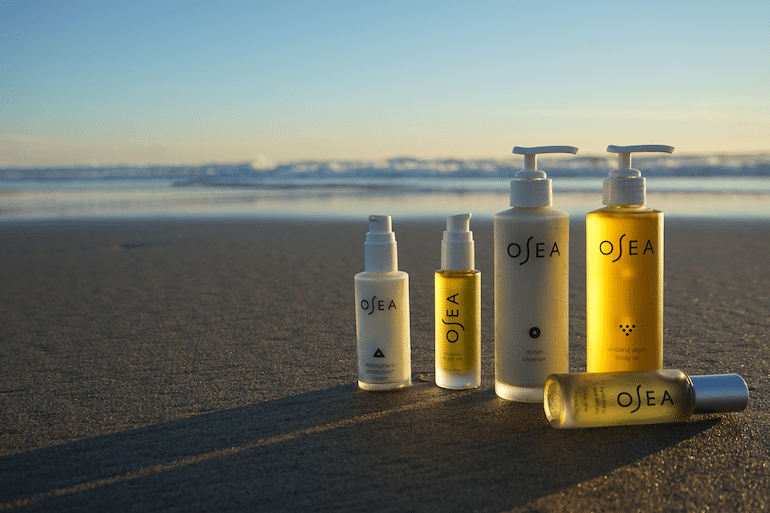 OSEA Hyaluronic Sea Serum, $88
This all-skin-types serum is oil-free and super moisturizing. It packs in extracts from three different types of seaweed and contains three different molecular weights of hyaluronic acid, designed to hydrate every layer of the skin.
OSEA Seabiotic Water Cream, $48
If you love lightweight formulas, this one's for you. Featuring nutrient-rich Undaria Seaweed, this weightless water cream provides 72 plus hours of deep hydration with a nongreasy finish. It also contains a prebiotic, which is good for the skin microbiome.
OSEA Undaria Algae Body Oil, $48
Seaweed skincare doesn't just have to be for your face. This body oil uses seven botanical oils, including açai, babassu, and passion fruit to hydrate even the driest skin leaving it silky-smooth.  Work this into your post-shower routine for soft, glowing skin all over.
More like this