8 Steps to Help Heal Sunburn Fast—And What to Skip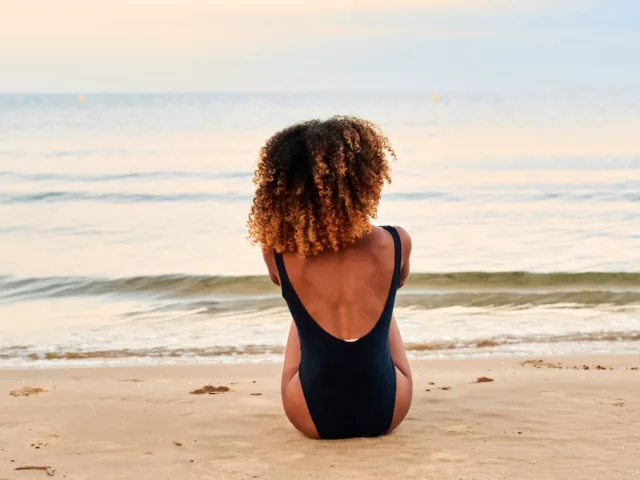 Spent a little too much time in the sun? Sunburn happens, but there are ways to heal it quickly. We spoke to a board-certified dermatologist to find out how to get rid of sunburn fast so you can keep soaking up the sun.
Well, it happened—whether you had a beach day, went to a pool party, enjoyed a hike, or simply just spent too much time outside with too little sun protection, you ended up with sunburn. And while we know it's important to wear SPF—as it can prevent damaging sun exposure which can put us at risk for skin cancer—it's easy to forget re-apply when you're enjoying yourself. If you notice your skin is pink or red after some time outside, you're dealing with sunburn. It's a pain (literally), but there are ways to heal it quickly.
We spoke to a dermatologist to find out how to get rid of sunburn fast (and included a list of the best things for sunburn) so you can get back outside and enjoy the warm weather.
What Is Sunburn?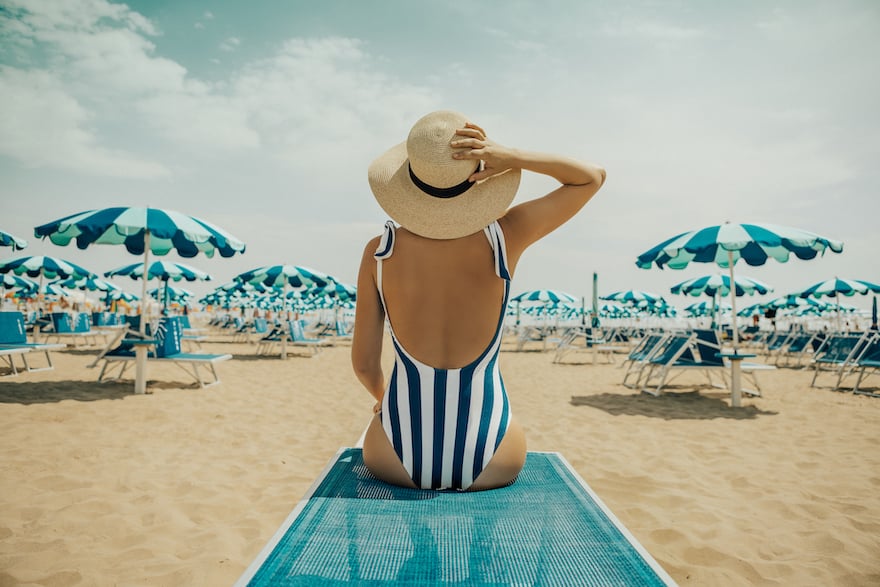 You know what sunburn feels like and looks like, but what is sunburn, exactly? Sunburn is an inflammatory response that happens when our skin is exposed to UV rays for a prolonged amount of time without any protection. "The skin cells become red, swollen, hot, and painful to touch," explains Dr. Anar Mikailov, MD, FAAD, board-certified dermatologist and founder of KP Away. "It can even blister, but do not pop the blisters, they are filled with fluids that help heal the skin."
How Long Do Sunburns Last?
There's not a concrete answer for how long it takes for sunburn to heal, unfortunately. It depends on the severity of the burn. Light or moderate sunburn can take anywhere from three to seven days to heal completely. However, blistering or peeling skin can take up to two weeks to fully recover. During this time, it's essential to keep your skin covered and out of the sun to prevent any further damage or blistering.
How to Get Rid of Sunburn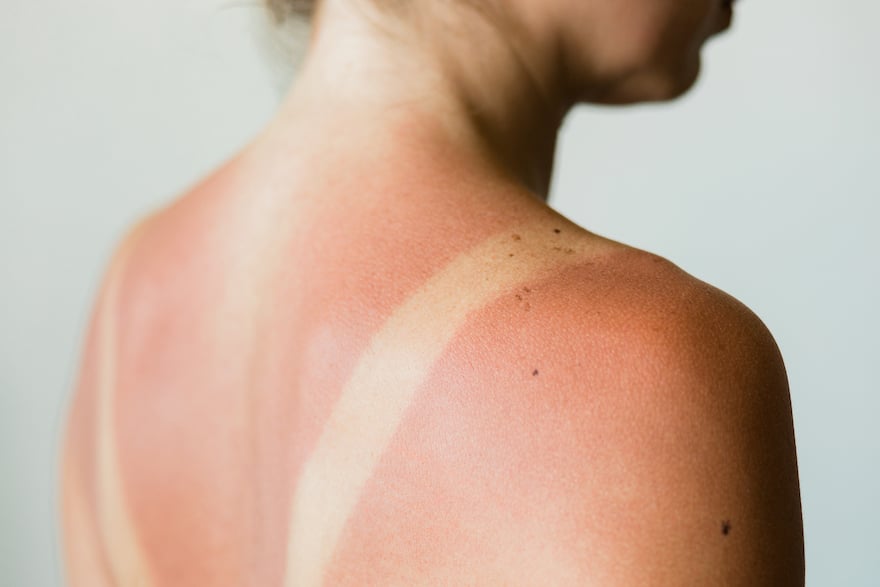 Once again, it's important to note that the treatment for sunburn depends on the severity of the burn. "If you have blisters involving over 25 percent of your body, then you should see a doctor," Dr. Mikailov says. "If you develop significant pain, that's another reason to see a doctor." But if you're wondering what helps sunburn, here are a few things Dr. Mikailov recommends.
Take an Anti-Inflammatory
Since sunburn is an inflammatory response your body has to sun exposure, one of the best things you can do is take an anti-inflammatory (like ibuprofen) to reduce said inflammation. You can also incorporate other anti-inflammatory habits into your routine while you recover, such as getting enough sleep, moving your body daily, and eating whole foods such as vegetables, fiber-rich whole grains, and plant-based proteins.
Bathe in Cool Water
Have you ever noticed that your sunburn still feels hot even long after you've left the sun? Taking down the temperature on your shower offers instant sunburn relief and can accelerate healing. "Cool the skin with a cool bath or shower to reduce the heat in the skin," Dr. Mikailov suggests. Avoid hot showers, as they can cause more irritation in the moment and can dry out your skin even more (which can exacerbate post-sunburn peeling or blistering). Taking a few cool showers can help bring down the color of the sun damage quickly to get rid of sunburn redness overnight
Try Slugging
If you've been on TikTok, you've likely heard of slugging. It's a Korean beauty protective skincare practice that involves sealing in all of your skincare with a heavy occlusive (a moisturizing product that forms a protective barrier to prevent moisture loss). While slugging your face and hair slugging have become more popular, you can also try the practice on your body. "After the heat is drawn out of the skin [from your cool shower], in areas of significant burn 'slugging' with a thick layer of vaseline or coconut oil will help the skin heal," Dr. Mikailov says. For itchy sunburn, he recommends slugging with aloe vera and similar cooling or menthol gels.
Pro tip: This is especially effective if you're dealing with sunburned lips. Try adding a coat of vaseline onto your pout before you sleep for best results.
Use Thick Creams or Emollients
We've all been there: Not only is your skin red, hot, and tender to the touch, it's also covered in white flakes. To get rid of peeling skin from sunburn, a thick cream can help. "As your skin peels, switch to thick emollients or creams with plant-based oils to restore your body's natural oil," Dr. Mikailov says. "[These products] can help repair your lipid barrier and speed up healing."
Here's what Dr. Mikailov says to put on sunburn:
KP Away Lipid Repair Emollient: "This is the only cream on the market that has organic coconut oil that actually absorbs," he says. "It was designed for the most sensitive skin to regenerate our natural skin oil and skin barrier. Coconut oil is a super ingredient that is naturally antimicrobial." That means it may be helpful against preventing infections, which can result in severe cases of sunburn.
Badger Aloe Vera Gel: "I always look for minimum ingredients," Dr. Mikailov says. "This one has very few ingredients and comes in 50 percent-recycled packaging."
Burt's Bees After Sun Soother: "In addition to aloe vera and coconut oil, it has anti-inflammatory ingredients like bisabolol and honey."
What about the old wive's tale about shaving cream for sunburn? There's no evidence to show that using this product will help. However, some shaving creams contain hydrating ingredients that may help symptoms somewhat. Still, you're better off using a thick cream that's dermatologist-approved. Same goes for the trend of using vinegar for sunburn. The harsh ingredient will only cause pain upon application and will dry out your skin, causing more irritation.
Avoid Exfoliation
Speaking of those annoying white flakes, you may be tempted to slough them off with an exfoliant. But Mikailov says any kind of exfoliation (physical and chemical) should be avoided, as it will only cause more irritation. Instead, keep applying heavy creams until the flaking and redness subside. (And yes, that also means you should avoid peeling sunburn.)
Steer Clear of Harsh Products
As a general skincare rule, it's best to avoid extremely harsh products (or use them sparingly). However, when you're dealing with sunburn it's especially important to do so. If you're using tretinoin or retinol, it's best to discontinue use until your skin is fully healed. Dr. Mikailov also suggests avoiding products with dye and fragrance, as these ingredients can be irritating.
"Mint and witch hazel should also be avoided, as they can potentially irritate sun-damaged skin," he says. "Neosporin should be avoided—it is the number one cause of allergic contact dermatitis in North America."
Drink Extra Water
We all know it's important to stay hydrated. But it's especially important if you're dealing with sun damage. Sunburn draws fluid to the skin's surface and away from the rest of the body, according to the American Academy of Dermatology (AAD). Drinking extra water when you are sunburned will help prevent dehydration.
Combat UV Damage with Supplements
No matter how careful you are with sunscreen, sun damage can happen to anyone. Adding a supplement like HUM Nutrition's Turn Back Time can help combat signs of UV damage and help shield your skin from additional sun damage. It contains polypodium leucotomos to protect your skin from the effects of sun exposure, alpha lipoic acid (ALA) to protect against skin-damaging oxidative stress, and vitamin C to help boost skin cell protection and collagen production.
How to Prevent Sunburn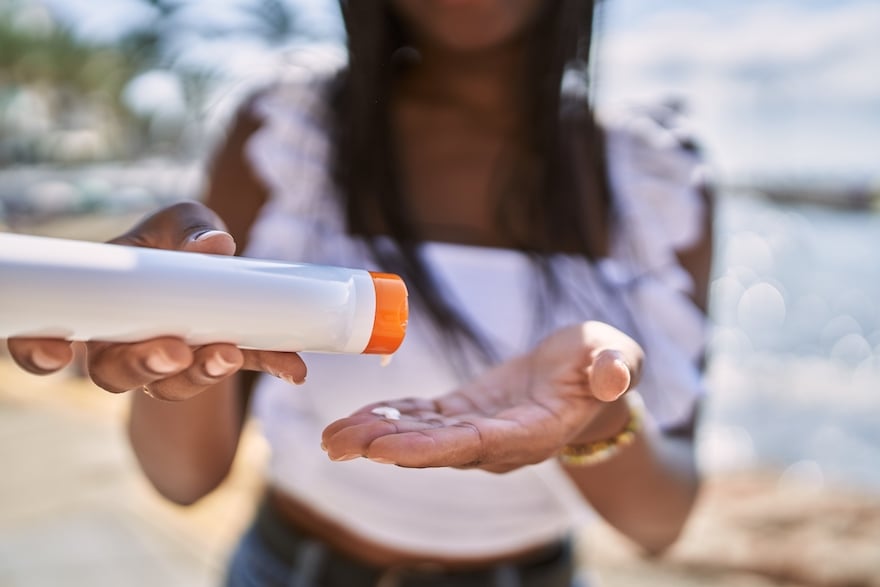 While there are several sunburn treatments, the best thing you can do is prevent it from happening altogether. Experiencing five or more blistering sunburns between ages 15 and 20 increases one's melanoma risk by 80 percent and nonmelanoma skin cancer risk by 68 percent, according to the AAD.
Word to the wise: Getting a "base tan" at a local tanning bed won't protect you from getting sunburn—and it will only increase your chances of getting skin cancer later in life, according to the AAD. "No one needs a 'base tan' to avoid a sunburn—the best way to avoid a sunburn is to use the proper sun protection," Dr. Mikailov says. "For those with red hair and quick-to-burn skin types, you must be much more rigorous than those who tan easily."
Another myth Dr. Mikailov wants to bust? Patients with darker skin don't experience sunburn because their skin naturally contains melanin. "Darker skin can burn as well, but it may not be as easily noticeable compared to lighter skin," he says. Regardless of your skin tone, "Everyone should wear SPF."
The best approaches to avoiding sunburn include:
Minimize exposure during the highest UV index hours which are 10 a.m. to 2 p.m.
Wear UPF clothing. "UPF fabric is significantly superior to non-UPF fabric," Dr. Mikailov says. "A standard white cotton polo shirt will provide a protection factor of about eight to 10 SPF, whereas the specialized fabrics will have an SPF of 50 or greater." He recommends brands like Coolibar and Mott50.
Wear UPF hats to protect the delicate skin on your face from UV damage.
Apply appropriate sunscreen regularly. Look for broad-spectrum SPF with at least an SPF of 30. If you're going to be in the sun for an extended amount of time (or you're going to be underwater or sweating), make sure you reapply every two hours.
More like this