Chlorella vs. Spirulina: What Are Their Benefits & Which Is Better?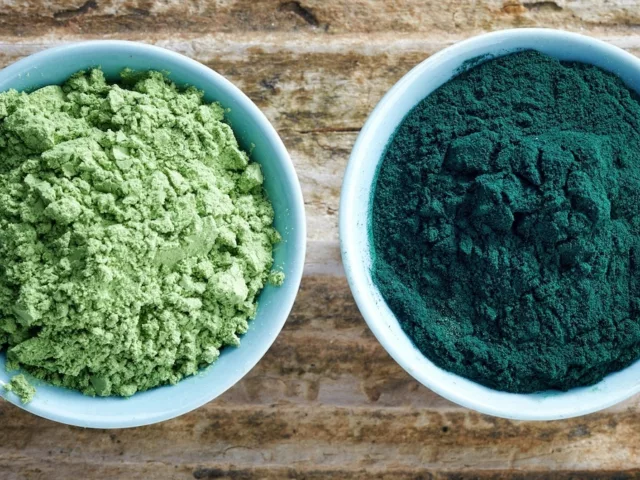 Chelsey Amer, MS, RDN, CDN, illuminates the key differences between chlorella vs. spirulina, as well as their mutual benefits.
If you've ever spotted someone sipping on a deep-green juice or smoothie, chances are it contains the powdered form of algae, like chlorella or spirulina.
Chlorella and spirulina are dark green powders with exploding popularity in the supplement scene. These green algae are rich in nutrients and claim many benefits, such as supporting detoxification, helping to clear skin, and fighting free radicals.
But what's the difference between chlorella and spirulina? Also, which is better—or should you take both?
Let's explore the differences between and benefits of these green algae.
Chlorella vs. Spirulina: What's the difference?
For starters, chlorella is a freshwater green alga while spirulina is a saltwater blue-green alga. You can take both of these green superfoods in capsule or powder form. (In fact, research shows that the protein in algae actually becomes easier for your body to process when it's in a dried form.)
Chlorella and spirulina actually share many benefits, but there are a few key differentiators between the two that make them complementary to each other.
Vitamin and Mineral Content
To begin, spirulina contains significantly more copper (85% DV per ounce).
However, chlorella is higher in:
vitamin A (287% DV per ounce)
iron (202% DV per ounce)
magnesium (22% DV per ounce)
phosphorus (25% DV per ounce)
zinc (133% DV per ounce)
Omega Fatty Acid Content
Chlorella contains more omega-3 fatty acids. (Although spirulina contains omega-3 fatty acids too, it contains more omega-6 fatty acids. Most Americans eat enough omega-6s, but unfortunately not enough omega-3s.)
Omega-3 fatty acids are essential for the health of your entire body. They have well-studied benefits, yet those of note include the ability to help: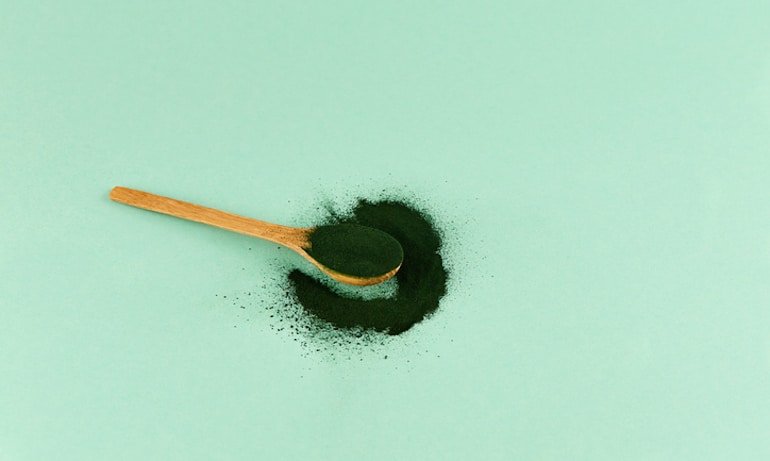 How are they similar?
Since both chlorella and spirulina are types of algae, they also share a lot of nutritional properties. Here's a quick primer on their many overlapping nutrients.
For instance, chlorella and spirulina contain about the same amount of:
carbohydrates (7 grams per ounce)
protein (16 grams per ounce)
folate (7% DV)
Next, chlorella and spirulina are high in several micronutrients, including:
riboflavin (vitamin B2)
thiamine (vitamin B1)
iron
Additionally, as outlined above, both types of algae are rich in heart-healthy polyunsaturated fatty acids.
Benefits of Chlorella and Spirulina
Now, for the best part: the mutual benefits of chlorella and spirulina.
They're High-Quality Sources of Protein
Both chlorella and spirulina are complete proteins. This means that they contain all essential amino acids (aka the building blocks of protein).
In fact, just one ounce of these supplemental powders contains approximately 16 grams of protein.
Protein is an incredibly important macronutrient for several reasons, including its ability to help:
build + maintain muscle
aid the immune system
support the development + repair of many parts of the body
If you follow a vegetarian or plant-based diet—or otherwise struggle to get enough protein—supplementing with these green superfoods is a good way to inch closer to your daily protein needs.
They're Rich in Antioxidants
The gorgeous blue-green color of chlorella and spirulina is indicative of their antioxidant-rich profiles. As we've discussed before, the color of fruits and vegetables often indicates their antioxidant, vitamin, and nutrient contributions.
Antioxidants help fight free radicals to protect against oxidative damage in the body. Unfortunately, if they're left unchecked, free radicals can lead to inflammation and greater health risks. For this reason, an antioxidant-rich diet is beneficial for many aspects of health.
Chlorella is rich in chlorophyll, which provides its green color. Chlorella also contains popular antioxidants, including:
vitamin C
lycopene
lutein
beta-carotene
Spirulina is rich in phycocyanin, an antioxidant that provides its potent blue-green color. Phycocyanin has anti-inflammatory, liver-protecting, and immune-enhancing properties as well.
They're Powerful Detoxifiers
Chlorella and spirulina can also act as natural detoxification agents. (This benefit is largely on account of their antioxidant content.)
That's why you can find them in the best supplements for clear skin, as well as other types of products formulated to remove impurities from the body.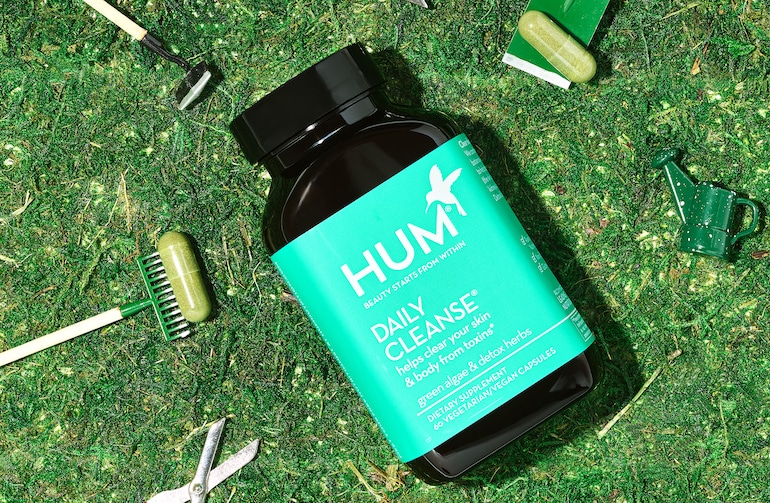 The Bottom Line
The chlorella vs. spirulina battle is really anything but. Since these functional superfoods are packed with a variety of nutrients, they both support health and wellness from multiple angles.
When it comes to which one is truly "best," it's a close race. However, if your diet lacks omega-3 fatty acids, chlorella may be better for your own unique needs. Yet again, both algae are similar nutritionally.
However, they complement each other well and you don't necessarily have to choose one over the other. In fact, HUM's Daily Cleanse contains chlorella and spirulina to support the body's natural detoxification processes and help clear your skin from the inside out.
Mentioned in this article
More like this