Spirulina Benefits That'll Make You Want to Go Green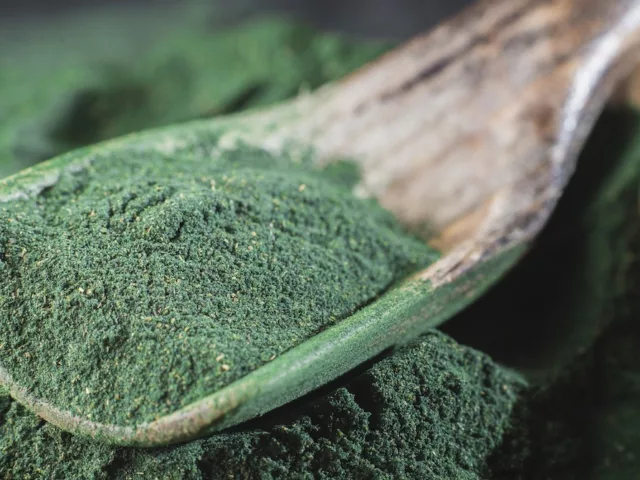 Although spirulina may be a new superfood for many, it actually dates back to the 9th century. Recently, it's gained popularity as spirulina benefits come to light. Here's a primer on spirulina nutrition facts, beauty and health benefits, plus easy recipes to incorporate this blue-green alga into your diet.
Spirulina Nutrition
Spirulina's robust nutritional profile makes the plant a top
green superfood
. Among other nutrients, it contains a wealth of protein,
healthy fats
, amino acids, antioxidants, chlorophyll, iron, copper, and vitamins A, D, K, and E. It's also packed with
omega-3 fatty acids
(linolenic acid), which are
proven
to help support eye, brain, and heart health. If you follow a plant-based or
vegetarian diet
, you might have fewer sources of protein to choose from. Adding spirulina is a great way to boost the protein content of some of your favorite foods, with two tablespoons packing eight grams of protein. In fact, spirulina is considered a complete
protein
since it contains all nine essential amino acids. These algae also contain B12, a vitamin that many plant-based diets lack. However, the Academy of Nutrition and Dietetics
doesn't recommend
relying on spirulina as a good source of vitamin B12. Edible algae like spirulina contain a special type of B12 known as a pseudovitamin, or an inactive form of vitamin B12, which isn't adequately beneficial for humans. Instead, it's recommended to get vitamin B12 through fortified foods and
supplements
.
Beauty & Health Benefits of Spirulina
Spirulina boasts a powerful blend of bioactive properties. Here are a few of the many benefits of spirulina:
Skin & Body Health
Spirulina is packed with
GLA
, an essential fatty acid that can help you look and feel better. In terms of beauty,
research
suggests that GLA can help promote firmer, more hydrated skin. Other studies show that GLA can also help with
PMS relief
and
weight loss
.
Energy
Adding spirulina to your breakfast may be better than a relying on a cup of joe for energy. A
2011 study
suggests that GLA—along with other polysaccharides found in spirulina, like rhamnose and glycogen—aids
natural energy
release due to their high absorbability in humans. The same study also suggests that spirulina can promote slow-release energy by supporting gut health. When ingested, spirulina supports the growth of lactobacillus, a beneficial bacterium that promotes the production of the energizing B6 vitamin.
Anti-Inflammatory, Antioxidant, & ANTI-AGING Benefits
According to a
2010 study
, this microalgae provides anti-inflammatory and antioxidant benefits. Eating an anti-inflammatory, superfood-rich diet can help improve your overall health. Bonus: Antioxidant benefits extend to skincare as well! In fact, many anti-aging serums are packed with antioxidants similar to those found in spirulina. Antioxidants help defend skin from common signs of aging and environmental stressors, such as
free radicals
.
Oral Health & Body odor
Chlorophyll—the phytonutrient pigment that provides spirulina with those perfect blue and green hues—does more than just support food bloggers' color aesthetics. Some
research
suggests that ingesting this ingredient can help improve bad breath and
body odor
.
Detoxification
In addition to giving oral health a boost, chlorophyll also supports detoxification. According to a
2015 double-blind study
, this pigment can help flush out heavy metals and other harmful pollutants from the body. Though other health claims for spirulina include allergy relief and anti-viral properties, the National Institute for Health doesn't support them due to
limited and inconclusive research
.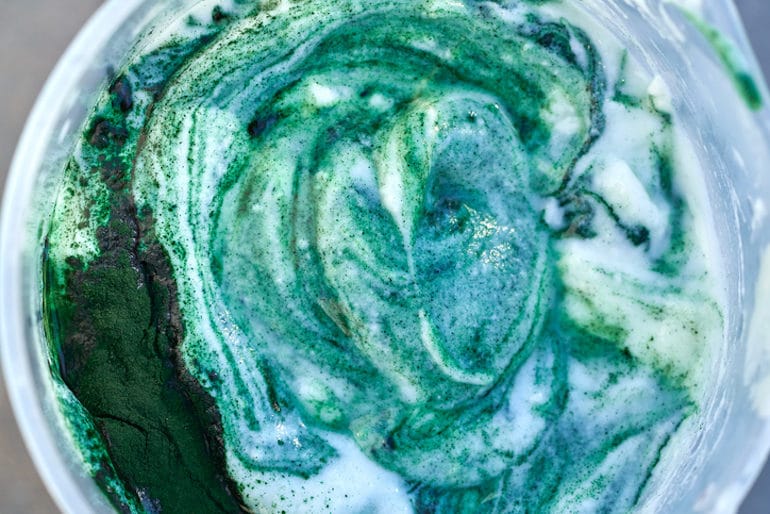 How to Take Spirulina
Spirulina is most popular in powder form, making it the perfect boost for a smoothie. Otherwise, you can find it in
capsules
, chewable tablets, flakes, and natural food dye. Generally speaking, one-to-eight grams of spirulina per day is a healthy range. As always, you'll benefit most by
eating the rainbow
and diversifying your diet with colorful whole foods. Here are a few creative ways to reap the health benefits of spirulina at each meal:
Breakfast: Spirulina Toast
Sprinkle spirulina powder onto one tablespoon of cream cheese (or a plant-based alternative). On whole-wheat or
gluten-free
toast, spread the spirulina-dusted cream cheese. For added flavor, add a pinch of
Trader Joe's
Everything but the Bagel seasoning!
Lunch: Ocean Smoothie
In a blender, combine two tablespoons of blue spirulina powder, a half-cup of your favorite milk, and one frozen banana. Process until smooth. Sprinkle the smoothie with granola, coconut flakes, or dark chocolate bits.
Dinner: Pesto à la Spirulina
In a bowl, mix equal parts spirulina and olive oil. Season the faux pesto sauce with salt, pepper, garlic powder, and your favorite herbs to taste. (I recommend cilantro and basil for authentic flavor.) Add olive oil as needed to achieve pesto-like consistency and add the sauce to your noodles of choice. Tip: Spirulina can stain your teeth green. Keep some water handy to rinse in your mouth or brush your teeth immediately after!
More like this