HUM's newest addition to the beauty supplement line will reinvent your afternoon routine. Meet Raw Beauty, our new green superfood powder.
Meet Raw Beauty, Green Superfood Powder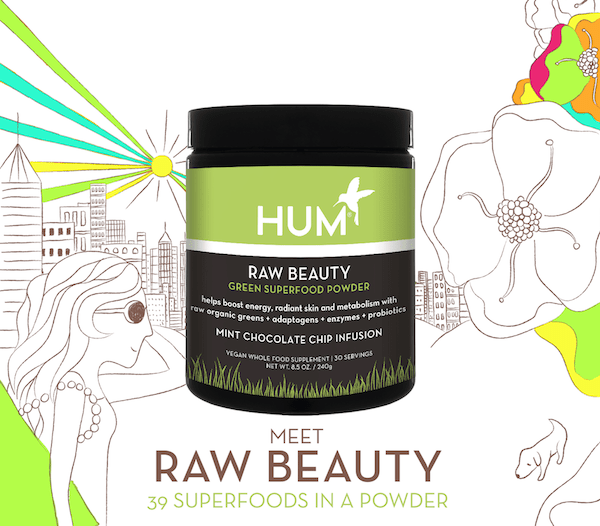 Raw Beauty was inspired by a HUM survey of 10,000 consumers that found the majority of women reaches an energy & productivity low by 2:55pm. We found popular solutions to fight fatigue often include unhealthy choices that tire you out in the long run and punish your skin and waistline, such as Red Bull, caffeinated drinks or sugary snacks.
Raw Beauty is here to change that. This ultimate beauty boost with skin-nourishing benefits is packed into a single scoop of trending ingredients in 2016 known for their widespread health & beauty benefits. The green superfood powder contains a proprietary blend including daily fruits, veggies, greens, adaptogenic herbs, digestive enzymes and 3.5 billion probiotics.
The best part? Mint, cocoa and low-glycemic index coconut sugar deliver a delicious tasting green superfood with only 25 calories – think mint chocolate chip ice cream without the guilt.
The Raw Beauty Story
Raw Beauty was inspired by the desire to solve the afternoon energy slump and the subsequent sugary snacks and unhealthy choices that tend to follow. However, to develop a powder for our line of beauty supplements in capsule form, we were entering uncharted territory. HUM founder Walter Faulstroh shares the story of how Raw Beauty was born and how it evolved into the Ultimate Beauty Snack.

A Snacking Problem
To begin, we asked 10,000 of our consumers about one major challenge they all seemed to struggle with when it came to looking and feeling their best: snacking. We discovered that by 2:55, most were reaching their energy and productivity low and as a result, opting for unhealthy snacks that were more convenient (and delicious) than their healthy alternatives.
We wanted to change that. We believe strongly that rather than telling our consumers what not to do, we should offer a viable alternative. So the journey began with one simple question: how can we make a super healthy snack that not only lifts your energy, but also benefits your beauty? Given our team of leading nutritionists and world class researchers, we looked at the latest research to narrow down our list of superfoods.
The Ingredients
Out of 100 superfoods, we ended up selecting 39 that had the most extensive research support (many of which can be found on this list of trending ingredients for 2016.) This includes a combination of green superfoods, anti-oxidant rich fruits, vegetables and plants like Moringa, stress-busting and energizing adaptogens like Rhodiola, probiotics, digestive enzymes and soluble and non-soluble fibre.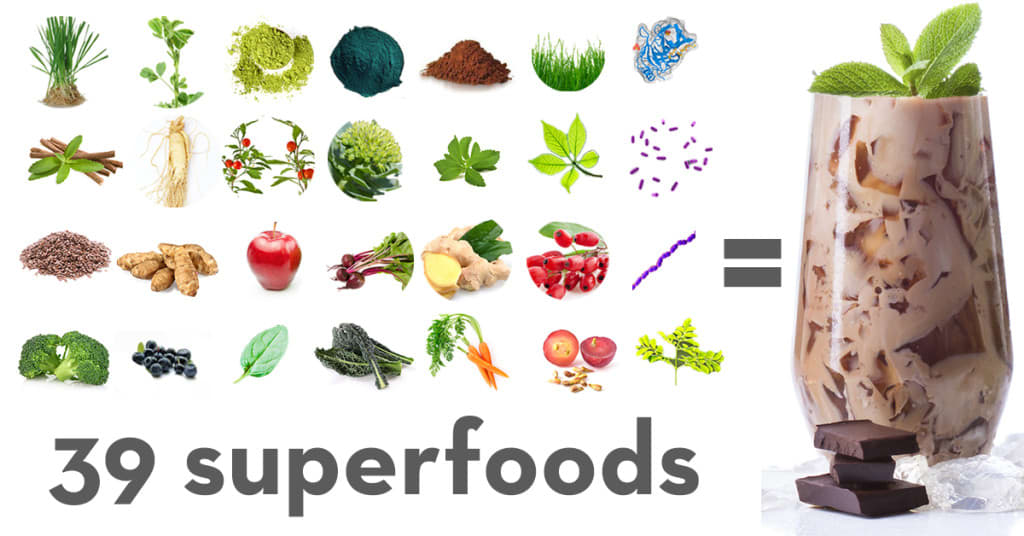 Raw Organic Green Superfoods
Organic Chlorella, Organic Spirulina, Wheat Grass, Barley Juice and Alfalfa Grass Juice help nourish and cleanse from the inside out. These organic greens are rich in minerals and nutrients that alkalize the body and detoxify the blood, liver and digestive system.
Adaptogens
Raw Beauty combines a unique blend of the herbs Licorice, American Ginseng, Ashwagandha Root, Eleuthera, Rhodiola Rosea, and Astragalus. These adaptogenic herbs help protect against environmental stress factors and strengthen our body's response to stress in order to help keep you calm while also supporting radiant skin.
Fiber
This fiber blend includes both soluble and insoluble fiber from Organic Flax Seed Powder, Inulin, and Apple Pectin. The fiber blend helps to normalize and maintain bowel health, lower cholesterol levels and help you feel fuller longer.
Fruits & Vegetables
Raw Beauty helps you meet your daily recommended serving of fruits and vegetables. It is packed with Organic Broccoli, Organic Blueberries, Spinach, Organic Kale, Organic Carrots, Beet Root, and Ginger Root. The colorful blend of essential nutrients from these fruits & veggies is loaded with vitamins and minerals for overall health and wellbeing.
Antioxidant Beauty Blend
Meet our skin-nourishing beauty blend: Alkalized Cocoa, Organic Acai, Organic Goji, Moringa, Grape Seed and Matcha Green Tea. Rich in antioxidants, this blend helps slow the aging process, boost immunity, relieve stress and reduce inflammation to leave your skin softer, hydrated and more radiant.
Digestive Enzyme Blend
Raw Beauty blends digestive enzymes that break down different nutrients. Hemicellulase, Amylase, Protease 4.5, Xylanase, Cellulase AN, Protease 6.0, Lipase, Pectinase and Glucoamylase are each optimized to breakdown distinct nutrients including protein, carbs, fat, fiber and milk sugar. They help your body absorb vital nutrients and breakdown foods to reduce bloating and support a healthy weight.
3.5 Billion Probiotic Blend
This probiotic blend includes the strains Lactobacillus Rhamnosus, Bifidobacterium Bifido and Acidophilus. 3.5 billion healthy bacteria balance the digestive ecosystem to help regulate digestion, remove toxins and support clear healthy skin.
 A Tasty Test
After narrowing our superfoods down, one key challenge remained. Since the goal was to design an alternative to the sugary & unhealthy snacks that bring us momentary happiness, we had to find a way to make our green powder taste like a treat. We found that most green powders on the market delivered a healthy taste almost like a fish tank, thanks largely to the great wellness benefits of algae like chlorella and spirulina also in our formula.
Given our researchers' expertise in cocoa which is rich in antioxidants, we gave our powder a chocolatey boost. The result was a taste-test success, but we still thought there was something missing. For a refreshing final touch we added some mint, great for digestion, and knew we had found our flavor. In order to keep the product all natural, we opted for a combination of Organic Coconut Sugar and Organic Stevia, the total serving only 2 grams of sugar and just 25 calories. We knew we had the formula down when our consumer tests confirmed that 97% loved the refreshing mint chocolate chip taste.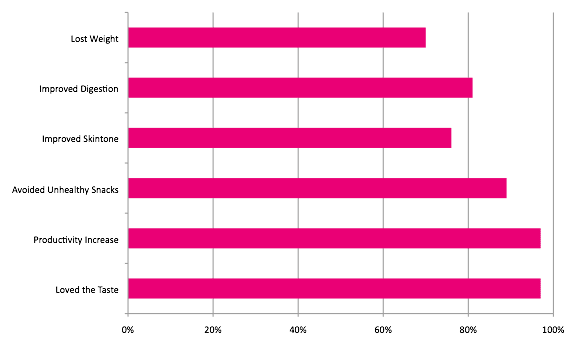 These tests also found that 97% of consumers reported an increase in productivity, 89% avoided unhealthy snacks, 76% saw an improved skin tone after one month, 81% reported improved digestion and 70% lost weight by replacing their unhealthy snacking with Raw Beauty.
Finding the right name
During this process, we also had to find the right name to explain our energizing beauty product. Just as the formula evolved over the year, so did what we called it in a fun game of Change the Name. Initially we planned to call our new powder Green is the New Black, given the richness of green superfoods and for a fun play on pop culture. However, when we added the chocolate, the powder was more brown than green and we were forced back to the drawing board. The next name that gained office-wide momentum was Glamergy (a combination of Glam + Energy) but it was decided the name did not do all the supportive research justice. Then, just a few weeks prior to production Athena, HUM's head of education, was describing all the beauty benefits that came with our green superfood formula when the name Raw Beauty was happily decided, in accordance with the natural, beauty-from-within results.
In the very final stage, we tested Raw Beauty in all sorts of drinks to find just the right balance. We tried it in water, juice, milk and almond milk, protein shake and green smoothies, and other than avoiding citrus juices like orange juice, each new combination was even more delicious than the last. That is why we want to see and giveaway prizes for your most DELICIOUS creations!
SHARE your recipes + WIN the ultimate beauty snack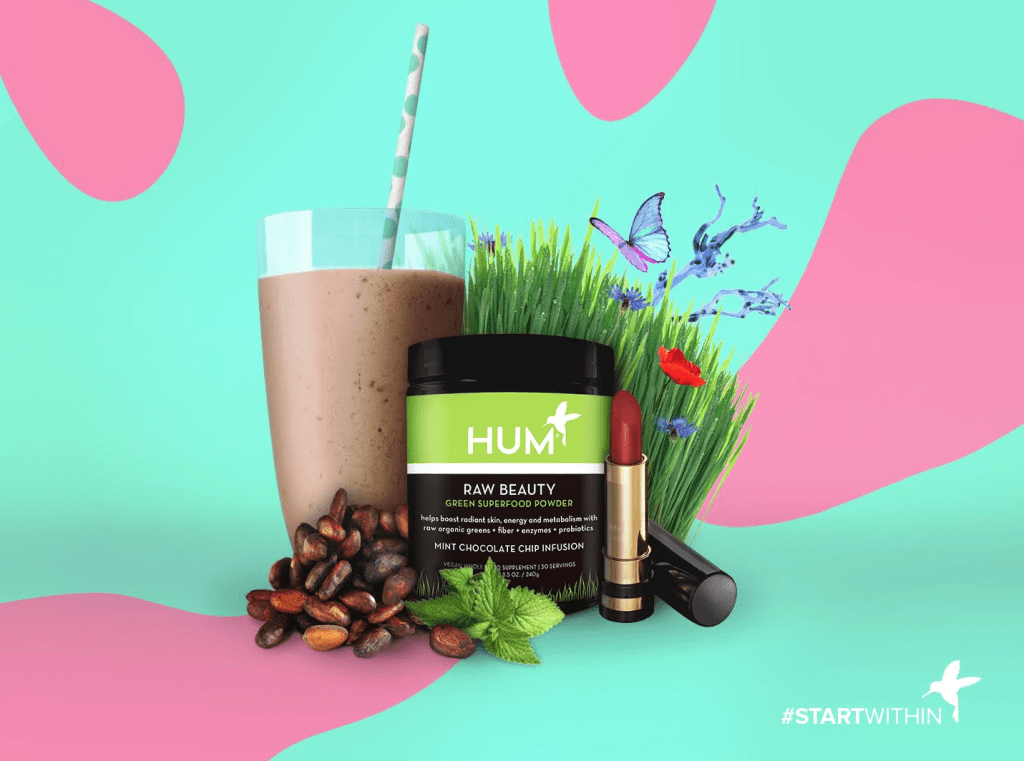 Raw Beauty was designed to start your morning off with a kick or to give you the energy boost you need in the afternoon. Simply mix 1 scoop into 8 oz of water, milk, your favorite smoothie or non-citrus juice. Mix or shake until the powder is dissolved, and help yourself to a glass of Raw Beauty!
Although the mint chocolate chip infusion tastes amazing simply mixed with water when you are on-the-go, there a countless ways to mix it up so you never get bored. We want to see and share the most creative & delicious of your Raw Beauty concoctions. Snap a picture showing us your favorite Raw Beauty recipe and how it fits into your 2:55pm energizing routine. Tag us @humnutrition #startwithin and each month one winner will be randomly selected for their recipe + routine to be featured along with winning a 1 month supply of Raw Beauty, our new green superfood powder for an Ultimate Beauty Snack!
---
Order Raw Beauty here.