5 Moringa Benefits for Health and Skin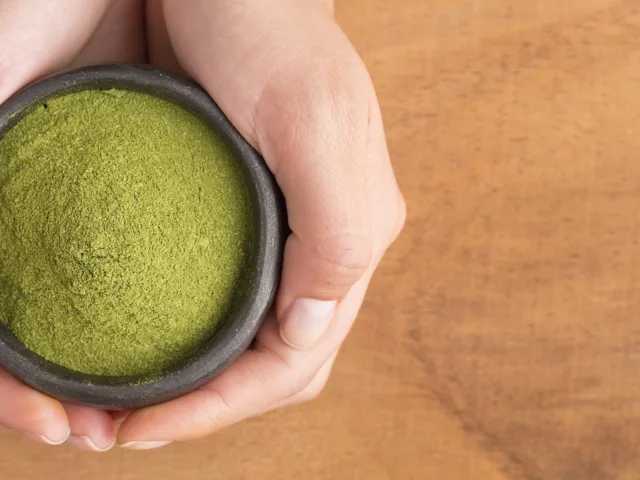 In the land of health and beauty, moringa—aka Miracle Tree and Drumstick Tree—is nothing short of royalty. Coveted for its transformative effects on the body, both internal and external, moringa is a must-have for wellness enthusiasts everywhere. Keep reading to learn more about this powerful green superfood and the many moringa benefits.
What is moringa?
Moringa oleifera is a deciduous tree native to tropical regions of Asia—specifically the foothills of the Himalayas. It's also considered an introduced, naturalized species in Africa and the tropics of the Americas. The moringa tree is draught-tolerant, sturdy, and resilient. Excluding the root, when prepared properly, its flowers, pods, leaves, and twigs are all edible. While moringa boasts an array of beauty benefits, perhaps its most notable achievement is its incredible nutritional value, which is capable of combating vitamin deficiencies and malnutrition.
5 Moringa Benefits
1. Nutrient Density
Moringa's nutritional components are almost too plentiful to name—but we'll try. Moringa is high in calcium, iron, magnesium, and potassium, carotenoids, and vitamins A, B, and C. Next, it's abundant in polyunsaturated fatty acids, oleic acid, and palmitoleic acid, and is high in protein and carbohydrates. Given its hefty nutritional profile, moringa olifeira can be a vital ally in reversing nutrient, mineral, and vitamin deficiencies.
Perhaps most amazing is its
ability to fight malnutrition
. Since it happens to grow in areas where malnutrition is widespread, moringa is an optimal plant to nourish people across the globe. Furthermore, since the tree can survive in areas with extreme draught, it provides a reliable source of food when other natural resources are scarce. All said, moringa is as accessible as it is effective.
2. Protective Properties
Finally, the green superfood is also an analgesic (pain reliever), fever reducer, and gut protector. It is also worth mentioning that this list of benefits doesn't even begin to cover moringa's countless medicinal uses. Its reach is as vast and varied as the many constituents it contains. Of all the impressive qualities this tree possesses, it's hard to find another that more adequately displays the wondrous power of plants.
3. Skin Hydration
Moringa is a secret weapon when it comes to improving our physical luster and shine. Moringa fruit extract has been shown to fight free radicals. The leaves are also
high in antioxidants
, one of which is vitamin B. Vitamin B attracts water to the stratum corneum (outermost layer of the skin), thereby providing moisturizing and softening effects. These constituents are key contributors to its revitalizing and age-defying impacts on the skin.
4. Collagen Production
Further, moringa leaves are
high in phenolic compounds
that protect against pesky enzymes that break down collagen and elastin in the skin. Additionally, the leaf, pulp, and seeds of the tree increase
levels of hydroxyproline
, one of the key amino acids in protein collagen, most likely due to the tree's significant vitamin C content. So, not only does this powerhouse plant protect collagen, it helps
make more of it
!
5. Skin Repair
Taking things a step beyond general skincare, these attributes also mean that this green superfood provides prime first-aid for wound care. Among a host of other benefits, it's antimicrobial, decreases inflammation, and improves the rate of wound closure and tissue repair.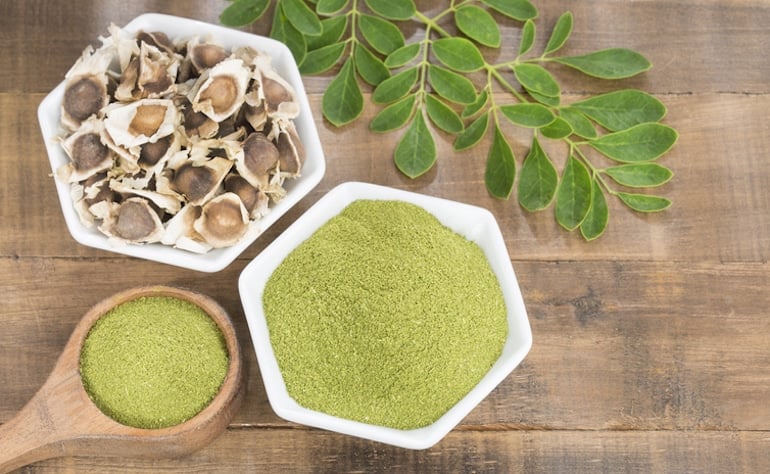 How to Find the Best Moringa Supplement
Before supplementing with moringa, you're probably curious about what it tastes like. Its palate is
comparable to matcha's
: earthy and pleasant, with very mild bitterness. But contrary to popular belief, moringa doesn't contain an ounce of caffeine. (You can thank all those nutrients it packs for its energizing effects.)
Moringa Powder
One of the most popular ways to take moringa is in powder form, which is often mixed with other herbs or plants into a blend. Typically, one scoop in water or milk is the recommended dose. To really put the *pow* in powder, you can get creative by sprinkling some into your smoothies or yogurt.
Liquid Moringa
You can also take it in tincture, acetum, or tea form. Just bear in mind that every solvent extracts different constituents. Some solvents are great for extracting minerals (like vinegar), while others are better at pulling out those phenolic compounds. You'll want to get the proper elixir best suited for your needs.
Side Effects + Considerations
Moringa is one of the safer green superfood options out there, with very few recorded side effects or contraindications. However, it's not recommended for those pregnant or breastfeeding, and hasn't yet been proven safe for infants. People who have low blood sugar, diabetes, or an
underactive thyroid
should also steer clear, as moringa may lower blood sugar.
Final Thoughts
It's plain to see how moringa olifeira has earned its lofty nicknames. It feeds, fights, fuels, and supports the body in reaching its highest potential. We invite you to
add a moringa supplement
to your beauty and health routine, and watch the miracles unfold.
More like this