Matcha Latte Recipe for Mellow Mornings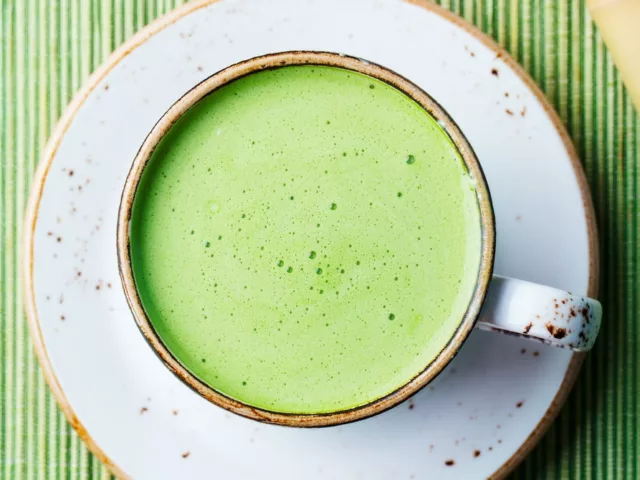 Always in a rush? Slow down and savor your mornings with this delicious matcha latte recipe, packed with beautifying antioxidants and calming adaptogens. Some mornings are all go, go, go—and for those days, we love this
supercharged coffee recipe
. But at the end of a long week, we like to slow our mornings down and caffeinate with something a little more mellow. This bulletproof matcha latte is perfect for rolling into your Friday with ease or pairing with your Sunday
self-care
routine.
Matcha 101
You've probably seen your favorite Instagram foodies pouring a big old cup of it from their Vitamix. But what is this stuff anyway? Matcha is a high-grade green tea in powdered form. Traditionally grown in Buddhist monasteries, matcha provides the monks drinking it with greater clarity and focus during
their meditations
. When you brew regular tea, many of the nutrients remain trapped in the leaves, which are eventually thrown out. With matcha, the leaves are ground into a fine powder and consumed so your body can absorb the full nutritional benefits. Matcha is less caffeinated than coffee, but it provides a longer-lasting energy boost without the sudden comedown. It's a potent source of antioxidants, boosts metabolism, detoxifies the body, and contains
L-theanine
for relaxed alertness.
Bulletproof HUM Boosts
Our recipe includes a few key players to create the ultimate zen state of mind, plus added beauty benefits. Coconut oil provides a luxuriously rich taste and also gives your body
healthy fats
for supple skin, hair, and nails. To really enhance that effect, we included
Collagen Love
, which restores your skin's elasticity. And for the mind, our
Big Chill
capsule uses superherb
rhodiola rosea
 to amplify the relaxing effects of matcha.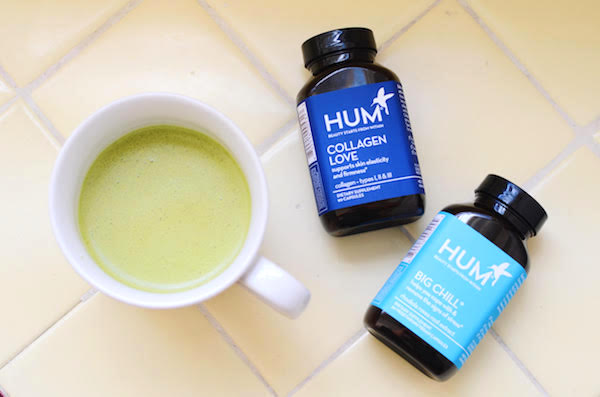 Matcha Latte Recipe for Mellow Mornings
INGREDIENTS
1/2 cup hot water
1/2 cup heated almond milk
1 tsp organic matcha powder
3 Collagen Love capsules (opened)
1 Big Chill capsule (opened)
1 tbsp coconut oil
Optional: add honey for sweetness
INSTRUCTIONS
Blend together and enjoy!
More like this