The 2017 HUM Holiday Gift Guide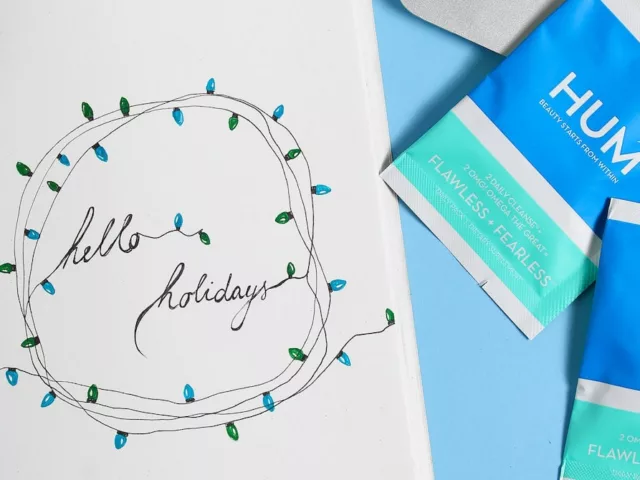 It's crunch time, folks! The gifting season is upon us and to make your life easier, we put together all of our favorite beauty and health items in this handy holiday gift guide. Whether shopping for the skincare obsessed, or your favorite party animal friend, we've got a selection of trusted wellness goods. Browse below to find stellar holiday gifts for friends! (Or better yet, share this gift guide with a boyfriend or family member who keeps gifting you socks.)
For Your Friend Who Loves To Get Sh*t Done
Raw Beauty, $39
Alkalizing greens, digestive enzymes, and adaptogens in one low-calorie scoop will make for an easy and efficient boost to their morning routine.
Here Comes The Sun, $10
Trust us, almost everyone needs an extra dose of
Vitamin D
in the winter.
Uber Energy, $25
Adrenal health
can make the difference between success and burnout.
The 100-Day Happiness Planner, $26
Start the new year with a daily dose of happier habits. This planner includes monthly happiness check-ins, daily inspirational quotes and gratitude journaling.
Latigo Coffee Subscription, $60
Because life is too short to drink mediocre coffee. Plus, we dig the accompanying
Spotify playlist
 that gets updated with each new roast shipment.
MantraBands, $25-35
Wrist bling with positive reminders. Pictured here: "I can and I will," "Make today count," and "No excuses." Yes, yes, and yes.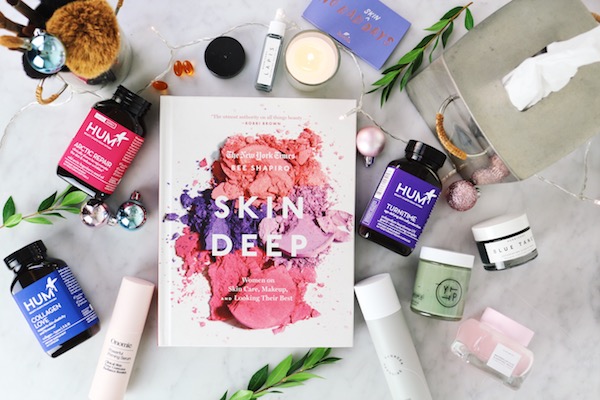 For Your Friend Who Is Obsessed With Skincare
Arctic Repair, $60
This anti-aging supplement uses rare lingonberry seed oil which studies have found can improve skin hydration, density and elasticity.
Collagen Love, $40
Collagen peptides, hyaluornic acid and Vitamin C combine for smooth and silky skin.
Turn Back Time, $40
Includes age-defying plant extracts found in turmeric, green tea and polypodium leucotomos – a fern with UV ray protection benefits.
Skin Deep: Women on Skincare, Makeup & Looking Their Best, $20
An inside look at the beauty routines of some of your favorite women including Anna Kendrick, Bobbi Brown, Lisa Bonet and many more.
Herbivore True Blue Skin Clarifying Duo, $29
Blue tansy oil, white willow bark, and fruit enzymes work together to clarify and resurface skin naturally.
Onomie Powerful Priming Serum, $45
Two steps in one! This serum is packed with antioxidants for even and radiant skin and also acts a primer for longer wearing make-up. Panacea Daily Facial SPF, $38 SPF is a must for any anti-aging routine. This scentless SPF 25 protects your skin without a greasy finish.
Glow Recipe Watermelon Glow Sleeping Mask, $45
A pillow-proof overnight mask that's made with all natural ingredients. Soothing watermelon extracts and AHA help your skin glow.
Youth To The People Age Prevention Superfood Mask, $44
We love greens in our belly and you can bet we love greens on our face. Spirulina, microalgae, kale and spinach repair against environmental stresses and support natural collagen production.
Boscia Peppermint Blotting Linens, $7
Perfect to pack in your holiday clutch.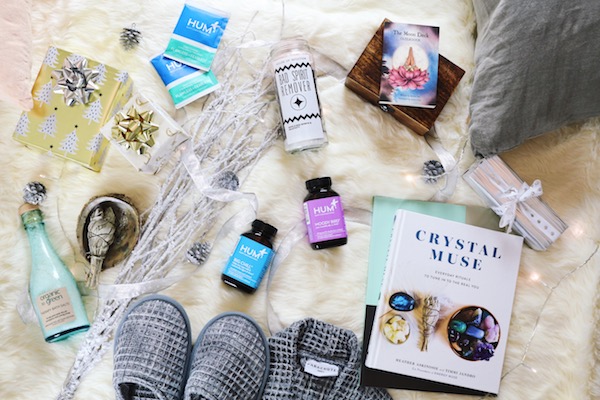 For Your Friend Who's Stressed AF
Big Chill, $15
A literal chill pill and life saver for the holidays. Rhodiola rosea can help reduce anxiety and improve focus for higher vibe living.
Moody Bird, $25
The answer to all your PMS prayers. Dong quai root and chasteberry help balance hormones to combat monthly cravings, mood swings, and breakouts.
The Moon Deck, $60
A dreamy self-love ritual to tap into your power and intuition. Read all about it in
our interview with creator Aarona Lea Pichinson
.
Parachute Slippers and Bathrobe, $39 – $119
Made with Turkish cotton, this combo is seriously comfy and pairs perfectly with some post-bath masking.
Organic to Green Organic Therapy Bath Salts, $28
A revitalizing blend of dead sea salts, sweet basil, cypress, eucalyptus, ginger, lavender, lemon, peppermint and ravensara. (It's basically like taking a bath in a French herbal garden.) House of Intuition
Bad Spirit Remover Candle
and
Smudge Kit
, $15 – 20 This witchy combo is said to repel negative spirits, banish ghosts and otherwise dispel negative energy. We'll take two.
Crystal Muse by Heather Askinosie and Timmi Jandro, $18
We've found that a little ritual can go along way to combat busy city shuffling stress. For anyone who's crystal curious, gift them this handbook by the founders of
@energymuse
.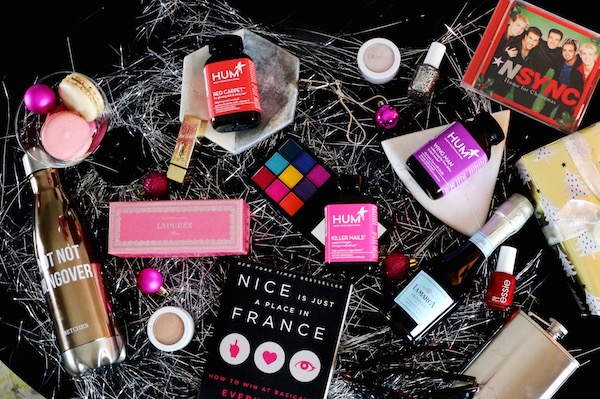 For Your Friend Who Loves To Party
Wing Man, $25
Help their liver out through the holiday season with milk thistle extract. As a bonus, it also helps fend off dark undereye circles.
Killer Nails, $10 
96% of Killer Nails users reported longer hair & stronger nails thanks to the vegan biotin formula.
Red Carpet, $25
Black currant seed oil contributes to glowing skin and shiny hair. Trust us, they'll look red carpet ready for any celebration.
Yves Saint Laurent Rouge Pur Couture Dazzling Lights Lipstick, $37
This luxe lipstick applies buttery smooth and is a delight to apply with its glittery gold case.
Ladurée Napoléon Gift Box, $20
An indulgent treat that even Blair Waldorf would be proud of.
Essie Nail Polish, $9
Killer nails may start with nutrients but they end with a festive holiday lacquer.
Huda Beauty Electric Obsessions Eyeshadow Palette, $27
Vibrant colors curated by beauty guru Huda herself for a show-stopping look.
ColourPop Legit AF Super Shock Highlighter Trio, $24
No party girl leaves the house without highlight. Here's three that are legit af. Betches
Nice Is Just A Place In France
 and
Not Not Hungover Water Bottle
, $16 – 35 If you're obsessed with the Betches memes, trust that your friend is going to love these modern female essentials.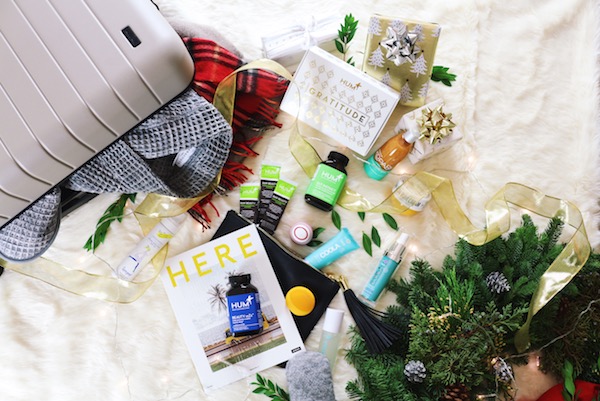 For Your Friend Who Loves To Travel
Beauty zzZz, $10
Defeat jet lag with this natural sleep aid! We pair melatonin with calcium and Vitamin B6 for the ultimate in restful beauty slumber.
Gut Instinct, $25
Our CEO never travels without it. Probiotics keep your gut bacteria healthy when your diet and environment are up in the air.
Away Carry-On Luggage, $225
The smartest and chicest little carry-on you ever did see. This bag will make the days of waiting for an outlet to charge your phone at the terminal seem downright barbaric.
Kopari Coconut Body Glow, $42
This shimmery solution is infused with coconut oil for hydration and pearly pigments. Perfect for adorning yourself on a tropical getaway. Coola
Mineral Matte Tint
,
Classic Primer
and
Setting Spray
, $36 – 42 We pack no less than three COOLA products before embarking on a sun-filled vacation. Their products are natural, organic, sustainable and locally sourced whenever possible.
Supergoop! Defense Refresh Setting Mist, $28
If you know someone going somewhere realllllly sunny, we'd bump them up to this rosemary and minted scented SPF 50 setting spray which controls oil and shine and protects from heavy UV-rays.
Sol De Janeiro Brazilian Bum Bum Cream, $45
Who wouldn't want a Brazilian bum bum? This body cream tightens and smooths skin using the caffeinated Amazonian plant guaranà.
Foreo Luna Play, $39
A
celebrity dermatologist
recently told us how important it is to exfoliate. This handy little waterproof device has vibrating pulsations which help the nubby silicone surface to brush away dull skin cells.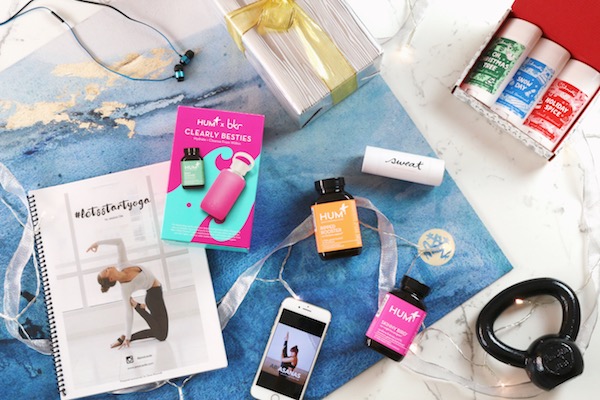 For Your Friend Who's Addicted to Classpass
Clearly Besties Kit, $39
Brand new! This detoxifying kit comes with a 30 day supply of our best-selling
Daily Cleanse
supplement and a
bkr water bottle
to hydrate and cleanse skin from the inside out. Exclusively available at Sephora.com while supplies last!
Ripped Rooster, $40
Gym rats will love this metabolism booster to pair with their workout for optimized fat-burning.
Skinny Bird, $40
A unique vegan formula designed to reduce stress eating and cravings and to feel full longer.
Manduka eQua Yoga Mat
Quite frankly, the most beautiful yoga mat we've ever seen. Designed by artists, we're tempted to just hang it on our wall – but we won't because the absorbent surface catches your grip in even the sweatiest of hot yoga classes so it's also practical ftw.
Schmidt's Holiday 3-Pack Natural Deodorant, $25
All-natural deodorants are where it's at in 2018! Get a friend started with this wintery scented holiday pack. We especially love the pine scent.
Sweat Cosmetics Mineral Powder and Twist-Brush, $42
Designed by professional female soccer players, this easy to apply mineral powder comes packed with antioxidants, anti-inflammatory ingredients and SPF 30 to protect and even skin tone through any workout.
Ab'Asanas by Morgan Haley
and #LetsStartYoga by Jessica Olie, $15 – 30 Time to take yoga off of Instagram and into your life. Chances are you've seen these two flowing in your feeds. 
Jessica Olie's
 ebook gives you an introduction to crafting a well rounded home practice of your own. For a friend who is less concerned about flowing, and more concerned about crunching, Jessica's bestie Morgan Haley (
@the_southern_yogi
) has you covered!
More like this