These Vegan Elderberry Immunity Gummies Are the Ultimate Defense
Searching for the best supplement for immunity? Our Boost Sweet Boost™ immunity gummies have you covered.
Maryam Tantawy, our Director of Product Marketing and Innovation, and HUM Nutritionist
Gaby Vaca-Flores, RDN
, share the ins and outs of our gummies for immune support.
What Is Boost Sweet Boost?
Formulated with vitamin C, zinc and elderberry, Boost Sweet Boost is a vegan gummy supplement that champions your immunity by promoting health and overall well-being. It comes in a delicious elderberry flavor that's as kind to your taste buds as it is to your body.
Why We Made Immunity Gummies
At HUM, we know that taking a proactive (rather than reactive) approach to wellness is essential. For that reason, it's crucial to boost your immune defenses year-round—not just in particular seasons or under trying circumstances—without letting your guard down. "Immunity is an important part of keeping up with health and well-being," Maryam adds. "We found the top ingredients that truly support the immune system, and then combined them in a vegan gummy form that people would enjoy eating every day."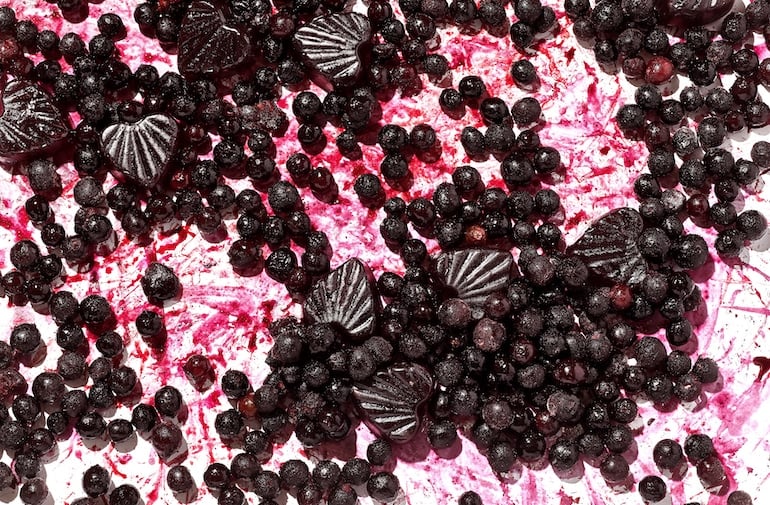 Innate vs. Adaptive Immunity
Better yet, our immunity gummies support various cellular functions of both
innate and adaptive immunity
(the first and second lines of defense, respectively). "Both systems rely on white blood cells to do the heavy lifting to protect our bodies, which are the forces driving the immune system," Gaby begins. "These cells rely on certain micronutrients—including those in Boost Sweet Boost—to do the job properly." Here's what differentiates one from the other.
Innate Immunity
"Innate immunity mostly consists of anatomical barriers, such as skin and mucus," she shares. For instance, a
healthy skin barrier
provides protection from antigens. Meanwhile, mucus works by trapping and expelling potential germs, such as when you get the urge to sneeze or cough. "Innate immunity acts very quickly, whether that's within seconds, minutes, or hours," Gaby continues. Further, its defense mechanism is generic, meaning that "the body pulls from the same group of cells to help ward off foreign substances."
Adaptive Immunity
Then, we also have adaptive immunity, which is much more specific. As Gaby explains, it responds to a specific bug or invader after the onset of symptoms that may compromise your immune system. Also, "Adaptive immunity takes a longer time to respond, and often won't kick in for a few days or weeks." Boost Sweet Boost maintains and promotes the cellular functions of both systems.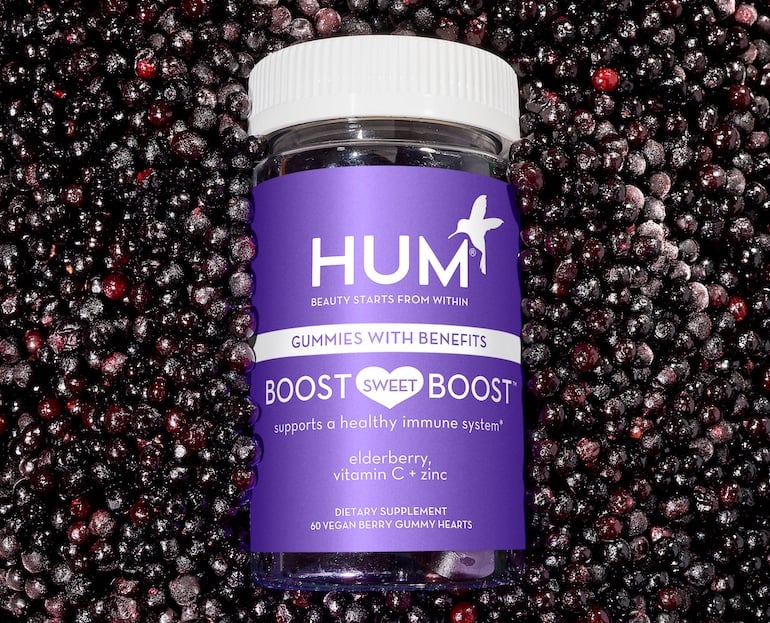 Ingredients + Benefits
To begin, like all HUM supplements, Boost Sweet Boost only packs clinically proven ingredients that are:
clean
natural
gluten-free
non-GMO
standardized to amounts that demonstrate positive results in clinical research
Further, our gummies for immune support are vegan and don't contain any artificial colors, sweeteners, or flavors. From there, what exactly makes Boost Sweet Boost an all-star supplement to support immunity? Look no further than its three immune-boosting nutrients:
vitamin C
zinc
elderberry
"We know that these ingredients are all great to support immune health, but we didn't yet have a product that combined all of them together," Maryam shares. Now, let's unpack the star ingredients in our targeted (and tasty!) immunity gummies.
Vitamin C
Vitamin C is one of the most popular vitamins for the immune system, with a vast amount of
clinical science
to support it. "It helps maintain the integrity of white blood cells (immune system cells) by aiding in their production," Gaby explains. As she continues, vitamin C levels in the blood and lymphatic system deplete when we don't feel our best, thus taking a toll on the immune system. That said, vitamin C plays an important role in health maintenance not only on a daily basis, but also when we're under duress. Our immunity gummies are formulated with 120 milligrams of high-potency vitamin C.
Zinc
Then, when it comes to zinc, Gaby notes that this mineral is crucial for
proper development and function
of both innate and adaptive immunity. "Without adequate zinc levels, white blood cells can become impaired, thus leading to a more vulnerable immune system," she explains. In particular, she says that zinc does the heavy lifting in terms of protecting against outside invaders. "Zinc especially makes the greatest impact on people who are
deficient in it
," she adds. Fortunately, Boost Sweet Boost packs five milligrams of zinc, equaling 45 percent of the recommended daily value.
Elderberry Extract
Last but not least, elderberry is "a medicinal fruit traditionally used to
support the immune system
," Gaby shares. "Elderberry extract packs a ton of antioxidants and micronutrients, which the immune system relies on to function properly." Boost Sweet Boost includes 50 milligrams of elderberry extract (equivalent to 15 elderberries in one serving) to boost immunity and general well-being.
Fast Facts
Here are a few final things to know about adding Boost Sweet Boost to your wellness routine.
How to Take It
For ongoing support, take two of HUM's immunity gummies daily at any time, with or without food.
Tip:
Keep Boost Sweet Boost on your desk or in your kitchen as a helpful reminder to stay consistent with your supplement routine.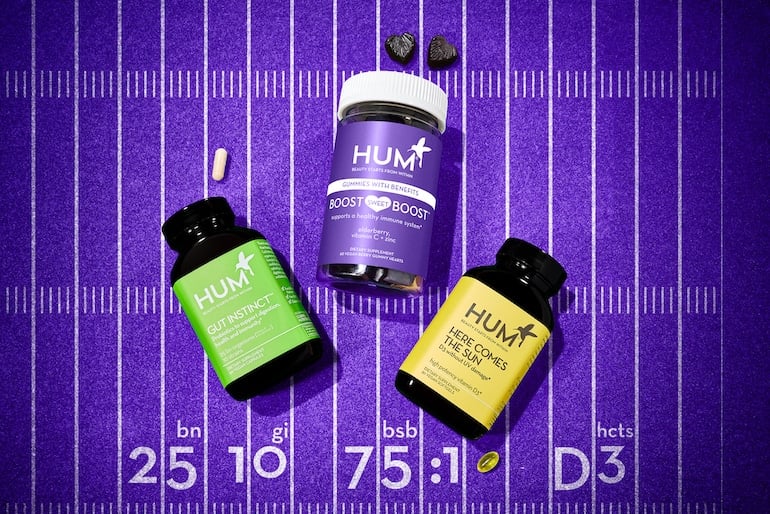 HUM Pairings
When it comes to incorporating Boost Sweet Boost into your current HUM routine, you may be curious if it pairs well with your current lineup. In particular, we recommend taking it with the following HUM supplements for well-rounded immune support:
Here Comes the Sun: As Gaby explains, "Vitamin D has a lot of antioxidant properties. It also fights free radical damage, which causes oxidative stress and weakens the body's defenses."
Gut Instinct: Since 70 percent of immune cells reside in the gut, probiotics help ensure that healthy immune cells circulate throughout your system.
Then, regarding other HUM supplements with overlapping ingredients, here's a quick guide so you can choose the best option for your specific concerns:
Air Patrol—which has high levels of vitamin C—is designed specifically to combat pollution (e.g., smoke, environmental toxins) and a nutrient-deficient diet. Meanwhile, Boost Sweet Boost is formulated for immune support above all.
Hair Sweet Hair, Daily Cleanse, and Base Control all have zinc. Since the upper limit of daily zinc intake is 40 milligrams, Gaby recommends pairing Boost Sweet Boost with only one of these other products to avoid exceeding this amount.
The Bottom Line
Boost Sweet Boost
packs three fundamental nutrients for superior immune support—all in a vegan gummy formula with a delicious elderberry flavor. Again, your best bet to promote lasting health and well-being is to be proactive. In addition to adhering to a
well-rounded diet
rich in a variety of nutrients, taking our immunity gummies can help keep your defenses up to encourage resilience and wellness for the long haul.*
*Note: This article isn't intended for use as medical advice. Before adding new supplements to your routine or for greater health concerns, consult a medical professional.
More like this